December, 18, 2014
Dec 18
8:00
AM ET
When:
4:05 p.m. ET Sunday
Where:
Edward Jones Dome, St. Louis
TV:
FOX
The
St. Louis Rams
and
New York Giants
have both been eliminated from playoff contention and neither enters Sunday's matchup with much to play for.
But neither team has looked like it is ready to close up shop for the rest of the season, either, which could make this at least a mildly interesting game for the football diehards.
ESPN Rams reporter Nick Wagoner and ESPN Giants reporter Dan Graziano discuss Sunday's game:
Wagoner:
Dan, I'm sure you're getting a lot of questions about
Odell Beckham Jr.
, but let's be real, he's going to be the most exciting player on the field Sunday. What is it about him that's allowed him to have such success, and is he as fun to watch up close as he is from a distance?
Graziano:
Nick, I don't want to overstate the case here. But what we're watching with Beckham on a weekly basis (a daily one, in fact, when you take into account his practice antics) is a player gifted with such raw athleticism that he stands out on a field whose other occupants are also world-class athletes. He's impressive in all facets. He runs great routes. He has great hands. He plays bigger than his 5-foot-11 size would indicate, because he has the ability to outjump defenders and locate the ball in the air before they do. He has the blazing speed you've seen. Really, from a raw talent standpoint, he's the total package. What he's doing is even more incredible due to the facts that he missed all of training camp and the first four games of the season with a hamstring injury, and that he and
Victor Cruz
played only two games together.
Eli Manning
is targeting Beckham pretty much all the time, and it's working. Expect to see a lot of him.
The Rams' defense has allowed a total of 12 points over its past three games. What's behind the surge?
Wagoner:
There are plenty of reasons for the surge, up to and including taking advantage of a bit of a break in the schedule in terms of opponents. But make no mistake: The Rams' defensive surge is real. They held the high-powered Broncos to seven points, the fewest since
Peyton Manning
took over at quarterback. The intangible part of it is the defense has finally gotten comfortable with Gregg Williams as coordinator and vice versa. Williams now knows the best way to deploy his players and they now know what is expected of them. That's manifested into a defense that's doing a bit of everything well. The Rams had a disappointing performance last week in stopping Arizona's run game, but their better efforts start with stopping the run. When the Rams stop the run consistently and force opponents into second- and third-and-long, their vaunted pass rush can be as good as advertised. It doesn't hurt that end
Robert Quinn
and tackle
Aaron Donald
form one of the most dynamic inside out duos in the league, either. But really, they're getting better performances across the board with the defense.
While we're on defense, I noticed that since Week 7, the Rams and Giants rank first and third in the league in sacks, respectively. What's been the cause of the uprising from New York's pass rush?
Graziano:
The Giants had 19 sacks in their first 11 games of the season and have picked up 22 in their past three games. A lot of that has to do with their opponents -- Jacksonville, Tennessee and Washington. But in terms of what they're doing to take advantage of the matchups, they're getting contributions from all over.
Jason Pierre-Paul
has six sacks in those three games, but rookie defensive end
Kerry Wynn
is making a contribution. Rookie linebacker
Devon Kennard
, who was NFC Defensive Player of the Week in Week 14, has been a factor in the pass rush. Second-year defensive tackle
Johnathan Hankins
is up to seven sacks for the season. The Giants are getting a variety of help in the pass rush, which is especially important with defensive ends
Mathias Kiwanuka
and
Robert Ayers
among the 22 Giants currently on injured reserve. They'll blitz a linebacker or a safety or a cornerback in key times. Basically, since the schedule turned around for them, they've been taking advantage of their matchups at a high level and in a variety of ways.
I know the quarterback situation has been a muddle, but why do the Rams still have so many unanswered questions at the other offensive skill positions? Receiver and running back?
Wagoner:
Well, I think they've at least finally settled on
Tre Mason
as their primary ball carrier for the future, though I suppose we thought the same thing last year at this time with
Zac Stacy
. Mason's not getting the vast majority of the snaps right now because he's still not up to speed in pass protection, but if and when that happens, his snap count will only increase. In the meantime, he's the first option running the ball and
Benny Cunningham
is next in line to handle the dirty work. I think Mason will be the main guy going forward, but judging the Rams' recent knack for drafting running backs earlier than expected, maybe that should be considered a year-to-year proposition until they go with the same guy for two consecutive seasons. At receiver, they seem to have finally settled into using
Kenny Britt
,
Stedman Bailey
and
Tavon Austin
. If
Brian Quick
comes back from a devastating shoulder injury and they re-sign Britt, they should be pretty solid. I'd argue they could still use a true No. 1 guy like the Giants have with Beckham, but it's not the pressing need it was coming into the season. They just need to find someone who can more consistently get them the ball.
Sticking to quarterbacks, what do you make of Eli Manning at this point in his career? He's obviously had great success but also some clunkers. With so few decent quarterbacks around, there's no way the Giants would look elsewhere at that position, is there?
Graziano:
No way. Other than the horrible five-interception game against the 49ers in Week 11, Manning has operated the new offense smoothly and efficiently in the first year under new offensive coordinator Ben McAdoo. He's protecting the ball well, making good decisions, relying on shorter, higher-percentage stuff than he did earlier in his career. Considering they have four wide receivers and three running backs on injured reserve, and that the offensive line has struggled all year to protect him, I think Manning's doing fine and is among the very least of their problems.
As for quarterback, what do you expect them to do this offseason? Bring back Bradford? Move up in the draft? What?
Wagoner:
At this point, the expectation remains that the Rams will try to bring
Sam Bradford
back at a reduced rate with incentives built in, and spend a high draft pick (first three rounds) on a quarterback. I've been writing that for the past month or so and I stand by the assertion until I hear something different. Of course, that still depends on how big the pay cut would be and whether Bradford's representation wants to explore the market. Even with his injury issues, he could become a hot commodity in such a quarterback-needy market. Moving up sounds good on paper, but I'm not sure they have the ammunition or the desire to make such a move. They could also look to bring
Shaun Hill
back as a backup option for Bradford and/or the new draft pick. Either way, it's the one thing holding this team back from being a legitimate playoff contender. The only problem is that it's also the most difficult problem to fix.
October, 3, 2014
Oct 3
4:30
PM ET
EARTH CITY, Mo. -- The rushing attacks of the
St. Louis Rams
and
Philadelphia Eagles
are supposed to be the foundation for what both teams want to do offensively.
When the teams meet on Sunday afternoon, there's little doubt that the running game will play a major role in the outcome. But the numbers for both teams show that this one could really come down to which team is able to hit more big plays down the field in the passing game.
[+] Enlarge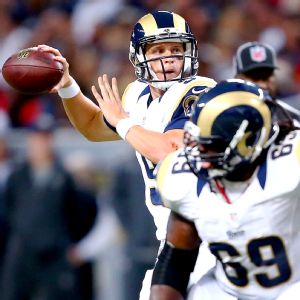 Dilip Vishwanat/Getty ImagesThe Rams haven't been shy about opening up their deep passing game with Austin Davis.
Through three games, the Rams have not been shy about taking their shots, especially with
Austin Davis
at quarterback. Davis leads all quarterbacks with a 72.3 percent completion rate but has also had his share of success throwing deep. He's attempted 20 passes traveling 15-plus yards in the air and hit on 12 of them, a 60 percent completion rate which also ranks No. 1 in the league. His quarterback rating of 99.7 on such throws is tied for third in the NFL.
Not many young quarterbacks trying to get their feet wet in the NFL would be so willing to go deep early, but Davis apparently has different wiring.
"We've always thought he threw the ball well down the field," offensive coordinator Brian Schottenheimer said. "He's as comfortable as I've ever been around a guy that gets thrown into that situation. He hasn't blinked from day one and again, I think this just speaks to the confidence we have in him. I think he knows the group trusts him and believes in him but he hasn't hesitated or blinked at one time from the moment he went in and had to play in the first game. I think that's a tribute to him."
Philadelphia has also been susceptible to the deep pass. The Eagles have allowed opponents to complete 12-of-25 passes traveling 15-plus yards in the air for 389 yards and two touchdowns. Opponents have a QBR of 98.4 on those attempts, which ranks 25th in the league.
On the other side, there's no team in the league that likes throwing the deep ball more than the Eagles and quarterback
Nick Foles
. His 52 pass attempts on throws 15 or more yards down the field are clearly the most in the league. Much of those throws come off of play-action passes, but just because Foles and the Eagles like to throw deep doesn't mean they are always successful.
On throws of 15-plus yards, Foles is 16-of-52 for 409 yards with three touchdowns and three interceptions for a QB rating of 74.0, which is 24th in the league. Last week, Foles attempted 10 passes traveling 20 or more yards downfield, did not connect on a single one and threw a pair of interceptions. Since ESPN Stats & Info began tracking such things in 2006, that's the most attempts without a completion in a game.
But the hit-or-miss nature of those passes doesn't mean the Rams expect the Eagles to stop throwing deep.
"This is the biggest vertical passing game that we've faced all season so for us, just making sure we are staying on top, getting pressure on the quarterback, getting him off his spot and that all goes in hand with each other," safety
T.J. McDonald
said. "That's the plan."
The deep passing game hasn't been something the Rams have seen much of in the first three games. In a clear effort to negate the Rams' pass rush, opponents have tried just nine passes 15 or more yards in the air, the fewest such attempts in the league. The Cowboys hit one for a 68-yard touchdown in Week 3 game but overall, opponents are 5-of-9 against the Rams in those situations.
September, 18, 2014
Sep 18
8:00
AM ET
The
St. Louis Rams
and
Dallas Cowboys
put together two of the league's most dubious Week 1 performances, but both teams rebounded with road victories last week.
This week, the teams meet for the second consecutive season in search of their second win. The Cowboys thrashed the Rams
31-7
in Dallas in 2013.
ESPN Cowboys reporter Todd Archer and Rams reporter Nick Wagoner preview Sunday's matchup.
Wagoner:
Todd, if
DeMarco Murray
ever goes into the Hall of Fame, he should probably say thank you to the Rams in his speech. He has shredded them in the past and it looks like he's off to a good start in 2014.
Does he look better now than he has in the past? And what is it that has made Dallas' running game so effective so far?
Archer:
He really turned a corner late last season well after he ran for 175 yards on 26 carries against the Rams. He ran with more conviction and had a better feel for the scheme and what the linemen were doing in front of him. But it's more than that. It's understanding where the defensive fronts can give him some trouble before the snap. He has run with power but he's shown the ability to bounce plays and get more positive yards so far. The offensive line helps. The Cowboys have three first-rounders up front in
Tyron Smith
,
Travis Frederick
and
Zack Martin
. After years of talking about wanting to be a physical team but not actually doing it, the Cowboys are actually doing it and it's because they believe more in the line than they have since making the playoffs in 2009.
Not to get too carried away here, but did
Austin Davis
work at a grocery store after toiling in the Arena Football League? I thought the Rams were in trouble when they had to go to
Shaun Hill
after
Sam Bradford
's injury, but how is Davis getting it done?
Wagoner:
Does serving a few weeks as a quarterbacks coach at the Westminster Christian Academy here come close enough to stocking shelves at the grocery store? A year ago at this time, that's exactly what Davis was doing. Seriously, though, Davis took most of us by surprise with his performance last week against Tampa Bay. He didn't put up any jaw-dropping numbers, and a rash of injuries limited Tampa's defense, but the most impressive thing about his performance was how cool he was under pressure. Time and again he faced pressure, stood tall in the pocket and delivered the ball.
For Davis, that has been the biggest change. When the Rams released him in 2013, it was in no small part because he struggled to recognize coverage and was too quick to take off running without keeping his eyes downfield. He was much improved in that area against the Bucs. Whether he starts remains to be seen because coach Jeff Fisher says Hill is the starter so long as he's healthy. But Hill hasn't proved he's back to 100 percent and the Rams have a bye next week, which would allow Davis another go.
The Cowboys' defense took a lot of heat before the season started but seemed like it found some answers against the Titans last week. What do you make of that group so far? And what are some areas of weakness we should be watching for?
Archer:
I still have my doubts. It has been better than I or many thought. But I need more visual evidence. Maybe it's just not wanting to be fooled so much. In Week 1, I believe San Francisco really shut it down in the second half and just wanted to avoid the big mistakes with a 28-3 lead. Last week at Tennessee,
Jake Locker
was terrible. Now some of that was the Cowboys' making. They got a good rush on him at times and the coverage was solid, but he also missed some throws. If they have another good game this week against Davis (or Hill), I'm still not sure I would get carried away. But it would give the Cowboys confidence and that's more important than anything I would say.
One of the matchups I want to see this weekend is
Robert Quinn
vs.
Tyron Smith
. Both guys received giant contracts recently. What kind of start is Quinn off to, and how is
Chris Long
's absence affecting him?
Wagoner:
Quinn doesn't have any sacks yet but that single stat is really a disservice to the work he has done. Tampa Bay and Minnesota made it a point to get rid of the ball quick and both teams used screens, slants and other short routes as a way to help negate Quinn and the Rams' pass rush as a whole. Vikings quarterback
Matt Cassel
had the fewest air yards per attempt of any quarterback in the league in Week 1 and the Rams had no sacks.
But Quinn is still wrecking offensive lines and creating pressure despite the lack of sacks. Teams are throwing multiple blockers at him on every play and linemen are desperately clutching and grabbing him to keep him from getting to quarterbacks. He's not always getting the calls but the attention going to him should open things up for others. Of course, he also hasn't seen a tackle as good as Smith in the first two weeks, either.
Tony Romo
has also had some big games against the Rams in the past. What have you seen from him, coming off his injury? And do you expect him to return to his usual levels of production?
Archer:
Romo has not looked the same, despite what he, Jerry Jones and Jason Garrett say. I think he's working his way back into game speed after being limited so much in the offseason and in four preseason games because of back surgery last December. He has not had the same zip on passes. He has not moved around as well as he has in the past. It's all intermittent right now. The back can be a tricky thing and it takes some time to heal. Romo has been sacked seven times and had only 73 pass attempts, so clearly the line isn't protecting him as well. He needs to play better. I think he will get there eventually this season -- maybe even this week -- but it's a good thing the Cowboys look to have a ground game they can rely on.
Michael Sam
spent the summer with the Rams and had a productive preseason. Cowboys fans have asked me about how Sam has done since joining the practice squad, but it's hard to judge development there. You saw him in the preseason. What kind of player can he be?
Wagoner:
Sam really just kind of is what he is -- a high-energy, all-out effort player who has a motor that constantly runs. He's never going to wow anyone with an array of pass-rush moves or overwhelming power to win with a bull rush. He has to win by getting to the edge with his speed and/or by chasing down quarterbacks or ball carriers, because he simply never quits on a play. Because of that, his upside is limited but it's also a quality that should eventually earn him a chance to play in the league.
Dallas once added a former highly touted college performer who was a seventh-round pick of the Rams in
George Selvie
, and he turned into a pretty decent NFL player. I see no reason Sam couldn't eventually follow a similar but slightly lessened trajectory.
May, 5, 2014
May 5
11:00
AM ET
EARTH CITY, Mo. -- Les Snead wasn't even a month into his new job as the
St. Louis Rams
general manager when he made the move that, for better or worse, will define his tenure.
Hired on Feb. 14, 2012, Snead and coach Jeff Fisher worked to orchestrate a trade that sent the No. 2 overall pick in that draft to the
Washington Redskins
for a haul of draft choices that included first-round picks in 2013 and 2014. The deal was finalized and announced March 13.
Two years later, the final piece of that puzzle will fall into place during Thursday night's first round of the NFL draft. In the past two drafts, Snead, Fisher and the Rams have made a habit of using their additional capital to manipulate the draft with more trades, moving up and down the board regularly.
[+] Enlarge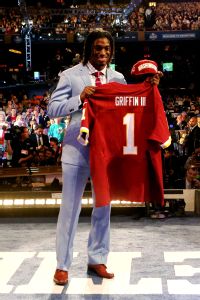 AP Photo/Ben LiebenbergIt's time for the Rams to collect on their trade with Washington and get a difference-maker.
Stockpiling picks the past two years was logical for a team that had one of the worst rosters in the league when Snead and Fisher were brought on board. While the jury remains out on how most of those players will develop, the Rams have seen better results on the field even if it means being mired in mediocrity rather than muck.
To take the next step, the Rams should consider making the transition from quantity to quality.
So far, the results of the trade with Washington have been mixed. After moving to the Redskins' spot at No. 6 in 2012, the Rams traded down again, this time with Dallas to No. 14 and selected defensive tackle
Michael Brockers
.
Using the second-round choice the team acquired from Washington, St. Louis selected cornerback
Janoris Jenkins
and followed by trading the choice from the Cowboys to Chicago to move back five spots in the second and add a fifth-round pick. The Rams used those picks on running back
Isaiah Pead
and guard
Rokevious Watkins
.
Brockers is off to a promising start and is a candidate for a breakout third season. Jenkins flashed major playmaking potential as a rookie but took a step back in 2013, Pead has been relegated to a special teams role and Watkins lasted only one injury-plagued season on the roster.
Last year's draft saw the Rams trade Washington's pick, No. 22 overall, and a seventh-rounder to Atlanta for the 30th pick plus third and sixth-round selections. From there, the Rams used No. 30 on linebacker
Alec Ogletree
, the third-round pick on receiver
Stedman Bailey
and the sixth-round choice as part of a deal to move up for running back
Zac Stacy
.
Early returns on those moves are decidedly positive with Ogletree improving as the year went on, Stacy emerging as the starting back and Bailey flashing starter potential near the end of the season.
All told, the Rams' current return on the initial trade with Washington and the many ensuing moves appear to be mostly good, solid additions. Which is precisely the point; the Rams have plenty of good and solid on the roster. Good and solid has translated to 7-9 and 7-8-1.
What they need is transformative.
Defensive end
Robert Quinn
is the only every-down player on the roster who currently qualifies in that blue-chip category. Sure, others could ascend to that level, as Quinn did in 2013, but the need for more remains.
Looking around the brutal NFC West, a team such as Seattle can boast seven or eight legitimate All-Pro caliber starters. San Francisco and Arizona are not far behind.
That's not to say Snead should switch his cellphone to airplane mode should teams come calling for the No. 2 pick in this year's draft.
While each team views the draft class differently, the Rams probably would be happy to come out of the draft with any one of six elite talents, a group that includes South Carolina defensive end
Jadeveon Clowney
, Auburn offensive tackle
Greg Robinson
, Clemson receiver
Sammy Watkins
, Texas A&M offensive tackle
Jake Matthews
, Buffalo linebacker
Khalil Mack
and Michigan offensive tackle
Taylor Lewan
.
Should any trade offers come their way, it would be risky for the Rams to move any lower than No. 6, where previous trade partner Atlanta currently sits. But in a year when there's no franchise quarterback teams are eager to trade up for, would it be worthwhile for the Rams to trade with a team such as the Falcons knowing they might have to settle for the player they rank sixth in that group?
Why not, barring a Godfather offer from another team, stay at No. 2 and walk away with the player you believe has the best chance to be a true difference-maker and potential Hall of Famer?
With all of the extra premium picks, the Rams have been an April power broker the past two years and will be again this May. Now is the time to cash in those chips to become one in January.
March, 18, 2014
Mar 18
9:54
AM ET
IRVING, Texas --
Henry Melton
's visit with the
Dallas Cowboys
has ended and the free-agent defensive tackle is off to visit the
St. Louis Rams
, according to a source.
Melton
From all accounts, Melton's visit went well. According to sources, the medical checkup on his surgically-repaired knee came back fine, and he was able to re-connect with the coach that developed him into a Pro Bowler with the
Chicago Bears
, defensive coordinator Rod Marinelli.
Melton has visited with the Cowboys,
Seattle Seahawks
and
Minnesota Vikings
since free agency started. Talks with the teams will continue as Melton looks for his next home.
The Cowboys will continue meeting with free-agent defensive end
Jared Allen
, who arrived in Dallas Monday night and met with coach Jason Garrett and several assistants.
The Cowboys are looking for defensive line help, but so far in free agency have maintained a disciplined approach despite the release of
DeMarcus Ware
and the loss of
Jason Hatcher
. Ware has since signed with the
Denver Broncos
and Hatcher signed with the
Washington Redskins
.
The Cowboys have roughly $7.6 million in salary cap space. Depending on the structure and lengths of deals, they may need to come up with more cap room by either restructuring or releasing players.
September, 22, 2013
9/22/13
12:41
PM ET
By
ESPN.com staff
| ESPN.com
Join our ESPN.com NFL experts as they break down the St. Louis Rams' visit to the Dallas Cowboys. Contribute your thoughts and questions beginning at 1 p.m. ET. And, be sure to visit our
NFL Nation Blitz page
for commentary from every game, as well as fan photos and the latest buzz from Twitter. See you there.
September, 19, 2011
9/19/11
6:07
PM ET
By
ESPN.com staff
| ESPN.com
Join our ESPN.com NFL experts as they break down the "Monday Night Football" clash between the St. Louis Rams and the New York Giants.

Contribute your thoughts and questions beginning at 8:30 p.m. ET. See you there.


March, 3, 2011
3/03/11
6:18
PM ET
Oshiomogho Atogwe
's contract agreement with the
Washington Redskins
,
reported
by Jim Thomas of the St. Louis Post-Dispatch, leaves the
St. Louis Rams
weaker in the secondary.
That is the bottom line.
ESPN's Adam Schefter says the deal
is for five years and $26 million. It's unclear how the contract is structured. Atogwe's previous deal with the Rams wound up paying him $4 million. His new deal surely represents an upgrade even though players often don't see all the money in a long-term deal.
Unusual and unfortunate circumstances negatively affected negotiations between the Rams and Atogwe. The team named him its franchise player following the 2008 season. Atogwe played the 2009 season under terms of the one-year, $6.34 million franchise offer. He became only a restricted free agent following the 2009 season, however, as the labor agreement upped requirements for unrestricted free agency in an uncapped year.
This was an unfortunate step backward for Atogwe.
The Rams took advantage of the RFA designation by making the
lowest possible offer
. Rules required them to up that $1.226 million offer to $7 million or let Atogwe become a free agent last June. The Rams opted to let Atogwe become a free agent. They liked him, but not at the $7 million price. The timing made it tougher for Atogwe to find a suitable deal. He re-signed with the Rams.
At the time, Matt Williamson of Scouts Inc. thought
Atogwe would have been better off
joining a superior defense elsewhere on a one-year deal and re-marketing himself. Instead, Atogwe came back to the Rams and played well at times, but he did not stand out.
Atogwe has built a reputation for forcing turnovers, but his production in that area has fallen off even while the Rams have improved on defense. He had three interceptions in 2010 and two the previous season after collecting 13 in 2007 and 2008. Jim Haslett, the Rams' defensive coordinator during Atogwe's ball-hawking years, is coordinating the Redskins' defense. Perhaps Atogwe will fit better there.
I think the Rams would have liked to have brought back Atogwe, but they never valued him as a sideline-to-sideline force. They never valued him the way the franchise designation said they valued him. For them, the tag was a convenient way to keep him for a year, not a sign they valued him at that price over a long-term deal. Throw in the unusual RFA situation last offseason and this negotiation wasn't as easy as it should have been.
The Rams will miss Atogwe, but their fans should be happy for him, too. Atogwe
handled himself more professionally
than I can recall another player handling himself under the circumstances. He practiced with the team as a franchise player even though he hadn't signed the $6.34 million tender. He was a team player all the way.
NFC EAST SCOREBOARD
Saturday, 12/20
Sunday, 12/21