September, 30, 2014
9/30/14
3:30
PM ET
Three thoughts on the Cowboys' 38-17 win over New Orleans:
Carter
1. I think Bruce Carter must wonder what football gods have against him, since a quadriceps strain will probably cost him at least one game.

Two seasons ago, he was playing the best he'd ever played when he suffered a dislocated elbow that ended his season. He spent last season in an unproductive fog but seemed to find his niche again this season after moving to strongside linebacker.
He had six tackles an two pass deflections before getting hurt against New Orleans. The Cowboys hope he's not out long and that he returns with the same passion and performance.
Randle
2. I think the Cowboys need to make sure they continue to get Joseph Randle involved, which is admittedly hard to do with DeMarco Murray leading the NFL in rushing and carries.

Murray, who has missed 11 games in his first three seasons, has 99 carries in the first four games. He's on pace to carry 396 times, a huge number for a dude who has never carried more than 396 times in a season.
Coach Jason Garrett gave Randle the final series of the third quarter, and he responded with three carries for 21 yards and had an 18-yard run negated by a penalty. Garrett said Randle is running confidently and aggressively.
That's why it's time to ease Murray's load just a tad, so he's still able to grind in November and December.
3. I think the Cowboys' defensive line is going to be better than I figured.
It's because they don't have any bad players in their rotation. You don't think about it much, but there's a significant difference between an average player and a bad player.
You can survive with average players in the right circumstance. You can't survive with bad players.
The Cowboys don't have any stars, but with the mix of guys they have, there's little difference when one comes out and another goes in, and the result is the defensive line plays to the same standard the entire game. They can play with maximum effort because they're getting consistent rest and the offense has been keeping them off the field.
KEY STAT:
50.8
Garrett always talks about having the ability to attack a defense in a lot of different ways.
Well, the Cowboys have achieved perfect offensive harmony during their first four games, as they're running it 50.8 percent of the time -- and that has helped lead to a three-game winning streak.
The Cowboys are No. 1 in the NFL with 165.0 yards rushing per games and rank fourth with a 5.08 average per carry.
This is the first time under Garrett that the Cowboys have made the running game the epicenter of their offense -- and it's opening up everything else.
That's because the more opponents have to use an additional safety to stop Murray, the more the Cowboys can attack downfield with
Dez Bryant
,
Terrance Williams
or
Jason Witten
.
Bryant and Williams each scored on touchdown passes Sunday against New Orleans, in part, because they were facing single coverage so the Saints could devote more manpower to stopping the Cowboys' running game.
Church
PLAYER TO WATCH:
Barry Church
He's not flashy, but he doesn't mistake that for not being effective. Actually, Church would be really good on a great defense because he could freelance more and put himself in position to make more plays.
But in the Cowboys' defensive scheme and with their personnel, he tends to play it safe, as he should.
Church is solid in coverage, a willing tackler and a guy who makes the right play most of the time. He had six tackles against the Saints and made a couple of nice tackles that stopped New Orleans from converting third downs.
They weren't spectacular plays, but they were effective and ended the drive. They were typical Church plays.
August, 29, 2014
8/29/14
1:00
PM ET
ARLINGTON, Texas -- Three thoughts on the Dallas Cowboys'
27-3 loss
to the
Denver Broncos
.
1) Brandon Weeden didn't do much over the last three preseason games to inspire much confidence, if the Cowboys need him to play.
Weeden
Jason Garrett said he did the usual array of good things and bad things in the game, but the troubling thing during the preseason is that he seems to have a habit of staring down his receivers. Other times, he's not decisive and he either throws the ball late or scrambles because the receiver is no longer open.
He finished the preseason 34-of-57 for 388 yards with two interceptions and two touchdowns.
The reality is that if the Cowboys need him to play this season, he'll be behind the starting offensive line and he'll have enough weapons that all he has to do is manage the game.
2) No team wants to go winless in preseason. Jerry Jones did his best to put a positive spin on it by referencing his first preseason as the Cowboys' owner.
The Cowboys went 3-1 in the preseason and 1-15 during the 1989 season.
"Well, it has always concerned me," Jones said. "On the other hand, the first year I came in the NFL, we were undefeated going into the Denver game. Dan Reeves was their coach. He was a disciple of Tom Landry and he was hot over the fact that Coach Landry and those things had been done here with the Cowboys.
"He left [John] Elway in all the way through the game and we played into overtime to beat the Cowboys so we didn't go undefeated.
"We went 4-1. Thought this is going to work. We won one football game that year. So much for preseason."
3) Dustin Vaughan isn't going to make the final roster.
This team has too many issues on defense and players such as
Anthony Spencer
and
DeMarcus Lawrence
need roster spots even though they aren't playing for several weeks. Vaughan is a great fit for the practice squad, and if the 6-foot-5, 235-pound undrafted free agent gets claimed by another team then that's just a tough break.
Other teams have issues with their rosters and most teams don't keep a third quarterback.
Key number: -56
It's just the preseason and coach Jason Garrett stayed committed to evaluating personnel.
Still, it must be discouraging to get outscored by 56 points, the largest point differential in the league, as the Cowboys went winless in the preseason.
The Cowboys have gone winless in the preseason five times. Only the 1998 team that still had Troy Aikman,
Emmitt Smith
, Michael Irvin and Deion Sanders made the playoffs.
Player to Watch: Rolando McClain
McClain
Rolando McClain is the most intriguing defensive player on the roster. He has every physical skill you want in a linebacker, but none of us really knows how much he wants to play.
He says the right things on the rare occasion he speaks publicly, but he's missed several practices as he gets his body used to playing football again. After all, this is a player who's retired twice in the past year, so you're always waiting to see if he'll retire a third time.
The Cowboys are trying their best not to depend on him, which is good. But they need help at linebacker, so it's only a matter of time before they get seduced by his talent and put him in the starting lineup.
"I don't think Rolando is going to be the savior of this team," Jerry Jones said. "We don't have
Sean Lee
, but Rolando does have the skill level to come in here and really add to what we can do.
"We're going to need him, but I don't want anybody to think I expect him to be Dick Butkus or even Sean Lee."
August, 24, 2014
8/24/14
1:00
PM ET
MIAMI -- Three thoughts on the
Dallas Cowboys
'
25-20 loss
to the
Miami Dolphins
1) Tyler Patmon, an undrafted rookie free agent, intercepted two passes (returning one for a TD) and forced a fumble.
Ultimately, the game is about making plays and he provided the coaching staff with several reasons why he should be on the roster, especially at a position where the Cowboys have a plethora of questions.
[+] Enlarge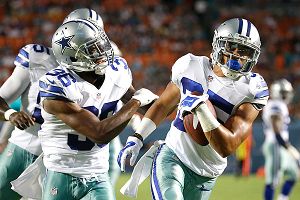 AP Photo/Lynne SladkyTyler Patmon, right, made a number of big plays against the Dolphins, including making two interceptions.
Patmon forced a fumble with a perfect open-field hit at the Dallas 36-yard line, ending one potential Miami scoring drive.
In the third quarter, he intercepted starter
Ryan Tannehill
's underthrown pass along the sideline at the Dallas 5. Patmon made his biggest play in the fourth quarter, intercepting a swing pass at the Miami 9 and returning it for a touchdown that gave Dallas a 20-11 lead with about seven minutes left.
Each play changed the game, and it will help that Patmon made his first two plays against Miami's starters.
2) In case you didn't know it, Dwayne Harris showed why he's one of the Cowboys' most valuable players.

He's a difference-maker on kick and punt returns, the kind of player who will help the Cowboys win a couple of games this season with his work in the return game.
He averaged 38.5 yards on two kickoff returns, including a 50-yard return that he nearly took back for a touchdown. He has outstanding vision and a feel for the soft spots in coverage, and once he sees an opening he attacks it.
3) Right now, safety Ahmad Dixon gets the vote for the player most likely to give Jason Garrett a migraine. Or turn his red hair gray.

Still, there's something to like about Dixon's aggressive -- perhaps reckless is a better word -- approach. If it can be harnessed, then Dixon could eventually be a really nice addition to this secondary.
Last week, he didn't play as punishment for being late to a walk-through practice the day before the Baltimore game. Against Miami, he made a poor decision that resulted in a 15-yard penalty for unnecessary roughness late in the fourth quarter.
On third-and-9 from Dallas' 22-yard line with 2:11 left, Miami quarterback
Matt Moore
overthrew receiver
Matt Hazel
near the goal line. Dixon might have been able to intercept the pass if he hadn't been so intent on punishing Hazel.
Instead, Dixon blasted Hazel in the chest. It was a classic example of hitting a defenseless receiver and drew a penalty.
An incompletion would've forced Miami, trailing 20-19, to attempt a field goal and would've given Dallas an additional 30 seconds or so to rally had Miami made the kick.
The penalty moved the ball to the Dallas 11 and five plays later Miami scored the go-ahead touchdown.
Key number: 3.4
The Cowboys gained only 110 yards on 32 first-half plays.
Tony Romo
played the entire first half, so that excuse has been eliminated. The Cowboys didn't have any pass plays of 20 yards or more or running plays of 10 yards or more, so we shouldn't be surprised their offense produced just two field goals. More important, they failed to control the line of scrimmage.
Player to Watch: Ryan Williams
Williams is doing his best to make it difficult for the Cowboys to cut him. He finished with 12 carries for 47 yards, a 3.9 yard average per carry, but he's a more dynamic runner than
Joseph Randle
.
The problem, of course, is the third running back has considerably more responsibilities than just running the ball since
DeMarco Murray
and
Lance Dunbar
will get the vast majority of carries.
Randle is better in pass protection and he's better on special teams. Randle delivered a big hit on kickoff coverage against Miami. The Cowboys can suit him up and know he has a role; they can't do that with Williams.
This is the best competition for a roster spot on the team. Each week, Williams makes it more difficult.
He has one more opportunity to sway the coaching staff, but he needs to do it without the ball in his hands.
August, 22, 2014
8/22/14
2:00
PM ET
IRVING, Texas -- Three thoughts on the
Dallas Cowboys
:
1. If you choose to be positive, there are some scenarios where the Cowboys' defensive line could be solid instead of a disaster.
Spencer
Melton
It all starts with defensive tackles
Henry Melton
(knee, groin) and
Terrell McClain
(ankle) and defensive end
Anthony Spencer
(knee) getting healthy. Spencer and Melton can be good players and McClain can be solid.
Add defensive ends
George Selvie
,
Tyrone Crawford
and
Jeremy Mincey
to the mix, along with rookie
DeMarcus Lawrence
after he returns from his broken foot, and the Cowboys would be pretty happy with that rotation.
It will require considerable good fortune to get Spencer and Melton each playing at a high level early this season, but if it happened, the Cowboys would have a pretty good defensive line rotation without much drop off between the starters and backups.
2. The cornerback situation the first month of the season will be dire.
Morris Claiborne
had a strong start to training camp, but he hasn't been able to sustain it. Knee and shoulder injuries have limited him since the first week of practice.
The Cowboys are trying to get him ready for the first game against San Francisco, but we have no idea how long his body will hold up. They can't trust him to be healthy enough to play, which is a concern since
Orlando Scandrick
will miss the first month of the season after violating the league's substance-abuse policy.
Heading into the opener,
Brandon Carr
is the only proven cornerback on the roster the Cowboys know will be ready for the opener. That's scary.
3. Receiver Jamar Newsome had a nice game against Baltimore, as did fifth-round pick Devin Street.
Tim Benford
has been on the practice squad each of the last two years,
Chris Boyd
has good size and potential and
LaRon Byrd
has been a good special-teams player in the past.
Street, a fifth-round pick, will make the team, but it's going to be tough for any of the other receivers to make it. The Cowboys will probably keep five receivers:
Dez Bryant
,
Terrance Williams
,
Cole Beasley
,
Dwayne Harris
and Street. One of the other guys will have to be a beast on special teams to make the roster.
Key number: 20
The Cowboys had only 20 drives of 10 plays or more last season. Only Miami and the
New York Giants
had fewer. It was the result of the Cowboys' struggles on third down, which prevented them from sustaining drives, and their inconsistent running game. Too many times the Cowboys were in third-and-long situations that didn't put them in position to convert.
They must do better this season to protect their defense and keep them off the field.
Player to Watch: Tyler Clutts
Jason Garrett has talked all training camp about establishing a physical presence and how much a true fullback will help the Cowboys do that.
Clutts has been doing a good job working with
DeMarco Murray
and taking advantage of his limited opportunities, but to win the job he must prove himself more valuable to the offense than the third receiver or second tight end.
He needs to be a core player on special teams, and he needs to be a difference-maker on the 12 to 15 crucial goal-line and short-yardage plays the Cowboys will have this season.
August, 12, 2014
8/12/14
12:12
AM ET
Orlando Scandrick
, one of the best players on an abject defense,
will miss the first four games of the season
after violating the NFL's substance-abuse policy.
Scandrick
And you thought a defense that allowed 415.3 yards and 27.0 points per game last season couldn't get worse.
Well, it just did. This is a huge hit for a team with a shaky cornerback situation.
Morris Claiborne
hasn't practiced in more than a week. He has yet another training camp injury that prevented him from playing in the preseason opener for the third consecutive season.
Brandon Carr
missed the first three weeks of training camp to be with his family as he dealt with the death of his mother.

Neither one of those guys plays with the edge Scandrick does, which is important on a unit devoid of playmakers. He's the one cornerback not afraid to challenge
Dez Bryant
on every snap of each practice.
He always believes he's the best player on the field -- even when it's clear that he's not. Scandrick's unshakable confidence has helped make him a good player.
Understand, Scandrick is also one of the smartest players on defense, which is why it's hard to believe he did something so dumb. He reportedly took a drug that's on the NFL's banned list while vacationing in Mexico.
There's no acceptable excuse for that.
All players have to do is check with the NFL to see whether whatever they're about to ingest is on the list. If they don't, they deserve whatever happens.
In this case, it's a four-game suspension that will force him to miss games against San Francisco, Tennessee, St. Louis and New Orleans.
A bad defense just became worse. And one of its best players is to blame.
July, 29, 2014
7/29/14
5:00
PM ET
OXNARD, Calif. -- Three thoughts on Day 6 of
Dallas Cowboys
' training camp:
Johnson
1. Matt Johnson is never going to play for the Dallas Cowboys.
He has yet another hamstring injury -- this is three training camps in a row -- and he's expected to miss at least a week. That said, who among us will be shocked if he misses more than that.
The Cowboys have liked Johnson's potential so much that they've kept him on the roster, even though the former fourth-round pick has never appeared in a game in his first two seasons.
He's been good in practice, according to coaches and teammates, but will that be enough?
It's hard to believe they would keep him for another year, which means paying him for a third year, if he can't stay healthy and compete for a job. The competition at safety is taut. Every day he misses diminishes his slim odds of making the team.
Lee
2. Sean Lee is the kind of player you hope has success because he's the epitome of what coaches want in a player and what players want in a teammate.
Yes, he's been hurt frequently. Too frequently. And the reality is the Cowboys can't really depend on him because he hasn't shown an ability to stay on the field.
But his injuries are the result of bad luck -- not poor conditioning or training -- and you can tell he's miserable about the missed time. He doesn't have to be at training camp.
He could be rehabbing in Dallas, but he wants to be around his teammates. He's sitting in on meetings and film sessions. He's doing everything the other linebackers are doing except playing.
Not many other players would do that.
Melton
3. Henry Melton's knee is essentially fine from a structural perspective. Any athlete who's had a knee injury will tell you the most difficult part of recovery is trusting the knee again.
That's why the preseason games will be so important to Melton, especially as an interior lineman. He must get used to players falling on his legs or banging into them.
He must get used to the game's physicality, and he must become adept again at maintaining his balance and staying on his feet when guys around him are falling down.
When he does -- no matter how long it takes -- that's when he'll return to being a Pro Bowl-caliber defensive tackle.
Key Number: 71
The Cowboys gave up 71 pass plays of 20 yards or more last season. No team allowed more.
Super Bowl champion Seattle allowed 30. The 12 playoff teams yielded an average of 51.
The Cowboys have no chance to win if they don't stop the big plays. It makes it too easy for the offense. Improved safety play will help, but the Cowboys must figure out how to rush the passer and remove quarterbacks from their comfort zone.
Player to Watch: Cole Beasley
This is the first time Cole Beasley has ever entered training camp with outside expectations.
He seems ready to meet them.
He caught 39 passes for 368 yards and two touchdowns last season. More important, he earned
Tony Romo
's trust.
On third down, he caught 14 of the 18 passes directed toward him for 146 yards, 11 first downs and a touchdown. When the Cowboys use Beasley in the slot on third downs along with
Jason Witten
at tight end, it gives Romo a pair of players with good hands who can work underneath and make first downs.
Beasley played only 247 snaps last year.
Miles Austin
, who had 541 snaps, is gone. Look for Beasley to gobble up a bunch of Austin's playing time, which means he could easily catch 60 passes this season.
July, 27, 2014
7/27/14
5:20
PM ET
OXNARD, Calif. -- Three thoughts on Day 4 of
Dallas Cowboys
' training camp:
1) It was one play, just about as meaningless as can be, considering it was the first day players wore pads, but
Morris Claiborne
wanted to establish a tone.
Claiborne
First, he locked down
Terrance Williams
, forcing an incompletion. Then he jumped up and started woofing. Eventually, the players were separated.
It was the first time since he arrived that we've seen that type of feistiness from Claiborne.
Hey, whatever it takes. He's been the epitome of a bust his first two seasons, allowing 70 completions in 117 attempts with only two interceptions and 13 pass deflections.
For a guy who was supposed to be the best defensive player in the 2012 draft that's not nearly good enough.
Jason Garrett said he's improved significantly during the offseason. It's time for him to take it to the field.
Better secondary play is the fastest way for this defense to improve, since their pass rush remains suspect.
Smith
2) The Cowboys are moving closer to a long-term agreement with left tackle
Tyron Smith
, who's going to deserve every nickel of whatever he gets.
Smith is man-handling the defensive ends on this roster, the way
DeMarcus Ware
used to destroy tackles, including Smith, during training camp.
Smith is only 23, so don't be surprised if he signs a deal that's nine or 10 years long. When he does, it'll be interesting to see if
Dez Bryant
can continue to ignore his contract situation and play well.
After all, the club has already taken care of
Sean Lee
, who was drafted in the second round of the 2010 draft. Bryant was the Cowboys' first-round pick.
3)
Kyle Wilber
spent his first two seasons bouncing around between outside linebacker in the 3-4 and weakside defensive end.
Injuries last season created some playing time for him at strongside linebacker and the Cowboys suddenly found a player.
Wilber has the strength to hold the edge and consistently force running plays inside, in part because of the time he spent at defensive end, and he made several important plays for the Cowboys last season.
He finished the season with 44 tackles and two sacks, while starting six games.
34
The Cowboys were tied for 25th in the NFL with 34 sacks. Only five teams had fewer.
Their sack total was 10 fewer than the average 2013 playoff team.
Teams that don't get many sacks often say they're overrated. Well, they're not. Pressure is good, but sacks are a momentum-changer and usually result in a punt at the end of the drive.
You must rush the passer and put quarterbacks under duress, or it's hard to force turnovers and win games.
The Cowboys are counting on defensive
Henry Melton
, who missed the last 13 games with a torn ACL, to provide pressure up the middle. He has been a terrific pass-rusher, and they need him to command double teams to help other players get to the quarterback.
Player to Watch:
Gavin Escobar
The Cowboys wasted Escobar's rookie season. Hopefully, they've learned their lesson.
It's dumb to ask a tight end who should excel at working from the slot and creating mismatches with his size to be the same type of player as
Jason Witten
.
Escobar can help this team by making plays downfield and giving
Tony Romo
one more vertical threat.
He caught nine passes for 134 yards and two touchdowns. He can be a playmaker, if Scott Linehan gives him a chance to do it. If not, he'll be a wasted pick.
July, 25, 2014
7/25/14
2:30
PM ET
OXNARD, Calif. -- Three thoughts on Day 2 of
Dallas Cowboys
training camp:
We kind of assumed Orlando Scandrick is competing with Morris Claiborne for a starting cornerback spot. Jason Garrett said he's playing the two best cornerbacks, which should mean Claiborne is competing against Brandon Carr for a starting spot.The Cowboys spent $50 million on Carr and traded up to get the sixth pick in the draft, which they used on Claiborne. Neither has met expectations.

Carr has been average and Claiborne will be considered a bust if he duplicates his performance from the first two seasons this year. If each played well this season, it would go a long way toward helping the Cowboys improve their defense.
Jason Garrett says the Cowboys will run the ball more. So does vice president Stephen Jones.Has anyone told Tony Romo? He's the key.

The quarterback in today's NFL has so many options at the line of scrimmage that he's essentially calling the game himself. We know Romo trusts himself more than anyone else on the offense, which is among the reasons he loves to throw the ball. He check out of a lot of running plays. Sometimes, Garrett or Scott Linehan will have to tell him to run the play called even if the defense has 10 defenders at the line of scrimmage.
This is Bruce Carter's last chance to show the Cowboys he's a player. He'll either perform or they'll go in another direction at the end of this season, as they should.He has every attribute you want in a weakside linebacker, but he consistently failed to perform last season.

It was disappointing considering he was terrific for several weeks in 2012 after Sean Lee was injured, but that was in the 3-4 defense. An elbow injury ended that season, but it looked like he was finally ready to become the star the Cowboys envisioned when they drafted him.

Instead, he was a dud last season.
10:
Rookie
DeMarcus Lawrence
said
his goal for this season is 10 sacks
. Give the man a hand for having lofty goals.
Just so you know, none of the 32 defensive ends drafted in the second round the past 10 seasons has registered 10 sacks. Cincinnati's
Carlos Dunlap
had 9.5 in 2010.
Most had a negligible impact as they adjusted to playing against NFL tackles and the speed of the game. The Cowboys need Lawrence to be a difference-maker. He doesn't have to get 10 sacks, but if he's a guy offensive coordinators pay attention to this season, then his rookie year will be a success.
Player to Watch:
George Selvie
Selvie had 3.5 sacks in his first three seasons, which were spent playing with St. Louis, Jacksonville, Carolina and Jacksonville again.
He had seven sacks with the Cowboys last season and was one of their most consistent players. Now, he must prove it wasn't a fluke.
The Cowboys' defensive line is the land of opportunity. It has a lot of unproven players and it needs Selvie to be a factor just because there are so few others on the defensive line with successful resumes.
July, 24, 2014
7/24/14
1:40
PM ET
OXNARD, Calif. -- Three thoughts from the Cowboys' first news conference of training camp:
I'm not obsessing over the conditioning test the players took by themselves after coach Jason Garrett called it off, but it still doesn't make sense. Garrett said Wednesday that he told the players at the end of their last minicamp that their attendance and performance had been so good that he decided to cancel the conditioning best. Besides, Garrett said he wasn't sure it served a useful purpose anymore and it put the players at more risk because the conditioning test doesn't require many football movements, per se. All of that is fine. But if that's the case, then he should've been fuming that Jason Witten apparently encouraged the players to do it themselves. That's not a knock on Witten, but if the coach is adamant about not doing something then the players shouldn't ignore his request and do it anyway.
You have to wonder if the Cowboys' offensive coaching staff is set up to succeed with all of the changes. Obviously, owner Jerry Jones and Garrett think it'll work fine, but neither of them was demoted. Garrett was sending the plays into Tony Romo at the end of last season instead of Bill Callahan. Now, Callahan is out of the mix entirely having been replaced by Scott Linehan. Then you have assistant offensive line coach Frank Pollack, who did a nice job last year. Now, he'll probably have less responsibility because Callahan has more time to work with the line since he's not putting the game plan together. A lot of people must subjugate their egos to make this staff work. It'll be interesting to see if they can do it.
Anthony Spencer still isn't ready to practice, so he's been put on the physically unable to perform list. He's been limited all offseason as he recovers from micro fracture surgery. It's OK to wonder if he'll ever play again.
44.3:
The 12 playoff teams from last season ran the ball 44.3 percent of the time. The Cowboys ran it 35.1 percent of the time.
Garrett can use any stat or rationalization he wants, but that's not a winning number. Only one team ranked among the bottom 10 in percent of rushing attempts made the playoffs -- and that was New Orleans.
Nine playoff teams ranked among the top 16 in percentage of rushing attempts. This is a passing league and you have to make big plays in the passing game to score points, but the best teams can still run it when they need to run and when they want to run.
Player to Watch:
Brandon Weeden
It's not normal to pay that much attention to the backup quarterback, especially when a team has a quality starter. But Tony Romo has had two back surgeries in the past year and backup Brandon Weeden is here because he was a first-round bust in Cleveland
He has talent and with a better supporting cast, he could be a solid backup. The key, as usual for a quarterback, will be limiting his mistakes. He had nine games with multiple interceptions with Cleveland and the Browns were 1-8. He had nine games with no interceptions and the Browns were 4-5.
July, 23, 2014
7/23/14
12:00
PM ET
Three Thoughts
Garrett

Coach Jason Garrett believes the annual conditioning test is important. He's said as much many times. There is no way he canceled it, and let the players administer it without any coaches around to oversee it and make sure everyone passed.If that were the case, it would be like an open-book test and all of us could pass it. After all, which teammate is gonna tell Garrett which players flunked it. Actually, Garrett wouldn't even want to put his players in that position.It's not a huge story, but there's something missing in this narrative concerning the players administering their own conditioning test.It probably has something to do with the team not being allowed to make the players do anything in the 10 days before training camp begins and a desire for the players to do the test at their Valley Ranch training complex instead of Oxnard.We'll get answers Wednesday afternoon, when Garrett addresses the media for the first time.
You can't possibly have any expectations for linebacker Rolando McClain, the eighth player selected in the 2010 draft. He's now with his third team since the end of the 2012 season -- also the last time he played.He told the Baltimore Ravens a few months ago that he wanted to retire because his heart wasn't in the game.The game is too tough and too physically demanding to persuade players to play. The Cowboys need players and McClain has talent, the question is whether McClain wants to work hard enough to play in this league.
Lance Dunbar had the best game of his career against Oakland last season -- 12 carries for 82 yards and one reception for 12 yards -- and displayed the change-of-pace skill set Garrett has talked about since he arrived two seasons ago.But he tore the posterior cruciate ligament in his left knee during that game, forcing him to miss the rest of the season. In his third season, the Cowboys need him to be the playmaker they envision, or he probably won't get a fourth year to show them.
Key stat:
736 yards receiving by third-round pick
Terrance Williams
ranked third among rookies. His 44 receptions ranked fifth and his five touchdowns ranked second.
You could easily argue Williams had the second-best season among the 28 rookie receivers drafted -- six in the first two rounds -- last year. Only San Diego's
Keenan Allen
, taken two picks after Williams, had a better season.
He finished with 71 catches for 1,046 yards and eight touchdowns.
Player to watch:
DeVonte Holloman
will probably start training camp as the backup to
Kyle Wilber
at strongside linebacker. He showed an ability in the preseason and in limited playing time last season to make plays. That's an intangible quality the Cowboys must figure how to exploit, especially on a unit devoid of playmakers. He doesn't have to start, but it would be nice if he forced the Cowboys to play him 25 plays a game.