November, 27, 2013
11/27/13
4:19
PM ET
EAST RUTHERFORD, N.J. -- For
New York Giants
receiver
Victor Cruz
,
Hakeem Nicks
' return to practice Wednesday was a welcome sight.

Nicks
"I'm happy to have him back -- period. Just to have him back in the huddle, in the offense, on the sideline, dressed and ready to go. He's a guy we need," Cruz said. "We need him to be his normal self in order to win games, for our moral to be up, stuff like that. We're definitely happy to have him back."
After Nicks missed Sunday's game against Dallas with an abdomen injury, Nicks returned to practice in a limited capacity in preparation for Sunday's game at Washington. Cruz believes a healthy Nicks can help an inconsistent Giants offense round into shape for the home stretch.
Nicks did not speak to the media Wednesday.
"I think Hakeem getting back and getting ourselves back on track and getting the offense back to where it was will definitely be paramount in order to get ourselves back on track for these last five games," Cruz said. "We're excited to have Hakeem back and to have the chance to do so."
While Nicks has had a mediocre season thus far, with just 42 catches for 620 yards and zero touchdowns, the Giants' passing attack looked out of sync without him against Dallas. Against the then-worst passing defense in the NFL,
Eli Manning
totaled just 174 passing yards. The Giants did run for 202 yards, which mitigated the need for a big passing game, but the aerial attack never truly exploited Dallas' defense.
Despite entering the season with what was expected to be one of the premier passing offenses in the NFL, the Giants have rarely lived up to the hype. Manning has thrown for less than 300 yards in each of the last six games and has tossed for less than 200 in two of the last three games.
"We've got to find ways to win our matchups and for everything to start clicking," Manning said. "From protections to winning the one-on-ones, to throwing the ball accurately, we got to make sure we're very sound in everything we're doing."
Sunday's game against Washington could present a good opportunity for the passing game to get back on track, although last week figured to be a great opportunity too. Washington ranks 26th in passing yards allowed per game and has struggled to shut down opposing offenses.
Cruz hopes Nicks' presence can help galvanize the offense.
"He's another weapon out there for us that we definitely need. With him, myself, Rueben [Randle] -- put all of us on the same page, clicking on all cylinders, we're a tough team to beat," Cruz said. "Especially with
Andre Brown
now stepping into form and doing the things he does well, I think we're a tough team to beat.
"Having [Nicks] there is just an extra weapon that gives us more ability to do what we need to do on offense to win games."
November, 24, 2013
11/24/13
10:10
PM ET
EAST RUTHERFORD, N.J. -- There would be no repeat of Week 1 for the Giants' receivers.
After torching the Cowboys' secondary for 450 yards in the season opener, the Giants' passing game totaled just 174 yards in Sunday's
24-21 loss
to Dallas at MetLife Stadium. The Giants' receivers pointed to the success of the running game, which ran for 202 yards, but the passing attack never got going and was often out of sync.
Receiver
Victor Cruz
made the costliest mistake of the game when he was stripped and Dallas returned the ball for a score, and receiver
Hakeem Nicks
was inactive for the first time all season.
[+] Enlarge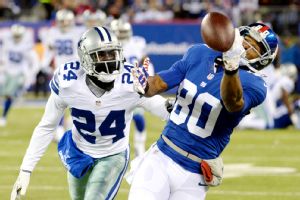 Robert Deutsch/USA TODAY SportsVictor Cruz hauled in just two catches for 27 yards.
"We didn't particularly throw the ball or have as much yardage as we would have thought with the passing game," Giants coach Tom Coughlin said.
Opposing offenses have had great success this year attacking Dallas through the air as the Cowboys entered Sunday's game ranked last in the NFL by allowing 313 passing yards per game. The Giants were privy to this information based on the last matchup with Dallas on Sept. 8, when Cruz, Nicks and
Rueben Randle
each went for more than 100 receiving yards in the Giants' 36-31 loss.
The Giants' running game had its way with Dallas' depleted defense, but the passing attack, once considered the strength of the team, couldn't get going as Manning and his receivers weren't on the same page. After catching five passes for 118 yards in the previous game, Cruz had just two for 27 yards. Randle led the team with three catches for 64 yards, but that was 37 less than he posted last time.
In a revealing sequence late in the second quarter, the Giants chose to run the ball on third-and-goal from the 10 rather than have Manning throw. The run was not enough and the Giants kicked a field goal.
"There were definitely voids and times where I was open. It was just different circumstances where Eli was sacked or Eli was moving other ways, things of that nature," Cruz said of Dallas' plan against him. "I don't think it was necessarily them doing a better job. I felt there were still voids and still routes open."
Cruz had the biggest blunder of the game when he fumbled after hauling in a 5-yard catch in the first quarter. As Cruz fought for an extra yard with two defenders draped over him,
Orlando Scandrick
pulled the ball out and it was recovered by
Jeff Heath
, who took it 50 yards to put the Cowboys up, 7-0.
It marked the third defensive touchdown the Cowboys scored against the Giants this season.
"I can't let those type of things happen," Cruz said. "I got to take better care of the football and know that they are doing that and they're going to try to come in there and strip it and take better care of it."
Leading up to the game, Nicks, who is bothered by an abdominal injury, said that he would play, which proved to be false confidence. The Giants certainly could have used him Sunday as Manning and Randle weren't always on the same page -- which has been an reoccurring issue -- and the Giants weren't able to get much from
Jerrel Jernigan
.
Louis Murphy
did catch his first touchdown pass.
"All week things happen throughout our team, coaches make decisions," Cruz said of Nicks not playing. "I have no part in that so obviously when I come in and I don't see him I'm going to be surprised."
September, 16, 2012
9/16/12
4:46
PM ET
EAST RUTHERFORD, N.J. –- It started off ugly, but the
New York Giants
got their first win of the season in dramatic fashion,
41-34 over Tampa Bay
, with another
Eli Manning
fourth-quarter comeback.
What it means:
Down 27-13 early in the third quarter, the Giants came storming back. Manning threw two touchdown passes with less than seven minutes left to give the Giants a 34-27 lead.
Josh Freeman
came back and tied the game with 1:58 remaining, but Manning marched the Giants down the field for the win. Manning passed for a career-high 510 yards.


Cruz tribute:
Victor Cruz
had a monster game as he bounced back from his three drops against Dallas. He had 11 catches for 179 yards and a touchdown. Nine of his catches came in the first half alone. He tied the score with an 80-yard catch-and-run touchdown in the fourth quarter, then did his first touchdown salsa of the season -- an emotional one in honor of his grandmother, Lucy Molina, who died Monday.
Hakeem Nicks
also looked a lot like his old self, dominating Tampa Bay and
Aqib Talib
at times. Nicks limped a few times after being tackled awkwardly on his surgically repaired foot, but he finished with 10 catches for 199 yards and a touchdown.
Miserable half:
Manning had to overcome a tough first half against Tampa, throwing three picks, including one that was returned by
Eric Wright
for a 60-yard touchdown with eight seconds remaining in the second quarter.
Manning's interceptions all led to Tampa Bay touchdowns in the first half. His first interception went to linebacker
Mason Foster
, giving the Bucs the ball at the Giants' 28.
The second came when
Brandon McDonald
intercepted Manning as Cruz appeared to be held. McDonald returned the interception 40 yards to the Giants' 26, but a horse-collar penalty on the tackle by
Andre Brown
gave Tampa the ball at the Giants' 13.
Wright's interception came as Manning was looking to hit Cruz on a quick slant. He did not see Wright in front of him, who snatched the pass and then avoided three Giants before running down the right sideline for the touchdown to give Tampa a 24-13 lead.
Injuries galore:
Already without CB
Prince Amukamara
(ankle) and LB
Keith Rivers
(hamstring), several key Giants went down with injuries in the first half.
RB
Ahmad Bradshaw
was knocked out of the game with a neck issue. RT
David Diehl
left the game in the first half with a knee injury. And WR
Domenik Hixon
suffered a concussion in the first half and was done for the game.
Diehl's injury forced the Giants to do some shuffling. They moved
Sean Locklear
from left tackle to right tackle and put
Will Beatty
back at his left tackle spot.
Beatty had a rough first half. He dropped a high-but-catchable touchdown pass as the extra tight end on one play. Diehl got hurt on the next play. Beatty had one of his two first-half false starts on a third-and-1 at the Tampa Bay 1 and the Giants had to eventually settle for a field goal.
Hot corner:
Corey Webster
struggled a bit in the first half for the second straight game as
Vincent Jackson
beat him a couple of times.
Michael Coe
gave up a 29-yard touchdown pass to Jackson in the first half. Webster did redeem himself with an interception near the end of the third to help set up a Giants field goal that trimmed the deficit to 27-19.
Justin Tryon
surrendered a 41-yard touchdown to
Mike Williams
that evened the game at 34-34 with 1:58 remaining.
Jayron Hosley
started in place of Amukamara and moved to cover slot receivers on three-wide sets with Coe on the outside.
What can Brown do for you:
Brown gave the running game a much-needed spark as he ran hard and had 60 yards, including a 23-yard run. He scored the game-winning touchdown with 31 seconds remaining. Earlier, he converted a two-point conversion to tie the game at 27-27 with 6:48 remaining.
David Wilson
was used as the secondary back with Brown becoming the feature back with Bradshaw out.
We'll have to see how the Giants use their backs in the next game if Bradshaw is unable to play.
What's next:
There's not much time to recover as the Giants immediately prepare for their Thursday night game at Carolina against
Cam Newton
.
October, 30, 2011
10/30/11
3:59
PM ET
EAST RUTHERFORD, N.J. -- Trick or treat? The Giants got a scare from winless Miami but woke up just in time to put away the Dolphins.
What it means:
Simply put, the Giants won a game they absolutely needed as they now brace for a six-game stretch that includes New England, San Francisco, Philadelphia, New Orleans, Green Bay and Dallas.


For the fifth straight game, the Giants lived dangerously as the game was decided in the fourth quarter. And for the fourth time during that stretch, the Giants pulled it out as
Eli Manning
hit
Victor Cruz
across the middle for a 25-yard touchdown with 5:58 left. Cruz broke a tackle by
Will Allen
for the score.
The Giants defense, which had trouble with
Matt Moore
and
Reggie Bush
for just over the first half, shut down the Dolphins in the fourth. Entering this game, the Dolphins had been outscored, 49-25, by opponents in the fourth.
Easy Eli:
Manning continued his solid play, completing passes to eight different Giants for a total of 349 yards and two touchdowns. Manning also received terrific protection at times from his offensive line.
Sloppy return:
The Giants, who had won their post bye week game in the three previous years, came off this bye week playing sloppy football at the start.
They had five penalties in the first half, including two consecutive penalties that came when the Giants were at the Miami 12-yard-line in the first quarter. The Giants had to settle for a field goal on that drive. And on Miami's first scoring drive,
Aaron Ross
was flagged for a pass interference penalty that put the Dolphins at the Giants' 1. And then after stuffing
Steve Slaton
on a run,
Linval Joseph
was called for a personal foul and Slaton scored on the next run in the first quarter.
The Giants' tackling woes continued as quarterback Matt Moore escaped a few and Reggie Bush also evaded two by
Kenny Phillips
and Aaron Ross on a 35-yard run that set up Miami' second touchdown of the first half. Bush had another 28-yard run in which he was able to break a tackle in the third quarter.
And as if that wasn't all bad enough, Manning was plagued by a few drops as
Hakeem Nicks
,
Jake Ballard
and
Brandon Jacobs
all dropped passes.
Welcome back
:
Justin Tuck
returned after a month off from resting due to pain in his neck and a strained groin.
He rotated with
Jason Pierre-Paul
,
Mathias Kiwanuka
and
Dave Tollefson
and played inside on some passing downs in which the Giants used four defensive ends up front.
Jacobs also returned from a two-game absence and heard some boos after he fumbled his first carry in the second quarter and dropped a short pass on the same drive. Jacobs voiced frustration with his role and amount of carries last week.
Jacobs and
D.J. Ware
spelled
Ahmad Bradshaw
, who went back to the locker room twice to have his foot examined in the second half. Bradshaw returned with 8:28 remaining in the game.
What's next
: It's the elite showdown. Eli Manning versus
Tom Brady
. Back in August, Eli said he believes he is an elite quarterback in Brady's class. Now the Giants travel to face the Patriots and Brady, starting a daunting six-game stretch.