October, 17, 2014
Oct 17
10:00
AM ET
ASHBURN, Va. -- Sometimes the lesson involves patience. Such as on a first-quarter run last week, when
Bashaud Breeland
got antsy to make a play. Because of it, Arizona running back
Andre Ellington
bounced to the gap he was supposed to fill, leaving Breeland out of position. An 18-yard run could have been one or two.
Sometimes the lesson involves trust. Such as on a third-and-13 play later in the quarter. Breeland and the coaches anticipated a certain route concept out of this particular look. Breeland noticed something else as the receivers broke, but didn't adjust.
It's the life of a rookie learning in the NFL. Breeland was forced into a starting role thanks to
DeAngelo Hall
's injury and ever since, there have been lessons and growing pains.
[+] Enlarge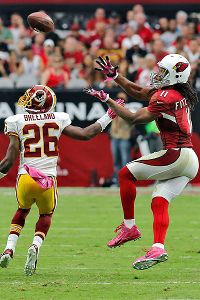 AP Photo/Rick ScuteriBashaud Breeland must learn on the fly against Larry Fitzgerald and others.
"I'm a young guy, but I'm playing a big role," Breeland said. "I have to try my best to fulfill a big role."
That means learning lessons every week.
David Amerson
went through these lessons a year ago, but he wasn't forced into a starting role while doing so.
"[Breeland] gets something new every week," Redskins defensive coordinator Jim Haslett said. "A lot of things we probably overcoached him on, to be honest. … Maybe we're telling him too much. the big thing with him is he'll be a heck of a player. We're all fans. We have to keep it as simple as we can. The things he's not clear on are the things where he's thinking too much. When he lets it go and plays, he'll be a heck of a player."
The two plays above illustrated some of what Haslett is talking about. The first was simple: Fill your gap. The coaches warned their players that Ellington liked to bounce outside; 10 minutes of watching him on film would tell anyone that. Instead, Breeland, who had outside contain, got sucked inside and lost sight of the back. The Redskins forced a punt on this series, so the mistake didn't hurt; still, a teaching moment for the coaches.
"I have to be more patient," Breeland said. "If I would have been more patient waiting for him to get into my gap instead of trying to go make a play, I would have been able to make that play for a lesser gain."
The third-and-13 conversion did hurt, as Arizona scored a touchdown two plays later. All week the coaches harped on a certain route concept out of this look, with the outside receiver to Breeland's side running a deep fade and some sort of scissors route underneath, where receivers are crossing in some fashion. The only other route, based on alignment, that the outside receiver
Michael Floyd
could run on this play: a deep comeback. That is what he ran.
Because it was zone coverage, Breeland also could see the inside receiver. Once he didn't run a particular route, it should have alerted him to something different by Floyd. When the inside receiver runs a dig, or inside route, that's a clue for Breeland.
"I should trigger back to [Floyd]," he said. "That's just me having bad eyes. I didn't trigger until the ball was thrown."
Yes, he was 10 yards off at the snap. But it was as much bad eyes as it was initial soft cushion.
"My eyes weren't in the right place," he said. "I was looking for another route concept and I didn't play aggressive on that play. I wouldn't say guessing, just bad eyes. Play what I see."