While the Giants addressed their defensive line early in the draft, they waited until the fourth round to address their middle linebacker need when they selected Phillip Dillard out of Nebraska. While this is probably just a two-down position in the Giants' defense, it is still a serious concern.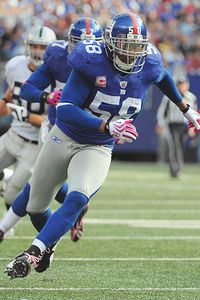 Kirby Lee/Image of Sport/US Presswire
Antonio Pierce didn't quite fit in defensive coordinator Perry Fewell's speedy defense.Perry Fewell has taken over as defensive coordinator and is in the midst of installing a more free-flowing scheme that stresses speed and athletic ability at all positions. With Antonio Pierce in the middle last season, the Giants were painfully slow, which was a problem with range in the run game, but more so in coverage. Remember, the Giants' middle linebacker is going to cover players such as Felix Jones, Jason Witten, LeSean McCoy and Brent Celek -- all of whom are more athletic than any of the Giants' present linebackers.
Along with Dillard, whom I expect win this job before long, the other candidates to follow Pierce, who was released in February, are Jonathan Goff, Gerris Wilkinson and Chase Blackburn. Goff is a major liability in coverage, Blackburn isn't much better in this regard and does his best work on special teams, and Wilkinson is extremely difficult to count on. Dillard plays hard and certainly did some good things at Nebraska, but he also was extremely fortunate to play behind superb defensive tackles in college and frankly, he is more of an interior banger than free-flowing, versatile playmaker.
As it stands today, the Giants look to be improved with their first and third layers of defense, but the middle linebacker spot remains very worrisome. It is also conceivable that Michael Boley could be more productive in Year 2 in New York and new projected strongside linebacker, starter Clint Sintim, is ready for prime time. But still, that question in the middle remains.