Eagles' McDermott experimenting with 3-4
June, 2, 2010
6/02/10
1:30
PM ET
PHILADELPHIA -- Eagles defensive coordinator Sean McDermott went into a crouch, hands on knees, about five feet inside the end zone, his nose pointing to the front seven ready to fire across the goal line on his signal.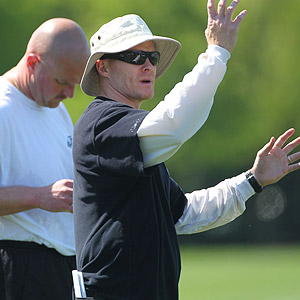 Hunter Martin/Getty ImagesSean McDermott's defense gave up too many big plays and points (21 per game) last season.
The whistle blew and the first-team defensive line executed an A-gap blitz designed to collapse the middle of the pocket. McDermott almost didn't get out of the way in time and within a few seconds, the second unit jumped into the breach -- this time a fire zone blitz. Then the third unit -- and over and over and over again.
Speed and variation. That's supposed to be the calling card of the Eagles' defense, which severely underachieved down the stretch last season -- McDermott's first year as defensive coordinator.
With those two principles in play, McDermott has not shied away from speculation that the Eagles this season will employ some 3-4 fronts, which his predecessor -- the late legendary Jim Johnson -- rarely used.
Theoretically, a 3-4 would put the best athletes on the field to rush the passer.
Although there is serious doubt the Eagles have a conventional nose tackle to pull that off, there is another question seldom raised about the use of the 3-4 in Philly: What would happen to the Eagles' best defensive player,
Trent Cole
?
A two-time Pro Bowler, Cole is one of the best right defensive ends in the league. If he lined up at defensive end in a 3-4, Cole's speed could get lost in the interior of the line of scrimmage. If asked to pull his hand out of the dirt and line up as a right outside linebacker, he might be overexposed, especially when asked to drop back in pass coverage.
Garry Cobb, a retired Eagles outside linebacker who watches nearly every team practice for his own website, said he doesn't like the idea of messing around with Cole's alignment.
"I wouldn't put him inside and I don't want to see him in coverage," said Cobb, watching McDermott's squad at the current team OTAs. "He's not good side to side. I've never seen him make a play in coverage." Cole's only career interception came in 2006. "You wouldn't want him in coverage except as a decoy," Cobb said.
Making the best of use of Cole, who led the Eagles with 12.5 sacks in 2009, has to be the focus of any re-alignment. But fixing the pass rush is one of the Eagles' highest priorities this season.
Yes, they finished with 44 sacks last year -- third in the league. But they gave up too many big plays and points, surrendering 21 points per game last year -- four points higher per game than Johnson's 10-year average. That's because McDermott dialed up the blitz on 41.2 percent of the called pass plays last year -- sixth highest in the league and the most of any Eagles defense since Andy Reid became head coach in 1999.
The idea this year: better pass rush with fewer blitzes. Taking fewer chances will leave the secondary less exposed, especially since free safety and right cornerback are in a state of flux.
The team moved up in the first round of the draft to take a left defensive end,
Brandon Graham
of Michigan, to give Cole help. In fact, the Eagles used nine of 13 draft picks on defensive players, including safety
Nate Allen
, who looks like he may have to be the starting free safety now that
Marlin Jackson
is
gone for the year
with a ruptured Achilles tendon.
Now, it's easy to see why McDermott is focused on speed and variation with the front seven in practice. When asked about the experiment with multiple fronts and looks, including the 3-4, McDermott joked he may use the 3-4 on every down, then offered a broad explanation that might not change in training camp or the preseason.
"We're trying to see who can think on their feet, make quick decisions," said McDermott, 36.
"Right now," McDermott continued, "we're looking to see who can fit in the mix, who can play, who can react on their feet. We are trying to put a little pressure on them to see who can handle it."
McDermott could easily say that about himself.