You can't trust these Eagles, yet
November, 28, 2010
11/28/10
11:15
PM ET
By
Matt Mosley
| ESPN.com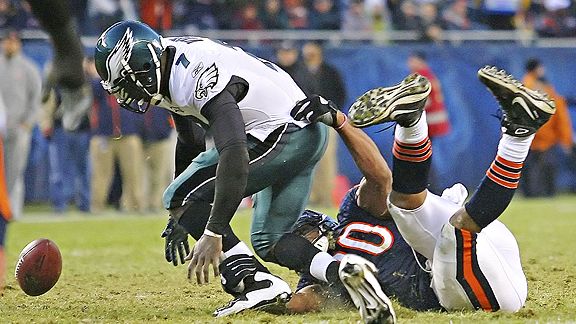 Dennis Wierzbicki/US PresswireMichael Vick was sacked four times as Chicago's defensive line was able to pressure him all day.
CHICAGO --
Philadelphia Eagles
coach Andy Reid isn't a particularly expressive man, but he appeared angry after his club's
31-26
loss to the
Chicago Bears
on Sunday. Just when you thought an elite team might emerge from the NFC East, the Eagles shrunk to the occasion at Soldier Field and were overwhelmed by a team that had built its 7-3 record against the softest schedule in the league.
In the postgame locker room, Reid angrily called out wide receiver
DeSean Jackson
for his immature actions leading up to, and during, Sunday's game, according to a source. By the time reporters arrived, Jackson was sitting in front of his locker with his head buried in his hands. The one saving grace for the Eagles is they will not have much time to think about this loss with a home game against the
Houston Texans
on Thursday. With the
New York Giants
coming from behind to beat the
Jacksonville Jaguars
on Sunday, New York and Philadelphia are now tied atop the NFC East with 7-4 records.
Last week, the Giants showed glimpses of how a team can slow down the
Michael Vick
Experience, but the Bears took the next step. Vick was 29-of-44 for 333 yards, two touchdowns and an interception, but those numbers are misleading. He wasn't close to being the best quarterback on the field Sunday. That honor goes to Bears quarterback
Jay Cutler
, who finished with the best passer rating of his career and threw for four touchdowns.
Vick was sacked four times and he was chased down from behind on at least two occasions by Bears defensive end
Julius Peppers
. The Bears were able to apply pressure with their front four and drop everyone else into coverage. The defensive linemen used stunts to confuse the Eagles' offensive line and repeatedly knocked Vick to the ground. He padded his stats in the fourth quarter, but he spent much of the game waiting for Jackson and
Jeremy Maclin
to flash open instead of dumping the ball off to his other options. Several Eagles players suggested they'd beaten themselves, but that's not giving the Bears enough credit.
The game turned on Vick's first interception in his past 240 attempts. Trailing 14-13, the Eagles had driven to the Bears' 4-yard line with two minutes left in the first half. Vick attempted to hit Maclin on a slant, but the ball was tipped by defensive tackle
Tommie Harris
and then intercepted by
Chris Harris
and returned 37 yards. It only took the Bears six plays to find the end zone and they took a 21-13 lead. Just like a red zone fumble in a loss to the
Tennessee Titans
in October, the turnover appeared to suck the life out of the Eagles.
"There was a protection breakdown," said Reid. "Obviously, if I had to do it again, I wouldn't call that play, I would call something else. We've got to do a better job there. And then you've got to rebound from that. When you're down, you've got to bounce back."
The Eagles were 1-of-5 in the red zone against the Bears. And that's a week after they allowed the Giants to hang around because of their problems in the red zone. Things almost became comical when Reid opted to attempt a field goal with his team trailing 31-16 with 4:52 left in the game. He said the points were important to him, but you could not tell it by watching his offense Sunday.
"I have to be better in the red zone," said Vick. "I have to get better in red zone efficiency and get more touchdowns than field goals. I think that's been the biggest thing for us the last couple of weeks, of not capitalizing in the red zone. So, we definitely have to work on that."
But it would be wrong to put this game solely on Vick and the offense. Bears running back
Matt Forte
ripped off a 61-yard gain on the second possession of the game. He is the first running back to surpass 100 yards against the Eagles this season and he brought some balance to Mike Martz's offense. The Eagles were playing without Pro Bowl cornerback
Asante Samuel
, and it showed.
Bears wide receiver
Earl Bennett
owned the secondary in the red zone with two touchdowns and the Eagles did a horrible job of tackling. On the Bears' second touchdown, cornerback
Joselio Hanson
fell down and allowed
Johnny Knox
to waltz in for the score. The Eagles were getting to Cutler in the first half, but then Martz had him start taking three-step drops and firing quick passes to offset the rush.
"They showed some stuff early on," said Cutler. "It was just a matter of us weeding through it and figuring out what protections are going to be best, what routes are going to be best against it. Once we got our hits, it kind of felt good after that."
Now the Eagles have three days to prepare before hosting the Texans. And maybe that's a good thing.
"Honestly, I want to go back out there," said Eagles tight end
Brent Celek
. "I feel disgusted with how we played, so I'm ready to go again."
A lot of us came into this game thinking the Bears were pretenders in the NFC. But on Sunday afternoon, the Eagles were the team with the most flaws. Unfortunately for them, their next five opponents now have a pretty good blueprint on how to beat them.