Take a bow, Giants
September, 25, 2011
9/25/11
9:37
PM ET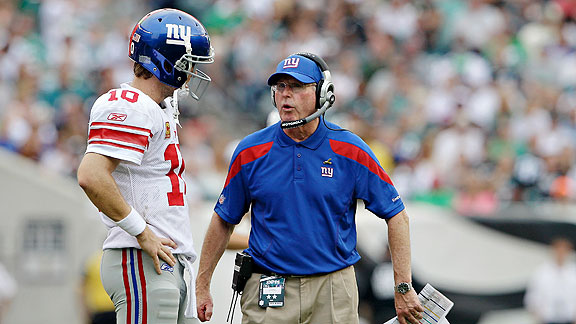 Rob Carr/Getty ImagesGiants quarterback Eli Manning and coach Tom Coughling made a big statement with a win over the Eagles on Sunday.
PHILADELPHIA -- Put this game right at the top of the list for counter-arguments the next time somebody says Tom Coughlin shouldn't be the
New York Giants
' head coach anymore. Roll it out the next time somebody tells you
Eli Manning
isn't a big-time quarterback. The Giants had no business winning this game Sunday against the Eagles, but win it they did, and a big part of the reason why is the grown-ups and veterans they have all over their roster kept their heads when everyone around them was losing theirs.
The Eagles were a mess, muddling around with insufficient goal-line play calling and worrying more about
Michael Vick
's safety than about gaining yards. And yet, for most of the game, it appeared the Giants just didn't have enough to win it. Down to fourth- and fifth-string receivers behind
Hakeem Nicks
and battling the Eagles' star-studded secondary, Manning and the Giants had a very difficult time moving the ball in the second and third quarters. The Eagles ran 72 offensive plays in the game to the Giants' 51. They picked up 25 first downs to the Giants' 14. They held the ball for 36:51 to the Giants' 23:09.
But the Giants came into Sunday's game the angrier and more motivated team. And while their anger over six straight losses to the Eagles and two that slipped through their fingers last year bubbled over in bad ways every now and then (
Antrel Rolle
taking the bait and getting penalized for fighting, for example), their determination won out in the end. They had a plan. They stuck with it. Manning remained cool and patient and waited for his chances, and when they came he capitalized on them. He played like the reliable veteran the Giants need him to be. He completed just 16 of 23 passes, but four of the completions went for touchdowns and not one of the attempts was intercepted. He was efficient. He was mistake-free. And with the help of
Ahmad Bradshaw
and a brutally physical defensive line, he won the Giants a game they had no business winning.
"We wanted it, man," said Bradshaw, who rushed for 86 yards and caught five passes for 53 more and a touchdown in one of his best games as a pro. "We know we're a better team than they are, and that just put the fire in our hearts. Last year, we were beating them early in games and they came back on us, and that wasn't going to happen today."
It was the Giants who came back. The Eagles took a 16-14 lead just before the end of the third quarter, but the circumstances were weird. The Eagles had had a first-and-goal from the two-yard line and couldn't get in, so after
Alex Henery
's field goal gave Philly its first lead of the game, Eagles fans actually booed their team. The Giants, fired up by the goal-line stand, knew they had a fresh opportunity.
"That was just heart," defensive end
Justin Tuck
said.
The Giants didn't know that Vick had broken his hand and would run only four more plays all game. They did know that it was 16-14 and not 20-14. And though they'd run just 16 offensive plays and gained just 80 yards since taking a 14-0 first-quarter lead, they were not panicked or worried. They remained determined and sure of themselves, and when Manning hit
Victor Cruz
for his second touchdown of the game with a little more than eight minutes to go, they knew their game plan and their patience and their error-free execution had paid off.
This is what need to happen for the Giants to win while they're going through this injury mess of theirs. They need Coughlin's steady hand to remain steady. They need Manning to be the reliable veteran they believe him to be. They need the great players they still have on defense to play great in big spots. All of that happened Sunday, and because of that, against all odds, the Giants are 2-1 and the "Dream Team" Eagles are 1-2 and reeling.
"We're 2-1, and that certainly means a lot to us," Coughlin said. "We've stuck by the idea of just speaking to the next guy and that other players have to step up when you have injuries of the nature that we've had, and a lot of guys played very, very well and are going to have to continue to."
I have no idea if these decimated Giants can continue to pick up these tough wins and contend all year with the roster they have right now. I don't know if they'll go to Arizona next week and let down off this victory that meant so much to them, or if they'll just keep grinding things out the way they have the last two weeks. I don't know if it's possible for them to keep overcoming all that's happened to them since training camp started. But I do know this: After watching them Sunday in a game they won because they wanted it so much and were able to keep their cool and make it happen, I'm going to have a harder time doubting them than I have so far.

NFC EAST SCOREBOARD
Thursday, 8/21
Friday, 8/22
Saturday, 8/23