On the Eagles and trading down
February, 28, 2013
2/28/13
9:49
AM ET
This here
post from Bill Williamson
at the AFC West blog caught my eye. Bill's division has two teams picking in the top three in April's draft (which may help explain that long winning streak the Broncos took into the playoffs -- just sayin', right?), and he's pondering the idea of one or both of them trying to trade down for more picks. And because the
Philadelphia Eagles
are picking fourth and a number of people have been asking me whether they might try and do the same, I thought I'd take a moment to address this.
First, here is what Bill writes about the Chiefs and the Raiders, who have picks No. 1 and No. 3, respectively:
The Chiefs would be interested in getting out of the top pick because none of the top prospects fit their most pressing needs. The Raiders would like to trade to get more picks. They don't have choices in the second and fifth rounds.
[+] Enlarge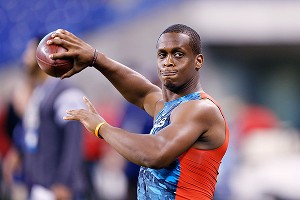 AP Photo/Ben LiebenbergIf a team falls in love with Geno Smith or another quarterback, the Eagles might have trade-down options.
The Eagles do not have similar problems. They have plenty of pressing needs -- offensive line, defensive line, cornerback, maybe even quarterback yet -- that they could address by sitting tight and selecting a very good player at No. 4 overall. And unlike the Raiders, they're fine on picks. They have one in every round and two in the seventh. They don't need to trade out just to build inventory.
I have written, and I maintain, that the Eagles' best play is to stay where they are and draft a franchise building-block type of player. One of the offensive tackles, say, or cornerback
Dee Milliner
if they like him enough, or a potential stud for the defensive line. I think they'll have multiple good options and should be able to find a stud prospect who can help them in the short term and the long term, and when you're picking in the top five, that's your goal.
Now, that said, everything has a price, and part of the question here is whether the Eagles can expect to get offers for that No. 4 pick that are too good to turn down. The answer to that is likely tied to the ever-thorny matter of how high the top quarterbacks in this draft end up going. We all know this isn't last year, when the draft had two clear franchise quarterbacks at the top. But quarterback is still a position for which teams have shown they will overpay, and the draft value of quarterbacks does seem to rise dramatically in the final months before the draft.
The last four No. 1 overall picks, and 12 of the last 15, have been quarterbacks. The last year in which no quarterback was picked in the top four was 2000, when
Chad Pennington
was the first quarterback off the board at No. 18 to the Jets. History tells us that someone like
Geno Smith
is likely to be drafted in or before that No. 4 spot, and if Jacksonville and Oakland pass, the Eagles are likely to get calls from teams interested in moving up to take a guy they think could be their franchise quarterback. If that happens, Philadelphia might end up with an offer it can't refuse.
Of course, there's also the chance the Eagles are the team that falls in love with Smith (or whoever the top quarterback ends up being) and they take him at No. 4. The re-signing of
Michael Vick
indicates that they don't expect that to happen, but we don't know for sure and the draft remains 56 very long days away. Lots for the Eagles to consider with that No. 4 pick, including many scenarios that haven't even presented themselves yet.
NFC EAST SCOREBOARD
Sunday, 10/26
Monday, 10/27