Double Coverage: Vikings at Cowboys
October, 31, 2013
10/31/13
12:00
PM ET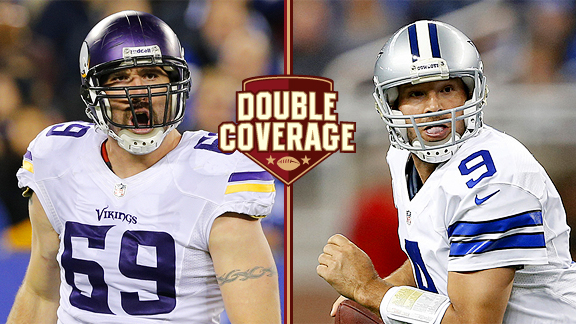 AP PhotoJared Allen's Vikings and Tony Romo's Cowboys match up on Sunday in a game where neither team looks like much of a playoff threat.
IRVING, Texas -- The
Dallas Cowboys
kick off the second half of their season at AT&T Stadium on Sunday against the
Minnesota Vikings
, who are still looking for their first win in the United States this season.
A playoff team a year ago, the Vikings have been one of the biggest disappointments in the NFL. At 4-4, the Cowboys are looking at their third straight 8-8 season under Jason Garrett.
ESPN.com Vikings reporter Ben Goessling and ESPN.com Cowboys reporter Todd Archer debate the game in this week's Double Coverage.
Archer:
I think a lot of people assumed the Vikings would be a serious playoff threat, but obviously that's not the case. How is it sitting with the veterans on the team like
Adrian Peterson
,
Jared Allen
,
Chad Greenway
and guys who have experienced success?
Goessling:
A lot of those players have been disappointed, but they all seem to be sticking behind coach Leslie Frazier, at least for now. There have been a few hints of discontent from players with the defensive scheme, but nobody seems to be quitting on the season. A lot of the problems are out of the Vikings' control, at least in the sense that they can do only so much with the roster they have. It's hard to win and have an open competition at quarterback at the same time. And the Vikings' moves in the secondary have backfired terribly. This hasn't been the same team without
Antoine Winfield
, and now that
Harrison Smith
is hurt, the Vikings have few playmakers on the back end of their defense.
Speaking of quarterbacks, it looks like
Tony Romo
is playing some of his best football this year. I suppose with him, we never really know what to think until the playoffs, but does it seem to you like he's turned any type of a corner?
Archer:
I think he's played at a higher level than most people want to say for the past few years, but he's been stuck with this tag that he can't shake until (if) the Cowboys make the playoffs and win a couple of games. This year, he has more say in the offense in terms of the game plan, so I think that has him feeling more weight to make the correct play and not be so much of a gunslinger. He's struggled the past three games with his accuracy, but he's made big plays and mostly stayed away from the bad ones. He remains creative when things break down, but he's also willing to take a sack or throw the ball away.
Peterson is coming home, so to speak. How have things been different for him this season after 2,000 yards last season?
Goessling:
He has been dealing with a minor hamstring injury for the past few weeks, but I think the biggest problem for Peterson has been the play of his offensive line. The group hasn't been anywhere near as good as it was last season at opening holes for Peterson, and fullback
Jerome Felton
has struggled to get into a rhythm after missing the first three games because of a suspension. At times, Peterson has looked impatient, wanting to make that one extra cut for a 60-yard run and winding up with a 2- or 3-yarder when the hole closes. He's also seeing more eight-man fronts than any other back in the league, and without a line that's able to handle the extra attention, Peterson isn't going to beat those defenses all the time. Even he isn't that good.
But maybe this is the week the Vikings can resurrect their passing game, playing against the worst pass defense in the league. Are the Cowboys so bad that they'll have trouble even with the Vikings' ensemble cast at quarterback?
Archer:
Unless
Christian Ponder
,
Josh Freeman
or
Matt Cassel
morph into Peyton or
Eli Manning
,
Philip Rivers
or
Matthew Stafford
, I can't see it happening, even as bad as the pass defense has been. When it has played against middling quarterbacks --
Alex Smith
(yes, I know he's 8-0, but he's not a great passer),
Sam Bradford
, a returning-to-health
Robert Griffin III
and
Nick Foles
-- the defense has looked good. When it has faced top passers, it has allowed the most 400-yard games in NFL history for a season -- in just eight games. Monte Kiffin's scheme is very basic and designed to not give up big plays, yet the Cowboys have given up a ton of big plays. They have missed
DeMarcus Ware
the past two games and will have a banged-up secondary Sunday. If Ware returns, that should help, but I think the biggest aid for the defense will be whomever Frazier picks to play quarterback.
For years, the strength of the Vikings D, to me anyway, has been the pass rush. Statistically, it's not very good, but is that a product of the secondary issues you talked about?
Goessling:
I'd say it's the other way around. The Vikings were certainly better in the secondary last year than they are this year, but they were helped out by the fact the front four was getting to the quarterback enough to keep teams from exploiting them in the passing game. This year, the Vikings have been done in by teams that can get the ball out quickly (the Lions and Packers, especially), and they just haven't gotten much push up the middle. Allen and
Brian Robison
are hustling, but they can do only so much when they're getting the bulk of opposing teams' attention. The Vikings still aren't a blitz-heavy team, but they have had to bring extra guys a little more often than usual this year and
Aaron Rodgers
burned them on a blitz Sunday. If Romo gets the ball out quickly, he should have plenty of openings. The good news for the Cowboys is A) the Vikings could have three defensive backs out with injury, and B)
Josh Robinson
will be on the field.
The week after the Vikings lost in the final seconds against the Bears, they got beat by the Browns at home. Do you expect any kind of shell shock from the Cowboys after that Matthew Stafford touchdown last week?
Archer:
I really don't. The Cowboys have had so many of these types of losses that they know how to bounce back. The bad thing is they have had to do this too often. We came up with
21 losses since 2005
that can be described as "crazy" with late-game shenanigans. The Lions loss was just another one to add to the list. The Cowboys lost a game in 2010 because they missed an extra point. They lost a game in 2008 in overtime on a blocked punt returned for a touchdown. And those both came at Arizona.
So the Cowboys somehow do a good job of compartmentalizing things and putting a bad week behind them. Garrett deserves some credit for that, I guess.