Telling stats about each starting QB
August, 27, 2014
8/27/14
10:00
AM ET
By
ESPN Stats & Information
| ESPN.com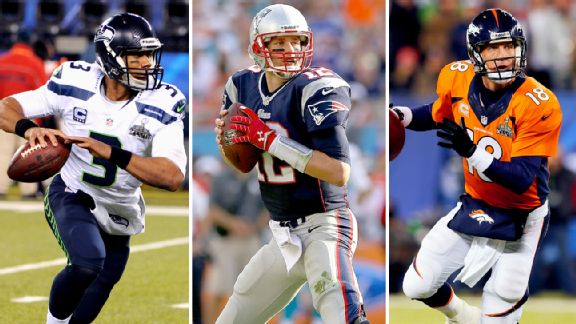 Getty Images
Tony Romo, Dallas Cowboys: Romo has led 13 game-winning drives in the fourth quarter or overtime over the past three seasons, two more than any other quarterback. Romo also ranks fifth in Total QBR in the fourth quarter and overtime since 2011.
Eli Manning, New York Giants: Manning led the NFL with a career-high and franchise-record 27 interceptions last season, five more than any other QB. It was the most interceptions by any QB in a season since Brett Favre in 2005 (29).
Nick Foles, Philadelphia Eagles: Foles threw 27 touchdowns and just two interceptions last season. Foles' touchdown-to-interception ratio of 13.5 was the best by any qualifying QB in a season in NFL history.
Robert Griffin III, Washington Redskins: Griffin ranked fifth in the NFL with a Total QBR of 73.2 on the 0-to-100 scale as a rookie in 2012. Last season, his rating plunged to 40.1, 29th in the NFL. Griffin had the league's largest decrease in Total QBR from 2012 to 2013.
---
Carson Palmer, Arizona Cardinals: Palmer led the NFL with 145 passes thrown 15 or more yards downfield last season, but he also led the league with 13 interceptions on such throws while finishing 17th in yards per attempt and 29th in touchdown-to-interception ratio on deep passes.
Colin Kaepernick, San Francisco 49ers: Kaepernick has been blitzed on a league-high 38.3 percent of his dropbacks over the past two seasons. But he's also one of the best QBs against the blitz, with the third-highest QBR since the start of 2012 (75.2).
Russell Wilson, Seattle Seahawks: Including playoffs, Wilson is 28-9 as a starter over the past two seasons. That's the most wins by a starting QB in his first two seasons in NFL history and tied with Peyton Manning for the most wins in the NFL since 2012.

Shaun Hill, St. Louis Rams: Shaun Hill is 13-13 with a 50.1 Total QBR (50 is average) in his career as a starting quarterback. Sam Bradford is 18-30 in 48 career starts and has never posted a Total QBR over 50.3 in a season.
---
Jay Cutler, Chicago Bears: During his first four seasons in Chicago, Cutler was sacked on 7.6 percent of his dropbacks, the highest rate among qualifying QBs. In his first season under Marc Trestman in 2013, Cutler was sacked on just 5.0 percent of his dropbacks (sixth-lowest rate in NFL).
Matthew Stafford, Detroit Lions: Stafford threw 16 touchdown passes and six interceptions in his first eight games last season. In his last eight games, he threw 13 touchdowns and 13 interceptions, tied with Joe Flacco for the most interceptions in the NFL over that span.
Aaron Rodgers, Green Bay Packers: Over the past three seasons, Rodgers ranks first in the NFL in yards per attempt (8.5) and touchdown-to-interception ratio (5.1), second in Total QBR (78.9) and third in completion percentage (67.5).
Matt Cassel, Minnesota Vikings: Cassel completed 73 percent of his passes and averaged 8.9 yards per attempt last season when targeting Greg Jennings. When targeting all other players, he completed 59 percent of his passes for 6.9 yards per attempt.
---
Matt Ryan, Atlanta Falcons: Ryan was pressured on 203 dropbacks last season, 20 more than any other quarterback. From 2009 to 2012, he was pressured an average of just 113 times per season.
Cam Newton, Carolina Panthers: In his three NFL seasons, Newton has been sacked, hit while throwing or hit while carrying the ball 467 times. That's more than double the total for any other quarterback. Next closest is Ryan Fitzpatrick, at 230.
Drew Brees, New Orleans Saints: Brees has thrown for 5,000 yards in four seasons, including each of the past three. Every other player in league history has combined for four seasons with 5,000 or more passing yards.
Josh McCown, Tampa Bay Buccaneers: McCown had the league's third-highest completion percentage (51.2) on passes 15 or more yards downfield last season. Seventeen of his 21 completions on such throws were to Alshon Jeffery or Brandon Marshall.
---
EJ Manuel, Buffalo Bills: Manuel was among the NFL's least effective QBs on third down last season. Manuel ranked last in the NFL in yards per attempt (5.2) on third down and second to last in completion percentage (47.5).
Ryan Tannehill, Miami Dolphins: Tannehill was sacked 58 times last season, the most in a season since Jon Kitna for the Lions in 2006 (63). Tannehill has been sacked 93 times in his career, the most by any player in his first two NFL seasons since Jake Plummer in 1997-98 (101).
Tom Brady, New England Patriots: In 2013, Brady had his lowest completion percentage (60.5) in a full season since 2003, his fewest yards per attempt (6.9) since 2006 and his fewest TD passes (25) since 2006. However, Brady also threw a league-high 163 passes to rookies last season.
Geno Smith, New York Jets: Over the first 13 weeks of 2013, Smith was the NFL's lowest-rated QB with a Total QBR of 21.6. Over the last four weeks of 2013, Smith was the league's second-highest rated QB with a QBR of 78.9, trailing only Peyton Manning.
---
Peyton Manning, Denver Broncos: Last year, Manning became the fourth player in NFL history to set the single-season record for passing yards and passing TDs in the same season. He joined Dan Marino (1984), Sid Luckman (1943) and Cecil Isbell (1942).
Alex Smith, Kansas City Chiefs: Over the past three seasons, only 17 of Smith's 1,171 passes have been intercepted, giving Smith the lowest interception percentage (1.45) of any QB since the start of 2011. Smith also ranks fourth in win percentage over that span, trailing only Peyton Manning, Aaron Rodgers and Tom Brady.
Derek Carr, Oakland Raiders: Carr led FBS with 5,082 passing yards at Fresno State last season. Carr's 50 touchdown passes were 10 more than any other FBS quarterback (Florida State's Jameis Winston, 40). Carr had a bigger TD-Int differential (+42) than any other FBS quarterback's touchdown passes total.
Philip Rivers, San Diego Chargers: After entering 2013 with a career completion percentage of 63.6, Rivers led the league with a 69.5 completion percentage last season. Rivers also had just 13 turnovers in 2013 after turning it over 47 times from 2011-12 (tied for second most in NFL).
---
Joe Flacco, Baltimore Ravens: Flacco has started 96 of a possible 96 games since his rookie season in 2008. According to Elias Sports Bureau, that's the second-longest starts streak by a QB to begin his career since the merger. Flacco trails Peyton Manning (208).
Andy Dalton, Cincinnati Bengals: Dalton is 30-18 with 80 touchdown passes and 49 interceptions in 48 regular-season starts. In three postseason starts, he's 0-3 with one touchdown and six interceptions. Cincinnati has scored 33 total points in Dalton's three playoff starts.
Brian Hoyer, Cleveland Browns: Hoyer was 3-0 and completed 59.4 percent of his passes with a 47.5 Total QBR last season. All other Browns QBs were 1-12 and completed 55.0 percent of their passes with a 31.7 Total QBR.
Ben Roethlisberger, Pittsburgh Steelers: Over the past three seasons, Roethlisberger has the league's highest completion percentage (51.8), most passing yards (1,837), most TD passes (18) and second-highest Total QBR (60.5) when he's under duress or hit while throwing. The average QBR on such plays in that span is 26.9.
---
Ryan Fitzpatrick, Houston Texans: Fitzpatrick is 27-49-1 in 77 career regular-season starts. The only active QB with more regular-season starts who has never started a playoff game is Jason Campbell (79).
Andrew Luck, Indianapolis Colts: Luck has thrown for 8,196 yards since entering the league in 2012, the most ever by a QB in his first two seasons. Only seven quarterbacks have thrown for more yards than Luck since the start of his rookie year.
Chad Henne, Jacksonville Jaguars: Henne's average pass was just 6.5 yards downfield last season, giving him the shortest average pass attempt in the NFL. Fifty-five percent of Henne's attempts were within 5 yards of the line of scrimmage.
Jake Locker, Tennessee Titans: After backing up Matt Hasselbeck as a rookie in 2011, Locker has missed 14 games with injuries over the past two seasons. Of the 20 quarterbacks drafted in the top 10 since 2000, only Rivers and Matt Leinart threw fewer passes in their first three seasons than Locker's 563.