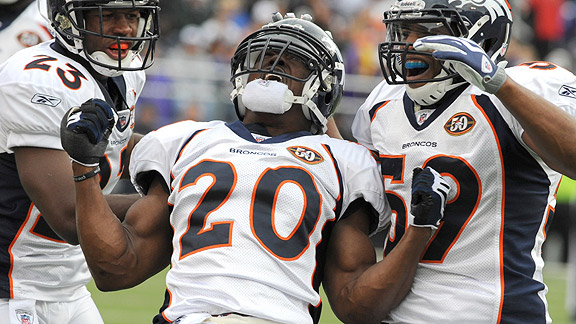 Al Messerschmidt/Getty Images
Brian Dawkins returns to Philadelphia this weekend and while Eagles fans may honor him, in the end they will be hoping for Broncos' breakdowns on defense.
In deciding which game to cover this weekend, I weighed the return of Brian Dawkins to South Philly against another trip to Landover, Md., to see a Redskins team that rolled over and played dead for the Giants on Sunday night. I feel pretty good about my decision to visit the Linc.
Both teams have something other than Bruce Allen to play for and I think the return of Dawk is going to be something to behold. In his 13 mostly brilliant seasons with the Eagles, his pre-game ritual of basically losing it for about three or four minutes was one of the most entertaining things in the league. I'm not sure if Dawkins will end up in the Hall of Fame, in part, because safeties really have a tough time (see Cliff Harris) breaking through. But Dawkins is one of the most beloved athletes in Philly sports history because of the passion that he brought to the field. He had a blue-collar approach to the game and this fanbase fell in love with him from the start.
Some reunions are completely overblown because players are well past their prime. When Emmitt Smith returned to Texas Stadium as an Arizona Cardinal, you almost felt a little sorry for him. He was soon knocked out of the game by safety Roy Williams, marring an already awkward reunion. (He'd made his infamous "diamond in the trash" comment about his final years in Dallas).
The return of Dawk feels different. He's galvanized a Broncos defense that had been former coach Mike Shanahan's downfall. Sometimes players roll their eyes when a veteran from another team shows up and tries to immediately become a vocal leader. But Dawkins arrived with so much credibility as a star in the league that it's been a natural transition. We can discuss whether the Eagles erred in letting him walk, but it really doesn't matter at this point.
He's one of the best players on a team that is fighting for a wild-card playoff spot. The Eagles have already qualified for the playoffs, so they're now focused on landing an opening-round home game. I realize there's a chance they could surpass the Vikings for the No. 2 seed, but that remains a long shot.
For Eagles fans, I believe this may be the most anticipated game of the season -- as longtime Philly sportswriter Les Bowen has stated. There's no word on any sort of ceremony for Dawkins before the game but you have to believe the Eagles will do something more than simply announce his name. So far this week, the Pro Bowl safety has held his emotions in check. He's steadfastly refused to revisit the negotiating process, which seems like the right approach. Eagles coach Andy Reid has heaped praise on Dawkins all week, but he's reminded everyone that this game isn't about individual matchups.
"Our team understands that we're not playing Buck and Dawk, we're playing the Denver Broncos," Reid said Wednesday, including former Eagles running back Correll Buckhalter. "They know that they need to study the team, as opposed to studying those two players."
I think there will be thunderous applause for Dawkins when he's introduced before the game. But after that, Eagles fans will get back to cheering for laundry. That's the way it should be. The way Dawkins would want it.