Romo gives Cowboys a Super chance
January, 10, 2010
1/10/10
2:42
AM ET
By
Matt Mosley
| ESPN.com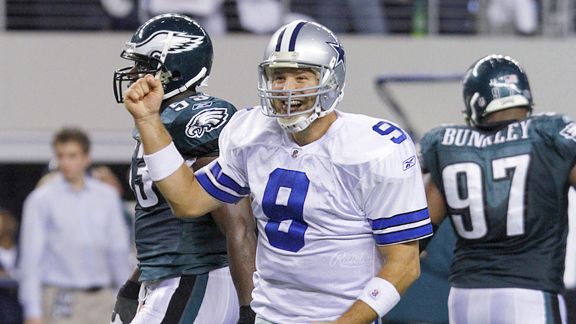 AP Photo/Donna McWilliamTony Romo completed 22 of 35 passes for 244 yards and two touchdowns against Philadelphia.
ARLINGTON, Texas -- We're going to have to come up with a new label for
Tony Romo
. Even though he was the hottest quarterback in the NFC coming into Saturday's wild-card playoff game against the Eagles, you still wondered if the stakes would be too high.
Romo stepped onto the same field as an opposing quarterback with a lot more playoff pedigree and answered his many doubters with a masterful performance in the first half. His playoff failures are a distant memory in the aftermath of the Cowboys'
34-14
win over the Eagles. The Cowboys will now travel to Minneapolis for a divisional-round matchup against the Vikings next Sunday.
And the way Romo's playing, the Cowboys could enter every playoff game the rest of the way with the advantage at quarterback. Romo completed 23 of 35 passes for 244 yards and two touchdowns against the Eagles. Philadelphia ended the Cowboys' 2008 season in embarrassing fashion with a 44-6 win at the Linc. But this season, the Cowboys returned the favor with consecutive blowouts over their division rivals.
Romo knew that Eagles defensive coordinator Sean McDermott was going to blitz him heavily in Saturday's game, but it didn't really matter. He was 19-of-25 for 212 yards and a touchdown when the Eagles brought at least one extra defender. And according to ESPN Stats and Information, McDermott blitzed Romo 76 percent of the time he dropped back to pass.
Romo led the Cowboys on five consecutive scoring drives in the second quarter and the Eagles' season was effectively over by halftime. No one would've blamed Romo for sticking it to his critics after the game, but he took a different path. He insisted that he knew this day would come and said he didn't feel an overwhelming sense of relief.
"It didn't feel like that to me, maybe because I've only been playing for four years now," he said after the game. "But we played two of them before, and I felt like one of them was my fault, so it didn't feel like this was the most impossible thing ever that everyone made it out to be. The other thing is, if you're good enough, you'll win. If I wasn't good enough to win a playoff game as a quarterback, then I wouldn't have."
Even against a talented defense like Minnesota's, the Cowboys are a matchup nightmare. With starting running back
Marion Barber
leaving the game early because of a sore knee,
Felix Jones
put on a show with 16 carries for 148 yards and a touchdown. He gives the Cowboys a home-run threat at running back, and
Miles Austin
has emerged as one of top wide receivers in the league. The offense was so diverse Saturday that even Roy Williams was a major factor in the first half.
And the Cowboys' defense bottled up Eagles wide receiver
DeSean Jackson
for the third consecutive game. With Romo at quarterback, and the most complete defense in the league over the past month, I think the Cowboys must be front-runners to represent the NFC in the Super Bowl.
But no matter what happens, Romo has justified the $30 million check that Cowboys owner Jerry Jones wrote him during the '07 season. His transformation from a mistake-prone quarterback to one who protects the ball while making big plays has taken the Cowboys to a different level. Having an elite defense has taken a lot of pressure off Romo, but he's also learned that the decisions he makes at quarterback affect the other 52 players on the roster.
Romo missed three games last season, but he still threw 14 interceptions and had seven fumbles. This season, he established a career-high for passing attempts and yards, but he had only nine interceptions and four fumbles. Even though Jones did the right thing in dumping
Terrell Owens
last offseason, you still wondered how the Cowboys would replace his production. Jones predicted that Austin would replace T.O. and it turns out he was on the money.
Without T.O.'s polarizing influence in the locker room, Romo became the unquestioned leader of the offense. He's been talking since last summer about how the Cowboys have more a team concept this season, and he brought it up again after Saturday's win.
"It's very easy in this profession to look at somebody else and blame," Romo said. "It's almost difficult to make yourself accountable to the rest of the guys. But when trouble arrived, we stayed committed to the plan. There wasn't all the little bickering and guys stayed committed to the team."
After the game, a proud Jones stood in the middle of the locker room and reflected on his quarterback.
"That No. 9 over there has a long future that's just beginning to reach its potential in my mind," Jones said. "You can put a lot of things together when you've got stability at quarterback. It falls off fast. It's like holding Jell-O when you don't have a quarterback."