NFC East:

080912 preseason obs
August, 11, 2012
8/11/12
12:53
PM ET
Newsy little Saturday up there at Lehigh with the
Philadelphia Eagles
. Quarterback
Michael Vick
is
planning to practice
in spite of the thumb injury he suffered in Thursday night's preseason opener. But backup quarterback
Mike Kafka
is not, because he
broke his left (non-throwing) hand
in that game when a Steelers player stepped on it. Rookie
Nick Foles
, who threw two touchdowns in the game, is taking second-team reps as Vick's backup. And left tackle
Demetress Bell
has been
dropped to the second team
after a poor Thursday performance, and
King Dunlap
is working as the first-team left tackle.
Got all that? Let's take the last part first.
[+] Enlarge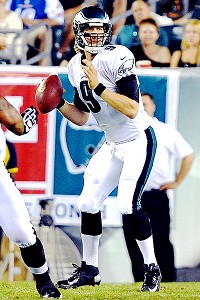 Eric Hartline/US PresswirePhiladelphia rookie QB Nick Foles was sharp in his preseason debut on Thursday night.
Bell is the tackle the Eagles signed to replace star left tackle
Jason Peters
after Peters tore his Achilles tendon (twice) this offseason. His demotion is obviously not a good sign for the Eagles' ability to replace Peters, but it's also not necessarily permanent. Recall last year, when first-round pick
Danny Watkins
wasn't ready to start the opener at right guard but was able to ascend to a starter's role during the season. Offensive line coach Howard Mudd's schemes can be difficult to pick up, and it's possible that Bell needs more time. There are 29 days until the Eagles' regular-season opener in Cleveland, so he has that time if he needs it. And if he needs more, the Eagles (as they showed with Watkins) will give it to him. Dunlap has worked for a year in Mudd's system as a backup and spot starter, and I'm sure the Eagles feel they can get by with him there for a couple of weeks if need be. If Bell never gets any better, and Dunlap has to be their 16-game starter at left tackle, the Eagles could have a big problem. But today's news isn't "Bell out for season," it's "Bell needs more work."
The Kafka news is interesting because news about the backup plan for Vick is always interesting. There's a feeling of inevitability about Vick getting injured and missing time at some point during the season, so Eagles fans want to know who's next in line. The plan was for Kafka to be that guy in this, his third season on the roster and in the offense. But now they're estimating he's out three weeks with the broken hand. And given the way Thursday night went, that doesn't help him.
Interesting that Foles, and not veteran
Trent Edwards
, is getting the second-team snaps. Foles looked very good Thursday, completing 6-of-10 passes for 144 yards and those two touchdowns. The Eagles' third-round pick this year out of Arizona, Foles has great arm strength and great size. Should Vick get hurt and Foles be the replacement, the results would likely be spectacular in two different directions -- some eye-opening throws and plays mixed with (likely too many) damaging rookie errors. He still needs time in the offense and working on mechanics and footwork before he's a viable replacement. Even if he does throw the ball better down the field right now than Kafka does, that doesn't mean he's going through his progressions the way the Eagles need him to. Giving him the second-team reps is a good way to speed along his education. Edwards has experience, and the Eagles think he fits their offense well, so they could put him in there in a pinch in a real game. But in preseason, the Kafka injury is a chance to educate and evaluate Foles against a little bit better competition than he otherwise might have seen.
The question is how quickly Kafka gets back, and whether this injury hurts his spot on the depth chart or even the team. At this point, I'd have to think not. But his absence will give the other Vick backups a chance to make their cases.
August, 9, 2012
8/09/12
11:40
PM ET
The most important thing that happened during a
24-23 victory
by the
Philadelphia Eagles
over the
Pittsburgh Steelers
in their preseason opener was the result of an X-ray. Starting quarterback
Michael Vick
left the game in the second quarter after banging his left thumb on the helmet of teammate
Jason Kelce
while throwing a pass. Vick, who throws left-handed, was in obvious pain on the sideline and spent the rest of the second quarter icing the thumb.
The Eagles announced at halftime that an X-ray taken on the thumb was negative, and cameras caught Vick on the sideline during the fourth quarter gripping a ball with his left hand. Coach Andy Reid said after the game that Vick had a thumb "contusion" and that the issue was a nerve on the top of his thumb that made it numb for a while, but that he was fine by the end of the game. So it appears the Eagles survived a scare, but the scare was a jarring reminder of Vick's importance to the Eagles' hopes and the low point of a very poor first-half performance by the team as a whole.


We make no broad conclusions based on the first preseason game (or any preseason game) -- only observations. The Eagles were playing without three of their starters on the defensive line, and starting wide receiver
Jeremy Maclin
injured his hamstring in pregame warm-ups. And of course, the Eagles have had a rough week following the death of Reid's oldest son on Sunday morning. All of that matters as we assess what happened -- good and bad -- in this game. So here goes.
1. They need to stretch more.
Maclin strained his hamstring before warm-ups even started, Reid said. And defensive lineman
Cullen Jenkins
strained his during the first quarter. Reid said he didn't think Jenkins' injury was too serious. He sounded less happy about Maclin's. Starting defensive end
Jason Babin
is already out with a strained calf. Muscle pulls are an August bane for a lot of teams, but this has something of an epidemic feeling in Philly, no?
2. They need to tackle better.
I'm sure they will, but after such a poor tackling 2011, this was not the way the Eagles wanted to look in the first half of their 2012 preseason. Missed tackles by everyone from
Jaiquawn Jarrett
to
DeMeco Ryans
were a problem as the Steelers marched down the field against them in the first half. The length of the Steelers' drives was the reason Vick was even in the game in the second quarter. The offense got to run only three plays in the first.
3. They're not kidding about that defensive line depth.
I thought 2010 first-round pick
Brandon Graham
played like a star. Which, of course, is exactly what he is supposed to be. Finally healthy after a year and a half's worth of knee problems, Graham should be a significant addition to the pass rush. But overall, backup lineman
Derek Landri
,
Darryl Tapp
,
Phillip Hunt
, et al looked very good, especially on the pass rush. And assuming Jenkins, Babin and
Trent Cole
can all get back healthy, the Eagles' plans to rotate eight defensive linemen and "throw fastballs at the offensive line" has a good chance to work. They still need to at least pay some attention to the run and toughen up in the middle, but a lot of that is the responsibility of the linebackers in this defense.
4. Damaris Johnson is a factor.
He was the starting wide receiver in place of Maclin, which was something of a surprise. But he's been practicing well and is obviously a help in the return game. He had a long punt return wiped out by a penalty.
5. Dominique Rodgers-Cromartie needs to find his checkbook.
Called for a penalty for launching himself into a receiver, Rodgers-Cromartie can expect a well-deserved fine. Stupid penalty that would have been costly had it been a real game. That play is on every instructional video the league shows players to tell them what not to do.
6. Vick versus the blitz.
Vick didn't do much while in the game, but the one play that stands out for me was a negative one. The Steelers showed a blitz look but didn't blitz, and it confused Vick, who was surprised not to find anyone open and took a sack as he tried to leave the pocket. Reading defenses and identifying coverages and blitz schemes has long been a problem for Vick, who says he's working on it and still has a month left before the real games start.
7. Oh yeah. Nick Foles.
Everybody on Twitter was all fired up about Foles and his two long touchdown passes. Foles makes a remarkable impression. He's a giant (6-foot-6) with a great big arm. Everything physical about him shouts, "star quarterback." But it's important to remember that he's a rookie who doesn't yet know the offense and still needs to refine his footwork and other mechanics. The Eagles drafted Foles because of his physical tools -- his arm in particular. But he's no threat right now to
Mike Kafka
as the backup. Unfortunately for Kafka, whose struggles to throw the deep ball are a particularly bad deficiency on the Eagles' speed-based offense, Foles profiles as the better player down the road. But not yet. No matter how good he looked Thursday night, Foles is still the No. 3.
8. The winning kick.
No, the game doesn't count. But
Alex Henery
's 51-yard field goal with 12 seconds left that set the final score is a nice confidence booster for the Eagles' second-year kicker. Also take note that it was second-year punter
Chas Henry
who held on that kick. Henry also unleashed a 54-yard punt earlier in the game and is trying to hold off a serious challenge from former Cowboys punter
Mat McBriar
.
OK, that's more than enough off the first preseason game. In conclusion: No, they didn't look good, but it probably doesn't matter, and the most important thing is that Vick appears to have dodged a serious injury. On to preseason Week 2 for the Eagles, whose priority right now is to get everyone healthy.
August, 9, 2012
8/09/12
10:45
PM ET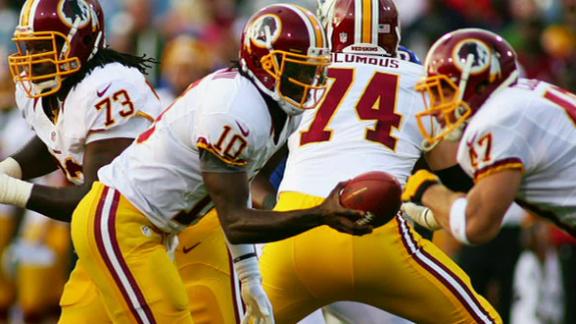 Well, if you tuned in to the
Washington Redskins
' preseason opener because you wanted to get excited about
Robert Griffin III
, congratulations. You had a fun night. Playing the first three offensive series of the Redskins'
7-6 exhibition victory
over the
Buffalo Bills
, Griffin looked poised, sharp and confident running the Redskins' offense. They didn't try anything too new or exciting, which was no surprise given how important it is for them to protect him and the fact that three of their starting offensive linemen were hurt and missed the game. But Griffin's throws were on target, his decision-making was smooth and nothing about the stage or the moment seemed to overwhelm him.
"It felt extremely good," Griffin said in an in-game interview with the Redskins' radio network. "Coach did a good job calling plays, got me in rhythm and helped get the offense in rhythm on that third drive."


That drive featured three big throws to new Redskins receiver
Pierre Garcon
, including the screen pass that resulted in a 20-yard touchdown. He said in that same radio interview that he was hoping to keep the ball and try to run it in, but that he spotted a linebacker coming up to the line and remembered that the most important thing for him to do in this game was play safe.
The young man is going to be fun, and while it's important not to make conclusions or predictions based on preseason performance, Redskins fans who were looking forward to seeing their guy in game action certainly enjoyed watching him Thursday night.
Here's some other stuff I noticed in the Redskins' preseason opener:
1. Trent Williams made the most impressive play of the game.
The Redskins' mercurial left tackle got downfield quickly and blocked two defenders at once on the Garcon touchdown catch. Williams is fast, athletic and as talented as any left tackle in the league, and the sense in Redskins camp is that he's more focused and motivated than he's been in his first two seasons. He looked tremendous on that play and is capable of dominating at the point of attack and at the second level. Williams injured his foot on the extra point, but Mike Shanahan said after the game that X-rays were negative. It would be bad for Washington if Williams were seriously injured. He is by far the best thing the Redskins' offensive line has going for it.
2. Garcon is a very big receiver who plays big.
He went over the middle to catch the ball, didn't shy away from contact and looked more than willing to use his frame to help him add yards after the catch. I believe he will be Griffin's go-to receiver and, assuming health all the way around, is almost a sure thing to lead the team in catches this year.
3. Evan Royster can't afford to fumble.
I think Royster had moved ahead of
Roy Helu
in the race to be the starting running back in
Tim Hightower
's absence. But he couldn't hold on to the ball as Griffin handed it to him, and that's the kind of thing the Redskins can't and won't abide. I still don't see what all the fuss is about with Helu, who's fine in space but doesn't break tackles. But whatever separation there may be between the two in the coaches' eyes will be easily negated if Royster can't hold on to the ball.
4. Ryan Kerrigan is a very good player
. We know he can get after the passer, but in this game I thought he showed improvements in pass coverage and other key areas. He stayed home and batted down a
Ryan Fitzpatrick
pass at one point, and he was his usual disruptive self when he did get into the backfield.
5. The Redskins' coverages are a team effort.
There are major questions at cornerback and safety, and they showed up, especially when Buffalo's
Stevie Johnson
was in the game. But you can see that the Redskins believe it's important their cornerbacks not be isolated. They're always getting help from a linebacker underneath or a safety over the top. Washington's hope is to make up for the lack of quality in the secondary with quantity and teamwork.
6. They have lots of defensive line depth.
The performances of guys like
Jarvis Jenkins
,
Chris Baker
and
Chris Neild
-- especially at the goal line -- showed why the Redskins consider the defensive line a strength of their team. They should be stout against the run and able to create pressure with their defensive front, which also should take some pressure off the secondary.
It wasn't all roses.
Niles Paul
dropped a couple of passes.
Rex Grossman
looked shaky as the backup quarterback. And I don't think I even saw
Santana Moss
once. But all in all, lots of positives from the Redskins' first preseason game. And for a team looking to improve and feel good about itself, that can matter.