NFC East:

2010 Camp Confidential
August, 19, 2010
8/19/10
12:00
PM ET
By
Matt Mosley
| ESPN.com
ESPN.com NFL Power Ranking
(pre-camp): 4
OXNARD, Calif. -- No one would blame 34-year-old linebacker
Keith Brooking
for taking a day or two off in training camp, but that's not his style. He missed the Cowboys' OTAs this offseason after having a relatively minor knee surgery and now he's refusing to leave the field.
Brooking, who played in a Super Bowl with the
Atlanta Falcons
, hears the clock ticking on his career -- and he also hears rookie
Sean Lee
's footsteps.
"Dick Butkus is my idol and he always said you never want your last play to be a stinker," Brooking told the NFC East blog . "In saying that, he knew how precious this game is. The window's closing on me every passing day and it's time to push all my chips in."
Brooking has become the inspirational leader of this defense. He was frustrated last season when he had to come off the field in the nickel and he has reminded everyone in this camp that he can run step for step with running backs in pass coverage. Everyone expected Lee to replace
Bobby Carpenter
in the nickel defense, but Brooking's not making it easy.
"They've been drafting guys to take my place for 13 years," he said. "I thrive on the competition and I'm going to keep coming no matter who they bring in."
That said, Brooking and Lee have become fast friends. Lee speaks in awe of Brooking and
Bradie James
. Coach Wade Phillips has taken to calling Lee "Brooking" when he sees him around camp.
"Sean Lee keeps me young," Brooking said. "They've made a lot of comparisons between us, and most of them are accurate."
But Lee will have to wait his turn with the Cowboys because Brooking may be having the best camp of his 13-year career.
THREE HOT ISSUES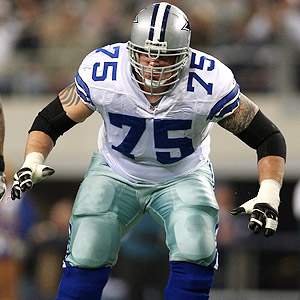 Matthew Emmons/US PresswireDallas hopes to have Marc Colombo back in time for the opener at Washington.
1. Is there enough depth on the offensive line?
That's a question folks were asking even before starting left guard
Kyle Kosier
and right tackle
Marc Colombo
suffered injuries. Colombo probably will return in time for the opener against Washington on Sept. 12, but Kosier could miss a couple of games. Veteran
Montrae Holland
(48 career starts) will replace Kosier. Holland's had his moments in the league, but he has started only two games since joining the Cowboys in '08.
Robert Brewster
may get the start in Colombo's place, and that's a problem. Brewster's footwork has been questionable and he's getting blown off the ball in pass protection. And on Wednesday, the Cowboys couldn't seem to decide whether quarterback
Tony Romo
would play Saturday against the Chargers. The Cowboys are extremely talented at the skill positions, but a couple of injuries on the offensive line could derail this team. The good news is that left tackle
Doug Free
has had an excellent camp. Owner/general manager Jerry Jones believes that Free will be an upgrade over
Flozell Adams
. I think that may be the case down the road, but for now, Free's still somewhat of a wild card.
2. Will the Cowboys score in the red zone at any point this preseason?
Romo's coming off the best season of his career with 26 touchdowns and only nine interceptions. He stopped putting so much pressure on himself to constantly make plays, in part, because he knew the defense would get him the ball back quickly. But for all the yards, the Cowboys were not a good red zone team. They ran the ball well between the 20s, but they were stymied after that.
Romo told a couple of us Monday that we're going to "enjoy" the Cowboys' new red zone plays. He said that Jason Garrett was purposefully being vanilla with his play calls because he doesn't want to tip his hand. The good news is that tight ends
Jason Witten
and
Martellus Bennett
have made several plays in the red zone during practice. If Romo can develop some trust in the 6-foot-6 Bennett, it would give the Cowboys quite a weapon. Bennett has made some remarkable catches since returning from an ankle injury Sunday. He's trying to persuade Romo to go ahead and force the ball to him even when it looks like he's covered.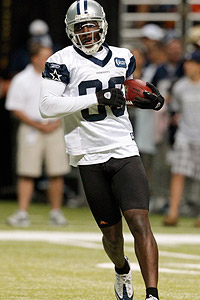 AP Photo/Tony GutierrezThe Cowboys are uncertain if Dez Bryant will play in the team's remaining preseason games.
3. How much of a setback was Dez Bryant's high ankle sprain?
Bryant was supposed to be the story of this camp, and he delivered all the headlines until
Jon Kitna
fired a pass behind him. He appears to be ahead of schedule in his rehab work with Cowboys associate head athletic trainer Britt Brown. Bryant has done a nice job of staying in the playbook and he passed a pop quiz from Garrett after practice Wednesday. You can stand there and watch him play catch during practice and be amazed by the way he snags balls with his left hand. The more I'm around Bryant, the more obvious it becomes that he's going to force his way into the starting lineup early in the season. I think we'll see him play in the final preseason game just to get a feel for game speed. It will be interesting to see if Phillips lets Romo play a series with him just to work on their rhythm.
BIGGEST SURPRISE
Cornerback
Cletis Gordon
and safety
Danny McCray
tied for this coveted award. My colleagues at ESPNDallas.com have Gordon with 10 interceptions in training camp. The ball just seems to find him and that's a great thing for a cornerback. He'll be the Cowboys' fourth cornerback.
The University of Texas wanted to make McCray into a linebacker, so the Houston native opted to play at LSU. He's one of at least nine rookies from the school and he was not even close to being the headliner. He played in the shadows of
Chad Jones
, the Giants' third-round draft pick who was in a horrific car accident this offseason. Special teams coach Joe DeCamillis thinks McCray could be a star for him. His play on special teams jumped off the screen in the Hall of Fame Game, but he also has shown excellent range at safety. There's no way to keep McCray off the 53-man roster.
BIGGEST DISAPPOINTMENT
The Cowboys still like wide receiver
Kevin Ogletree
's potential, but he's really missed some great opportunities in this camp. The knock on Ogletree is his consistency, and he hasn't done a lot to overcome that reputation. He has tremendous speed and runs nice routes. But he'll lose focus and drop a couple of balls in practice. When Bryant suffered the ankle injury, Ogletree should've seized the opportunity. But all he did is make
Patrick Crayton
look more valuable than ever.
[+] Enlarge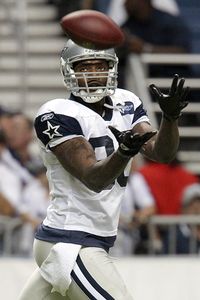 AP Photo/Tony GutierrezMartellus Bennett is out to prove he can be a threat in Dallas' offensive attack.
OBSERVATION DECK
Bennett has pretty much taken over camp the past three days. He told me Tuesday that he watched film of Brandon Marshall before practice every day because he loves his intensity. Bennett believes that he's been too nice of a guy to everyone in general and wants to play with more attitude. I don't know about the attitude, but he's catching everything. Perhaps he'll gain Garrett's trust heading into the season. As I mentioned earlier, I think he could be a huge weapon in the red zone.

Nose tackle Jay Ratliff had surgery on both elbows in the offseason and he's finally playing without pain. He's relentless in practice and he has put some of his mixed martial arts training to use. Ratliff has quietly become an important leader for this defense.

Brewster's still a work in progress, and that's as nicely as I can put it. He's had a difficult time anchoring in the two preseason games and he's lunging at defenders. The good news is that he's doing everything in his power to turn the corner. And he's going to get a huge opportunity this Saturday against the Chargers. If he can hold up well as the starter (if Alex Barron is out), that should solidify his roster spot.

Romo walked past the Beast West Coast bureau Wednesday and jokingly asked me whether he was playing Saturday. Moments earlier, Phillips had indicated that Romo might play an entire quarter. In other Romo news, he was seen sprinting after practice Wednesday near a busy street in Oxnard. I was later told that he was filming a spot for a TV network. According to an eyewitness, he was trailed by two motorcycle cops.

David Buehler has to be the cockiest place-kicker I've met -- and that's not a bad thing. The former USC kicker doesn't seem to have a care in the world, even though Cowboys fans are wondering what he'll do in real games. Other than that 49-yarder that he almost hooked into the stands in Canton, Ohio, he has been pretty consistent.

The Cowboys are going to try to get the ball to Crayton in the red zone. They've been lining him up in the slot and they're hoping to take advantage of his strength and sure hands. I love watching him compete against press coverage. He's a heady player who knows how to set up a route.

Safeties coach Brett Maxie has done some solid work with Alan Ball in camp. Ball looks like he has been starting for years. There are no false steps with this guy right now. Maxie is trying to get Ball to be a little more vocal on the field. That's not really Ball's nature, but he's getting a lot better at communicating with his teammates.

The John Phillips knee injury really hurts the Cowboys' offense. Garrett had made Phillips an important part of the running game and he was getting a lot better at catching passes. In fact, he was sensational against the Bengals before the injury. Without Phillips, the Cowboys only have two legitimate tight ends on the roster. We'll see what Scott Sicko does when he comes back from this concussion, but it's not a deep position right now.

What a superb camp it has been for Terence Newman. Everyone thought Mike Jenkins had passed him by, but Newman has responded with an excellent camp. He's doing a good job of getting his hands on everything.

Felix Jones looks so much bigger than I remember him, but the burst is still there. The Cowboys may have the best three-deep backfield in the NFC. Tashard Choice is an excellent back who could start for a lot of teams. Garrett has to find different ways to get him the ball. This team needs to get Jones and Choice in space.
August, 10, 2010
8/10/10
12:33
PM ET
By
Matt Mosley
| ESPN.com
ESPN.com NFL Power Ranking
(pre-camp): 20
ASHBURN, Va. -- It's 7:15 on a Friday evening at Redskins Park and coach Mike Shanahan has taken a short break from watching film of the morning's practice. The man who always appears to be five minutes removed from a tanning session is discussing a philosophy that's served him well over the years, but came into question when he was fired in Denver after 14 seasons and two Super Bowl titles.
Now Shanahan and his hand-picked quarterback,
Donovan McNabb
, want to prove that both of their previous employers made a mistake. We're talking about two of the most prideful men in the league, and in two separate conversations with the NFC East blog last Friday, they essentially said the same thing.
"Yeah, both of us are here to win a Super Bowl," Shanahan said. "If you're not in it to win a Super Bowl, then you need to find something else to do. I'm not ever going to comment on how things were done here before, but we had a philosophy that worked in Denver, and that's what we're going to follow."
It's worth noting that two years ago, players were hailing the unorthodox approach of Jim Zorn. He played music during practice and delivered lectures on designer jeans. He was sort of the lovable hippie -- right up until the team started losing. In '09, the Redskins became the most dysfunctional organization in professional sports. Zorn couldn't be shamed into resigning, so the Redskins simply stripped him of his dignity (and play-calling duties).
Dan Snyder hired Bruce Allen and Shanahan because he has lost so much credibility with Skins fans. Allen and Shanahan immediately began changing the culture at Redskins Park. This was a team crying out for some form of discipline, and Shanahan has delivered in spades. If a player doesn't hustle between drills in practice, Shanahan will call their names after practice and tell them to run extra sprints. He also makes sure that every player keeps his shirttail in during those sessions. Shanahan can get away with this because of those two rings.
With one hire, the Redskins are once again relevant in the NFC East. Now, let's take a closer look at their chances of making the playoffs:
THREE HOT ISSUES
[+] Enlarge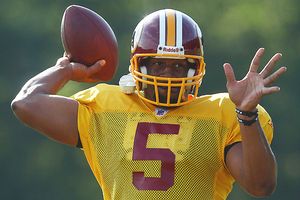 Win McNamee/Getty ImagesQuarterback Donovan McNabb is working on building a rapport with his new group of receivers.
1.
Can Donovan McNabb elevate this pedestrian group of receivers to new heights?
There's a reason that
Santana Moss
seems to have a perpetual smile on his face these days. He didn't even have time to complete routes last season because of the Redskins' woeful offensive line. Now, coaches are showing him film of the Texans'
Andre Johnson
and saying he could do similar things. McNabb invited Moss and the rest of the receivers to work out with him in Phoenix early last month, and you can already see the benefits on the playing field.
"I told them to bring their wives and girlfriends because I wanted it to be a family affair," McNabb told me. "When you're around the facility, you always feel like you're being watched. I thought it was a great opportunity for us to bond away from everyone else and start developing some chemistry."
But Moss is the only thing close to a sure thing. We're still waiting for former second-round draft picks
Devin Thomas
and
Malcolm Kelly
to show some consistency. For now, they're listed on Shanahan's depth chart as third-stringers. McNabb may have to rely on the 38-year-old
Joey Galloway
to play a significant role in the offense. The good news for Skins fans is that McNabb once took receivers such as
Freddie Mitchell
and
Todd Pinkston
to NFC title games on a regular basis.
2. When will Albert Haynesworth crack the starting lineup?
Shanahan bristled when I asked him if Haynesworth was causing a "circus," but the coach must realize that the defensive lineman has dominated the headlines. I think the players were watching closely to see how Shanahan dealt with the brooding star. Now that he's finally passed the infamous conditioning test, Haynesworth will work as a backup defensive tackle. He'll eventually start at right defensive end, but it's not going to happen overnight.
Haynesworth could be a huge part of Jim Haslett's defense if he buys into what the coach is doing. I am eager to see whether this knee issue goes away in the preseason. Haynesworth needs more game repetitions than usual because of all the time he missed. If the knee prevents him from getting on the field, it will become another distraction.
[+] Enlarge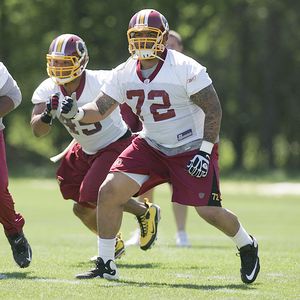 Jeff Fishbein/Icon SMIRookie tackle Trent Williams has drawn rave reviews from coaches and teammates.
3. Have the Redskins solved their issues on the offensive line?
I think a lot of this season hinges on whether three new additions to the line play well.
Jammal Brown
was a Pro Bowl player for the Saints at one point, but he hasn't played since '08. He'll have to knock off some rust while learning how to play right tackle. Rookie
Trent Williams
has a ton of ability, but he's working with a much thicker playbook now. There were questions about his work ethic at the University of Oklahoma. So far, he's said and done all the right things in Washington.
And we'll see how
Artis Hicks
performs at right guard. I always thought he was a better option than
Mike Williams
(out for the year), but this unit needs a lot of work in the preseason. McNabb will bring a lot to this team, but he can't win a lot of games if he's constantly on his back. Ask
Jason Campbell
about that.
BIGGEST SURPRISE
I was thoroughly impressed with free safety
Kareem Moore
. He was a sixth-round pick in '08 who didn't make much of an impact in his first two seasons. Now, it looks like he'll lock down a starting spot. He's had an excellent camp. He plays with a lot of confidence and he'll allow
LaRon Landry
to play closer to the line of scrimmage.
BIGGEST DISAPPOINTMENT
You knew that one of the veteran running backs would probably be out of the mix, but I didn't expect it to happen so early in the proceedings.
Willie Parker
is officially listed at the Skins' fourth-string running back. Hard to imagine him making the final roster unless there are injuries.
[+] Enlarge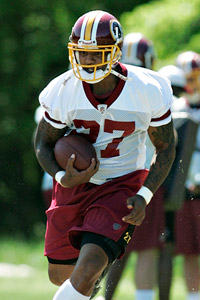 Jeff Fishbein/Icon SMIAfter recording 581 yards last season, Larry Johnson is turning in a solid camp in Washington.
OBSERVATION DECK
August, 9, 2010
8/09/10
1:54
PM ET
By
Matt Mosley
| ESPN.com
ESPN.com NFL Power Ranking
(pre-camp): 17
BETHLEHEM, Pa. -- On a Tuesday afternoon last week, Eagles quarterback
Kevin Kolb
watched one of his star wideouts,
Jeremy Maclin
, get carted off the field. The same thing had happened to
DeSean Jackson
a couple days earlier. You would think Kolb might be worried, but that's not an emotion that suits him. Kolb spent the three weeks before camp playing out every possible scenario in his mind so that setbacks like these wouldn't affect him.
"I tried to play out the good situations and the bad situations in my mind," Kolb told the NFC East blog. "I need to stay consistent as the quarterback of this team, so I imagined what all could go wrong and sort of told myself how I was going to react. Only 32 guys in the world that will get this opportunity, and I don't want the opportunity to pass me by."
If you were expecting a wide-eyed quarterback trying to grow into a job, you've come to the wrong place. Handed the task of following the best quarterback in the history of the franchise, Kolb just doesn't seem fazed. With Jackson and Maclin both out of Wednesday's practice, Kolb started firing balls to rookie
Riley Cooper
. Kolb entered the league in the same rookie class as linebacker
Stewart Bradley
and
Brent Celek
in 2007, and everyone's known those players would eventually take over the team in terms of leadership. But it was still stunning when the Eagles pulled the trigger on the biggest trade of the offseason.
Kolb has reached out to Packers quarterback
Aaron Rodgers
to ask him about following an elite quarterback. And he's also struck up a texting friendship with Cowboys Hall of Famer Troy Aikman, which may make a few fans queasy. Recently, Kolb spent hours watching an old tape of Aikman because "he was unbelievably accurate."
Kolb is relishing the Eagles' new underdog role and he understands that a lot of that has to do with him being the starter. He understands there's added pressure playing quarterback in a city that seems to base its identity on how the Eagles are performing. But he seems to have the right temperament.
"I played in front of 15,000 people when I was 15," said Kolb. "I think playing high school football in Texas gives you a good foundation. And now that I'm a little older, I think I'll be able to handle 70,000."
[+] Enlarge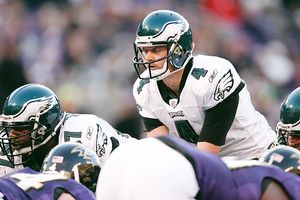 Brian Garfinkel/Icon SMIThe Eagles have high hopes for Kevin Kolb, who threw for more than 300 yards in each of his two starts last season.
THREE HOT ISSUES
1. Will this offensive line have any continuity heading into the season?
When the Eagles lost center
Jamaal Jackson
last year in the playoffs, the offensive line was in trouble.
Nick Cole
had done a nice job at right guard, but he was thrown into a bad situation at center. Jackson is still recovering from a knee injury and will likely be sidelined to start the season. Cole's been banged-up in practice and it's not like
Mike McGlynn
and
A.Q. Shipley
inspire a lot of confidence. The most consistent player on the offensive line last season, left guard
Todd Herremans
, has missed the first part of camp with a foot injury. You don't want Kolb lining up behind an offensive line that features a different player every week.
2. Do the Eagles have the best receiving corps in the league?
When Maclin and Jackson are healthy, the Eagles may have the most dangerous group in the league.
Jason Avant
is one of the best third receivers in the league, and he can bail out a quarterback on third down. Kolb's biggest strength is his accuracy. He knows how important it is to deliver the ball to Jackson and Maclin in stride. If you're wondering why this team seems to have such a quiet confidence, just look at these receivers. Throw in the fact that Kolb and Celek are best friends and you have the makings of a
Tony Romo
-
Jason Witten
combination.
[+] Enlarge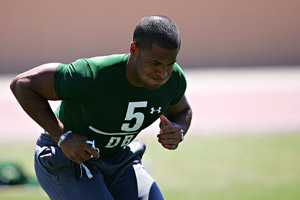 Cliff Welch/Icon SMIThe Eagles hope Nate Allen is the answer at safety.
3. Can rookie Nate Allen solve the issues the Eagles had at safety?
The Eagles never recovered from the loss of
Brian Dawkins
via free agency last season. They tried just about everyone at his old position, but it was a nightmare. Allen has looked like a starter from the day he stepped off the bus. He's mature beyond his years and moves with a grace that belies his inexperience. I think the Eagles made great use of the
Donovan McNabb
pick (No. 37) in landing Allen. And the former South Florida star doesn't appear to feel any added pressure because of where he was taken. It's easy to see that he would've been starting in front of
Marlin Jackson
even if he'd remained healthy.
BIGGEST SURPRISE
I know it's tough to call a first-rounder a "surprise," but
Brandon Graham
has exceeded everyone's expectations. I love how he's spent time in the film room studying some of the shorter defensive ends around the league. And then he immediately takes some of the moves (
Elvis Dumervil
) to the field. The Eagles' offensive line doesn't know what to do with Graham, and I think other NFC East offensive tackles will have the same issue. Graham is learning how to use his arms at this level and he already gets incredibly low to the ground when he's turning the corner. He's been the story of camp in a lot of ways. Can't wait to see him in a game. And one more surprise:
Ellis Hobbs
is having an excellent camp after returning from a neck injury.
BIGGEST DISAPPOINTMENT
There's nothing that really jumps out at this point other than the offensive line issues. But I'd like to see more from
Darryl Tapp
. The defensive end was hoping to jump-start his career after coming over in a trade from Seattle. He just looks out of place in Sean McDermott's defense right now. In the practice sessions I observed, he didn't really make anything happen.
[+] Enlarge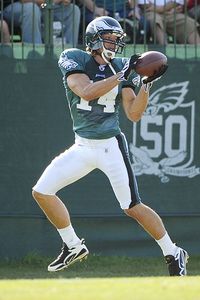 Howard Smith/US PresswireRookie Riley Cooper has stepped up when called upon in training camp.
OBSERVATION DECK
Cooper is taking full advantage of the extra repetitions. He made the catch of the day last Wednesday when one of Kolb's passes was tipped by Tapp. Cooper cut off his route and made a diving catch in the flat. Seems like he's quickly becoming a fan favorite and he could actually play himself into the rotation this season. General manager Howie Roseman's a Florida grad, so look for the Gator connection to continue. I don't think Hank Baskett is long for this roster, but he and Kolb did hook up on a deep ball.

I talked to second-year running back LeSean McCoy about how he's improved his lower-body strength. He thinks he left a lot of yards on the field because he didn't break enough tackles. I think it's helping McCoy to have Duce Staley in camp serving a camp internship.

Rookie free safety Kurt Coleman out of Ohio State has made a favorable impression but was called for pass interference Wednesday when Kolb used an excellent play-action fake to free up McCoy down the sideline. You can tell that McCoy's going to show up in the passing game a lot more this season.

This is the only camp I've attended where fans tailgate in the parking lots between morning and afternoon practices. Even NFL commissioner Roger Goodell seemed to get caught up in the moment when he remembered that he'd visited the Lehigh University campus when he was deciding on colleges a few years back.

Bradley destroyed Eldra Buckley when he made the mistake of trying to jump over a pile. And when Buckley made a catch in the flat, former Lions linebacker Ernie Sims lit him up. Sims stared down at him like Chuck Bednarik once did to Frank Gifford. As I noted in my observations last week, Andy Reid's team hits harder than any of the other teams in the division during camp. We're not simply talking about thuds. I'm talking about linebackers taking ball carriers to the ground. This is how things were done about 20 years ago across the league. Roseman told me that the Eagles felt like it was important to quickly introduce the rookies to how physical the league is.

I watched Reid take Kolb aside Wednesday and have a long conversation. I think he and McNabb had such an understanding that they rarely had to have a lot of long discussions. But I'm not saying that's a negative about Kolb. It seems like Reid's sort of rejuvenated by the thought of having to coach a quarterback all the way through practice. I remember Bill Parcells saying that about Romo all the time. "You have to coach him all the way through the game," Parcells would say. Reid didn't think that was a big deal when I brought it up, but it's obvious he's spending more time with Kolb. And the two seem to have a great rapport. In fact, Kolb already takes the sharp stick to Reid at times.
August, 3, 2010
8/03/10
1:00
PM ET
By
Matt Mosley
| ESPN.com
ESPN.com NFL Power Ranking
(pre-camp): 16
ALBANY, N.Y. -- The
New York Giants
are going through an identity crisis. Just when we had them pegged as a perennial playoff team, they went out and lost eight games in one season.
There are plenty of players on the roster who own Super Bowl rings from the '07 season, but some of them also took the field in disgraceful losses to the Panthers and Vikings to close out '09. Coach Tom Coughlin seemed invincible two years ago, but it's not a stretch to say that his job's on the line heading into this season. Co-owner John Mara has suggested that's not the case, but it's hard to envision Coughlin surviving another .500 season.
The good news for Giants fans is that Coughlin's been here before, and he's come out on the other side. He told me Monday that two books he read over the summer -- a biography of Harry Truman and a remarkable story involving four Navy SEALs -- have had a profound effect on him. He'll spend the next three weeks in training camp attempting to inspire his players to be "uncommonly good."
"I don't remember anyone saying I was on the hot seat when we were 5-0," he said Monday. "But believe me, the most intense pressure comes from within. The outside stuff doesn't affect me."
Coughlin has personally challenged veteran players such as defensive end
Justin Tuck
to get out of their comfort zones and take larger leadership roles. He also brought in fiery defensive coordinator Perry Fewell to create more energy on the practice field. The former Bills assistant can be heard from across the University at Albany campus shouting at his players and he even tried to throw a block for cornerback
Corey Webster
during an interception return Monday.
"With our group of players, a coach has to do something phenomenal for us to wholeheartedly follow you," Tuck told me Monday. "[Fewell] had to win our trust. But every day, he shows us how much he loves the game with his actions. And when you see a guy with that much energy, it's hard not to get behind him."
Shortly after Fewell was hired, Tuck stopped by his office to say hello. When he walked into the room, he said Fewell grabbed a marker and started drawing plays on the board.
"He went through a bunch of different scenarios and then asked me how I thought they might work this season," said Tuck. "I got more and more excited as he talked about all the possibilities."
Tuck didn't want to give too much away, but he did disclose that one of the scenarios involved him and
Osi Umenyiora
both playing linebacker at the same time. But keep that confidential if you would.
THREE HOT ISSUES
[+] Enlarge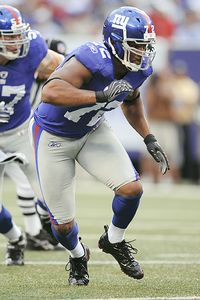 Rich Kane/Icon SMIOsi Umenyiora is in a battle to regain his job as a starter.
1.
What happens if Osi Umenyiora doesn't win back his starting job?
For the first two days of camp, Umenyiora was all smiles. He's only practicing once a day in order to manage his hip injury, but he doesn't think the injury will keep him out of any games. Umenyiora's a prideful player who felt humiliated by losing his job to
Mathias Kiwanuka
last season.
The good thing is that Fewell's going to be up front with all of his players and let them know where they stand. Coughlin remembers how the Giants came at teams with waves of pass-rushers in '07 and '08. Tuck, Umenyiora, Kiwanuka and first-round rookie
Jason Pierre-Paul
have the talent to be a special group. But last year players along the defensive line started trying to do too much individually and didn't play as a unit. I don't see any circumstance where Umenyiora embraces a reserve role, so that will put the coaching staff in an interesting situation. My guess is that Umenyiora meets the challenge and wins back his job.
"Osi's in for a fight because Kiwi's not going to back down," said Tuck. "Those two are going to push each other and I think that's a good thing."
2. Is former second-round pick Will Beatty ready to take over at left tackle?
Coughlin and general manager Jerry Reese love creating competition and it's going to be interesting to see if
David Diehl
can hold onto his left tackle spot. The good news for Diehl is that he's going to end up starting on the offensive line no matter what happens in that competition. Coughlin's going to do whatever's best for the team, and I think that will ultimately be Beatty at left tackle and Diehl at left guard. Beatty, a second-year player, has shown a lot of quickness in the first three practices of training camp.
It won't be a completely smooth transition, but I believe he has the athletic ability and size to succeed at left tackle. The Giants have had a lot of continuity along the offensive line, but that won't keep Coughlin from pulling the trigger on a move. In talking to Reese, I get the feeling he's enjoying this competition quite a bit.
3. Can the Giants re-establish the running game?
[+] Enlarge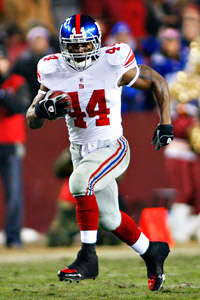 Geoff Burke/US PresswireA healthy Ahmad Bradshaw could see more carries in 2010.
Of all the things that went wrong last season, the lack of a consistent running game might have been the thing that disappointed Coughlin the most.
The Giants went from the No. 1 rushing team in the league in '08 to a No. 17 ranking in '09. They averaged almost a full yard less per carry in '09, which put too much pressure on
Eli Manning
and the passing game.
Tiki Barber told me early last season that he'd advised
Brandon Jacobs
to learn how to protect his body more on runs. It may have been solid advice, but Jacobs appeared tentative in '09 and began to doubt himself as the season unfolded. If he looks tentative early in this season, I believe a healthy
Ahmad Bradshaw
will be prepared to take over as the featured back.
I've been impressed with how quick and decisive he's looked in camp. And
Andre Brown
appears to have regained his speed after missing last season with a ruptured Achilles tendon. Brown should be a good change-of-pace back and he has soft hands that could make him a decent option on third down.
BIGGEST SURPRISE
I think the most pleasant surprise so far is the Giants appear to have a ton of competition at cornerback.
Aaron Ross
missed so much time last year because of hamstring issues that he sort of faded out of the picture. Now, he's getting his hands on lots of footballs and he's regained that quickness that we saw a couple seasons ago. The problem for him is that
Terrell Thomas
and Webster have both been excellent in this camp. Webster was a disappointment last season, but he's been one of the best players in camp through three practices.
BIGGEST DISAPPOINTMENT
It's hard to give up on someone after three practices, so I'll go with an injured player in safety
Kenny Phillips
. He has an excellent attitude, but the fact that he's on the physically unable to perform list isn't a great sign. He was on the verge of stardom before a serious knee condition required microfracture surgery. The Giants brought in plenty of insurance for Phillips this season, but it would be really disappointing if he's not able to make a full recovery.
OBSERVATION DECK
[+] Enlarge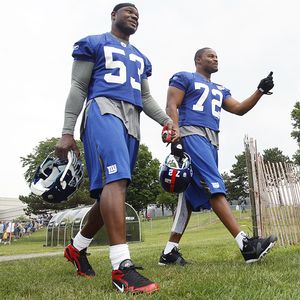 AP Photo/Mike GrollLinebacker Keith Bulluck (53) has looked comfortable in the early stages of camp.