NFC East:

2010 Colts-Eagles
November, 7, 2010
11/07/10
11:54
PM ET
By
Matt Mosley
| ESPN.com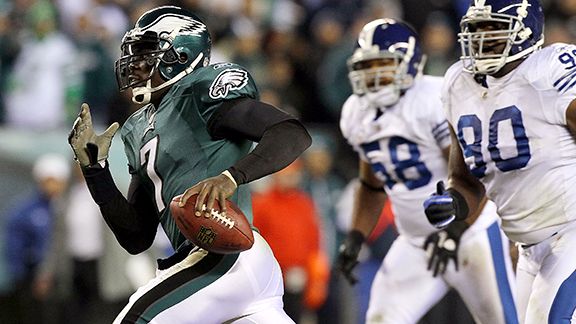 Jim McIsaac/Getty ImagesEagles quarterback Michael Vick outdueled Peyton Manning in his return to the team.
PHILADELPHIA -- This one might have some staying power. No one really knew what to make of the
Philadelphia Eagles
' win over the
Atlanta Falcons
three weeks ago because it's impossible to get a read on the NFC.
But beating a team led by
Peyton Manning
still carries some weight in this league. And on Sunday, the best quarterback on the field suited up for the Eagles. We wondered how
Michael Vick
would respond following a month off for what he's now saying were three broken ribs. Would he err on the side of caution after being served up as a violent sandwich between two Redskins defenders?
The answer Sunday was a resounding no, although Vick wisely stepped out of bounds a time or two in
a 26-24 win over the Colts
, decisions that were applauded by coach Andy Reid following the game.
"It's hard because you don't want to take anything away from his game," said Reid. "You know he did run out of bounds one time. I was really fired up about that. He's making a little progress."
Both Vick and the Eagles' defense teamed up do something pretty rare, which was making Manning look human for much of Sunday's game. And unlike what happened two weeks ago in Tennessee, the Eagles didn't crater when the Colts overcame a 13-point deficit to lead 17-16 at halftime. Offensive coordinator Marty Mornhinweg told me after the game that players were reminded constantly last week that there would be momentum shifts because of the presence of Manning.
That shift occurred with 2:23 left in the first half. Eagles safety
Quintin Mikell
separated Colts wide receiver
Austin Collie
from the ball with what appeared to be a clean hit. Collie pin-balled into Eagles rookie safety
Kurt Coleman
and their helmets collided. Collie remained motionless for several minutes before being strapped onto a backboard and carted off the field. The lengthy delay seemed to deflate the Eagles, but it had the opposite effect on the Colts, who scored twice to take the halftime lead. Collie suffered a concussion but he was alert by halftime and had regained full motion in his arms and legs.
"They know what's happened in the past, and one of the things that we looked at during the bye week was just that," said Reid. "The players and coaches challenged themselves as individuals to make sure that we maintained the intensity through four quarters, and I thought we did that."
Eagles defensive coordinator Sean McDermott had come under fire for the way his unit collapsed in the fourth quarter of a loss to the Titans, but he put together a game plan Sunday that appeared to baffle the great Manning at times. Starting safety
Nate Allen
was knocked out of the game early in the second quarter and
Dimitri Patterson
was starting in place of
Ellis Hobbs
, who was embarrassed by Titans wide receiver
Kenny Britt
. As Manning went through his maddening pre-snap routine, you kept thinking the Eagles would be exposed. But it was Manning who looked confused while throwing two interceptions to cornerback
Asante Samuel
, who relied on lessons he learned when he was with the
New England Patriots
.
"Yeah, you've got to give him a lot of different looks and try to confuse him as much as possible," said Samuel. "The guy is a really smart guy, he studies a lot and once he figures out what you're in, he's going to dissect you a lot. So that was the whole thing this week was to confuse him, play around as much as possible and never let him know what coverage you're in."
The Colts were held scoreless in the second half until there was 1:50 left in the game. But when Manning had the ball in his hands with 40 seconds left and no timeouts, you still had the sense that he'd do something special. Vick was asked what was going through his mind when Manning lined up for that final drive.
"Let me tell you something about Peyton Manning," he said. "Every time he's out on the field, you think he's going to score a touchdown. And that's just how precise he is, that's how smart he is, that's the type of player that he's become and that's how hard he's worked throughout his career."
Vick acknowledged that he told Reid this past week that the Eagles have what it takes to make a run at the Super Bowl. And with how wide open the NFC appears to be, Philadelphia could certainly get on a roll. The Eagles still need to show more consistency, but this was the type of signature win they could use as a springboard for the closing stretch.
At 5-3, the Eagles still have five games remaining against NFC East opponents. They trail the
New York Giants
(6-2) by one game and they'll have a chance to put the Redskins (4-4) in a deep hole when they visit FedEx Field next Monday night.
"We played against one of the best today -- one of the best teams in this league and one of the best quarterbacks, hands down," said Vick. "We were able to pull it out, so that gives us a great deal of confidence moving forward."
November, 7, 2010
11/07/10
9:53
PM ET
By
Matt Mosley
| ESPN.com
PHILADELPHIA -- It's wonderful news that
Indianapolis Colts
wide receiver
Austin Collie
looks like he'll make a full recovery from a concussion after he was strapped to a backboard and carted from the field in the second quarter of Sunday's Eagles-Colts game. The Eagles were flagged for unnecessary roughness on a defenseless receiver on the play, and the officials provided a confusing explanation following the game.
[+] Enlarge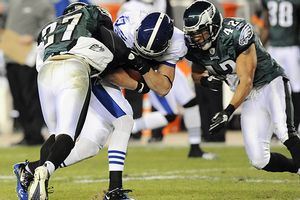 AP Photo/Miles KennedyColts wide receiver Austin Collie, center, is hit by Eagles safeties Quintin Mikell, left, and Kurt Coleman. Mikell was called for unnecessary roughness on a defenseless receiver.
Eagles safety
Quintin Mikell
unloaded on Collie after he appeared to make a catch with 2:23 left in the first half. Mikell led with his shoulder and it appeared to be a clean hit as he made contact with Collie, who then pin-balled into Eagles rookie safety
Kurt Coleman
. After watching several replays, I'm not sure how Coleman could have avoided the helmet-to-helmet contact, which appeared to cause Collie's injury.
A pool reporter asked referee Carl Cheffers and back judge Todd Prukop for a clarification following the game, and that's when things really got interesting. They both agreed that the penalty was actually on Coleman, who sounded stunned about the ruling when reporters showed up at his locker.
Since Collie appeared to have possession of the ball before the hit caused it to pop out, Cheffers was asked to define "defenseless receiver."
"Well, if he is completing the catch, his second foot is not down yet or it's just down, we still give the defenseless receiver protection. So if it is a bang-bang type play, with his second foot coming down, he still gets protection on that play. The fact of the matter is, is that ball was incomplete. So, he has protection throughout that entire process on that play because we don't even have a completion -- at no time did he have possession and become a runner to where he would have transitioned out of being a defenseless receiver."
Well, that really clears things up. Asked what Coleman did to deserve a penalty, Prukop chimed in, "So, he makes contact with the shoulder to the back of the helmet of the receiver."
If you've watched a replay, you know that's flat-out wrong. Coleman never used his shoulder to hit Collie in the back of the helmet. Eagles coach Andy Reid was very careful with his words following the game because he wanted to avoid a fine for criticizing the officials.
"The way the game is today, close things are going to be called in the safe direction," said Reid. "When you're in the heat of it, do you like it? No. but maybe the longevity of the player down the road and for life after football."
Reid went on to say that it was a "bang-bang" play, but some of his players were a little bit more visceral in their responses.
Cornerback
Asante Samuel
, who had two interceptions in the Eagles' 26-24 win, joked that the league would soon ask defensive backs to wear flags. Coleman, a seventh-round choice out of Ohio State, was still trying to figure out what happened.
"I never lead with my head," he said. "That protects myself and the other players."
He vowed not to change his style and said he wouldn't become "conservative" in how he makes tackles. But it's not like seventh-round draft choices can afford to pay many $50,000 fines, a figure the league has been enamored with in recent weeks. Perhaps the league will review the play and determine that Coleman couldn't have avoided the contact. But then, it's not like defenders have been getting the benefit of the doubt lately.
It was a bad call, but with so much pressure coming from the league office, you can certainly understand how it occurred. It seems like this officiating crew could use some extra film work this week.
November, 7, 2010
11/07/10
7:50
PM ET
By
Matt Mosley
| ESPN.com
PHILADELPHIA -- Eagles coach Andy Reid continued his post bye-week dominance with the
26-24 win
over the Colts. Let's take a quick look at how he ran his post bye-week record to 12-0 with the Eagles.


What it means:
Michael Vick
was the best quarterback on the field Sunday, and it's not like
Peyton Manning
played poorly. Vick let
DeSean Jackson
and
LeSean McCoy
make plays for him in the first half, but he eventually overwhelmed the Colts' defense with his speed. Vick ripped off runs of 24 and 32 yards. And when the Colts desperately needed a stop in the fourth quarter, Vick almost seemed to toy with them by gliding down the field and stepping out of bounds just beyond the first-down marker. No one knew how Vick would respond to being hit after missing a month to a rib cartilage injury, but he absorbed several shots in the first half, and it didn't appear to bother him.
Defense answers the bell:
Manning and the Colts owned the second quarter as they took a 17-16 halftime lead. Reserve tight end
Jacob Tamme
did his best
Dallas Clark
impression as he shredded the Eagles' defense. But for much of the second half, the Eagles held Manning in check. Linebacker
Ernie Sims
, fresh off his $50,000 fine from a hit against the Titans, sacked Manning in the fourth quarter and finished with five tackles. Rookie safety
Nate Allen
was knocked out of the game in the first half, but
Kurt Coleman
stepped in and played well in his place. In the first quarter,
Asante Samuel
intercepted an awful pass by Manning and returned it 33 yards to the Colts' 9-yard line. The Eagles allowed the Colts to climb back into this game twice, but they found a way to hold on in the end. A big reason for that was holding the Colts to only seven points in the second half. Samuel sealed the win with his second interception of the game.
The heroes:
Vick and Jackson were electrifying in this game. Jackson had seven catches for 109 yards and a touchdown. Vick had nine carries for 75 yards and a touchdown. He completed 17 of 29 passes for 218 yards and a touchdown. The Eagles offense hit a lull in the second quarter, but Vick got things going again with a 32-yard scramble late in the third quarter that set up a touchdown that gave the Eagles a 26-17 lead.
Injuries:
Eagles safety
Quintin Mikell
was called for unnecessary roughness for hitting a defenseless receiver in the second quarter. Replays showed that Mikell actually led with his shoulder on a hit that left Colts wide receiver
Austin Collie
on the ground until he was carted to the locker room. Mikell collided with Collie's shoulder on the play. Thankfully, Collie was alert at halftime and had full range of motion after suffering a concussion. It actually appeared his helmet collided with Eagles safety Kurt Coleman after he was hit by Mikell. The Eagles lost starting right guard
Max Jean-Gilles
to a concussion and rookie safety Nate Allen had X-rays for neck and back injuries, which were negative. Neither player returned to the game.
What's next:
The Eagles travel to Washington for "Monday Night Football."
November, 7, 2010
11/07/10
6:18
PM ET
By
Matt Mosley
| ESPN.com
PHILADELPHIA -- Eagles starting safety
Nate Allen
and guard
Max Jean-Gilles
have both left the game with injuries and will not return. Allen had X-rays on his neck and back, but they were negative. Jean-Gilles is suffering from a concussion.
Nick Cole
replaced Jean-Gilles at right guard and
Kurt Coleman
took over for Allen at safety.
There have been some brutal hits in this game.
Indianapolis Colts
receiver
Austin Collie
was carted off the field after a helmet-to-helmet collision with Coleman, but he's now alert and has full movement. The Colts said Collie has a concussion.
November, 7, 2010
11/07/10
4:02
PM ET
By
Matt Mosley
| ESPN.com
PHILADELPHIA -- Eagles running back
Jerome Harrison
is active for the first time since being acquired by the club Oct. 13. The man who once ran for 286 yards in a game for the
Cleveland Browns
had trouble picking up the Eagles' offense, but now he's apparently good to go.
He'll be primarily used in the passing game, but I wouldn't expect him to receive more than four or five touches in his first game with the Eagles. Rookie linebacker
Keenan Clayton
will also be making his debut for the Eagles, and I'm sure he'll have a large role on special teams.
I'm joined at the Linc today by AFC South blogger Paul Kuharsky, who will provide expert analysis on the Colts. He just explained to me why they're wearing 1955 Colts throwback unis today. From my seat, they look more like Michigan State than the Colts. Now, here's a look at the other inactives for the Eagles:
QB
Mike Kafka
, WR
Chad Hall
, RB
Joique Bell
, CB
Ellis Hobbs
, DE
Daniel Te'o-Nesheim
, T
King Dunlap
, G
Reggie Wells
, TE
Clay Harbor
November, 7, 2010
11/07/10
2:30
PM ET
By
ESPN.com staff
| ESPN.com
Join our ESPN.com NFL experts as they break down the match up between the Indianapolis Colts and the Philadelphia Eagles.

Contribute your thoughts and questions starting at 4 p.m. See you there.