NFC East:

2011 Camp Confidential NFC
August, 21, 2011
8/21/11
11:40
AM ET
ARLINGTON, Texas -- The
Dallas Cowboys
' coaches don't just announce drills during training camp practices, hollering out "9-on-7s!" as the horn blows and players shift from one field to the other. They're calling out situations. Two minutes to go, one timeout left, second-and-6 on your own 35. The players either huddle or hustle between plays, depending on what the called-out situation calls for. While these are drills only, they're intended to simulate game conditions as closely as they possibly can.

"Will we ever be able to completely recreate a game situation? No," Cowboys coach Jason Garrett said. "But we're going to try our best in practice, and I think all these situational periods had been really good for us. Not only have we created initial situations, but stuff comes up that isn't scripted, and I think our team has handled those well also."
What strikes you when you spend a few days in Cowboys camp is how normal things seem, how businesslike. Sure, they were in San Antonio for a while and now are splitting practice time between the steamy outdoor fields at Valley Ranch and the air-conditioned luxury of Cowboys Stadium. But it's nothing like last year, when they spent August bouncing between those places as well as Canton and California, brimming with the highest possible expectations, proclaiming with confidence the goal of being the first team to play a Super Bowl in its home stadium.
A 6-10 record and a new coach can humble you, for sure, after a summer like that, and there's no doubt these Cowboys are humbled by the way things went in 2010. But if the end result is the atmosphere Garrett has created in his first training camp as head coach, there are worse things.
"We certainly want an atmosphere where guys like to coach and play football, but we absolutely want to be organized and prepared," Garrett said after Friday morning's workout at the stadium. "We want it to be businesslike when we're out there doing our work, out there on the field and also in the meeting rooms. We want to create a nice, professional atmosphere where we feel like we can function the best."
Garrett exudes both confidence and competence. He has waited his whole life for this chance, but he doesn't seem over-eager or phony about the way he's putting his long-held ideas about how to be a head coach into practice. He is smart, knowledgeable and self-assured, and it's emanating throughout the building. Around a team that often, throughout its history, has been known for something of a circus atmosphere, the mentality this August is straight lunch pail.
"Everybody here knows, whatever we get, we're going to have to work for it," right guard
Kyle Kosier
said. "Whether it's your spot on the roster or in the starting lineup or a Week 1 win or a playoff spot, it's about putting in this time right here and working. And that's all that's on anybody's mind right now."
THREE HOT ISSUES
[+] Enlarge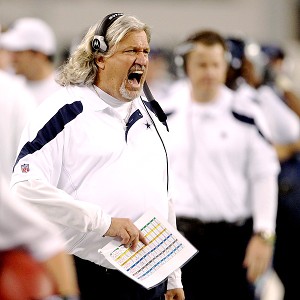 Matthew Emmons/US PresswireRob Ryan will be expected to improve a defense that was one of the worst in the league last season.
1. Can the defense learn Rob Ryan's scheme in time?
The Cowboys brought in Ryan to be their new defensive coordinator. And while they signed free-agent safety
Abram Elam
and free-agent defensive end
Kenyon Coleman
-- both played under Ryan in Cleveland the past two seasons -- the group they're bringing back on defense is otherwise the same as the one that allowed the second-most points in the league last season. Ryan is charged with fixing that, but of course the lockout denied him the opportunity to use spring minicamps and organized team activities as part of his installation process. The defense is trying to cram a whole offseason's worth of learning into one month, and there's a lot to learn. Ryan's defense is based on multiple and ever-changing looks, and a complexity designed to make things as confusing as possible for opposing offenses. But Garrett said he has faith in the quality of his defensive personnel and the ability of his flamboyant new coordinator to teach.
"It's difficult. There are a lot of looks," Garrett admitted. "But the other part to that, too, is that I think he grew up in a very fundamentally sound system in the NFL -- linebacker coach for New England for four years during their Super Bowl era in the early 2000s. So he has a very good feel for base defensive football, and then he has an ability to evolve in different situations and make it more difficult for opposing offenses. So we feel excited about that, and we're excited to see our players play within this system."
2. Can they put together an offensive line?
There are some new and inexperienced pieces here. Rookie
Tyron Smith
, the ninth overall pick in this past draft, will start at right tackle. Every day Smith gets an extra tutoring session with offensive line coach Hudson Houck and a series of rotating instructors that has included Kosier, linebacker
DeMarcus Ware
, left tackle
Doug Free
and others. Smith is ultra-talented but needs work on his footwork and learning the schemes. And as with the players learning the new defense, he has to cram. The Cowboys moved Kosier from left guard to right so he could work more closely with the rookie, but now they need a left guard. And while that still has a good chance to be
Montrae Holland
or
Phil Costa
, later-round rookies
David Arkin
and
Bill Nagy
have been getting first-team reps lately and one of them could end up starting Week 1.
3. Who is the No. 3 wide receiver?
One of the first things the Cowboys did when the lockout ended and free agency began was cut receiver
Roy Williams
to help create cap room. That also created a vacancy at the No. 3 wide receiver spot behind
Miles Austin
and
Dez Bryant
.
Kevin Ogletree
appears first in line to grab the opportunity, though
Raymond Radway
and
Dwayne Harris
have shown flashes. Some have suggested the Cowboys need to go out and get a veteran to fill the spot, but with tight end
Jason Witten
a near-lock for 90-plus catches, running backs
Felix Jones
and
DeMarco Murray
potential factors in the passing game and depth at both of those positions, the Cowboys feel as though the No. 3 wide receiver might be the No. 5 target for
Tony Romo
for most of the season.
THE BUTLER CAN DO IT
Third-year linebacker
Victor Butler
has been an eye-opener in camp, and some have suggested he might be a threat to
Anthony Spencer
's starting spot on the side opposite Ware. More likely, he's a guy to add to the pass-rush mix and give them depth and the ability to vary those looks even more. If anything, the camp Butler is having could serve to motivate Spencer to return to his 2009 form after a disappointing 2010.
"You can never have too many pass-rushers on one team," Ware said. "When the Giants won against the Patriots, they had several really great pass-rushers. Pressure is what gets things going. So to be able to develop another third-down guy will really help us out a lot."
TURNING UP A CORNER
[+] Enlarge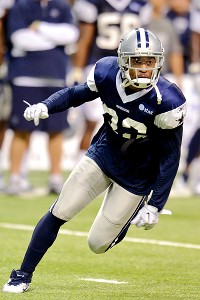 John Albright/Icon SMIOrlando Scandrick has been a surprise in training camp and could provide much-needed depth in the Cowboys' secondary.
The Cowboys did not sign free-agent cornerback
Nnamdi Asomugha
, though they tried, and they'll go with
Mike Jenkins
and
Terence Newman
as starting cornerbacks again. The problem is, injuries have kept both Jenkins and Newman sidelined so far in camp, and Newman is out until at least the regular-season opener. This is a spot where the Cowboys struggled mightily in 2010, and they're not going to have their defense the way they want it until they get Jenkins and Newman back on the field. The one positive to come out of this is that backup corner
Orlando Scandrick
has looked very good in a starter's role so far in camp, so maybe they have some quality depth there that they didn't know they had.
OBSERVATION DECK
The Cowboys might have more at defensive end than we thought immediately post-free agency. Coleman looks as if he's poised to steal Igor Olshansky's starting spot from him, and Jason Hatcher has looked rejuvenated and been an asset in the pass rush. Letting Stephen Bowen go to the Redskins felt like a loss at first, but re-signing Marcus Spears and Hatcher and bringing in Coleman might have made them deeper than they'd have been if they'd stayed pat.

The kicking competition looks miserable, with neither David Buehler nor Dan Bailey having seized the opportunity and Kai Forbath unable to get on the field because of injury. Don't rule out the possibility that the kicker the Cowboys go with this season isn't on the roster yet.

Jones and Romo aren't new or exciting names around here, but they look as good as anyone in camp on offense. When I watched them practice against the Chargers on Thursday, the Cowboys were using Jones around end a lot, and he looks like he has great burst. The offensive linemen I spoke with all hope he gets a chance at full-time carries, because they believe he and Bryant can be "spark plug" guys.

Elam was a critical signing, as he'll be responsible for the secondary calls and has been vitally important in helping the holdover players understand the language Ryan is speaking. I'm interested to see if the secondary looks more organized Sunday night having had an additional week-plus practicing with Elam.

The Cowboys are serious about Nagy, who was a seventh-round pick after not playing much in his senior season at Wisconsin. He was seriously hurt in a moped accident as a junior and then was passed on the depth chart by a few other guys, so much of the action he got as a senior was actually at tight end. But the Cowboys love his athleticism and maturity. They could start him at guard early in the season, and there are some who think he could eventually start at center for them down the road.
August, 14, 2011
8/14/11
12:00
PM ET
EAST RUTHERFORD, N.J. -- It's funny to say this about a team that plays where they play, but the
New York Giants
like it when nobody notices them. They like being forgotten, underestimated, treated as an afterthought. They're OK with the Jets getting all the back-page-tabloid attention and the Eagles being the big offseason story because of their free-agent shopping spree. The Giants believe in their own way of doing things, and if that means lying in the weeds while people on the outside are distracted by other teams that are hot at the moment, that's fine with them.
"We believe in our organization, and we believe in our coaches," said ninth-year offensive lineman
David Diehl
, who has moved from left tackle to left guard as part of the Giants' offensive line shuffle. "We're not running around doing the free-agency fiasco and all that stuff. Yeah, you hope that, if an opportunity arises, you bring in guys that fit holes. But at the same time, we've got guys that have been here, guys that are a part of this team, guys who know the system."
That's why, even though they lost tight end
Kevin Boss
and receiver
Steve Smith
in free agency and didn't sign new guys the way the Eagles did, the Giants say they're not worried. They have a different way of doing things here. They build through the draft and groom their own players to replace the ones who leave. And they have a few guys they think can fill the holes created by their cuts and free-agent defections. It remains to be seen whether they're right, of course, but the vibe at Giants training camp is clear: Go ahead, underestimate us. We'll see how it turns out in the end.
THREE HOT ISSUES
[+] Enlarge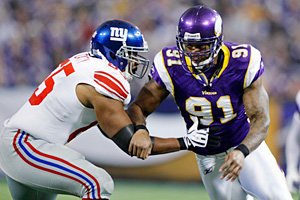 Bruce Kluckhohn/US PresswireThe Giants will have a revamped offensive line that includes William Beatty, left, at left tackle.
1. The new offensive line.
When they cut longtime center
Shaun O'Hara
and guard
Rich Seubert
on the first day of free agency, the Giants signaled a decision to change an aspect of their team that hadn't changed much over the past six or seven years. They signed free-agent center
David Baas
from San Francisco, moved Diehl inside, and gave the starting left tackle job to 2009 second-round draft pick
William Beatty
. So there are questions that must be answered about how quickly the newly configured group can jell, how smooth the relationship between Baas and quarterback
Eli Manning
will be and, perhaps most importantly, whether Beatty in his third NFL season is ready for the responsibility of protecting Manning's blind side.
"In the case of William Beatty, it's time," Giants coach Tom Coughlin said. "We've had him here. He's talented. He's had an opportunity to learn. He's practiced against some of the best. We've had some defensive ends around here that can play. So it's time. It's his turn."
Beatty started four games in his rookie season and two last season as he was being groomed for this opportunity. He's perhaps the best example of the Giants' belief in their ability to groom their own replacements for departing veterans rather than having to hit the free-agent market to do so. Now, he must prove that their faith in him was justified.
2. Can Osi Umenyiora be happy?
Upset about his contract, the Giants' star defensive end has sat out practice and demanded that the team rework his deal or trade him to a team that will. Neither of those things appears likely to happen, though the Giants have offered an olive branch in the form of some 2011 incentives depending on the number of sacks Umenyiora gets this year. He had his knee checked out last week and there's a sense he could return to practice Monday. The way
Jason Pierre-Paul
played in Saturday night's preseason opener only helped the Giants' leverage in this situation. They believe Pierre-Paul, their 2010 first-round pick, can be a capable replacement for Umenyiora at the defensive end spot opposite
Justin Tuck
. Of course, if Umenyiora wants to come back and play, they'll be thrilled to be able to rotate three such weapons at the defensive end spots. It would also enable them to put
Mathias Kiwanuka
at linebacker and leave him there.
3. Manning's safety valves.
As the Giants' passing game evolved over the past couple of seasons, Manning relied heavily on Smith and Boss as targets when things broke down. Both are gone. The Giants hope that 2009 third-round pick
Travis Beckum
is ready to replace Boss. Beckum is a good receiver, but he doesn't have Boss' size or blocking ability. And they're trying everyone from
Mario Manningham
to
Domenik Hixon
to
Victor Cruz
in Smith's old slot-receiver role in the hopes that someone can play the position the way Smith did. Top receiver
Hakeem Nicks
appears poised to have another big year, and the Giants can use Manningham on the outside as they did last season. But Manning is justifiably concerned about who will be there for him when a play inevitably breaks down, and tight end and slot receiver are positions that need to be sorted out before camp ends.
"When we've gotten in trouble in the past, we always had Steve in the slot, and that's kind of all we worked on -- Steve's in the slot, there you go, he's got it down," Manning said. "And so last year, when he got hurt, we were in trouble. No one else really knew how to play it. So this year we're putting everybody -- Hakeem is in there, Manningham's getting in here, we're getting a lot of people in there to get them to learn some of it, so that'll probably create some more opportunities for us to move guys around and get some mismatches."
MAN IN THE MIDDLE
[+] Enlarge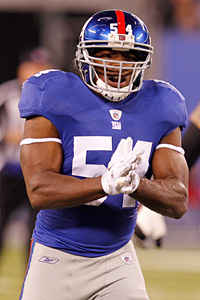 William Perlman/The Star-Ledger via US PresswireJonathan Goff is entering his second season as the starting middle linebacker.
Linebacker has been a weak spot for the Giants the past couple of years. Unable to add outside free agents because of cap concerns, they'll address it by moving Kiwanuka there for first and second downs. But much will still fall on the shoulders of
Jonathan Goff
, who enters his second season as starter at middle linebacker in the Giants' 4-3 defense. "I'll have better composure this year," Goff said. "Last year, being my first year, was a little bit of a learning experience for me. This year, I think we're all on the same page to move forward as a defense and get better. It's just natural now." Goff is responsible for communicating the calls from the sidelines and for making any front-seven checks. (The coverage checks are the responsibility of the safeties.) He knows he'll need to take a stronger on-field leadership role for the defense to play more consistently this season.
AN 'EXPLOSIVE' PHILLIPS
Two years ago,
Kenny Phillips
was on the verge of breaking out as one of the top safeties in the NFL. But he lost his 2009 season to a left knee injury, spent the 2009-10 offseason rehabbing the knee and wasn't the same player when he returned in 2010. This year, Phillips said, he was able to condition himself the way he normally would for a season, rather than have to rehab, and believes it has made a huge difference. "Just being more explosive," Phillips said. "Last year, just seeing the field, it was kind of difficult at times, because I'd been away from the game, to be able to break on the ball -- to actually see it and then be able to get to it. But this year, now, everything is just fluid. My technique and everything is sound. I just feel good about everything this year." Phillips said he learned a lot last season playing and working with veteran safety
Deon Grant
(who remains an unsigned free agent), and that, with his physical ability fully restored, he believes he'll be a better player.
OBSERVATION DECK
Hixon could be a very important player for the Giants if he's recovered from his knee injury. He showed ability to play that slot receiver position when he was healthy, and will get a chance to show it again, though it seems clear the Giants would like to have multiple options there in case something goes wrong.
Linval Joseph, the 2010 second-round pick, would seem to have the playing-time edge at defensive tackle over 2011 second-round pick Marvin Austin. But each brings impressive size and agility to the position, and between them the Giants should be able to capably replace Barry Cofield, who signed with Washington.
The starting secondary of Phillips, Antrel Rolle, Terrell Thomas and Corey Webster looks excellent in practice. The question is whether there's enough depth behind those guys if there's an injury. Cornerbacks Michael Coe and Brian Witherspoon and safety Tyler Sash have a chance to earn playing time with Prince Amukamara hurt and Grant not re-signed. Witherspoon has been impressive on special teams and looked good in Saturday's game. Sash appears to be very athletic, but he needs to play with more discipline.
Kiwanuka at linebacker is a work in progress. No question he has the ability to play it, but he overpursued Saturday at times the way a defensive end might.
Even before he left Saturday's preseason game with a thigh injury, kicker Lawrence Tynes looked as though he might be cause for concern. Having missed a few practices as he recovers from knee surgery, Tynes was unable to boot kickoffs out of the back of the end zone the way it seems every other kicker in the league has so far this preseason. And he missed a couple of field goals (though the first was a 56-yarder he shouldn't have been asked to try). Worth keeping an eye on to see how he looks the rest of August.
As for punters, Matt Dodge has looked better than he did in his difficult rookie season, but it's going to be tough for him to beat out Steve Weatherford, who's just better at the job.
August, 8, 2011
8/08/11
1:00
PM ET
BETHLEHEM, Pa. -- Call Andy Reid impatient if you want, but like most NFL coaches, the
Philadelphia Eagles
' head coach is no great fan of the walk-through practices that have taken the place of what used to be the second of his two training camp practices per day.
[+] Enlarge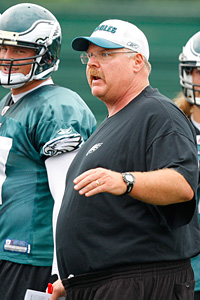 Jim O'Connor/US PresswireHead coach Andy Reid enters the season with a roster full of Pro Bowlers and high expectations.
"It's like being stopped at a red light with a bunch of cars in front of you," Reid told me after Friday's walk-through. "You want to just hurry up and get where you're going, but there's nothing you can do about it."
The Eagles, you see, have big plans. Reid is in his 13th season as their coach, and although the first 12 have been mostly excellent, each has ended without a Super Bowl ring. The team's urge to change that this season is obvious and inescapable. It's on the ever-shifting roster, which added five Pro Bowlers during a wild first week of free agency that made the Eagles the talk of the league. It's in the eyes of quarterback
Michael Vick
, who knows last season proved he was good enough to deliver and therefore ratcheted up the pressure to do just that. It's all over the high-energy practices that have featured fights and trash-talking worthy of a Week 16 division matchup. The Eagles know what's at stake and what they must do, and they're eager to get to it.
"This town wants a Super Bowl," linebacker
Jamar Chaney
told me, referring of course to Philadelphia, not Bethlehem. "The Phillies win. The Flyers win. They want the Eagles to do the same thing. And not just win, like, have a good season. They want you to win a Super Bowl."
The players and coaches hear the fans and would like them to know they feel the same way. Juan Castillo, who's in his first season as defensive coordinator after 13 as the team's offensive line coach, has a cut just above his nose from where he actually head-butted linebacker
Keenan Clayton
while yelling at Clayton to make a point during practice last week. Yeah, Clayton was still wearing his helmet. Yeah, Castillo wants this pretty badly.
"Coach Reid has been to the playoffs nine out of 12 years," Castillo said. "That's tradition, but it's not good enough. Before we finish here, we want to win the Super Bowl. Because we don't want to be sitting around when we get older, watching ESPN and having them talk about how we were so close and we never got it done."
So yeah. If it's not too much trouble, the Eagles would like to get this thing going as soon as possible.
THREE HOT ISSUES
[+] Enlarge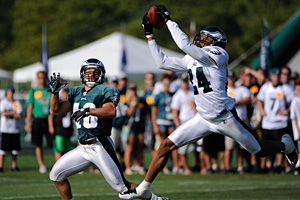 Howard Smith/US PresswireThe addition of Nnamdi Asomugha, 24, gives the Eagles three starting-caliber cornerbacks.
1. Can you have too many cornerbacks?
When the Eagles signed
Nnamdi Asomugha
the day after acquiring
Dominique Rodgers-Cromartie
and they already had
Asante Samuel
, the first question everybody asked was whether they'd keep all three excellent cornerbacks. The answer, to this point, seems to be yes. Rodgers-Cromartie has made it clear he doesn't mind sitting behind either of the other two, and Asomugha has made it clear that he's happy to play slot corner when all three are on the field if the other two would prefer to play outside. So although there was some early talk about possibly dealing Samuel (and that remains a possibility if somebody blows them away with a great offer), the odds favor the Eagles' keeping all three and just making triple-sure that all the receivers they play against are covered.
2. Will Vick have his receivers?
As exciting as things have been during the early practices, you can't escape that Vick is throwing to second-string and third-string receivers. Sure,
Jason Avant
has looked like a star. But he's supposed to be the No. 3 wideout behind
DeSean Jackson
and
Jeremy Maclin
. Jackson just showed up Monday after missing the first week-plus in a contract dispute. Maclin has been in camp for a week but has yet to practice as he continues to recover from an illness that neither he nor the team will discuss. If the team can't get Jackson happy and Maclin healthy soon, their top two receivers run the risk of starting the season behind or maybe not on the roster. No matter how many new defensive players they've signed, that would be impossible to overcome.
3. Who are the linebackers?
The Eagles have beefed up on the defensive line and in the secondary. They've even added a couple of starters on the offensive line and Pro Bowl backups at quarterback and running back. But they did nothing at linebacker except allow
Stewart Bradley
to leave via free agency. That means rookie
Casey Matthews
, the team's fourth-round pick in April's draft, is currently the starting middle linebacker with Chaney and
Moise Fokou
on the outside. The coaches have been saying very nice things about Matthews, but no pre-draft projection I know of had him as a 2011 starter -- especially on a team that expects to win the Super Bowl. Don't be surprised if the Eagles bring in a veteran to add a little depth and/or experience at the position. Matthews could start Week 1, but it's hard to imagine that the Eagles don't have a backup plan.
D-LINING THEM UP
[+] Enlarge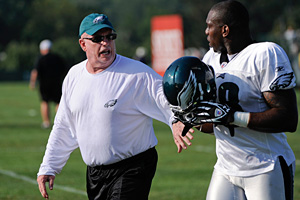 Howard Smith/US PresswireNew defensive line coach Jim Washburn, left, brings an attacking style that end Trent Cole, right, is excited about.
For all the talk about the rotation at cornerback, the Eagles have put together remarkable depth on the defensive line as well. New defensive line coach Jim Washburn has been using
Trent Cole
and
Juqua Parker
as his starting defensive ends in early practices, with newcomers
Cullen Jenkins
and
Anthony Hargrove
at the defensive tackle spots. But one would have to think that
Antonio Dixon
, who has been missing practice with a knee injury, would start in Hargrove's place if healthy, which means Hargrove would join newly signed defensive end
Jason Babin
on the second-team defensive line. Add in
Trevor Laws
,
Darryl Tapp
and, if healthy,
Mike Patterson
, and Washburn has plenty of options on a line that will have a different mission this year than it has in recent seasons. "We used to do a lot of reading, and now we're attacking, getting after the ball a lot," Cole told me. "Go to the ball every time, get the quarterback every time. I think they took a lot of the thinking out of it. Just go play ball."
O-LINING THEM UP
The offensive line also has a new coach in Howard Mudd, and he has changed the way they play line on that side of the ball, too. "It's a whole new thought of blocking your man," guard
Todd Herremans
told me. "Instead of meeting him at a spot, you're going to get to them before they get to that spot. It's more of an aggressive approach." Herremans said he's working on changing his ways, and left tackle
Jason Peters
and center
Jamaal Jackson
must as well. Rookie right guard
Danny Watkins
and right tackle
Ryan Harris
are new, and rookie
Jason Kelce
could wrest the starting center spot from Jackson. So there's a lot going on with the offensive line, and it bears watching, because keeping Vick healthy is probably the key to the entire Eagles season.
OBSERVATION DECK
Assuming Nate Allen's knee is healthy, he'll start at one safety spot, but it'll be interesting to see how the other one shakes out. It looks as though the Eagles would like to give rookie Jaiquawn Jarrett a chance to start, but it's tough to evaluate Jarrett during practices that don't allow hard hitting, because that's his thing. Also in the mix are Kurt Coleman, Marlin Jackson and newly signed veteran Jarrad Page.

As many weapons as the Eagles already have on offense, and as good as Brent Celek is, it'd be easy to overlook the signing of tight end Donald Lee. But when I was there, they were lining Lee up one-on-one with defensive ends like Babin and having him block them without help. He did a pretty good job, and if you're wondering how he might be deployed, that could be your answer.

Vince Young looks very much like a quarterback with a lot to learn about his new team's offense. So much so, in fact, that you wonder whether Young or Mike Kafka would be the starter if Vick were to suffer an injury early in the season.

Fourth-round draft pick Alex Henery has a great big leg. But after all the work they did in free agency and everything that's riding on this season, it does seem a little odd for the Eagles to potentially leave the outcome of a big game in the hands (or on the foot) of a rookie place-kicker.

Chaney played middle linebacker last season when Bradley was hurt. And when you ask which he'd prefer, he answers that he'd rather be back there than outside. But the Eagles think that his speed is his greatest asset and that having him on the strong side makes the best use of that. He could be the middle linebacker of the future or a fall-back option if Matthews can't handle it. But right now they appear to prefer him on the outside.
August, 6, 2011
8/06/11
10:49
AM ET
ASHBURN, Va. -- This will be
Brian Orakpo
's third year in the NFL, but the
Washington Redskins
linebacker finds himself in an unusual position. There are only 16 players in camp who have been with the Redskins longer than Orakpo has. Only five of those 16 are starters and only three play defense. This puts Orakpo, who turned 25 last week, in the position of having to help a lot of new guys learn the way things work around Redskins Park.
[+] Enlarge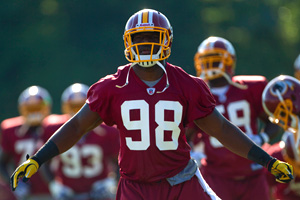 AP Photo/Evan VucciEntering just his third season in the league, Brian Orakpo is already one of the longest-tenured players on the Redskins' defense.
"It's very odd, man," Orakpo said. "I'm only going into my third year and already guys are looking at me as being a veteran on the team. So it's a different era, where we're at right now, but I'm excited for the opportunity."
Last year's plan didn't work.
Donovan McNabb
flopped as the quarterback. The 4-3 defensive personnel didn't fit into new coach Mike Shanahan's 3-4. And Shanahan decided, one year later, that the best thing would be to bring in new players:
Barry Cofield
,
Stephen Bowen
,
Josh Wilson
,
Chris Chester
,
Tim Hightower
and a slew of rookie receivers. A couple of quarterbacks,
John Beck
and
Rex Grossman
, who were on the team last year now find themselves competing to be the starter at the most important position.
"The plan, at least the plan in free agency, was to get people who are solid football players but solid people as well, and who are young," Shanahan said. "The second year, you always have a good feel for what type of people fit into your scheme and what type of people you want to have on your football team. If the nucleus of your football team is guys with character who can play, you've got a good chance."
Most of the new additions are in their mid- to late-20s -- players who are already established in the league yet young enough that they can continue to grow as the team does over the next several years. They're men and players, Shanahan says, that he specifically targeted for that reason and for those he listed above. And the feeling around training camp is that this is a group of people looking to build something together.
"Of course, right now we're looking to win, but you want to build something with longevity," said safety
O.J. Atogwe
, a graybeard among the new additions at the ripe old age of 30. "We want to have something that's sustainable, and I believe that's what Coach Shanahan is doing, getting good character guys in here, younger guys. You're building the nucleus of a team that can be a contender for years and years to come."
THREE HOT ISSUES
1. Who's the quarterback?
Shanahan surprised a lot of people by not taking a quarterback in the draft. He surprised a lot more people shortly thereafter, when he declared that he believed Beck, who was already on the team, could be the starter. He has since moved to include Grossman as a candidate for that spot, but neither has inspired much confidence outside of the Redskins' offices.
Shanahan and his son, offensive coordinator Kyle Shanahan, insist that they loved Beck when he was coming out of college and was picked 40th in the 2007 draft. They believe he continues to show the same qualities they liked when they watched him then -- athleticism, mobility, quick release, natural leadership ability -- and that the only reason he hasn't had NFL success is because he hasn't had NFL opportunity. They insist they like Grossman, who operated their offense last year at least as well as, if not better than, McNabb did. The sense I got from hanging around the Redskins for a few days is that the coaches are more concerned about the pieces around the quarterback -- the line, the receivers, the backs -- than they are about the quarterback position itself. Speaking of which ...
[+] Enlarge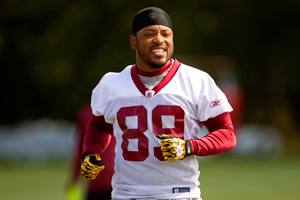 AP Photo/Evan VucciSantana Moss returns, but the receiver depth chart behind him is a bit muddled.
2. To whom will that quarterback throw?
Santana Moss
is back, and the team added veteran wideouts to the mix in
Jabar Gaffney
amd
Donte' Stallworth
. But in order to be successful, the Redskins' offense must get a jolt from one or more of the inexperienced receivers on the roster.
Anthony Armstrong
showed something late last year, and he'll be pushed by rookies
Leonard Hankerson
and
Aldrick Robinson
, as well as by holdover
Malcolm Kelly
, a 2008 second-rounder. Running back Hightower can be a weapon in the passing game, and the best receivers on the roster outside of Moss may be tight ends
Chris Cooley
and
Fred Davis
. But because of concerns about the offensive line and whether it can come together in short order, those guys may end up doing a lot of blocking.
3. Do they have the defense down yet?
Defensive coordinator Jim Haslett said last year that it would take two years for the 3-4 install to work because it takes that long for players to re-train their minds and bodies around it. Adding in players better suited to the 3-4 than the people they had here last year should help, but new players such as Cofield, Bowen and rookie
Ryan Kerrigan
are experiencing the defense for the first time. The Redskins have a lot of talent on the defensive side of the ball and could be good there in short order. But they're still in a learning process, and how good they are on defense this year will depend on the speed with which they learn it.
ADDITION BY SUBTRACTION
The story of last year's Redskins training camp was disgruntled defensive tackle
Albert Haynesworth
and his distaste for what he believed would be his assignment in the new 3-4 defense. Haynesworth's refusal to be open to the switch led to a drawn-out confrontation between him and Mike Shanahan, the conditioning-test mess and a feud that lasted all the way through the season. Trading Haynesworth to New England (and McNabb to Minnesota) was one of the first things the Redskins did when the lockout ended, and the main reason they did it was because they were determined not to let last year's problems infect this year's training camp. It hasn't. Without naming names,
London Fletcher
laughed when I told him Cofield, who played in a 4-3 in New York, had told me he was excited to make the switch to a 3-4 nose tackle.
"That's good, to hear that he's excited about it," Fletcher said, chuckling. "I want a nose that's excited about playing that position."
EXTRA PREPARATION
Fletcher, Beck and
Lorenzo Alexander
organized some of the most frequent and best-attended player workouts of any team during the lockout. Fletcher said the three of them divvied up administrative responsibilities such as calling guys to make sure they were coming and reaching out to local schools to see about the use of fields. Fletcher said there was one time he flew in the day before one of the workouts and went over on a whim to check out the high school field on which they were scheduled to practice only to find it unacceptable and have to make a last-minute change.
"We had some great turnout, got some great work in," Fletcher said. "Obviously it's not what we're getting here now, but it was important for us. What upsets me a little bit is when we have something that we did in our player-only camps, and we don't cover it correctly out here. I'll see somebody do something wrong and I want to yell out, 'Man, we worked on that!'"
Maybe, but the coaching staff appreciates that the players took the time to work out together while they weren't permitted to work out with coaches at the team facility. Kyle Shanahan said he notices it with those young wide receivers.
"We weren't able to work with them, so that was one of the positions I was worried the most with," he said. "And I could tell that Rex and John had gotten with these guys and given them some stuff, and I could tell these guys had put in their work before they got here, so we weren't just speaking Chinese to them."
OBSERVATION DECK
Alexander is an extremely valuable guy to the Redskins' defense. He has lined up at all four linebacker spots, could start the season on the outside if first-round pick Kerrigan isn't ready and has been lining up inside next to Fletcher, as well. Even with the return of Rocky McIntosh, expect Alexander to find his way onto the field a lot.

Tim Hightower isn't here just for depth. I believe, after talking to Mike Shanahan, that Hightower is the clear front-runner for the starting running back job as long as his fumble problems don't follow him to Washington from Arizona.

Ryan Torain, at least before he hurt himself, seemed to be working on his role in pass protection, which was something he didn't do much of last year. He'll have to if he wants to keep up with Hightower, for whom that's a strength.

Second-round pick Jarvis Jenkins has been one of the eye-openers in camp and should fit nicely into the defensive line rotation. "He's learning so fast," offensive tackle Trent Williams told me, "it's almost scary."

Beck may look good to the coaches who loved his college tape, but if you were out there watching the first week of practice, you saw a lot of receivers reaching behind themselves to catch his passes and a lot of wobble on the deep downfield throws. He does look good when he scrambles and runs, but as a passer, he looks as if he needs more camp.

Trent Williams looks slimmed down from last year and has looked good in his win-some, lose-some battles with Orakpo in early drills.