NFC East:

2011 NFL preseason Week 2
August, 21, 2012
8/21/12
12:13
AM ET
The story of the
Philadelphia Eagles
'
27-17 preseason victory
over the Patriots on "Monday Night Football" was one of quarterbacks. Eagles starter
Michael Vick
was knocked out of the game by an injury for the second time in two weeks, taking a shot to the ribs that required X-rays (which were negative) and
raising old red flags
about his fragility and the manner in which his style of play contributes to that. That injury, combined with
Mike Kafka
's absence due to his own injury, pushed rookie
Nick Foles
into significant playing time, and Foles looked very good.


Foles was 18-for-28 for 217 yards, two touchdowns and an interception. It was his second impressive performance of the preseason. And while it's important to note that he has not played against first-team defenses, it's also worth raising the question of whether Foles could beat out Kafka for the No. 2 quarterback spot behind Vick. He's a rookie, and he'd likely make more mistakes than Kafka would if pressed into fill-in duty. But in practices and games he has shown a stronger arm and better touch on deep throws than Kafka has, and that matters in Philadelphia's speed-based offense. That difference alone could set Foles apart if he continues to impress and Kafka can't get on the field, and Foles showed impressive poise Monday night, along with the ability to handle many different aspects of the playbook.
I don't personally believe the Eagles can contend this year if Vick has to miss a significant period of time. But if he does need to sit out here and there due to injury, the Eagles and their fans have at least seen something from Foles that would make them feel a little bit better if they had to go with a rookie.
Here are some other things I noticed/saw/thought about the Eagles on Monday:
1. What was Andy Reid yelling about?
I am certain that, if the Eagles have a great season, the head coach's first-half sideline shouting match with
Cullen Jenkins
and the defense will be looked back upon as a brilliant bit of motivation and leadership. I am equally sure that, if the Eagles have a poor season, that exchange will be regarded as a sign of insurmountable discord. Of greater likelihood than either of those is that it was an emotional outburst by a coach who was getting sick of dumb third-down penalties. And if you're worried about whatever happened there causing lasting damage to coach-player relationships, Reid's track record more than earns him the benefit of the doubt.
2. That said, penalties are unforced errors
and a worthy subject of coaching scorn, even in the preseason. I've written many times here that preseason games are poor predictors of regular-season performance, because we don't know which teams are game-planning for these games and which are not. But penalties have little or nothing to do with whether the opponent is scheming to beat you. They're about discipline, attention and focus. The Eagles had 16 of them on Monday, for a total of 131 yards, and I would not be looking forward to my next practice right now if I were an Eagles player.
3. Mychal Kendricks was a defensive star in this game.
He showed speed and instincts closing on running back
Shane Vereen
on a screen pass early in the game, and he got himself into the backfield to disrupt a couple of running plays. The Eagles' big linebacker addition was veteran middleman
DeMeco Ryans
, but Kendricks looks as though he could be an asset on the outside. The Eagles' defensive scheme is going to make its linebackers look bad at times. Even at its best, it relies on aggressiveness by the linemen up front. Because of they, they're likely going to get a lot of sacks and pressure a lot of quarterbacks. But an offshoot of that aggressiveness is that sometimes over-pursuit will open them up to the possibility of a big play. That puts a lot of responsibility on the linebackers to limit those plays, and when they don't, it's going to look ugly. The Eagles seem willing to accept that risk in exchange for the long-term reward their pressure schemes bring them. And they appear better equipped this year to limit damage at the second level.
4. Don't forget Brandon Boykin.
The Eagles' fourth-round pick is more than holding his own in his fight with veteran
Joselio Hanson
for the role of nickel cornerback. He also showed explosiveness on a kickoff return and helped cause a turnover with his speed as a gunner on the punt coverage team. Hanson looked good in his turn at cornerback, too, but what Boykin brings on special teams should keep him on a roster and, at the very least, a persistent threat to Hanson's spot.
5. Dominique Rodgers-Cromartie
looked very active and very good before leaving the game with a shoulder injury. Reid said Rodgers-Cromartie wanted to go back in and didn't sound overly concerned.
6. King Dunlap played the whole first half at left tackle
, and
Demetress Bell
was flagged for a couple of penalties during the second half. At this point, it would not be a surprise if the Eagles opened the season with Dunlap as the starting left tackle. It also wouldn't be a surprise if Bell worked to learn the schemes in a backup role and threatened to take the job back from Dunlap as the season went along, the way
Danny Watkins
did last year at right guard. Howard Mudd's schemes aren't easy for everyone to get right away.
7. The Eagles have some tough roster decisions at defensive line
, but
Phillip Hunt
is going to be impossible to cut. Say whatever you want to say about his size, but they don't have anyone faster among their pass-rushers (which is saying something), and he's just made too many plays to overlook.
8. Punter note!
Mat McBriar
averaged 49.8 yards on his four punts.
Chas Henry
dropped both of his inside the 20 and one inside the 10. I don't think it's a real competition if McBriar proves himself healthy, but it's nice to see that Henry won't go down without a fight.
August, 22, 2011
8/22/11
11:23
PM ET
Observations from the Giants 41-13 preseason victory over the Chicago Bears on "Monday Night Football":
We preach all the time that preseason games don't matter, but so few people really take it to heart. Fans like to hang on every play, to wonder whether or not it matters that
Eli Manning
doesn't look sharp, or to try and figure out whether or not
Brandon Jacobs
deserves more carries than
Ahmad Bradshaw
. But in the end, there are no accurate judgments to be made off of these games and the only thing that actually matters in any of them is that nobody gets seriously hurt.
And that's why, regardless of the final score or the potentially very encouraging way the rest of the team played during the game itself, Monday night's victory over the Bears was a disaster for the
New York Giants
.
Shortly before halftime, Giants starting cornerback
Terrell Thomas
collided with Giants defensive end
Jason Pierre-Paul
and limped off the field. At halftime, Giants coach Tom Coughlin revealed to ESPN's Suzy Kolber than Thomas had torn the anterior cruciate ligament in his right knee and would miss the entire season.
[+] Enlarge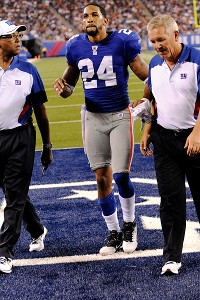 AP Photo/Bill KostrounNew York Giants cornerback Terrell Thomas has a torn the anterior cruciate ligament in his right knee and will miss the entire season.
This is devastating news, first and foremost, for Thomas, one of the very good guys and leaders on the Giants' roster and a player who has one year left before free agency. Thoughts go out to him, and best wishes for a speedy recovery.
But it's also awful news for the Giants, who earlier this preseason lost cornerbacks
Prince Amukamara
and
Bruce Johnson
to major injuries (and later in this game saw
Brian Witherspoon
carted off with a knee injury). Amukamara is out for at least a couple of months, Johnson for the year and now a team that was already struggling for depth at cornerback has lost one of its starters. They've gone from hoping
Aaron Ross
could be a reliable No. 3 corner and play as their extra defensive back in passing situations to hoping Ross can be a reliable starter and probably using safety
Deon Grant
in that role as they did last year. The Giants weren't deep to begin with, and they came out of their second preseason game with a major hole on the roster and in the starting lineup.
So that's all that matters from this game, period. But if you want to know what else I saw that might have a chance to matter down the road if by some coincidence regular-season developments jive with preseason performance in specific areas, here you go.
1. On the bright side, Ross looked very good.
He knocked down two
Jay Cutler
passes intended for
Roy Williams
on third down early in the game. He made another play on a receiver later to prevent a touchdown (though he may have pushed off on that coverage). He made a nice tackle on
Marion Barber
behind the line of scrimmage in the third quarter. You could do worse than Ross as a fill-in cornerback when one of your starters gets hurt, and it's encouraging that he played well. But again, the Giants were figuring on Ross as their third corner, not one of their top two.
2. Oh, and X-rays on William Beatty's foot were negative.
Which is a good thing. Beatty didn't have to take on
Julius Peppers
all night as we expected, since the Bears moved Peppers over to the other side to terrorize
Kareem McKenzie
and the Giants' overmatched tight ends. Beatty looked better overall in this game, holding his own and keeping his man off the quarterback, though he still looks a little grabby to me. You don't like to see a left tackle reaching quite as much as Beatty does to try and prevent the edge rush. He's got to do a better job of getting his whole body in front of his guy, or he's going to be a walking holding penalty.
3. Giants' special teams looked better.
Devin Thomas
is really showing his speed and athleticism on kick returns.
Matt Dodge
and
Steve Weatherford
both bombed huge punts all night. There was good kick coverage, including a big tackle by receiver
Victor Cruz
as he continues to work to try and secure a spot in the receiving corps.
Jerrel Jernigan
doesn't show much on punt returns, but the Giants had so many problems on special teams last year that if they can get it down to just one, Coughlin is going to be ecstatic.
4. How did those receivers keep getting open between Corey Webster and Kenny Phillips?
It happened twice in the first half, and Cutler hit it for a big gain each time. It looked as though the receiver got by Webster and Phillips didn't get over in time to help. There are three possibilities that I can see: 1. Webster let his man go by him without making sure he had the safety help; 2. Phillips was supposed to help but was slow getting over; 3. Phillips went with the tight end up the seam after the tight end got by middle linebacker
Jonathan Goff
, which would kind of lead back to (1.) though with some blame to be shared by Goff. Either way, I'm certain it'll be discussed in detail in meetings this week. The Giants will obviously need mistake-free play from Webster and Phillips with as vital a piece as Thomas now missing from the secondary.
5. Victor Cruz, preseason wonder.
Domenik Hixon
had the big touchdown catch, but I really believe the Giants are trying to bring Hixon along slowly as he's coming back from his knee injury. And if that's the case, it opens up opportunities for guys like Cruz to get more reps at wide receiver. Cruz lined up with the starters in the team's three-receiver sets at the start of the game, and he did a lot of good, athletic, impressive things, just like he did last year in the preseason. As long as he keeps contributing on special teams, he's a good bet to make the roster. And if he does and Hixon is still being babied come the regular season, Cruz should get a serious chance to show whether or not his preseason success can carry into the regular season this time.
6. Some notes on the sure things.
Manning looked fine, though I wouldn't put him in
John Beck
's class as a preseason quarterback. (Easy, folks... I kid because I love...) Brandon Jacobs looked especially spry on his touchdown run. And how about
Justin Tuck
's downfield tackle on
Matt Forte
? Tuck's a beast, but I couldn't help thinking a linebacker or a safety should have made that unnecessary. Overall, the Giants' defense looked very good, especially when it came time to keep the Bears out of the end zone in goal-line situations.
Mark Herzlich
's interception on the fourth-down play late in the fourth quarter was the most fun of the stops.
7. Still could use a tight end.
Not that this is a Priority No. 1 at this point, but
Travis Beckum
and
Bear Pascoe
have been fully underwhelming at a key position for the Giants' passing game. We saw Manning audible at the line a few times and look to check it down, but with
Steve Smith
in Philadelphia and
Kevin Boss
in Oakland, he's still looking for reliable options to serve as safety valves. There was a third-down throw on which he and
Mario Manningham
couldn't connect that made you think he missed Smith. But two more preseason games to go and work still to be done, as is the case with every team.
August, 21, 2011
8/21/11
11:03
PM ET
Thoughts from the Cowboys' 20-7 preseason loss to the visiting Chargers.
Defense is what matters for the
Dallas Cowboys
. Defense is what killed them in 2010, and defense will determine whether or not they can rebound and return to playoff contention in 2011. And so, when you tune in to watch a Cowboys preseason game, you're going to watch the defense. And it is, as we mentioned in
Camp Confidential
, a work in progress.

New defensive coordinator Rob Ryan's defense is based on multiple and varied looks. It's intended to confuse the opposing offense, but before it can do that, the players playing the defense must learn the scheme and develop trust and confidence in it. Since the lockout eliminated OTAs and minicamps, the Cowboys couldn't start practicing their roles in Ryan's new scheme until a couple of weeks ago, and the lack of experience in the new system has shown in both of their preseason games so far.
The best example was
Randy McMichael
's touchdown catch from Chargers quarterback
Philip Rivers
. The Cowboys' pass rush had Rivers cold and he looked as though he was about to throw the ball away. But because cornerback
Alan Ball
and safety
Gerald Sensabaugh
had both gone after the same receiver, McMichael was wide open. Rivers saw him and found him for the touchdown, and Ryan had something to say to Sensabaugh when he came off the field.
There were good things that happened, too.
Barry Church
had an excellent game, knocking down a touchdown pass in the first half and making a great open-field tackle in the third quarter. And Ryan lined top linebacker
DeMarcus Ware
in several different spots -- left side, right side, dropped him into pass coverage. As a coordinator, Ryan's never had a player as good as Ware, and he's going to have more and more fun with him as everybody gets comfortable in the new system and he can keep moving Ware (and others) all over the field into unexpected spots.
But the question is how soon that will be. Can this Cowboys team learn and become comfortable in this new system in just two more preseason games and three more weeks of practice? There are still communication issues in the secondary, and injured starting cornerbacks
Mike Jenkins
and
Terence Newman
haven't even played yet, so there's no way to even know if they'll be good enough to allow Ryan to do what he wants to do up front. Long way to go before the Cowboys' defense looks like a cohesive unit, and they don't have a lot of time.
Here are some other things I saw in the loss to San Diego:
1. The first-team offensive line looked good.
Especially rookie right tackle
Tyron Smith
, who is big and strong and athletic and just looks like a nightmare to try and get past. They've been working with Smith on his footwork, specifically the alignment of his left foot, and it's a matter of him getting comfortable with the new foot position and trusting it. He looked better and protecting the outside Sunday night than he had in the first game. Fellow rookie
Bill Nagy
got the start at left guard and handled himself well, but he gets overpowered by stronger defensive linemen, as rookie
David Arkin
did a bit last week. If everyone's healthy (including starting center
Andre Gurode
), I still think either
Montrae Holland
or
Phil Costa
starts at left guard three weeks from now in New York. But Nagy and Arkin will still get opportunities in the meantime to show what they can do, and there are plenty of reasons to like both -- for the near future, if not immediately. You can always build strength.
2. I don't have anything, really, to say on Tony Romo.
Yes, his interception was terrible -- terrible decision, terrible throw, terrible all the way around. But from the Twitter reaction you'd have thought it was his 700th consecutive pass attempt that resulted in an interception. His touchdown pass was a very good throw, and while it seems clear that those who don't like Romo will always be looking for reasons to point and shout, "See? Told ya!", he has offered no reason to worry and remains very low on the Cowboys' list of concerns.
3. Lonyae Miller and Phillip Tanner.
With
Tashard Choice
and
DeMarco Murray
injured, the younger running backs on the Cowboys roster have had a chance to show their stuff. Miller looked good early, and the block he threw against the blitz early in the third quarter will show up on his personal highlight film. But his fumble will not, and fumbles can kill a fringe guy's chances of making the team. Tanner struggled in pass protection last week, but he looks like a better runner than Miller does. I don't think any defenders let up on the play after he lost his helmet on the touchdown that got called back, so on tape that's going to show up as a tough touchdown run. Difficult call, if it comes down to two of these guys for one spot, or if they're looking to see whether or not one can unseat Choice.
4. Oh, and the starting running back.
Felix Jones
, for the second week in a row... wow. Fast, tough and resilient. Guy is moving up those fantasy draft boards, I guarantee. He's running like he means it. His teammates like the spark he brings. He's seeing the field and his lanes from the backfield, and he's working for extra yards against a very good defense in a game that doesn't count. Everything you'd want to see out of Jones when presented with a chance to be the every-down guy, he's showing. My only concern? He's taking a lot of hits, and hasn't exactly shown himself to be Mr. Durable in the past. If he can hold up, he's got a chance to bring something special.
5. The No. 3 receiver issue.
If it's
Kevin Ogletree
's job to lose, he didn't do anything to lose it Sunday. He looked very speedy and very determined, and we didn't see any of the
Dwayne Harris
magic we saw last year.
Manuel Johnson
was the down-the-roster receiver who made the strongest second-half impression with
Stephen McGee
under center. Which is probably another reason for Ogletree to feel good about things.
6. No blood in the kicking battle
. Neither
Dan Bailey
nor
David Buehler
got a field goal attempt, and I'm not sure I get why neither got one in the final minute. Is it more important right now for the Cowboys to see these guys kick or see if their third-team offense can get in on fourth-and-goal? I guess you could say a 20-yard field goal would be a poor indicator anyway, but still. Why not put one of the kickers in a real game situation if you can?
7. Finally, I'm a little bit surprised by the choice of James Spader for "The Office."
My hope is that it allows the very funny people that populate the rest of the cast to shine now that they don't all have to orbit Steve Carell.
August, 20, 2011
8/20/11
3:17
AM ET
So that's
John Beck
, everybody. We've heard so much about him since
Washington Redskins
coach Mike Shanahan said right after the draft that his belief in Beck was one reason he didn't feel he needed to draft a quarterback. Perhaps in order to build suspense, Beck missed the Redskins' first preseason game with a groin injury and watched his main competition for the starting job,
Rex Grossman
, have a solid game against the Steelers.

But Beck showed up and started Friday in Indianapolis and wouldn't you know it? He looked pretty good. Beck was 14-for-17 for 140 yards in the first half of the Redskins'
16-3 preseason victory
against the Colts. He was cool under pressure (and he faced plenty, thanks to a poor game by left tackle
Trent Williams
). He showcased the quick release Shanahan and his son, offensive coordinator Kyle Shanahan, have been talking up. And while it seemed for a while as if every play was a bootleg rollout, I actually thought that was okay for two reasons. First, it showcased Beck's speed and athleticism, which are things the Shanahans believe set him apart from Grossman in terms of upside. And second, he seemed to make good decisions at the end of those rollouts, finding his receivers, throwing accurately and not forcing throws that weren't there.
Did he dazzle? No. Did he fire the ball downfield in awe-inspiring arcs for back-breaking pass plays? No. But does he have to? Two different running backs,
Tim Hightower
and
Roy Helu
, had 50-plus-yard runs. His starting wide receivers,
Santana Moss
and
Jabar Gaffney
, are more possession receivers than deep threats. This Redskins offense isn't built in such a way that asks its quarterback to be
Tom Brady
. The Redskins' quarterback needs only manage the game and work the ball downfield patiently and intelligently. Beck did that while in the game Friday night.
Grossman did it last week, and looked okay (but for an interception) in the second half Friday night. But the Shanahans know what Grossman is and what he can do, so nothing that happened last week had any real impact on this quarterback competition. The Redskins believe Beck has the tools to be a better player than Grossman can be at his best, and they want to see how he handles the pressure of the bright lights and the opportunity they've given him. I firmly believe Beck would have to play very poorly this preseason in order to not be the Redskins' starting quarterback. And he did not play poorly in this game. Far from it, in fact.
In conclusion, I don't think anything changed on Redskins quarterback Friday. I think Beck was already in the lead, in spite of Grossman's effort last week, and has maintained that lead. If anything, he's widened it, and he showed some things Friday night that could help Redskins fans feel a little bit better about the situation.
Some other thoughts:
1. I have no idea what to make of the defense
, as it was missing four or five starters and playing against a Colts team that didn't have injured quarterback
Peyton Manning
. This is akin to running a NASCAR race against
Jimmie Johnson
when Johnson's car does not have an engine. It seems clear that rookies
Ryan Kerrigan
and
Jarvis Jenkins
(and of course, third-year star
Brian Orakpo
) have the ability to get to the quarterback. The Redskins generated a bit of pass rush up the middle with the help of
Barry Cofield
, who's taking to his new role as nose tackle. And defensively, I believe they'll look even better once they have their starting safeties. But as for Friday, tough to make any big judgments about the defense, which wasn't going up against much of an opponent.
2. Helu looks very fast,
and he got a bunch of snaps in this game as fellow rookie
Evan Royster
did last week. Shanahan likes to give running backs "full games" when possible for evaluation purposes in the preseason. But Hightower is going to open the season as the Redskins' starting running back and should hold the job until and unless he (literally) fumbles it away. He understands Shanahan's "one-cut" preference perfectly, seems to work well behind the offensive line and its zone-blocking scheme and has basically done everything right since they traded for him.
3. Trent Williams needs to be better.
The second-year left tackle got flat-out beaten on a couple of those sacks and got manhandled most of the night. Now, granted,
Dwight Freeney
is one of the game's best pass-rushers, but in this year's NFC East, Williams is going to see a lot of those. We know he's talented, but he just needs to block more consistently.
4. Been a pretty good month for Graham Gano.
He hasn't missed a kick yet. His prime competition for the job got cut after a miserable first game. And his wife had a baby this week and he managed to make it to the game just in time Friday. Congrats, Papa Graham, and good job.
5. Leonard Hankerson caught four passes, but
what people will remember is that he dropped one. He drops too many. I know, I know, that's his reputation. But every time you start to worry your being a slave to a reputation... well, the guy drops another pass. The Redskins like him and likely won't give up on him, but he's not going to see the field much this year if he can't find a way to catch the ball more reliably.
6. A preseason game can have value for a team like the Redskins.
No, the result doesn't matter. And no, you can't assume they'll look as good in real games as they have so far in two fake ones. But think about where the Redskins are right now. Nobody thinks they're any good. Everybody thinks they'll finish last. They've got people saying they could be the worst team in the league (which I seriously doubt). And while they can pretend they don't hear it, they all have the internet, and cable TV, and AM radio in their cars. And even if they don't pay attention to any of that stuff, they all have friends and relatives who undoubtedly keep them posted on it. But world-class professional athletes aren't inclined to doubt themselves, and having success -- even if it's on a micro level in a game that doesn't count -- is the kind of thing that can bolster confidence internally when nothing's happening to bolster it externally. This is two weeks in a row that the Redskins peeled the tape off their ankles and went home feeling good about themselves. And a team that's going to be an underdog in the majority of its games this season can benefit greatly from knowing what it's like to feel that way.
August, 18, 2011
8/18/11
11:11
PM ET
Observations from the Eagles' 24-14 preseason loss at Pittsburgh.

I'm going to start with the good news, Eagles fans. Ready?
LeSean McCoy
looked really good,
Jason Babin
got a sack and
Michael Vick
made one heck of a tackle on
Troy Polamalu
after his third interception of the first half.
Mike Kafka
threw the ball extremely well in the fourth quarter after everybody stopped caring.
Oh, and the coaches now have a whole bunch of really awful-looking, mistake-riddled tape on which to base some real serious lessons this week in meetings and practice.
Other than that, pretty ugly. We can sit here and say everything we want to say about how it's only preseason, the games don't count, some teams devise game plans while others go vanilla and it's a bad idea to draw sweeping, upsetting conclusions based on preseason games. All of that stuff is true and must be said before we delve into what we saw. But the fact is that the Eagles looked bad, in almost every possible way, in Thursday night's exhibition loss to the Steelers. And since I am tasked with offering you an evaluation of what I saw, I have no choice but to detail the ugliness.
1. Bad matchup.
The Eagles' new defense, under Juan Castillo and Jim Washburn, is predicated on aggressiveness, especially by the defensive line. This makes
Ben Roethlisberger
the worst possible quarterback for the Eagles to face. He dances through and around pressure, stays upright far longer than he's supposed to, keeps plays alive forever and generally feasts on defenses that don't show enough patience. All of this was on display Thursday, as Roethlisberger was three steps ahead of Castillo and the Eagles' defense at every turn. He drew them offsides with a hard count. He stepped up to avoid pressure. He pump-faked. He handed the ball off to
Rashard Mendenhall
and watched him gash the Eagles' backup defensive tackles and suspect linebacker corps. The Eagles helped him out, as when
Asante Samuel
guessed wrong on a route and
Antonio Brown
got past him and caught a 29-yard touchdown pass. And I'm willing to bet, when they gather for their defensive meetings in the coming days, the Eagles hear a little bit about how to control their aggressiveness a little bit better.
2. Casey Matthews may not be the answer.
The Eagles' defensive play calling was very basic, perhaps because they're trying not to overtax their rookie middle linebacker. This is a key element of preseason evaluation. The Steelers looked as though they devised specific offensive plays to beat the Eagles, and the Eagles looked as though they did not prepare specifically for the Steelers. Happens all the time in preseason, and it's a big reason not to draw big conclusions from these games. But even with the basic play calling, Matthews looked slow and confused at times, and physically overmatched at others. The decision to start Matthews at middle linebacker is a surprising one by the Eagles, especially in light of all of the work they did to upgrade at other spots on defense. You wonder if the way he played Thursday might make them look around to see if there's a veteran on the market who can help, but on the other hand, they don't seem to be placing a very high value on the linebacker position in general. On one third down in the first quarter, they loaded up with three safeties and four cornerbacks, leaving
Jamar Chaney
as the only linebacker on the field. Their strengths are at corner and defensive end, so they'll lean on those. But when you have a back who can get through the line as quickly as Mendenhall can and it's up to the linebackers to make a play to stop him ... that's where Matthews and the Eagles look shaky.
3. Asante Samuel has to learn to play without Quintin Mikell.
Samuel bit on a move and a fake that Brown and Roethlisberger didn't make on that 29-yard touchdown. It was a pure guess, and a bad one -- the kind that's worth taking if you know you have a responsible veteran safety backing you up. But the safeties were elsewhere on that play, and the new scheme plus the absence of the veteran Mikell (who signed with the Rams) could mean Samuel has to take more responsibility for playing the receiver he's covering instead of trying to jump a route to get an interception.
4. Vick was very, very, very not good.
The bad throws were one thing, but the worse part was that he just didn't do a good job of reading the defense. He struggled against the blitz, which was supposed to be his area of focus this preseason. He never saw
Ryan Clark
on his first interception. He threw behind
Chad Hall
on the second. And the third was a bad decision -- he shouldn't have thrown the ball downfield after that play broke down as badly and as many times as it did. "Obviously, tonight, I didn't make the best decisions," Vick told Fox's Pam Oliver during a fourth-quarter sideline interview. That included the hit on Polamalu, which was very impressive but must have terrified his coaches. No reason for Vick to take a risk like that in a game whose outcome doesn't matter. He's too important to the Eagles to try something like that, and he's at least as lucky he didn't get hurt as the Eagles are that this game didn't count.
5. The defensive line misses its starting tackles.
Antonio Dixon
and
Mike Patterson
are out due to injury and illness, and that's part of why the run defense looked so vulnerable. I imagine the linebackers will look better once they're at full strength in the middle of the line. But if those guys are going to be out for an extended period of time (as is surely possible with Patterson, at least), this could continue to be a problem.
6. Ronnie Brown is going to be a huge asset
in the backup running back role. He's a starting-quality running back whose role is to give the electrifying McCoy a rest. So, when McCoy is on the sideline, the Eagles are still going to be better at running back than many of their opponents are when their starting back is playing. Brown looks great so far this preseason, which brings up another as-yet unmentioned point: The work-in-progress offensive line didn't look too bad. Okay, so Point 6 wasn't really a bad-news point. But hey, it's true.
7. Can Howard Mudd really not coach from the press box?
Poor guy really has a hard time getting around on those bad legs of his. Don't know why they wouldn't let him coach from up there. Unless he doesn't want to. I admit I don't know.
In conclusion, it's like this: As the Giants did Saturday, the Eagles looked lousy in almost all respects Thursday. So I point this out, as I did with the Giants on Saturday. What I am
not
saying here is that the Eagles are in trouble as a result of anything we saw Thursday. The sky is not falling. This game matters not at all, except as a potential learning opportunity. Did it point to some potential trouble spots? Sure. But it doesn't mean the team isn't as good as people thought it would be. It just means the Eagles had a bad night in August. Kind of like the Steelers had last week against the Redskins. And you saw how they bounced back from that.