NFC East:

2011 NFL preseason Week 3
August, 27, 2011
8/27/11
10:11
PM ET
Yeah, I know the game's not over yet. And I want to see DeMarco Murray as much as the next guy does. But I'm in New Jersey and I'm not sure how much longer the power will stay on. So I thought it made some sense to get something down now, rather than later, about the Dallas Cowboys' preseason game Saturday night in Minnesota.


First off, everybody's going to want to talk about the defense, which gave up 216 yards to Adrian Peterson, Donovan McNabb and the Vikings in the first half. Peterson looked unstoppable, which he often does against many teams. The Vikings' offensive line beat up the Dallas defensive line in the run game, and Peterson cashed in for 69 yards on 11 carries. Safeties Gerald Sensabaugh and Abram Elam got burned on a long touchdown pass to Bernard Berrian, and it's very easy to come out of that first half saying the Dallas defense looks like more of the same from last season, when only the Broncos gave up more points.
But I'm not sure Cowboys fans should be so quick to get so down about this, and for a number of reasons.
First, and most importantly, it's only preseason. I'm constantly preaching here that you can't make sweeping predictions or evaluations about team performance in preseason, because you don't know what you're watching. Some teams game plan, others don't, and sometimes plays get called for the express purpose of identifying how a certain player will do in a certain matchup. To say the Cowboys' defense is in trouble because it gave up a bunch of yards in the first half Saturday night is a classic overreaction.
[+] Enlarge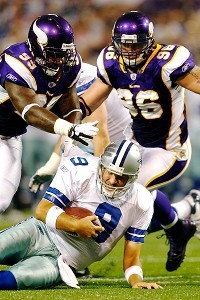 AP Photo/Andy KingThe Vikings pressured Tony Romo for much of the first half, but Romo still managed to amass 141 yards and was 15-of-20 passing.
Secondly, the Cowboys did do some good individual things. Cornerback
Orlando Scandrick
had a couple of nice pass breakups in big spots against Berrian.
Jason Hatcher
got his hand on a McNabb pass and Sensabaugh made a nice diving interception before the ball hit the ground. I thought
Anthony Spencer
was very active and busy around the ball, whether it was pressuring McNabb (he sacked him once) or making a play or a tackle in coverage. Overall, the tackling (which was a major issue for the Cowboys last season) was fine. Peterson had a couple of chances to break long gainers and didn't. So while the Cowboys didn't do a good job containing him at the point of attack, they did manage to keep him from destroying them.
Finally, the Cowboys are not at full strength on defense. They're still missing starting cornerbacks Mike Jenkins and Terence Newman, and starting defensive end Marcus Spears. And those who are playing have had only a month's worth of practices in new defensive coordinator Rob Ryan's system. It's perfectly understandable if frustration from last season's defensive performance leaks into this season. But it's unfair to assume based on preseason games that it won't be better. It's a work in progress, getting healthier and more comfortable. And considering how strong the Cowboys' offense should be, remember: The defense doesn't have to be one of the best in the league to make the team a contender. It only has to improve from the back of the pack to somewhere near the middle.
As for that offense, there were quite a number of highlights, which I'll hit on as I mention some other things I saw:
1. Tony Romo looks great. He was pressured early up the middle (remember, Dallas started a third-string center) but held up fine and threw with impeccable accuracy and confidence all night. He was 15-for-20 for 141 yards in the first half, and even some of his misses were well thrown. The near-touchdown on which Kevin Ogletree couldn't get his second foot in bounds was a perfect throw. The throw just out of Dez Bryant's reach at the goal line shortly before Felix Jones' touchdown run was in a place where Bryant was the only one who would have even had a chance to catch it. Romo's accuracy is his greatest strength, and it was on display Saturday.
2. Bryant is a physical beast. He can overpower defensive backs to make a catch. When he makes a catch, he's hard to bring down. He's 6-foot-2, 225 pounds with great hands and great instincts. Once defenses have Miles Austin to worry about as well as Bryant, Romo is only going to look better.
3. Felix Jones continues to impress. But while Jerry Jones is out there saying Tashard Choice needs to play better on special teams to make the roster, Choice looked good on a couple of runs while spelling Felix. Murray was also set to play at some point Saturday (and I'll update with stuff on him if the storm allows), and as great as Jones has been this preseason, it's good for the Cowboys to see what their other options are for giving him a break and helping to keep him healthy.
4. Jesse Holley is working hard to make the team. Made a couple of very nice third-down catches, missed a tackle on a kick return ... mixed bag kind of a first half for Holley, but if Romo's comfortable throwing to him and he's making the catches when he does, that's got to help his case.
5. The offensive line got better as the game went along. As mentioned, there were some issues early with the Vikings getting pressure up the middle. Rookie Bill Nagy still looks like he needs to add strength, and Tyron Smith looked as though he was struggling with his footwork again on the first offensive series. But things tightened up as the first half moved along, and the Cowboys were able to keep Romo clean and allow him to make his plays. On the sack, left tackle Doug Free got beaten by Jared Allen, who forced Romo up in the pocket where Christian Ballard got off a Nagy block to bring Romo down. I wonder if Nagy is supposed to hold that block longer, or if I'm watching the rookie too closely.
6. Shayne Graham should be the kicker. Dan Bailey and Graham each hit mid-range field goals (37 and 38 yards, respectively) at this writing, but given Graham's track record I have to think he gets the job as long as he doesn't miss kicks in the preseason. He didn't look great on kickoffs, but the new rules make that less important this season.
Again, more later if I'm still online. But that's what I have for now.
August, 25, 2011
8/25/11
11:46
PM ET
Observations from the Redskins' 34-31 preseason loss to the Ravens on "Monday Night Football":
Everyone loves a horse race, so it's no surprise so many people who are watching the
Washington Redskins
' apparent quarterback competition are treating it as one.
Rex Grossman
bounces a couple of throws, he's in trouble.
John Beck
hits a deep ball, he's in the lead. Grossman looks sharp in the 2-minute drill, he's not dead yet. Beck throws an interception, he's lost the job! Oh wait! Beck comes back and leads a 95-yard touchdown drive! The job is again his to lose!!!
[+] Enlarge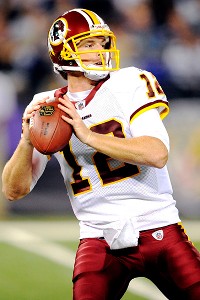 Rafael Suanes/US PRESSWIREJohn Beck rebounded from a second-half interception with a long touchdown drive.
It's just not as cut and dried as that. The key thing to remember about the preseason games is that we never really know what we're looking at. Some teams concoct game plans, some teams don't, and you have no idea, really, who is trying hard and who isn't. So the evaluations have to be about more than performance and results. And for Mike Shanahan and the rest of the Redskins' coaching staff, they are.
Shanahan and the Redskins know exactly what Grossman is. He doesn't have to show them anything. They believe, if they install Grossman as the starter, they know exactly what they'll get. And so far this preseason, nothing he's shown has done anything to sway them from that opinion.
They believe, however, that Beck has the ability to give them more. That he can make plays and move the chains with his feet. That he has a quicker release, and that he anticipates throws better. They think the upside is higher with Beck, and what they wanted to see from him when this preseason began is how he would handle the pressure of being the starter -- or at least the opportunity to finally be a starter in the NFL.
So while, yes, it matters that Beck made a bad throw that was intercepted on his first play of the second half, it almost certainly matters more that he rebounded to lead that long touchdown drive. You're not going to judge a guy on one throw, good or bad. But to watch Beck engineer that drive, make smart decisions quickly, let go of the ball with that kind of speed ... that's the kind of thing that, if the question is whether Beck can handle the pressure of the situation, the answer is affirmative. Shanahan is not likely to announce his decision for another week or so at least, but I believe Beck has been the favorite all along and has done nothing to lose that status.
Some other thoughts from what turned out to be an exhibition loss when
Tyrod Taylor
and the fired-up Ravens went in for a touchdown with 22 seconds left:
1. Ryan Kerrigan is an impact player.
Sure, he's a rookie still learning to play standing up as a linebacker instead of in the three-point lineman stance he used in college, and he still needs to get used to the coverage schemes. But when they send Kerrigan after a quarterback, he can flat-out get there. He picked up his second sack in two preseason games, and it appears as though he and fellow outsider 'backer
Brian Orakpo
can be a fearsome combination. Overall, the Redskins' first-team defense looked very good, although it could suffer if the knee injury sustained by rookie defensive end
Jarvis Jenkins
in the first quarter is a long-term issue. Jenkins has been a star during training camp.
2. Terrence Austin is playing himself into a roster spot.
For the second game in a row, Austin was a standout at the receiver position. He caught Beck's touchdown pass and had 71 yards on five catches. He's also served as the punt returner the past couple of weeks with
Brandon Banks
out (although he got only one chance in this one), and that could help him make the team. If he has a connection with Beck, and if Beck is the starter, it's going to be difficult to cut Austin.
3. Interesting night for DeAngelo Hall.
He had the interception return for a touchdown, nicely anticipating the route and sitting on it while
Joe Flacco
fired it right to him, but he also gave up
Lee Evans
' touchdown for Baltimore. He had tight coverage on Evans and just didn't see the ball in time to make a play on Flacco's pinpoint throw. In general, the Redskins' secondary has been the weak spot of the defense in this preseason. In fairness, they have been playing without starting safety
LaRon Landry
and cornerback
Josh Wilson
-- as well as without inside linebacker
London Fletcher
, who is not a member of the secondary but is an on-field leader of the defense whose presence and knowledge are missed. It was encouraging to see
O.J. Atogwe
on the field for the first time this preseason, and
Reed Doughty
has played well at safety during the injuries to the starters. But once Landry is back there, things will feel much more whole.
4. Santana Moss will be a huge help to whichever guy is the quarterback.
Moss is simply a great, professional route-runner. They could use a bigger red zone threat than they have, but Moss is going to be a safety net for Beck and/or Grossman all year as they work on moving the ball down the field. As for that red zone threat ... maybe
Leonard Hankerson
can develop into it. We got on his case last week for drops, so it should be noted that he made a very nice shoestring catch on the only ball that came his way on this night. And
Anthony Armstrong
looks like a potential deep threat, as Beck found him for 33 yards on his first throw of the game.
5. Tim Hightower.
Not much else to say. He ripped off another big run, didn't fumble the ball and looks like he's moving up fantasy draft boards as the season approaches. Nine carries for 56 yards, no sign of injured
Ryan Torain
to challenge him and
Roy Helu
looks like a fun, speedy backup at this point. Hightower is a factor in the passing game as well, as a blocker and a receiver, and if he holds onto the ball, he's going to be an asset.
Once again, no way to know whether the good stuff we've seen from the Redskins will carry into the regular season, and no real reason to think it will. The preseason just doesn't have that kind of predictive value. But even though they lost the game, there were a lot of things about Thursday night to help make the Redskins feel good about themselves, and there is value in that as the season gets ready to start.
August, 25, 2011
8/25/11
10:41
PM ET
The plan was for the
Philadelphia Eagles
' starters to play three quarters of Thursday night's preseason game against the Browns. But
Michael Vick
took such a beating in the first half, and it was raining so hard at halftime, that it just didn't make any sense to run him back out there. And while it's easy to look at the big picture and say the Eagles looked a lot better in this
24-14 exhibition victory
than they did last week against the Steelers, the fact is the offensive line's play in the first half had to be extremely disconcerting to their fans and their coaches.

The issues Thursday were at and to the right of center. Rookie
Jason Kelce
got the start with the first team at center in place of veteran
Jamaal Jackson
, and he did little to make you think Jackson's job is or should be in jeopardy. Kelce had a holding penalty and a bad exchange with Vick, and he and fellow rookie
Danny Watkins
were repeatedly shredded by rookie
Phil Taylor
and the Cleveland defensive line. As a result, Vick was under pressure throughout the first quarter and didn't have time to find his wide receivers downfield.
Running back
LeSean McCoy
continued to look excellent as a runner and as a great check-down option for a harried Vick in the passing game. And if the line is going to be this shaky all season, McCoy could catch 100 balls. But the line has to get better, or it could sink this promising Eagles season.
Center can be fixed, of course, because they can just put Jackson back in there until Kelce is ready. And
King Dunlap
is only a fill-in starter at right tackle until
Winston Justice
and/or
Ryan Harris
are healthy. But Watkins was the first-round pick, and he's going to start. And he's going to have to block better and communicate better with whoever is out there to his right and left, or Vick is going to be knocked around a lot.
Now, as we keep saying, it's only preseason, and the Eagles still have more than two weeks of practice time in which to fix these problems. I am by no means saying they cannot or will not fix their issues. But while the result of this game doesn't matter any more than the result of last week's game did, there are some specific issues that came up, good and bad, and the poor play of the right side of the offensive line was the one that stood out the most.
Some others:
1. Better work by the linebackers this week.
The Eagles' defense this season will be based on aggressive upfield pursuit by the defensive line, which means the linebackers will have to be more effective and responsible in coverage. We saw that Thursday night, especially from
Jamar Chaney
and rookie middle linebacker
Casey Matthews
. Last week was rough on Matthews, but the Eagles seem to have done a good thing for him this week, replacing him with
Brian Rolle
and/or
Brandon Hughes
on passing downs and allowing him to focus on playing the run more. Matthews' first-quarter highlight was a big stop on
Montario Hardesty
up the middle, and in general the linebackers in this game seemed to be in the right place and for the right amount of time much more reliably than they were against the Steelers.
2. Mike Patterson helps.
Back in action less than a month after suffering a seizure on the practice field, Patterson was a big addition to the defensive tackle rotation. He picked up an early sack, drawing a nice ovation from the pre-rainstorm crowd at Lincoln Financial Field, and along with
Cullen Jenkins
,
Derek Landri
and
Anthony Hargrove
, he helped deliver somewhat consistent pressure up the middle as the game went along. If
Antonio Dixon
makes it back from his injury, the Eagles are going to have a very deep, very talented defensive line rotation that will allow them to keep everyone as fresh and aggressive as Juan Castillo and Jim Washburn want them to be throughout the games.
3. Vick was better but tough to evaluate.
He didn't throw three interceptions, as he did last week, and in general he did a better job of identifying and reacting to the blitz. His inability to get the ball to his receivers wasn't his fault, as discussed above, but he did a good job of finding McCoy and, every now and then, taking off running when all else had failed. We're not likely to see him in the final preseason game, so this was his last warm-up before the regular season. But he'll surely hope
Jeremy Maclin
is back and fully healthy by then, since that will help matters all around.
4. The cornerbacks all did nice things.
Nnamdi Asomugha
was his swarming, suffocating self, taking receivers out of the game.
Asante Samuel
came up with an interception.
Dominique Rodgers-Cromartie
blocked a kick. As they are on the defensive line, the Eagles are deep in the secondary, especially if
Jarrad Page
and
Kurt Coleman
can continue to make the contributions they're making at safety. In general, the defense was much more intense and directed this week. Again, we don't know what we're looking at in the preseason. The Eagles might have planned for this game, and the Browns might not have. But from a confidence standpoint, the Eagles had a lot more about which to feel good on defense than they did after
Ben Roethlisberger
took them apart seven nights earlier.
5. The Eagles are deep at running back, too.
Ronnie Brown
continues to look like a one-year steal, and
Dion Lewis
like a guy who could make it not matter if Brown leaves after one year. If McCoy is going to be leaned on heavily, the Eagles can feel good about their ability to give him breaks and keep him fresh.
I also thought both rookie kickers looked good and that in general most of the individual evaluations off this game had to be position. But the offensive line play in the first half was so alarming that it had to be the story of the night, and all eyes will be on the right side of that line once the games start for real.