NFC East:

2011 Pass-Rushers Power Rankings
March, 22, 2011
3/22/11
6:12
PM ET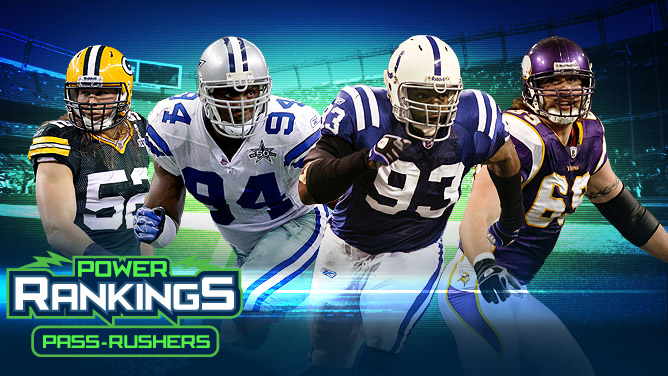 ESPN.com IllustrationDeMarcus Ware (94) was the clear choice for the top spot when our writers ranked the best pass-rushers in the game.
ESPN.com's NFL writers rank the top 10 pass-rushers in the league today. Next week: Top 10 tight ends.
ESPN.com's panel of power rankers had no trouble identifying the best pass-rusher in football. The rest of our Top 10 list? It was easily the most difficult to compile so far in what will be a 10-week project.
Dallas Cowboys
linebacker
DeMarcus Ware
received seven of eight first-place votes. AFC South blogger Paul Kuharsky ranked him No. 2, putting
Indianapolis Colts
defensive end
Dwight Freeney
at the top of his ballot. Overall, a total of 17 players received votes, and the crowd was dense enough to exclude established veterans such as
Houston Texans
defensive end
Mario Williams
,
New York Giants
defensive end
Justin Tuck
,
Baltimore Ravens
linebacker
Terrell Suggs
and Colts defensive end
Robert Mathis
.
The category was tough, explained NFC West blogger Mike Sando, because "sack numbers tend to fluctuate from year to year and it's tougher to know which pass-rushers are truly the best. I think the proliferation of 3-4 defenses also made this a tougher call. We weren't evaluating defensive ends exclusively. We were also looking at 3-4 outside linebackers. That deepened the pool while forcing us to compare players at more than one position."
Ware, for one, wasn't a difficult choice -- as long as sacks are the primary statistical representation of pass rushing. Ware led the NFL in sacks last season with 15.5, and he has also had more combined sacks over the past two, three and five seasons combined than any other NFL player. At 28, he would seem to have several ultra-productive seasons remaining in his career.
Beyond Ware, however, the debate was fierce. The
Green Bay Packers
'
Clay Matthews
received the second-most votes (61), but there wasn't much separating him from Freeney (58) or
Minnesota Vikings
defensive end
Jared Allen
(52).
[+] Enlarge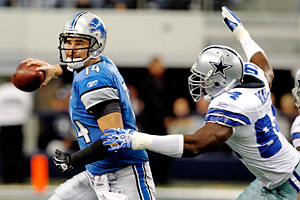 Tom Pennington/Getty ImagesDeMarcus Ware had 15.5 sacks last season and has 80 sacks in six seasons in the NFL.
Kuharsky's familiarity with Freeney gave him a unique perspective.
"I've had coaches and scouts I trust tell me, repeatedly, that Freeney is the best pure pass-rusher in the league," Kuharsky said. "They say he's the guy they'd want if they could have anyone and the most difficult guy to stop because of the way he plots out his game. That's stuck with me and was a big factor for me as I put together my ballot."
From an NFC North perspective, I think it's interesting that Ware is the only NFL player who has recorded more sacks than Allen over the past five seasons. Allen's total of 11.0 last season was his low-water mark over the last four seasons, however, and the explicit instructions for voters were to base judgments on what we can expect for the 2011 season.
Given a choice between Allen, Matthews or Freeney in building a Super Bowl team for 2011, whom would you choose? With all due respect for Freeney (and Kuharsky, such that he deserves it) Matthews, 24, seems the right answer to me.
Matthews, Allen and
Chicago Bears
defensive end
Julius Peppers
gave the NFC North a league-high three members of this exclusive group. Peppers' all-around contributions last season earned him a spot on The Associated Press' All-Pro team, but his total of eight sacks left him ranked eighth on our list.
Illustrating the difficulty of this exercise, two voters left Peppers off their ballots entirely and a third -- AFC North blogger James Walker -- ranked him No. 10. The
Atlanta Falcons
'
John Abraham
, The Associated Press' other first-team All-Pro defensive end, ranked a composite No. 7.
NFC South blogger Pat Yasinskas, who covers Abraham and until 2010 covered Peppers as well, ranked Peppers No. 5 and said: "I know the sack numbers can rise and fall, but he has the ability to completely take over a game at any time." Meanwhile, a younger Abraham would have ranked higher.
"He had 11 sacks last year but 5.5 the year before," Yasinskas said. "At 32, you have to at least question whether he would sustain 2010 numbers in 2011."
Finally, if you're outraged about the absence of Williams, Tuck, Suggs, Mathis, the
Philadelphia Eagles
'
Trent Cole
or even the
Denver Broncos
'
Elvis Dumervil
, you probably need to focus your ire at the inclusion of
Miami Dolphins
defensive end
Cameron Wake
. In his second NFL season, Wake exploded for 14 sacks.
Does one elite season merit inclusion on this list? Opinions varied widely among our voters. Wake was left off three ballots and voted No. 10 on three others. AFC East blogger Tim Graham, who saw more of Wake last season than any other voter, placed him No. 4.
"If we're ranking the best overall defensive ends or outside linebackers, then maybe Cameron Wake doesn't make my list," Graham said. "He's not a run-stuffer and is lacking when it comes to pass coverage. But we're rating pure pass-rushers, and that's the one thing Wake does on an elite level. He's a freakishly gifted athlete who creates havoc in the backfield.
"I also don't view Wake as a one-year wonder because he had a strong season in 2009 despite playing behind
Joey Porter
and
Jason Taylor
in most situations and under a different defensive coordinator. He should continue to thrive under Mike Nolan's guidance. I view Wake as a legitimate star who was overlooked on a mediocre team."
Your thoughts? I'm expecting them.
March, 22, 2011
3/22/11
4:58
PM ET
NEW ORLEANS -- It shouldn't come as a surprise, but ESPN.com's NFL bloggers
ranked the best pass-rushers
in the NFL and the Cowboys'
DeMarcus Ware
came in at No. 1.
Ware led the NFL with 15.5 sacks, but there are some other things he did well that you need to notice.
Ware led the Cowboys with 36 pressures, something coach Jason Garrett looks at when evaluating a pass-rusher. Ware also had the team lead with nine tackles for loss.
One of the things Ware is so good at is catching ball carries from behind, because so many teams run away from him. Ware is able to sneak across the line of scrimmage with his speed to overtake running backs from behind.
The Cowboys' coaches credited Ware with 64 solo tackles for the 2010 season, which was fourth on the team, pretty good for a player who gets double-teamed and who sees plays go the opposite way.
New defensive coordinator Rob Ryan said he wants to move Ware around the line of scrimmage in 2011. He wants Ware to line up on the left side, then the right side and confuse the offensive line.
"I think sometimes people get too caught up in the statistics of sacks," Garrett said. "He had X number of sacks where he had a good year; he had X number of sacks so he had a bad year. That's really not the case. There's more to playing those pressure positions than that: if you're pressuring the quarterback, if you're pushing the pocket, if you're affecting the quarterback. You could be playing equally well and not showing up on the stats sheet quite as much. Can our pressure players besides DeMarcus get better? Absolutely. Can DeMarcus get better? Absolutely, and that's what we'll continue to work towards."