NFC East:

2011 Season Wrap NFC
January, 4, 2012
1/04/12
1:00
PM ET
»
NFC Wrap-ups
:
East
|
West
|
North
|
South
»
AFC
:
East
|
West
|
North
|
South
Arrow indicates direction team is trending.

Final Power Ranking:
15
Preseason Power Ranking:
4
[+] Enlarge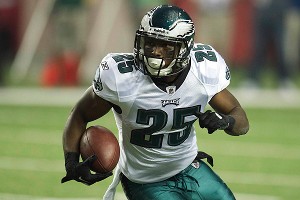 Dale Zanine/US PresswireLeSean McCoy was a bright spot in an otherwise disappointing Eagles season.
Biggest surprise:
Michael Vick
's step backward. There is a lot of blame to go around for what went wrong with the
Philadelphia Eagles
this year, and we'll get to it all. But coming off a season in which he ran second in the MVP voting to
Tom Brady
, and continuing under the tutelage of Andy Reid and Marty Mornhinweg, Vick was expected by many people to continue to build on and develop the brilliance of 2010. Instead, he was shaky and unreliable, turning the ball over way too much during an early-season swoon that knocked the Eagles out of playoff contention almost before they even started. Injuries to
Jeremy Maclin
and the weird year
DeSean Jackson
had pouting about his contract situation didn't help, but this isn't on the wide receivers. Vick must come back next season determined to be more responsible with the ball and continue the growth and maturation as a quarterback that he was showing in 2010.
Biggest disappointment:
The team's inability to finish games early in the season cost it dearly. Blown fourth-quarter leads in losses to the Falcons, 49ers, Giants, Bears and Cardinals left the Eagles 3-6 after nine games and put them in too deep a hole from which to climb out. The defense took way too long to jell, with all of its new players, new coaches and new schemes. Cornerback
Nnamdi Asomugha
, the prize free agent of the 2011 offseason, showed up on other teams' highlight reels a lot more than he did on Philadelphia's. And the Eagles head into the offseason wondering if the strong finish their defense had under first-year coordinator Juan Castillo and new defensive line coach Jim Washburn was a mirage or a sign of what might have been and what could be to come.
Biggest need:
The Eagles need linebackers in the worst way. Washburn's "Wide 9" defensive scheme was very effective at pressuring quarterbacks, and the Eagles led the league with 50 sacks. But they ignored linebacker when they were doing all of their signings last summer, and it showed up. The corps of rookies and young players they used at linebacker was unable to support the defensive line and left the team vulnerable not just to big passing plays but also to the run.
Team MVP:
Running back
LeSean McCoy
. He didn't play in the final week of the season, and he got knocked out early the week before against the Cowboys. But he still ended up fourth in the league with 1,309 rushing yards and had 20 touchdowns, including a league-leading 17 on the ground. McCoy was the Eagles' best, most consistent and most dynamic player on either side of the ball. If anything, they leaned too hard on the pass and didn't use him enough late in games to help salt away those leads.
Front line legit:
Two of the biggest free-agent signings were defensive end
Jason Babin
and defensive tackle
Cullen Jenkins
, each of whom had outstanding years. Jenkins was a force inside and was even able to move outside and play some end when needed. And Babin, who followed Washburn to Philadelphia from Tennessee, continued to flourish under Washburn's direction. He finished the season ranked third in the league with 18 sacks and now has 30.5 the past two years with Washburn as his position coach.
January, 4, 2012
1/04/12
1:00
PM ET
»
NFC Wrap-ups
:
East
|
West
|
North
|
South
»
AFC
:
East
|
West
|
North
|
South
Arrow indicates direction team is trending.

Final Power Ranking:
9
Preseason Power Ranking:
15
[+] Enlarge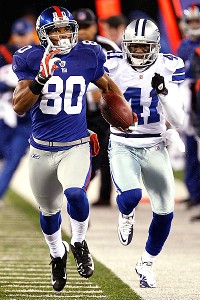 William Perlman/The Star-Ledger/US PresswireVictor Cruz had a breakout season for the Giants in 2011.
Biggest surprise:
Second-year wide receiver
Victor Cruz
. One of the big questions back in training camp was how the Giants would replace key passing-game targets
Steve Smith
and
Kevin Boss
, who had left in free agency. Quarterback
Eli Manning
even expressed his concern on that very subject. But Cruz had been working with Manning during the lockout and was ready to burst onto the scene more brilliantly than anyone could have expected. He caught 82 passes, nine for touchdowns, and set a Giants team record with 1,536 receiving yards -- a figure that ranked third-best in the NFL. He surpassed
Hakeem Nicks
as the team's best big-play threat and helped the Giants be able to basically ignore a down year from
Mario Manningham
.
Biggest disappointment:
Has to be a run game that ranked 32nd in the NFL. People want to point out that it seems to have gotten better in recent weeks with both running backs --
Ahmad Bradshaw
and
Brandon Jacobs
-- finally healthy together. But all season, the problem with the Giants' run game was not the backs but rather a poor run-blocking offensive line. Things did get better once
Will Beatty
got hurt,
David Diehl
moved to left tackle and the surprising
Kevin Boothe
got into the mix. But these Giants are more a passing team than ever, and have been unable to put games away on the ground with very few exceptions.
Biggest need:
Even if cornerback
Terrell Thomas
and middle linebacker
Jonathan Goff
come back from the season-ending injuries they suffered in preseason, the Giants will need to beef up in the secondary and linebacking corps. Just too many coverage problems this year. No matter how good the pass rush is, you need to be able to cover opposing receivers or you're going to keep being vulnerable to the big play.
Team MVP:
Manning. With no run game to speak of, a shaky offensive line and a leaky defense for much of the year, Manning elevated the Giants over and over again in games they seemed to have no business winning. His five fourth-quarter comebacks are as big a reason as any that they're still playing. Manning finished the season with 4,933 passing yards, which ranked fourth in the league in this pass-happy season, and established himself as one of the best clutch quarterbacks in the league.
Down with JPP:
A close second in that team MVP race is second-year defensive end
Jason Pierre-Paul
, who had 16.5 sacks, won the first Cowboys game almost by himself and kept the pass rush viable in spite of injuries to
Justin Tuck
and
Osi Umenyiora
. He's the Victor Cruz of the Giants' defense.
January, 4, 2012
1/04/12
1:00
PM ET
»
NFC Wrap-ups
:
East
|
West
|
North
|
South
»
AFC
:
East
|
West
|
North
|
South
Arrow indicates direction team is trending.

Final Power Ranking:
26
Preseason Power Ranking:
28
[+] Enlarge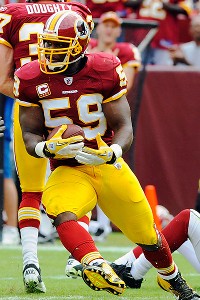 Brad Mills/US PresswireLinebacker London Fletcher was his usual reliable self for the Redskins in 2011.
Biggest surprise:
Rookie running backs
Roy Helu
and
Evan Royster
, who combined for five 100-yard rushing games in the final stretch of the season. Helu had three of them, and once Helu got hurt, Royster had two. The Redskins were able to run the ball effectively early in the season, too, with original starter
Tim Hightower
. And if Hightower can come back from his ACL injury, running back should be a position of remarkable depth and quality for the Redskins as they head into 2012.
Biggest disappointment:
The drug suspensions that cost left tackle
Trent Williams
and tight end
Fred Davis
the final four games of the season. The two young stars were having fantastic seasons, and the manner in which they were suspended called into question not only their intelligence but their commitment to the team. The Redskins want to consider both of those positions developing strengths as they move into a brighter future, and right now they are left to hope this turns out to be a lesson learned rather than a sign of more trouble to come.
Biggest need:
Quarterback. Not that much was expected, but
Rex Grossman
threw 20 interceptions in 13 starts, and
John Beck
was an utter disaster in the three games he started in Grossman's place. The disappointment fans feel about quarterback comes from the fact that the team didn't do more to address it last offseason, and upgrading over what they have at that position now must be an offseason priority if the Redskins are going to continue to make the progress they insist they made in 2011.
Team MVP:
London Fletcher
. The veteran inside linebacker was running offseason player workouts during the lockout, keeping a sheet of paper with some of the team's 3-4 defense plays from 2010 in his pocket and calling them out as they ran through drills on their own. Once the season began, the 37-year-old wonder brought it every game, leading the NFL in tackles for the season, helping with the development of young players like
Perry Riley
and
Ryan Kerrigan
and setting an everyday, every-week example as the best, most intense, most focused and most prepared player on the team. Having Fletcher is like having a coach on the field in addition to a great player, and there's no wonder why Shanahan has called bringing back the potential free agent a top priority.
The other side of the ball:
The Redskins did a lot of fine work rebuilding their defense in the 2011 offseason, bringing in players such as
Barry Cofield
,
Stephen Bowen
and
Josh Wilson
while drafting Kerrigan. But while they may still need to add a piece or two in the secondary, depending on what happens with
DeAngelo Hall
and
LaRon Landry
, the Redskins' focus this offseason is likely to be on offense. They need a quarterback, a No. 1 receiver and some more beef on the offensive line.
January, 4, 2012
1/04/12
1:00
PM ET
»
NFC Wrap-ups
:
East
|
West
|
North
|
South
»
AFC
:
East
|
West
|
North
|
South
Arrow indicates direction team is trending.

Final Power Ranking:
13
Preseason Power Ranking:
14
[+] Enlarge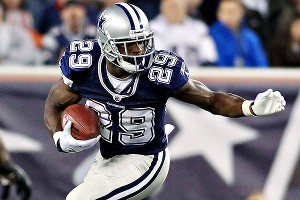 Stew Milne/US PresswireDeMarco Murray averaged 5.5 yards per carry before he was lost to a season-ending injury.
Biggest surprise:
Laurent Robinson
. Signed as an afterthought by a team that didn't have a No. 3 wide receiver and wasn't sure it needed one, Robinson became a star in the passing game for quarterback
Tony Romo
. He caught 54 passes for 858 yards and tied for fourth in the league with 11 touchdown catches. With
Miles Austin
hurt for much of the season and second-year wideout
Dez Bryant
still developing amid a slew of off-field issues, Robinson was a big reason the Cowboys found themselves in the division race at all.
Biggest disappointment:
The 1-4 finish. Even after crushing early-season losses to the Jets, Lions and Patriots -- each a game the Cowboys should have won -- Dallas stood at 7-4 and in position to take control of the NFC East with the Giants going through a second-half fade. But they gave away the game against Arizona with poor late clock management and a bizarre sequence on which head coach Jason Garrett iced his own rookie kicker, and from there it was a mess. Two losses to the Giants in the final four games sealed the Cowboys' fate, and the only game they won in their final five was against a
Tampa Bay Buccaneers
team that had quit on its coach. The defense collapsed late in the season and must be addressed, and the offensive line had a hard time protecting Romo. This was a system failure, and there are multiple personnel issues that have to be handled in advance of next season if they want to make sure it doesn't happen again.
Biggest need:
The Cowboys need to get better in the secondary, which is weird because they addressed that last year by signing two free-agent safeties. But they knew
Terence Newman
wasn't going to be good enough at cornerback, which is why they tried to sign
Nnamdi Asomugha
, and they were right.
Mike Jenkins
played well but can't stay healthy. And while they signed
Orlando Scandrick
in the hope that he could take over for Newman as a starter next year, he doesn't necessarily look ready for a role like that. Cornerback, then, is a major need, and it wouldn't hurt if they did something about the pass rush.
Anthony Spencer
is a free agent at the outside linebacker spot opposite
DeMarcus Ware
, and Spencer does not appear to be the long-term answer.
Team MVP:
DeMarco Murray
. Yes, Romo had a great year and put up huge numbers. But he was also directly responsible for at least two of the early-season losses. And when you lose the division by one game, that has to matter. The Cowboys were at their very best when they were running the ball with Murray, their powerful rookie running back who ran for 897 yards in spite of not getting the starter's job until Oct. 23 and suffering a season-ending injury on Dec. 11. The Cowboys went 5-2 in the games that Murray both started and finished, and that's why I'm putting him here ahead of both Romo and Ware, each of whom had great years but vanished a bit when it counted.
Better, right?
The trend arrow points up because the Cowboys won two more games in 2011 than they did in 2010. But the season left a bitter taste in the mouths of many fans and a lot of questions about the future. Is Garrett as talented a coach as Jerry Jones says he believes him to be, and will he get better and correct his mistakes as he gains more experience? Did Rob Ryan as coordinator really improve the defense, and can it take the next step if he gets a few more pieces in place before next year? Did Romo really learn from his early-season mistakes? He threw only three interceptions in the team's final nine games and may have taken a big step in his own career in spite of the fact that the defense and the offensive line crumbled around him. Will he continue to be a responsible and effective leader in 2012? The Cowboys appear to be in better shape than they were at this time last year, but it's hard to really see it through the disappointment of the final month.