NFC East:

2012 Camp Confidential
August, 10, 2012
8/10/12
12:00
PM ET
OXNARD, Calif. -- The one-on-one confrontations drawing the most attention these days in
Dallas Cowboys
training camp are the ones between running back
DeMarco Murray
and linebacker
Sean Lee
. Each of Dallas' young, serious, budding stars sees the other as a daily personal challenge. Murray is determined to finish every run as far downfield as he can, and Lee is determined to make that as difficult as possible. The action is so good, coach Jason Garrett said, that he's using Lee and Murray as examples for the rest of the team: "Look at the way this guy works. Look at the way this guy practices."

The fact Garrett's examples, in this case, are a third-year linebacker and a second-year running back says a great deal about where the Cowboys are as a franchise. Yes, of course they want to win in 2012-13. But the sense you get when you spend time around this team is that everyone is focused on building a successful and sustainable long-term future.
"Those young guys we have came in right away and just started molding themselves as impact players," star linebacker
DeMarcus Ware
said. "Those are the guys that are going to be here and be that team. And right now, our veteran guys are still in our prime, along with the guys who are going to take your place eventually. So I think we have the building blocks that we need, and I feel like we have that total team this year."
This year could go either way for a Cowboys team that still has questions about its defense, its offensive line and its depth in general. But those who focus only on the upcoming season and wonder whether Garrett or quarterback
Tony Romo
will be in trouble if Dallas doesn't reach the playoffs are missing the point. Garrett is increasingly in control of the way this team is being put together. And his long-range vision has the support of owner Jerry Jones, who longs for a return to the 1990s dynasty days.
"We're trying to build our football team for 2012, but we're also trying to build a football program," Garrett said. "To put a program in place that's going to have sustained winning for years to come. 'Build' is an important word for us. It's something we've talked about a lot this offseason. I think the values that I have are shared by the people in our organization. We've done it a lot of different ways with the Cowboys through the years, but I would argue that the football character of the Super Bowl teams in the '90s was outstanding. They loved to play football. They worked hard at it. There was great spirit to them. They loved it and they worked hard at it and they understood what 'team' was."
By trying to prioritize character and makeup when choosing which players to draft or sign, Garrett believes the Cowboys are giving themselves the best possible chance to replicate that 1990s vibe. Of course, there's one very important thing this year's team can do to contribute to the long-term goals.
"We've put the good work in when it comes to foundation, but it doesn't mean anything unless we win," Lee said. "We need to win in big situations. We need to get to the playoffs. We need to compete for Super Bowls every year if we want to be a legitimate team. I think we have the character and the talent to do it, but it's a matter of putting it on the field."
THREE HOT ISSUES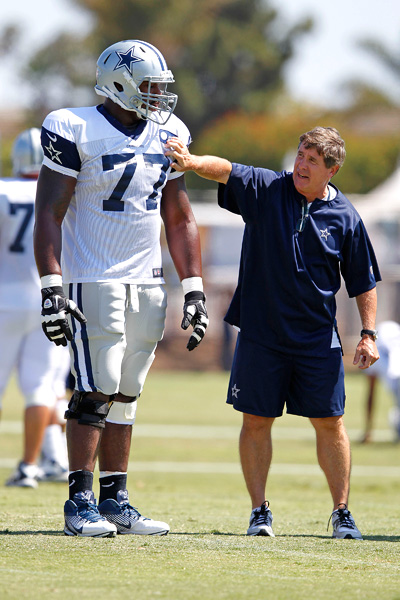 AP Photo/James D SmithTyron Smith, left, will be moving from right to left tackle along the Cowboys' reshuffled offensive line.
1. The offensive line.
For all the well-deserved heat the defense took during last season's collapse, the offensive line was a yearlong problem. The Cowboys couldn't find any kind of decent mix on the interior, where they're still struggling with health, strength and the center-quarterback exchange.
Phil Costa
returns as a somewhat-underwhelming starting center, and the hope is that veterans
Mackenzy Bernadeau
and
Nate Livings
will solidify the guard spots, but to this point they have not.
Doug Free
struggled so much at left tackle last year that he has been moved back over to the right side, while 2011 first-round pick
Tyron Smith
has moved to the left. Smith was outstanding as a rookie, and there's little reason to believe he won't be able to handle the transition, but the other four spots on the line remain question marks.
That Romo was able to post big numbers last year behind a struggling line says a lot about him, and the Cowboys will once again count on their quarterback to cover some of those weaknesses. But they must be able to protect him, and open holes for Murray in the run game. NFL history is littered with teams that had great quarterbacks, running backs and receivers but were done in by bad offensive lines. If the Cowboys want to avoid becoming another of those teams, they need to find a serviceable mix of linemen at some point in August.
2. Corner-ing the market.
Garrett says that the first thing the Cowboys do when constructing their roster is identify the "money positions" -- the spots on which they're willing to commit major resources. For Dallas, these are quarterback, offensive tackle, pass-rusher, playmaking wide receiver and cornerback. Given that, it's no surprise they attacked cornerback hard this offseason. They signed free agent
Brandon Carr
to a huge contract and traded their first-round and second-round draft picks for
Morris Claiborne
. That's committing major resources to one position, and the Cowboys' hope is that they can build their 2012 defense around two great man-coverage cornerbacks.
"No pressure, right?" Carr joked when asked about the responsibility he carries as the big free-agent signing. "I like it. I came from Kansas City, where we played a lot of man-to-man, and with this front seven we have here we should have an opportunity to go out there and challenge receivers and make plays on the ball."
Claiborne missed the offseason program while recovering from wrist surgery, and a knee problem has kept him off the field for the early part of training camp. Defensive coordinator Rob Ryan will be able to do a lot of creative things with his defensive front if he can count on Carr and Claiborne being effective in man coverage, so the Cowboys would like to see Claiborne on the field as much as possible this preseason so he can get up to speed on the NFL game.
3. Winning when it counts.
The Cowboys lost four of their last five games last season, including two to the Giants, and finished one game behind the first-place Giants in the NFC East. It's not hard to figure out what they need to do better.
"That's why we didn't end up making the playoffs and that's why the Giants went on -- because they could make big plays in big situations," Lee said. "We need to be able to do that and be more consistent with it."
Lee, Ware and the linebacking corps look like a bunch of playmakers. The Cowboys think their new cornerbacks can be playmakers. They know Romo,
Dez Bryant
,
Jason Witten
and
Miles Austin
can be playmakers on offense. But as Lee says, they just need to do it. Austin can't lose the ball in the lights on third down in the home game against the Giants. Somebody besides Ware needs to come up with a sack every now and then. If the Cowboys' lesson of last season is that they need to be tougher in big spots, they'll get plenty of chances this season to show whether they have learned it.
REASON FOR OPTIMISM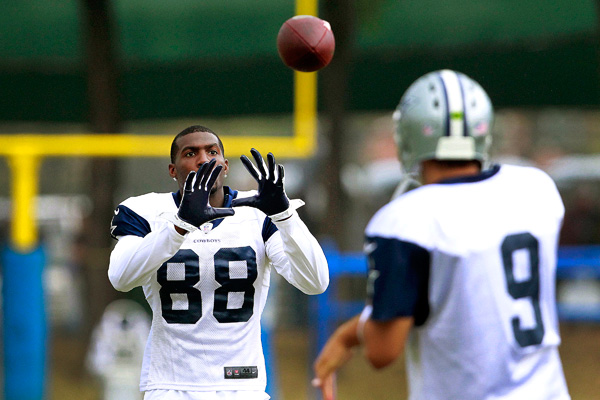 Ron Jenkins/Fort Worth Star-Telegram/MCT via Getty ImagesDez Bryant, left, and Tony Romo are among the many playmakers the Cowboys have on offense.
The Cowboys' front-line talent is very good. Romo, Bryant, Austin and Witten all rank among the top players at their positions on offense, and Ware is probably the best defensive player in the entire league. There's reason to believe a healthy Murray can be an outstanding runner, and the offense worked well last year while he was healthy and starting. Lee looks like an emerging superstar on defense, and we've already talked about the corners. If they can get lucky and avoid major injuries to starters, the Cowboys have as much talent at key positions as anyone in the conference.
REASON FOR PESSIMISM
The flip side, of course, is that there isn't much depth behind those offensive stars. And guys like Austin, Bryant, Murray and Romo aren't always the picture of health. You can make the point that no team can sustain injuries to key starters, but the Cowboys especially look like a team for which everything really needs to go right. An early training camp hamstring injury to Austin is a bad sign. Unless they're going to somehow find another
Laurent Robinson
in the wide receiver bargain bin, they need to keep Austin and Bryant on the field.
OBSERVATION DECK
There are interesting battles going on for spots on the defensive line, where Kenyon Coleman and Marcus Spears are seeing their roster spots challenged by the likes of Sean Lissemore and Clifton Geathers. With Jay Ratliff and Jason Hatcher looking like sure-thing starters, Josh Brent the likely backup at nose tackle and third-round pick Tyrone Crawford in the mix as a situational pass-rusher, there may only be two more spots on the roster for defensive linemen.

Don't rule Ronald Leary out of the mix for a starting guard spot. He was undrafted, but the Cowboys like him a great deal and the competition at those spots is very much open at this point.

Bryant looks like the best player on the field at Cowboys practices. Simple as that. There is nothing football-related that's keeping him from being one of the best wide receivers in the league. Now, if they can just build him an apartment that's attached to the field so he never has to be away from it, they should be all set.

This time last year, everybody was worried about the third wide receiver spot, and they plucked Robinson out of nowhere to catch 11 touchdowns. With Robinson gone off to Jacksonville, fans are worried again, but the Cowboys aren't. Even if someone like Kevin Ogletree wins the spot and can't play the way Robinson did last year, they'll find a way to make up for his production. "You can fill it with the second tight end, you can fill it with the backs, and obviously with the third wide receiver," Witten said. "But I don't think it's just one guy. What Laurent did, it's hard for a No. 3 receiver to come in and do that. So I think it's got to be a combination."

Barry Church won a starting safety spot in the first week of camp. Yes, Brodney Pool was a disappointment, but part of the reason they cut him so early was that they liked what Church had shown them. So it appears he'll start at safety along with Gerald Sensabaugh. If he can transfer his early-camp performance into real games, that'd be a big bonus for the secondary -- whether or not those corners are locking people down in man coverage.

The linebacker group looks like a real strength, even inside. Lee is a big-time playmaker, and both Dan Connor and Bruce Carter have been performing well as they fight for the other starting inside linebacker job. Still not sure if Anthony Spencer can improve as a pass-rusher enough to give them a credible threat opposite Ware, but they should be tough to move the ball against in the middle of the field.

The switch from left tackle to right tackle could take a little time for the ultra-talented Tyron Smith. He played right tackle in college and is working on retraining himself on things as simple as which foot to move first. I expect he'll get it figured out in time.

The talk early in camp was of using Bryant on punt returns and backup running back Felix Jones on kick returns. The Cowboys have been hesitant to use Bryant on returns because of his value to the passing game, so they're looking at other options. But none is as potentially game-changing as Bryant is with the ball in his hands.
August, 6, 2012
8/06/12
12:00
PM ET
BETHLEHEM, Pa. -- A year ago, as excitement swirled around the free-agent-happy
Philadelphia Eagles
and preseason predictions called for big things, something didn't feel quite right.

"I didn't think the expectations were too high, but I knew that the timing might not match up as quickly as everyone wanted it to," cornerback
Nnamdi Asomugha
said after practice last week. "Because you would hear, 'Oh, they're going to be this, going to be that,' and then you'd come out in practice and you could see us blowing plays. Yes, we could be there, but we weren't there yet. That's what I was feeling in training camp. Right now in training camp, it feels completely different."
Last week, before the Eagles' training camp was rocked by Sunday's news of the death of coach Andy Reid's son Garrett, the atmosphere was serene and businesslike. The players have been practicing together since February, when Asomugha and quarterback
Michael Vick
were organizing players-only workouts at the University of Pennsylvania. Late July welcomed them to one of the hardest-hitting camps in the NFL. Their motivation is clear and simple: They were 8-8 last year and believe they should have been better. They admit to being downright angry about the way the 2011 season went.
"I think there's a determined effort to try to maximize our opportunity," Eagles general manager Howie Roseman said. "You see it from the players. You see it from the coaches. You see it from the support staff. And I think last year, maybe you underestimated how long it takes to acclimate."
No such issues or excuses this time around. This is basically the same group as last year, with new guys at middle linebacker and left tackle. All of the coaches who were new to the team or their roles last season are back. All of the new schemes implemented last year by defensive coordinator Juan Castillo, defensive line coach Jim Washburn and offensive line coach Howard Mudd are familiar by now, and everybody should be more comfortable in them. If the Eagles flop again, there won't be anywhere to look for explanations other than within. That's why this August's focus is internal, on the things that are important rather than any hype they might be attracting.
"I don't want anyone buying into anything," Asomugha said. "I just want us to get into this season and just play the way we know how to play. I'll be completely honest with you: Our team looks very good. Obviously it's camp. We're not playing against anybody, but we're under specific instruction. Don't talk. Don't blow this thing up. Don't nothing. Let's just get in the season, and let's just start playing football."
Once they do that, the Eagles believe that this time around, everything will be just fine.
THREE HOT ISSUES
1. Can Vick lead them to greatness?
No player in the league is under more pressure in 2012 than Vick. The brilliance of his 2010 season disappeared under the disappointment of his injury- and interception-riddled 2011, in which he failed to take that critical next step in his late-career development as a leader and a quarterback. The popular narrative is that this is the first time since 2006 in Atlanta that Vick has had a real offseason as a team's starting quarterback. He began 2010 as the Eagles' backup, and the 2011 offseason was wiped away by the lockout. The result, everyone says, is that Vick has spent more time at the team facility, working out, studying film and applying himself to details in order to get better.
"It's all evident," Vick said of his 2011 film review. "A lot of the turnovers I had, I think eight of them, were on balls that got tipped, so I need to try and release the ball a little higher, do something differently. There's nothing more gratifying than learning from a mistake. Interceptions are going to happen, but you try to keep them to a minimum and think about ball control."
The more focus on detail, the better for Vick, who has long relied on his unusual and considerable talent to carry him through. As last season proved, being a quarterback is about the little things, much more than just what you can do with your arm and your legs.
"I see him just being smarter," wide receiver
DeSean Jackson
said of Vick. "He's taking a leadership role where he can be coached and be taught by other people as well. He's not at a point where he doesn't feel like anybody can tell him anything. He interacts, and he wants to know what it is that he's doing something wrong. And if he is doing something wrong, you can just get on him, just like a regular individual, a regular player."
[+] Enlarge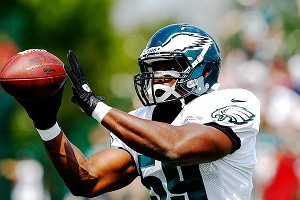 AP Photo/Brian GarfinkelThe Eagles believe veteran DeMeco Ryans will provide the defense with stability at linebacker.
2. The "quarterback of the defense"
The big acquisition of the Eagles' offseason was middle linebacker
DeMeco Ryans
, whom they acquired in a trade with the
Houston Texans
prior to the draft. Ryans is a well-respected veteran who was emerging as one of the top linebackers in the league before his 2010 Achilles injury.
A misfit in the 3-4 defense the Texans implemented during his rehab, Ryans is more comfortable playing the middle linebacker spot in the Eagles' 4-3. He is healthy and looking like the player who was universally loved and respected by Texans teammates, who called him Cap. The Eagles' defense, which started unprepared rookie
Casey Matthews
at middle linebacker last September, should benefit from Ryans' veteran presence.
"You see that stability there," Reid said. "The game's slower for him than it would be for a rookie. So he's able to just kind of get everybody lined up, get everybody settled and calmed down."
Roseman said it was a priority for the Eagles to find "the quarterback of our defense," and Ryans is aware that he was brought in to correct 2011's biggest defensive flaw. Ryans is trying to keep those expectations as calm as he's trying to keep his defensive teammates.
"It's not going to take one person to fix all the problems," Ryans said. "It takes everybody working together and finding out how we can make all 11 guys play better and have a better defense."
What the Eagles like about Ryans is that he can teach everybody just how to do that. And he can play a little too.
"It's not like we just got a guy off the street who has some experience," Asomugha said. "This guy is a big-time player."
3. Replacin' Jason
Left tackle
Jason Peters
may have been the best player on the Eagles' roster last season, and that's no slight to anyone else. Peters was a monster blocker who was critical to the success of the offensive line and to the breakout season of running back
LeSean McCoy
. But Peters injured his Achilles in the offseason and is out for the season.
His replacement is free-agent signee
Demetress Bell
, who is athletic like Peters and has the potential to be an adequate replacement. Bell's issue has been staying healthy and on the field, but so far his teammates say he is looking good and picking up Mudd's complex blocking schemes.
"He's one of the best options we could have had to replace Jason," left guard
Evan Mathis
said. "He displays great athleticism. He has a hunger to learn and a hunger to get better. And what's good for him is, Jason had a monster season, so he can go look at the film of Jason having a monster season, take what he's learning from Howard, apply it to what he's doing on the field and just try and replicate that and do exactly what Jason was doing. He's making strides daily."
REASON FOR OPTIMISM
For all that went wrong last season, the Eagles managed to finish 8-8 and weren't eliminated from playoff contention until Week 16. Had they managed to hold just one of those blown fourth-quarter leads -- against the 49ers, Falcons or Giants, say -- the discussion of their 2011 might be very different. They played well enough at the end of last season, and in the first three quarters of their September games, to prove to themselves they can be as good as they think they can be. If they can cut down on the costly mistakes, and if they get the mental boost they say they got from their season-ending four-game winning streak, it's not a long journey from where they were to a division title.
REASON FOR PESSIMISM
So much comes down to Vick. With a backup corps that comprises
Mike Kafka
,
Trent Edwards
and rookie
Nick Foles
, it's more important than ever for Vick to stay healthy. He hasn't played 16 games in a season since 2006, and the Eagles were 1-2 in the three games he missed last season. When he is at his best, Vick gives the Eagles advantages at the position over any team in the league. He can do things with his arm and his legs that other quarterbacks can't. But his relatively small size and all-out style of play have created a history of injury that can't be overlooked when forecasting his -- and the Eagles' -- season. If he doesn't play well, or if they lose him for an extended period of time, it's going to be difficult for them to compete with the top teams in the NFC.
OBSERVATION DECK
[+] Enlarge

Kevin C. Cox/Getty ImagesNow fully healthy, WR Jeremy Maclin has the tools to have a career season in 2012.
August, 2, 2012
8/02/12
11:00
AM ET
ASHBURN, Va. -- As the rest of the teams in the NFC East talk about dynasties, defending championships and ... whatever it is that Jerry Jones has been talking about all week, the
Washington Redskins
are working on moving up from fourth place. It has been a long time since the Redskins were a real factor. They've had three straight losing seasons and have reached the playoffs in just three of the past 19 years.

But for the first time in a long time, there is reason for hope. His name is
Robert Griffin III
, and he is a rookie quarterback on whom everything now rests. The Redskins traded three first-round picks and a second-round pick for the right to draft Griffin, and all he has to do is look around or listen to know what he represents to the Redskins' starving fan base.
"I didn't expect the excitement," said Griffin, who doesn't seem to be caught off-guard by too many things. "I wasn't looking to get drafted and have a whole city fall in love with me. So it's definitely a great experience. Hopefully, I can be the catalyst and get a lot of fans excited about this team."
Months before the games -- months before training camp, even -- Griffin already was doing that. His jersey became a fungal phenomenon, sprouting up instantly everywhere in D.C., Maryland and Virginia. Stores began selling posters modeled after the iconic 2008 Barack Obama "HOPE" campaign posters, only with Griffin's face on them instead. The public reaction to Griffin has been outsized and unreasonable. But given the way Redskins fans feel about their team and how long they've gone without a franchise quarterback, it's easy for longtime residents of the area to understand.
"It's Washington, man," veteran Redskins receiver
Santana Moss
said. "There's nothing reasonable. The whole city expects 'now,' so at the end of the day, all you can do is give them what they want."
"Now" may not be a reasonable goal for a rookie quarterback on a team that won five games last year and plays in the same division as the Super Bowl champions. But what Griffin has already done around here is change the vibe. People are talking with real excitement about what can or will be. Even coach Mike Shanahan, who has overhauled the roster to the point where 19 of the projected 22 starters weren't on the team two years ago, feels differently about 2012.
"It's the first time, I feel like, you go into a season and you've got a chance," Shanahan said. "You're excited about the year. You're excited about your football team. You're excited about the direction you're going."
That's all new this year, and the new front man is a huge reason why.
THREE HOT ISSUES
1. How will the offense be different under Griffin?
If you watch the Redskins practice, you see a lot of new stuff. There are rollouts. There are bootlegs. There are designed runs for the quarterback. There are option sets, where Griffin has to decide whether to keep, pitch or throw the ball. Shanahan admits he's throwing a lot at his rookie quarterback, and it's by design.
"What I think you do is, you feed him everything," Shanahan said. "For people to grow, in my opinion, you teach them everything and then you find out what they're able to do. So we teach him everything, see how much he can handle, knowing he's going to get better and better every year because he's smart enough to get it. And then that'll be our job here for the next three weeks, really after this week, to isolate it down more to what we're going to do this season -- get a package for him that he's most comfortable with."
[+] Enlarge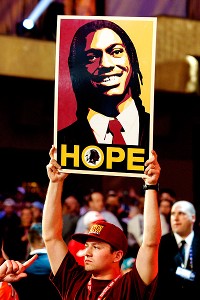 AP Photo/Brian GarfinkelRedskins fans are hoping Robert Griffin III can turn things around in Washington.
In other words, all of the stuff we're seeing Griffin do in practice might not necessarily carry over into the season. If there's a particular part of the offense with which he's having a hard time, the Redskins could shelve it until next summer and go with the things they know he can do. Regardless, though, Griffin's athleticism and running ability give the Redskins options they didn't have in previous years. And it may help them cover up question marks on the offensive line and in the running game. Speaking of which ...
2. Do they have enough around him?
Shanahan won't talk about the salary-cap penalties the league imposed on the Redskins (and the Cowboys) just before the start of free agency. But it's a pretty fair guess that, had they not been docked $18 million in cap space this year and again next year, they might have been able to sign some offensive line help. They did not. They're bringing back last year's offensive line, and two of the starters are already injured. There's a chance left guard
Kory Lichtensteiger
makes the season opener, but right tackle
Jammal Brown
has a recurring hip problem that could prevent them from being able to count on him. The good news is that some of their backups got playing time last year because of injuries and suspension. And left tackle
Trent Williams
looks like the best player on the field in practices. But Griffin's protection could be an issue all year if the line struggles with injuries.
If it doesn't, Shanahan believes it can be effective because the players all know the system and each other. He's also not worried right now about who will emerge has his starting running back. Veteran
Tim Hightower
would be the starter if not for his ongoing recovery from last year's knee surgery.
Evan Royster
, a sixth-round pick in 2011, has looked the best of the remaining bunch so far in camp, but they also like 2011 fourth-round pick
Roy Helu
and 2012 sixth-rounder
Alfred Morris
. "We have four backs that can play," Shanahan told me, and he's willing to let the camp competition sort it out for him.
Griffin's receiving group includes newcomers
Pierre Garcon
and
Josh Morgan
, veteran Moss and last year's rookie star,
Leonard Hankerson
, whose 2011 was cut short by injury, appears to be back. They're also expecting big things out of tight end
Fred Davis
, who was their best pass-catcher for much of last year before a drug suspension cost him the final four games.
3. The secondary.
The defensive front seven looks strong and deep, but there are question marks at cornerback and safety. Will
DeAngelo Hall
thrive in his new role as the nickel corner? Will
Cedric Griffin
or
Kevin Barnes
be good enough as his replacement on the outside? Is strong safety
Brandon Meriweather
a talented star who was miscast in Chicago? Or is he a malcontent who got kicked out of New England because he wasn't playing to his potential? Can
Madieu Williams
or
Tanard Jackson
hold down the free safety spot? Lots of new faces and moving parts out there, and these questions need to be answered if the defense is going to continue to make progress.
REASON FOR OPTIMISM
As they will tell you, the Redskins did beat the Giants twice last year. And they played the Cowboys tough twice. Of all the last-place teams in the NFL, only one finished closer to its division's first-place team than did the Redskins, who at 5-11 were still only four games out of first. They have replaced a starting quarterback (
Rex Grossman
) who somehow threw 20 interceptions in only 13 games with a brilliantly talented, charismatic and ultra-promising rookie. They've beefed up at receiver and on the defensive line. And even if all of that isn't enough for them to contend in 2012, Redskins fans have all kinds of reasons to feel good about the direction in which their franchise is pointing.
REASON FOR PESSIMISM
The Eagles should be better than they were last year. The Giants have reason to believe they'll be better than they were last year. The Cowboys made major upgrades at cornerback and should be tougher to play than they were last year. Even with the improvements, there are very few positions (Tight end? Linebacker? 3-4 defensive end?) at which the Redskins appear to be as good as or better than their division rivals. That's a comment on the talent in the rest of the division as much as it is on what the Redskins are doing, but it remains a troubling reality. The Redskins are still a work in progress, and while the NFL prides itself on the number of its annual surprises, a Redskins playoff push at this point would likely rank among the biggest.
[+] Enlarge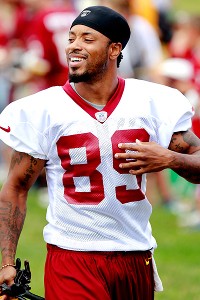 Geoff Burke/US PRESSWIRERedskins receiver Santana Moss has lost 16 pounds since last season.
OBSERVATION DECK
Moss' weight loss is striking. He's down 16 pounds and says he feels completely different. The Redskins' coaches called him in the offseason and told him they thought he was too big, and he agreed, so he got in shape and has come to camp determined to show the world he's still a top receiver.

The Redskins are converting Niles Paul, who last year was a rookie wide receiver, to tight end. He's 234 pounds and said his biggest concern when they asked him to make the change was that he wouldn't be able to block big pass-rushers like DeMarcus Ware and Jason Pierre-Paul. But incumbent tight end Chris Cooley told him it was all about technique, and Cooley has been working with Paul to help refine that.

That's a pretty cool thing for Cooley to do for a player who may be about to take his job. Shows you what kind of guy and teammate Cooley is. He's got a chance to stick on the roster, but he has to show he's healthy and probably take a pay cut.

The Redskins' plan as of now for three-receiver sets is to use Garcon and Hankerson wide and Moss in the slot. But Moss could play well enough to see action outside in two-receiver sets, especially if Hankerson and Morgan have injury problems. Morgan, who has always had those, is being looked at as someone who can play any of the three receiver slots in Shanahan's offense.

Shanahan named defensive lineman Chris Baker as a player he thinks will surprise people. If that's true, the defensive line rotation looks formidable with Barry Cofield, Stephen Bowen, Adam Carriker and 2011 second-round pick Jarvis Jenkins, who missed his rookie year with a knee injury but is back and looking good.

Outside linebackers Brian Orakpo and Ryan Kerrigan will switch up from time to time this year instead of staying pinned to specific sides of the field. Orakpo also says he's working on adding pass-rush moves to his arsenal in an effort to get his sack numbers up.

Neil Rackers has a chance to unseat Graham Gano as the kicker, but Gano held off a challenge from veteran Shayne Graham in preseason last year, so don't give up on him yet.

Brandon Banks has been told he has to make the team as a receiver, not just a return man. If he doesn't make it, look for Aldrick Robinson as a possible kick returner.

Somehow, we have reached this point in the Camp Confidential without mentioning the name of London Fletcher. But he's still very much in the middle of things at age 37. He ran an interception in for a touchdown during the first week of training camp. He's in the best shape of anyone in camp, as usual. They put Griffin's locker next to his because they felt Griffin could benefit from proximity to their best veteran leader, and Griffin said he knew right away the significance of the locker assignment. Fletcher said he wanted to come back to Washington in part because he wants to be there when they turn it around. If they do, his presence will of course be a big reason why.
July, 29, 2012
7/29/12
10:32
AM ET
ALBANY, N.Y. -- The task for
New York Giants
coach Tom Coughlin, as he works this summer to keep his Super Bowl champions from getting complacent, is to remind them of all of the things about which they have no right to be complacent.
In a meeting on the first day of camp, Coughlin showed his team a few stats. Under the heading "Worst to Best," he reminded the Giants that they ranked last in the league in rushing offense in the 2011 regular season and 27th in total defense. He put up the number 400, which is the number of points the Giants allowed en route to a 9-7 regular-season record -- more than all but seven teams in the league, not one of which reached the playoffs.

"There's a lot of improvement to be made," Coughlin said after Saturday's practice. "And the challenge has been, 'Which team are we?' Are we the 7-7 team, or are we the Super Bowl champions?"
They are both, of course. They are the team that went 7-7 in its first 14 games, playing inconsistent defense, running the ball into the backs of its linemen and asking quarterback
Eli Manning
to bring it back from behind in the fourth quarter almost every week. But they are also the team that galvanized itself after its Week 15 loss to the Redskins and won six in a row, including the Super Bowl. Coughlin wants his charges to remember both parts and give them equal weight. The latter part, he says, gives the Giants the confidence to know they can fight through any challenge. The former reminds them of how much work they have to do.
"I think last year was a tale of two teams," defensive end
Justin Tuck
said. "The first half was the tale of a team that didn't play well together, had egos, was injured, didn't have a full complement of players. And the second half was us coming together. 'All-in' became our slogan, and guys really checked their egos at the door and sacrificed whatever personal things we had to become that great team."
The knowledge that they're capable of being the best team in the league is a helpful thing for the Giants to carry with them. But the tone here at Giants training camp is not one of cockiness or a Super Bowl hangover. The Giants are a serious, professional bunch whose hope is to maintain the intense focus of those final six games and apply it over the course of at least 16 this time around. Tuck said the Giants can trust in "the mental compass of this team" to make sure the issues that plagued them last year don't resurface, and as they go through their preparations for 2012, that is the priority.
"We've got to find a way to get our work done," Tuck said. "That's the only way you win championships."
THREE HOT ISSUES
[+] Enlarge
AP Photo/Evan PinkusInjuries have kept Will Beatty from establishing at left tackle, making him the biggest uncertainty on an uncertain offensive line.
1. Can Will Beatty play left tackle?
The offensive line is the biggest question, and the key to the line is Beatty, who still has yet to establish himself as the reliable starter the Giants believe he can be at left tackle. He missed the final six games of the regular season with an eye injury and says the good thing about that is he didn't beat up his body as badly as the rest of his teammates did, but he did miss the reps and the experience he would have accrued had he been able to complete his first year as a starter. So he remains a question.
"That's definitely something that he's got to work at," right tackle
David Diehl
said. "When you miss that much time of football, you've got to get back at things, and he missed some time during minicamp due to a back injury, so he's got his work cut out for him to come into this season. But we all know he's physically capable."
2. Who replaces Brandon Jacobs and Mario Manningham?
They weren't starters, but Jacobs had 167 touches last year and Manningham caught 39 passes. They will need to be replaced, and the candidates to do so are young and unproven. First-round pick
David Wilson
is competing with
D.J. Ware
and
Da'Rel Scott
to be the backup running back behind
Ahmad Bradshaw
. Second-round pick
Rueben Randle
is competing with
Domenik Hixon
,
Jerrel Jernigan
and
Ramses Barden
to be the No. 3 wide receiver. Training camp and the preseason will be a tryout camp for the guys at those positions. Starting wide receivers
Hakeem Nicks
and
Victor Cruz
are excellent, as is Bradshaw if he can keep his feet healthy all year. But this offense likes to spread it around, and some of the players in these competitions must step up as reliable options.
3. Is Terrell Thomas back?
The Giants' secondary was more good than bad last year, but it did have its bad moments. Thomas, who suffered a torn anterior cruciate ligament in the preseason and missed all of 2011, believes he's healthy and ready to reclaim his position as an emerging star at cornerback. If he's not, the Giants will look to 2011 first-round pick
Prince Amukamara
to man the cornerback spot opposite
Corey Webster
. But Amukamara comes with plenty of his own questions, and the Giants need this camp to help them figure out exactly what they have on the back end of that defense. The pass rush remains excellent and the linebacking depth is improved, but if there's a spot at which the defense is a bump or a bruise away from being very wobbly, it's that secondary.
REASON FOR OPTIMISM
Where the Giants are strong, they are as strong as anyone in the league. The pass rush, led by defensive ends Tuck,
Jason Pierre-Paul
and
Osi Umenyiora
, is fearsome when only two of that threesome are healthy. If all three can stay healthy this year, they should be devastating. "That's our strength, no question," Tuck said. "We know it. It's a lot of pressure on us, but we thrive on it, and hopefully we can build on last year and play 16 games together this year so we can see how scary that can be."
They're also obviously quite strong at quarterback, where Manning has established himself as the most clutch player in the league. He led seven fourth-quarter comebacks last year, including one in the NFC Championship Game and one in the Super Bowl. He never misses a game, works hard at making those around him better and has become the unquestioned leader of the team. In a quarterback-driven league, the Giants wouldn't trade their guy for anyone.
REASON FOR PESSIMISM
[+] Enlarge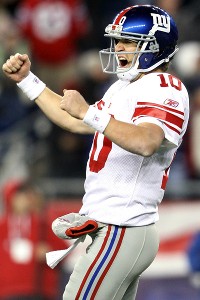 Elsa/Getty Images"Let's not overuse it," Eli Manning says of his abillity to lead late comebacks, something he did seven times last season.
The one potential downside to that last thing, however, is that the Giants may have come to count on Manning too much. Manning himself said that, while knowing you can make a fourth-quarter comeback is nice, the Giants need to stop making them so necessary.
"It kind of means, when you're doing that a bunch, that you're not playing real well the first three quarters," Manning said. "So let's step it up and play with that kind of energy and enthusiasm and that 'Hey, we need to score here' kind of attitude in the first three quarters. Obviously I still want it at the end, and there's going to be some games where you need it. But let's not overuse it, because sometimes you're going to get a bad break. Sometimes the ball's going to get tipped. Sometimes a bad play is going to happen and then you're just out of time. So let's not always put ourselves in that situation."
The Giants didn't actively go out and get many solutions to the problems that put Manning in those situations so often last year. They're relying on the guys they have to play better and stay healthier. And if they don't ... well, you just can't count on seven fourth-quarter comebacks every year, no matter how good your quarterback is.
OBSERVATION DECK
It looks as though Chase Blackburn will begin the season as the starting middle linebacker, though newcomer Keith Rivers could overtake him if he shows the ability to play the middle. The second-team middle linebacker right now is Mark Herzlich, who also could overtake Blackburn if healthy and leave Rivers in a utility linebacker role. This is suddenly a position of great depth for the Giants, who have four second-year linebackers they like as well as Rivers and starting outside linebackers Michael Boley and Mathias Kiwanuka.

Don't assume rookie Wilson wins the backup running back job just because he was picked in the first round. The Giants love him, but they'll be perfectly willing to keep him in the background and develop him if he doesn't show enough in camp and someone such as Ware does. Wilson is getting a lot of practice reps, so they will be able to make a thorough judgment on him, but he's still behind Ware on the depth chart.

Former Giants safety Deon Grant said last week that he expects to re-sign with the Giants at some point during camp, but I did not get that vibe from the Giants. They feel good about their linebacker and cornerback depth, and barring injury, I don't think they'll feel the need to bring back Grant and run all of those three-safety sets they ran the past couple of seasons.

Beatty said he came to camp lighter this year (310 pounds) than last (319). He believes he can put the weight back on as muscle now that he's able to work out again. After he injured his back and developed a sciatic nerve problem during minicamp last year, he was unable to work out the way he usually does in the summer.

While the Giants' pass rush is keyed around their defensive ends, they believe second-year defensive tackle Marvin Austin can help them generate more pressure up the middle on first and second downs. "He's a fast-twitch guy, especially for a 320-pounder," Tuck said of Austin, who missed his senior season at North Carolina in 2010 due to suspension and his rookie NFL season in 2011 due to injury.

Should something happen to Beatty or Diehl, the Giants hope 2011 fourth-round pick James Brewer can be a reliable first option as backup at either tackle position. Their hope is that he develops into a reliable right tackle who can eventually replace Diehl, though they're not expecting that this season.

Fullback Henry Hynoski caught passes out of the backfield early in camp. He's good at it, and especially given the Giants' questions at tight end, it's an option you should probably expect them to use in the passing game.