NFC East:

2012 NFC Divisional Round
January, 15, 2012
1/15/12
10:20
PM ET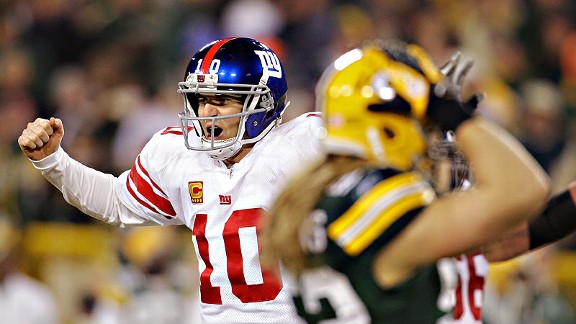 AP Photo/Darron CummingsTom Coughlin has Eli Manning and the New York Giants just one win away from the Super Bowl.
GREEN BAY, Wis. -- Deep in the bowels of Lambeau Field on Sunday night, America's youngest 65-year-old practically bounced up to the podium, a grin creasing his famously red face as he broke down his latest huge coaching achievement.
When you push yourself as hard as Tom Coughlin pushes himself, you have to revel in nights like this. The
New York Giants
had just crushed the 15-1
Green Bay Packers
37-20
to move into the NFC Championship Game, and Coughlin finds himself in the middle of a postseason run every bit as delightfully surprising as the one on which he took the Giants four years ago.
"Just very happy," Coughlin said, and who can blame him? This is a remarkable coaching achievement he's pulled off. His team looked dead in the water just four weeks ago, sitting at 7-7 and in second place after a miserable home loss to the Redskins. The story in New York was about whether he would be fired if the Giants didn't make the playoffs, and the consensus seemed to be that the Giants would have little choice.
Four games and four victories later, such talk has turned preposterous. Coughlin, whose contract runs through 2012, has put himself in line for a multiyear extension. This run with this team is establishing him -- if he hadn't already done so -- as one of the elite head coaches in the game. If he wins his next two games, he becomes a two-time Super Bowl champion and, quite frankly, people are going to start to ask whether he belongs in the Hall of Fame.
"There's nobody outside of this room who believed we could get where we are right now," Giants left tackle
David Diehl
said. "You go back a month, and it was all, 'Should Coughlin be fired?' But he knew what we had here, and we knew what we had here, and we used all of that for motivation."
The mark of a great coach is his ability to identify the kind of team and the kind of players he has and coach accordingly. Bum Phillips famously said that what made Don Shula great was that "he could take his'n and beat your'n, or he could take your'n and beat his'n." Coughlin is of that school. At a time when so many coaches seem to be slaves to their own system, or seek to have control over roster construction, Coughlin sees his role more simply. His is not to mope and complain that the team didn't do more in free agency, or that defensive starters dropped like flies in the preseason. His is to figure out how to win with what he has. And as he did four years ago, when he tore through Dallas and Green Bay before taking out the undefeated Patriots in the Super Bowl, he has figured out how to push exactly the right buttons with a roster that didn't look playoff-caliber for most of this season.
"The way the leadership part works is, it starts with the coach," Giants safety
Deon Grant
said. "And what we have here is a coach who knows his team. He knows how to talk to the veterans in this locker room, when to challenge people, when to lighten up. You want a leader who believes in you, and in order to believe in you, he's got to know you."
[+] Enlarge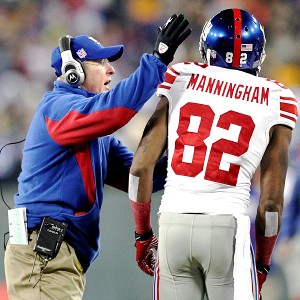 Matthew Emmons/US PresswireNew York's playoff run is establishing Tom Coughlin as one of the league's elite coaches.
Coughlin knows his team. He knew, after that Redskins loss, that the way to approach the following week was to build his players up rather than tear into them. They have responded, and are playing with a champion's level of confidence at exactly the right time of year. No fewer than four players in their locker room said Sunday night, "I knew we were going to win this game," and every single one of them was convincing and sincere.
"We've got a lot of confidence right now," running back
Ahmad Bradshaw
said. "We've been here before, a lot of us, and we've been here together. And I think that helps us a lot."
This really is starting to feel like four years ago all over again, and the reason is the seasoned, even-keel performance of the leaders who keyed that playoff run.
Eli Manning
is playing quarterback at an incredibly high level, and Coughlin is delivering the right message during the week and projecting cool, experienced certainty during the games.
"Our coach is always consistent with his message," defensive lineman
Chris Canty
said. "That's a big deal, because it makes it easy to buy in. Confidence comes from demonstrated performance, and we have people in our building who have some pretty good records."
Sunday was Coughlin's sixth career playoff road win, one short of the all-time record held by a guy you may have heard of named Tom Landry. That's heady company, and it says a lot about the advantage Coughlin gives the Giants at this time of year. To have a coach who's not going to be surprised or thrown off by any situation, who has shown a sincere belief in you and earned your reciprocal belief in him -- that's the kind of stuff that allows a team to keep its head in intense playoff games.
"Success breeds confidence," Coughlin said. "And right now they're a pretty confident group."
That starts at the top, and while he would scoff at the notion, the fact the Giants are one of the final four NFL teams left standing is a direct result of one of the finest coaching jobs of Coughlin's fine coaching career.
January, 15, 2012
1/15/12
7:55
PM ET
GREEN BAY, Wis. -- A few thoughts on the
New York Giants
'
37-20 playoff victory
over the
Green Bay Packers
on Sunday at Lambeau Field.


What it means:
Well, it means the Giants are one game away from the Super Bowl. The defeated the 15-1 Packers on the Packers' home field and now get a chance to avenge another of their regular-season losses next week in San Francisco. It also seems to give credence to the theory that playing at playoff-level intensity in the weeks leading up to the playoffs can give a team an advantage.
Who are these guys?
: These are not the same Giants that were losing four straight games to fall to .500 and into second place a little more than a month ago. We knew they were tough, and that
Eli Manning
was a fourth-quarter assassin. But during those tough November/December days, it did not appear as though the Giants had the manpower to win these kinds of games against these kinds of teams. They are healthier now, and they look as focused, driven and confident as any team left in the field. And they are a legitimate threat to bring home the fourth Super Bowl trophy in franchise history.
Discipline deep:
The Giants looked lost in coverage in the first quarter, as they did for most of the season. But they tightened up in the second and made plays in the secondary all day when it counted. Green Bay helped out by dropping its share of passes, but
Antrel Rolle
led the way for a clearly fired-up Giants secondary, and for maybe the first time all year it looked as though the front four was feeding off what the guys on the back end were doing.
Michael Boley
got two sacks from the linebacker position as the Giants tried everything they could to get
Aaron Rodgers
to stop beating them with his legs. Most importantly, the Giants stayed disciplined in the secondary, so that even when they didn't break up the pass, there was a safety and/or a cornerback there to keep the gain from turning into a big, backbreaking one. It wasn't always pretty, but they did an excellent job of keeping the Packers' explosive offense in front of them, and they benefited as a result.
Winning the turnover battle:
The Packers are plus-23 in the turnover category during the regular season. But the
Kansas City Chiefs
-- until Sunday, the only team to have beaten them -- didn't turn the ball over at all against them. And the Giants had a 3-1 turnover edge in Sunday's game. Manning threw an interception, but the Giants recovered three Green Bay fumbles to seize the edge in a category that routinely decides games in the NFL.
Who's No. 1?:
Victor Cruz
has been the headline-grabber in New York this year, and for good reason. But
Hakeem Nicks
showed everybody he's still the best wide receiver the Giants have. Nicks turned in the long catch-and-run that's becoming a Giants' staple -- a 66-yard touchdown catch in the first quarter. He caught the Manning Hail Mary in the end zone that gave the Giants a shocking 20-10 halftime lead. He finished with seven catches for 165 yards and made the biggest plays of the day.
Big plays at the right time:
The Giants were 8-for-15 on third-down conversions for the game. The Packers were 6-for-11, which might have been the story if the game had swung the other way. But on this day, the Giants had the better offense.
What's next:
The Giants will travel to San Francisco, where they will play the 49ers in the NFC Championship game at 6:30 pm ET. The winner of that game will advance to Super Bowl XLVI two weeks later in Indianapolis.