NFC East:

2012 NFL Franchise Players
March, 5, 2012
3/05/12
10:12
AM ET
The
Dallas Cowboys
haven't made it official yet, but the sense is that they will designate outside linebacker
Anthony Spencer
as their franchise player today. That's the sense Spencer has, at least, according to what he told The
Dallas Morning News
:
Spencer

Anthony Spencer has mixed emotions over what will happen Monday afternoon.

The outside linebacker wants to stay with the Cowboys. But he'd prefer to do so with a long-term contract rather than the franchise tag the club is expected to use to prevent him from hitting the open market.

"It looks like they are going to put the tag on me,'' Spencer said. "That's a good thing and a bad thing.

"It's good because it shows how much they think of me. But you don't want to be playing on a one-year contract. You want a longer deal and the security that gives your family.

"But hey, I understand. It's a business.''
As David Moore points out in his story, the Cowboys have only used the franchise player designation twice under Jerry Jones, and both times they agreed with the player on a long-term deal before the start of that season. It's certainly possible they will do the same with Spencer. Heck, it's possible they'll do that with Spencer today, before the franchise deadline. But Spencer's an interesting and somewhat unique case, and it's not an open-and-shut deal for the Cowboys to lock him up long term.
Spencer is good against the run and in pass coverage, but he's not the pass-rusher the Cowboys would like to have at the outside linebacker spot opposite
DeMarcus Ware
. The man playing in that spot should be able to get to quarterbacks -- especially given the extra attention Ware draws from blockers. But Spencer is a disappointment as a pass-rusher, and his sack numbers aren't what the Cowboys hoped they would be at this point in his career.
Nonetheless, unless they're going to get into the
Mario Williams
market -- a market that's likely to result in Williams being the highest-paid defensive player in NFL history -- there are very few options at pass-rusher for the Cowboys in free agency, and it's hard to find one who'd represent a clear upgrade over Spencer. They could cut him loose and take their chances that they can find a pass-rusher in the draft or turn up a discarded potential gem the way the Jets did last year with
Aaron Maybin
. But they appear to have decided to hedge their bets and hold onto Spencer.
The question is: For how long? Locking up Spencer would seem to be equivalent to rewarding mediocrity, as several of our ESPNDallas.com writers have pointed out. Franchising him and letting him have one more year to bring the sack numbers up isn't a bad idea on its face, but it's going to cost them $8.8 million guaranteed to do that, and unless they do a long-term deal that lowers his 2012 number, that could hurt them against the cap as they hunt for the cornerbacks, safeties and guards they need.
It's a thorny situation, but it appears as though the Cowboys have decided the good with Spencer outweighs the disappointment, especially in light of other options. It's a tough business decision, and it's not likely to play well with the fans, but franchising Spencer right now is the right thing to do.
February, 16, 2012
2/16/12
8:00
AM ET
Less than a week until the combine. Less than a month until free agency. Still a ways to go before the draft. This is humbly, simply, Thursday, which doesn't have much going on but is nonetheless proud of its links.
New York Giants
Less than two weeks since their Super Bowl title, the Giants aren't even the biggest sports story in New York right now. Antonio Pierce asked his Twitter followers which out-of-nowhere star was the bigger surprise — the Giants' Victor Cruz or the Knicks' Jeremy Lin — and ESPNNewYork.com is
asking for your vote
on that question. Lin's winning the poll big, and I think he's the right answer. But Cruz isn't a bad comparison.
Chad Jones, the former LSU safety who nearly died in a car accident shortly after being drafted in the third round by the Giants in 2010, is apparently
cleared to play
and plans to be at minicamps and OTAs this year. Interesting to see whether he can author this comeback story. If he can, the Giants' secondary will be able to find a place for him.
Philadelphia Eagles
Howard Bryant says one of DeSean Jackson's big problems is the NFL's franchise player rule, which he thinks is
unfair
and should have been a target of the players' union in last year's collective bargaining negotiations. I talked with Howard about this column, and he asked if I thought Jackson would play well if he got the franchise tag and no new contract this year. I think he would, since he'd be happy with the nearly $9 million raise that would represent. But I still think it's likely the Eagles will look to trade him after franchising him, and that his best bet for a big new contract is with some other team.
The Eagles have announced that they
will not raise ticket prices
for 2012. I consider this a wise decision.
Dallas Cowboys
Troy Aikman isn't sure he and the Cowboys could have won those three Super Bowls without the help of Charles Haley, and he'd like to see Haley
get into the Hall of Fame
.
I don't know if the Cowboys will franchise Anthony Spencer, and I haven't decided whether I think they should.
Spencer's heard the talk
, and he says he's surprised by it and would prefer to hit the market and get a long-term deal from Dallas or some other team. But he doesn't sound as though he'd be crushed if he were franchised. I promise to keep thinking about this and eventually post a reasoned opinion. Just don't have one figured all the way out yet.
Washington Redskins
John Keim breaks down the
pros and cons
of a Redskins pursuit of Robert Griffin III. Look, in a vacuum, with everything being equal, I believe Griffin is the best option for the Redskins this offseason at quarterback. But all things are not equal, and the price for trading up to the No. 2 pick and getting Griffin could be too high. If it is, the Redskins need to find out soon so they know how to proceed in free agency with guys like Peyton Manning, Kyle Orton and Matt Flynn.
Mark Rypien says a Manning pursuit
would not constitute a reversion
by the Redskins to their old methods of signing old, big-name stars without thinking about how they fit, because (if healthy) Manning's a different case. What I have learned today is that Mark Rypien is a smart man, a rare voice of reason amid the cap-city cacophony spouting too-simple comparisons to years past without appreciating what's different about the team's current management structure. Thank you, Mark Rypien. Those of us trying to inject sense and nuance into this discussion need all of the help we can get.
February, 13, 2012
2/13/12
10:46
AM ET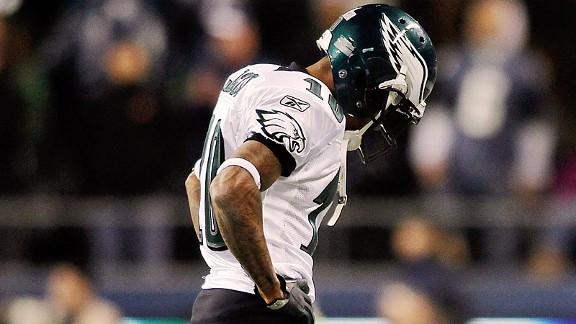 Jonathan Ferrey/Getty ImagesWith bleak prospects for a long-term deal, DeSean Jackson and the Eagles may be better off apart.
I don't think the question ever really was whether the
Philadelphia Eagles
would use their franchise player designation on wide receiver
DeSean Jackson
. For me, at least, the question has long been what would happen with Jackson after they did.
Will the application of the franchise tag lead to productive negotiations and a long-term contract? That is the intent of the franchise-player rule, after all, and the players union is said to be watching closely to make sure it is not abused. Jackson wants a long-term deal from the Eagles and has for a few years now. But somehow this no longer seems like an attainable result.
Will Jackson simply play for the Eagles on what amounts to a one-year deal for about $9.5 million? Possible, since that's about a $9 million raise over his 2011 salary and part of his issue a year ago was his belief that he was underpaid relative to the rest of the league's top wideouts. But I don't think that would solve all of the issues -- from Jackson's end or from the team's.
No, I think the most likely result here is that the Eagles trade Jackson after franchising him. And I think that would be the best move for both the team and the player.
The best way for Jackson to get the best possible contract is to hit the open market. But the Eagles
aren't going to let him do that
, because they don't want to let him go without getting anything in return. Given that fact, the best remaining way for Jackson to get the best possible contract is to get it from another team. The Eagles might be willing to sign him long-term, but not at the numbers he's surely seeking. They've seen the reasons not to, and they've seen them up close. Andy Reid can talk all he wants about how proud he is of Jackson and his belief that Jackson was "all-in" on the Eagles' 2011 season, but there's too much evidence to the contrary. Jackson himself has admitted, publicly, that concerns about his contract distracted him and kept him from being as reliable and productive as he needed to be. He's apologized to teammates for behavior that was detrimental to the team and rooted in his dissatisfaction over this situation. Even if you give the player what he wants and solve the contract issue, you're still left with a guy who obviously lets off-field issues affect on-field performance. And if you're the Eagles, you've seen, up-close, the ways in which that manifests itself. That has to keep you from making a top-of-the-market offer.
Jackson is a sublime talent. He just turned 25 years old and has, over the course of his first four years in the NFL, flashed the speed and shiftiness to score from anywhere on the field once the ball is in his hands. There are teams out there who haven't experienced the headaches and are surely drooling over the ability -- who believe, maybe correctly, that he'd be reborn in their system with a new deal and a fresh start. But if you're the Eagles, you have to be wondering why you need to pay No. 1 receiver money for a guy who just finished 47th in the league in catches and 23rd in receiving yards and really didn't help on punt returns the way he used to either.
Franchising Jackson is unquestionably the right move for the Eagles. But keeping him around without giving him the contract he wants would be a mistake. Someone will offer something of great value in exchange -- be it picks, players or some combination thereof. Some team will make an offer worth taking, and when that happens the Eagles should take it and rid themselves of the potential headache that could come from Jackson playing without a new deal. Save the $9.5 million to use on a linebacker or two, or to help you pay the first-round wide receiver you take to replace Jackson, or toward a new deal for
LeSean McCoy
. A fully healthy
Jeremy Maclin
, coming off a fully healthy offseason, is capable of being a No. 1 NFL wide receiver. It's one of the reasons the Eagles drafted Maclin in the first round three years ago -- in case they weren't going to have Jackson long-term and needed someone to replace him. Finding a No. 2 from among the internal candidates or a strong free-agent receiver class won't be difficult. Keeping Jackson happy for another year without extending him might be.
But in the end, a trade would be the best thing for Jackson, too. The Eagles aren't going to give him the deal he wants. He and Reid and everybody else can say all they want to say about the past being the past, but he'd be better off going to a place where there aren't any scars, and where they'd be thrilled to have him instead of worried about what could go wrong. That's the best way for Jackson to make the money he wants to make, and it's probably the best way for him to re-boot a career that's one more disappointing Philadelphia season away from serious danger. It's always tough when the only team you've known decides to move on. But for the Eagles and for Jackson, a trade is the way to go.
February, 8, 2012
2/08/12
11:55
AM ET
When
Washington Redskins
tight end
Fred Davis
and left tackle
Trent Williams
got suspended for the final four games of the 2011 season for repeatedly violating the NFL's drug policy, the big question was what the Redskins would do with these two guys. Redskins coach Mike Shanahan has been preaching the value of high-character players, and a couple of knuckleheads who managed to be the only two players in the entire league to violate an extremely permissive post-lockout drug policy certainly deserve to have their character questioned.

But the Redskins are all-in on Williams, who was the No. 4 pick in the 2010 draft and is their franchise left tackle. So he's not going anywhere unless he screws up again and gets suspended for a full year. And it doesn't look as though Davis is going anywhere, either. The NFL Network's estimable Jason LaCanfora reports that the Redskins plan to designate Davis as their
franchise player
this offseason. This comes as no surprise here. The question even came up in Tuesday's chat. See?
Matt (DC): "Will the Redskins franchise Fred Davis? He was having a breakout season before the positive test . . ."

Dan Graziano: "I think franchising Davis makes a lot of sense, yes. The number is low, and he's a big-time talent."
Franchising Davis would mean the Redskins would have to pay him about $5.4 million, fully guaranteed, in 2012. That's a pretty small number for a guy who caught 59 passes for 796 yards in only 12 games from substandard quarterbacks. Also, Shanahan and I talked a lot about Davis when I went there to interview him in December, and he seems genuinely fond of the big lug. Shanahan said he felt Davis and Williams were extremely embarrassed by what happened and that he believed the problem wouldn't repeat itself.
The only other possible franchise player I can see on the Redskins is safety
LaRon Landry
. The safety franchise tag is $6.2 million, which isn't that much higher than the tight end one. But the concern with Landry is whether he'll be able to play. He may or may not need surgery on his foot but so far hasn't had it. And if the Redskins don't know for sure that he can take the field when the season starts, guaranteeing $6.2 million in March doesn't make a heck of a lot of sense.
No, I feel pretty confident that Davis gets the franchise tag and a year to show he's not going to get in any more trouble. And I think the Redskins are planning to move on from Landry.
January, 19, 2012
1/19/12
4:40
PM ET
One of the
Dallas Cowboys
' big-need areas as they head into their offseason is the pass rush. They have
DeMarcus Ware
at one outside linebacker spot, and he may be the best pass-rusher in the entire league. But on the other side is
Anthony Spencer
who (a) has been a bit of a disappointment in that area and (b) is a free agent.
On ESPNDallas.com, Todd Archer writes that the Cowboys'
decision on Spencer
is a key to their offseason. He thinks the best move might be to use the franchise or transition designation on Spencer, effectively putting him on a one-year contract and making sure he has incentive to prove himself. But that's an expensive way to go, and Spencer was playing in a similar situation this year in the final year of his deal.
Spencer has had five seasons to prove he can be a worthy pass-rusher opposite DeMarcus Ware. At times he did. Too many other times, he didn't.

The free-agent market doesn't offer much hope for serious improvement, so the options appear to be sign Spencer to a long-term deal at a sensible price, put one of the tags on him or draft an outside linebacker with the No. 14 pick with Alabama's Courtney Upshaw being everybody's guy right now after the Tide's win against LSU.
Me, I'd go that last way. Lots of mock drafts have the Cowboys picking Stanford guard David DeCastro at No. 14, but they have young guards they like and can either continue to develop them or pick the draft's second-best or third-best guard in a later round. I think you want an impact guy if you're picking in the middle of the first round, and if I were in charge of the Cowboys' draft I'd be thinking pass-rusher. I feel like Todd does on Spencer -- that we've seen what we're going to see of him and it's time to look elsewhere.
I also think they need to address the defensive end spots and bring in guys who can help clear the way for their outside pass rush. But that's something that can be done in free agency. I'd be willing to risk letting Spencer go and taking a chance that he won't sign somewhere else to come back and terrorize me. Time for some new blood in the Cowboys' pass rush.
NFC EAST SCOREBOARD
Saturday, 12/20
Sunday, 12/21