NFC East:

2012 Week 1 coverage
September, 10, 2012
9/10/12
10:00
AM ET
It doesn't actually matter what any of us think. That's important to keep in mind.
Michael Vick
and the
Philadelphia Eagles
believe they'll get better, and they'd be perfectly happy rolling right into the playoffs with everyone outside their building unconvinced. So while we who write about them and the fans who fret about them can look at
Sunday's 17-16
skin-of-their-teeth victory and point out all of the things that reminded us of last year's flop, it doesn't actually matter what we think.
[+] Enlarge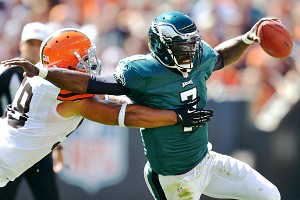 Drew Hallowell/Getty ImagesMichael Vick's bad decisions almost cost the Eagles a win on Sunday.
However, that is what we saw, right? Turnovers. Penalties. Bad Vick decisions. Evidence that he doesn't read the field well. Stubborn, silly play calling by the coaching staff, insisting on throwing against a team that can't stop the run. Whether it matters to the Eagles or not, we're all perfectly within our rights to point out that everything bad about the offense's performance Sunday looked a lot like everything that was bad about the 2011 Eagles offense.
And that may well end up mattering in a way it currently does not. Because Vick's teammates are people too, and they watch film of the games, and if they start finding reasons to think it looks like the same old same old, then Vick is going to have a major problem.
In
this piece by Geoff Mosher
, Vick says he could sense doubt among his fellow offensive players when he arrived in the huddle just prior to the game-winning 91-yard drive Sunday. And
Todd Herremans
, Vick's right tackle, said there was a sense of deja vu:
"It's definitely too much like last year to be happy with," right tackle Todd Herremans said. "We're definitely not happy with all the turnovers sand penalties, but we stuck it out as team, didn't start pointing fingers at anybody and grinded it out in the end."
Which, good for them. They did win the game, and if you win the games in which you play your worst, that can only help you in the standings. It's not how, in the end, it's how many, and the fact is the Eagles are 1-0.
But the thing is, overall, this wasn't a game in which they played their worst. The Eagles' defense was actually quite excellent in this game. They played tough against the run, which they didn't always do last year, and they made rookie quarterback
Brandon Weeden
's debut a two-sack, four-interception nightmare. The Eagles' defense looked considerably better than it had last year. You can point out that the Browns are lousy if you like, but the lousy Rams picked up big yardage chunks in the run game in last year's opener, so this does show year-over-year improvement, degree of difficulty notwithstanding.
The problem is that Vick's performance statistically demeaned that of the defense. How big a deal, really, can four interceptions be if the Browns can do it, too? And to your own veteran quarterback?
Off of one game -- especially a win -- there's no reason to believe the Eagles' defense is feeling that way. But if this were to become a trend -- if Vick were to continue turning the ball over and failing to do anything productive when the defense kept reliably handing it back to him -- that's the kind of thing that could wear a team down emotionally over the course of a season. If Vick saw doubt in the eyes of his teammates late in Sunday's game, imagine what he'll see if he does this again a few more times before Halloween.
You can give the Eagles a pass for Sunday if you want to. You can buy Andy Reid's "rust" explanation about what was wrong with Vick. And you're more than welcome to believe they will get much better. I personally believe they can and will. But the problem is that too many of Sunday's problems reinforced the worries you had about Vick and the offense coming off of last year, and that means the doubt has roots that make it much harder to remove. If those roots start digging into the minds of Vick's teammates, he's going to have a problem. That's why it'd be a really good idea for Vick to look a lot better next week against Baltimore. Especially at home.
September, 9, 2012
9/09/12
6:25
PM ET
A few thoughts on the
Philadelphia Eagles
' shaky
season-opening victory
over the Browns in Cleveland:


What it means:
That the Eagles are going to have to spend some more time listening to their doubters. Yes, they won, and that's good for them.
Michael Vick
engineered a game-winning drive, something he didn't do all of last year. But it was in no other way a good game for the Eagles' offense or Vick himself. He threw four interceptions, fumbled twice and eyewitness accounts of the game I'm reading (I was watching Redskins-Saints in New Orleans) indicate that he made poor decisions and looked out of rhythm all game. He's obviously not going to get away with it against better competition unless he tightens up a lot of things. This was supposed to be the more mature, responsible quarterback version of Vick this year, with a full offseason as a starter and a supposedly renewed commitment to study and detail. The early returns are not encouraging. It's only one game, but when you play in a way that reinforces the doubts people already have about you, you give your doubters licence to keep doubting.
On the flip side:
As shaky as the offense may have been, the defense appears to have played very well. They held the Browns to 210 total yards, picked up two sacks and intercepted rookie quarterback
Brandon Weeden
four times. Yes, Weeden's a rookie, and yes, rookie running back
Trent Richardson
missed a bunch of preseason time due to injury and likely will play better as he gets his legs under him. But the Eagles' defense did what it had to do to keep getting the ball back in Vick's hands to give him a chance. One of the sacks was by
Fletcher Cox
, the first-round draft pick who had a bit of a rough preseason but was brought in to help with the interior pass rush. The other was by
Jason Babin
, but you probably guessed that.
Game plan stubbornness:
LeSean McCoy
ran for 110 yards on 20 carries. To which I say, as I'm sure Eagles fans are saying, "Why only 20 carries?" The Eagles ran 56 pass plays and 30 run plays. When you're playing a team that gave up 147 yards a game on the ground last season, and you're not being blown out, and your quarterback keeps throwing to the other team, and you have a back like McCoy ... I'm sorry, but that's just irresponsible play calling.
Defensive stars:
Also need to mention that cornerback
Dominique Rodgers-Cromartie
got two of the interceptions and safety
Kurt Coleman
got the other two. Those were two guys I think people had questions about coming into the season, so it has to be encouraging to see the way they performed. And speaking of such guys, indications are that
DeMeco Ryans
played a very good game. I continue to believe he'll play well for the Eagles this year.
What's next:
The Eagles host the
Baltimore Ravens
at 1 p.m. ET on Sunday. The Ravens are generally known to have a slightly tougher defense than the Browns do. Not sayin', just sayin'. Also, I'll have more on this game once I've had a chance to watch its replay. I promise.
September, 9, 2012
9/09/12
4:49
PM ET
NEW ORLEANS -- A few thoughts from the Washington
Redskins' stunning 40-32 season-opening victory over the Saints
in the Superdome.


What it means:
A complete statement game from the Redskins and rookie quarterback
Robert Griffin
III, who authored a debut for the ages in one of the toughest places in the entire league for a visiting quarterback to play. The Redskins' offensive game plan was designed to maximize Griffin's strengths, and he executed it very well. He was 6-for-6 on an opening field goal drive on which he didn't throw one pass beyond the line of scrimmage, and on the first play of the second possession he hit
Pierre Garcon
for an 88-yard touchdown pass. For the rest of the day, the Redskins called rollout after rollout, using Griffin's outstanding speed to keep him in space and out of the way of the New Orleans pass rush, and he consistently made good decisions and accurate throws downfield. If Redskins fans wanted to wrap up their day excited about their future with Griffin as the franchise quarterback, they got their wish.
The other side of the ball:
The Redskins' defense also looked very good. They threw a number of different looks at
Drew Brees
, using defensive backs to blitz and dropping linemen into coverage. The defensive backs looked good in coverage, too, which was something of a surprise. They hung with
Marques Colston
and the receivers and broke up several deep passes. The Redskins' best defensive maneuver in this game was their remarkable time-of-possession advantage, as they were able to keep Brees off the field for long stretches. But when the defense was on the field, it appeared to have fresh legs and made plenty of plays.
The other rookie:
Sixth-round draft pick
Alfred Morris
got the start at running back and got the bulk of the work all day. He appears to be an excellent fit in an offense that asks its running backs to make one cut and get upfield as quickly as possible. He did some tough inside running and started to break off bigger chunks of yards in the second half. It wouldn't be a surprise if the Redskins stuck with him as the starter for the foreseeable future.
Injuries:
Garcon left the game with a foot injury in the second quarter and did not return. Rookie safety
Jordan Bernstine
was carted off the field with a right knee injury in the fourth quarter. If Bernstine is out for a while, the Redskins may have to go out and find another safety.
Booming leg:
New kicker
Billy Cundiff
was brought in because of his ability to kick the ball through the back of the end zone on kickoffs, and he delivered with six touchbacks out of eight kickoffs. Cundiff also connected on all four of his field goal attempts, the longest of which was 41 yards.
What needs work:
They had some issues in the punting game.
Sav Rocca
had one blocked in the second quarter that gave the Saints a touchdown just before halftime, and there was a bad snap on a fourth-quarter punt that resulted in a circus play and a couple of penalties for illegal activity downfield. You have to wonder about the downfield passing game if Garcon has to miss time. Griffin threw to a wide variety of targets, but Garcon is the one who looks most like a game-breaker.
What's next:
The Redskins travel to St. Louis, where they'll play the Rams at 4:05 p.m. ET on Sunday.
September, 5, 2012
9/05/12
11:35
PM ET
EAST RUTHERFORD, N.J. -- A few thoughts on the
Dallas Cowboys
' season-opening
24-17 victory
over the defending Super Bowl champion
New York Giants
on Wednesday night at MetLife Stadium.
What it means:
That the Cowboys intend to be a factor in the NFC East race this year. They needed this game much more than the Giants did, if for no other reason than to let the Giants and the rest of the world know they don't plan to be the same kind of big-game pushover they were last year. Given their history, it's safe to assume the Giants will recover fine from this, address their issues and remain in the race all year long. But of the three teams expected to compete for the NFC East title this year, the Cowboys are the one that came into the season with the most questions. They get 11 days off now before their next game to feel very good about their initial answer to those questions.


He's No. 3:
I don't expect to get quite as many panicked questions from Cowboys fans this week about whether their team will or should sign a veteran wide receiver such as
Plaxico Burress
or
Chad Johnson
. The Cowboys believed they had enough depth at receiver, and
Kevin Ogletree
followed up a strong preseason with the game of his life. Ogletree caught eight passes for 114 yards and two touchdowns, including a 40-yarder on which he got behind the Giants' best cornerback,
Corey Webster
, and burned him for the score. Cowboys quarterback
Tony Romo
seemed to seek out Ogletree pretty consistently on third down, and Ogletree responded by showing an ability to get open, catch the ball and move the chains. His biggest catch may have been a third-and-12 that converted a first down just before the two-minute warning and prevented the Giants from getting the ball back with time to tie the game. Remember, as you ponder whether or not to add Ogletree in your fantasy league this morning, that the guy who played that position last year put up some pretty big numbers.
Secondary issues:
With
Terrell Thomas
out for the year with a knee injury and
Prince Amukamara
out for the game with a sprained ankle, the Giants were forced to start
Michael Coe
at cornerback opposite Webster and put rookie
Jayron Hosley
on the slot receiver. Webster played
Dez Bryant
most of the night (I still don't know why he was on Ogletree on the one play), and Coe played Ogletree or
Miles Austin
, whichever lined up outside. Coe played pretty well, but he hurt his hamstring in the third quarter, and the Giants were forced to go to fourth option
Justin Tryon
, who got beaten badly by Austin on the fourth-quarter touchdown catch that sealed Dallas' victory. By contrast, the Cowboys' revamped secondary with
Brandon Carr
and rookie
Morris Claiborne
at corner and
Barry Church
and
Gerald Sensabaugh
at safety, covered very well all night. They were even able to get a handful of sacks when they blitzed, which was something they couldn't do against
Eli Manning
and the Giants last year because they couldn't trust their coverage to stay sound long enough to get to the quarterback. Claiborne looks like he needs work, as you'd expect, especially in run support. But for this night at least, the Cowboys' plan to fix their defense from the back end forward appeared to succeed.
Wobbly champs:
Part of the issue Manning and the Giants had on offense was the inability of their receivers to get separation. That speaks to the Cowboys' coverage, of course, but also to a relative lack of options in the passing game. Manning did find
Domenik Hixon
in coverage for a long gain one time, but it took a spectacular grab by Hixon (and a whiff in coverage by Carr) to complete that one. And none of the Giants' third wide receiver options looked anywhere near as reliable as Ogletree looked for Dallas. Manning targeted
Victor Cruz
the most by far, and
Hakeem Nicks
the second-most, and he looked the way of Hixon and tight end
Martellus Bennett
a fair bit, and Bennett made a nice catch for a late touchdown. But Manning was just a bit off with some of his throws, and overall the Giants' passing game appeared rusty. One has to believe that will turn out to be the least of their problems.
Leaky lines:
Both offensive lines looked awful. The Cowboys' guards couldn't hold off the interior pass rush of the Giants, and the tackles couldn't stop committing false starts.
Tyron Smith
had an especially tough first game at left tackle. The Giants, who ranked last in the league in rush yards last year, couldn't open holes for running back
Ahmad Bradshaw
(or
David Wilson
, who got some early carries before fumbling and getting benched) and were unable to sustain drives as a result. The offensive lines still figure to be the biggest areas of concern for both of these teams going forward (assuming the Giants can get their secondary healthy), and it's doubtful either offense will be able to function at its best from week to week if they can't get some of the issues fixed.
Individual stars:
DeMarcus Ware
,
Sean Lee
,
DeMarco Murray
and of course Romo all had standout performances for the Cowboys (though I have no idea why Murray turned inside on his long sideline run when it appeared he'd have a touchdown if he kept running straight). Austin and Bryant each made important catches at big times. For the Giants, defensive tackles
Linval Joseph
and
Rocky Bernard
each had a sack, and
Jason Pierre-Paul
was nearly impossible to stop all night.
Keith Rivers
also was a factor early at linebacker before an injury forced him from the game. Both punters were excellent, and you know how much we love punters on the NFC East blog.
What's next:
Dallas will play the Seahawks in Seattle on Sunday, Sept. 16, and they'll hope that this long break between games will be enough to get nose tackle
Jay Ratliff
and cornerback
Mike Jenkins
healthy and get their offensive lineman to stop false-starting on every other play. The Giants will be back home that same day to face the
Tampa Bay Buccaneers
. They'll hope that Amukamara and/or Coe can get healthy by then and they'll have more in the secondary than they did Wednesday night.