NFC East:

2012 Week 3 coverage
September, 23, 2012
9/23/12
7:25
PM ET
A few thoughts on the
Philadelphia Eagles
' first loss of the season,
27-6
, Sunday in Arizona to the still-undefeated Cardinals:


What it means:
Well, the Eagles won't be going undefeated, is what it means. After winning each of their first two games by the thinnest of possible margins, the Eagles got too far behind Sunday on the road against a very good Arizona defense and could not come back this time. The good news is that their number of turnovers fell by one again. After turning it over five times in the season opener and four times last week, they turned it over just three times Sunday. So if this holds up, they won't have any turnovers at all in Week 6 against the
Detroit Lions
.
The turning point:
With six seconds left in the first half, the Eagles trailed 17-0 and had the ball on the Cardinals' one-yard line with third down and goal to go. At the very worst, it appeared, they were set to go into the second half down 17-3, and they were surely thinking about 17-7. But safety
Kerry Rhodes
came unblocked around the edge and
Michael Vick
never saw him. The hit forced the ball out of Vick's hands and onto the ground, where
James Sanders
picked it up and ran all the way back the other way for a touchdown. The Eagles went into the half down 24-0 and could not put anything together in the second half against that ferocious Arizona front.
Kolb's Revenge:
Former Eagles quarterback
Kevin Kolb
, who lost his job to Vick in 2010 and was traded to Arizona before the 2011 season, had to start the game due to an injury to Arizona's starting quarterback,
John Skelton
. Kolb was 17-of-24 for 222 yards and two touchdowns against his former team, leaning hard on top wide receiver
Larry Fitzgerald
, who caught nine of the passes for 114 yards. Kolb is more game-manager than anything else in Arizona's conservative game plan, but it must have felt good to light it up a bit in the first half against the team that traded him.
Control
: The Eagles actually outgained the Cardinals 308 yards to 292. But Arizona held the ball for 34:33 to win the time-of-possession battle, and of course by turning the ball over you make it easier on your opponent. As already mentioned here, the most crucial touchdown of the game didn't require the Arizona offense to gain even a single yard.
What's next:
The 2-1 Eagles host the 2-1
New York Giants
next Sunday night in one of the key early games in the NFC East race. The Eagles have won seven of their last eight games against the Giants going back to 2008, but lost last year's game in Philadelphia 29-16.
September, 23, 2012
9/23/12
4:47
PM ET
ARLINGTON, Texas -- The offense still has issues. The offensive line is shoddy. The starting safeties are hurt. But it doesn't matter because the Cowboys won Sunday afternoon, beating Tampa Bay 16-10 in the home opener at Cowboys Stadium.


Tony Romo
was beaten up by the Tampa Bay pass rush, but two key fourth-quarter plays, a 45-yard punt return by
Dez Bryant
and a late sack by
DeMarcus Ware
on a third-and-4, sealed the game.
Still, the Cowboys (2-1) have to perform much better if they're expected to compete at an elite level.
What it means:
After the Cowboys knocked off the defending Super Bowl champion
New York Giants
in the opener, they put up a stinker in Seattle. Now, they fooled around with Tampa Bay for four quarters and survived. This tells us the Cowboys, as we said last week, are not ready to move up to an elite level in this league. Yes, they won the game, but I can't believe the Cowboys can beat elite teams playing like this.
Witten's bad day:
Jason Witten
dropped three passes Sunday. He's got an NFL-high six drops on the season, and he was penalized twice for false starts. When his day ended, the Cowboys' tight end finished with just two catches for 8 yards. This is one of the worst stretches for Witten since the 2008 season. During a five-game stretch that season, he had four catches for 53 yards and no touchdowns. This season, Witten has just eight catches for 76 yards and no touchdowns. He hasn't scored since Nov. 20, 2011, at Washington. Is this the beginning of the end for Witten? He is coming off a spleen injury that didn't cost him any regular-season games, and he said on Friday he's healthy.
Church injured:
The Cowboys lost safety
Barry Church
to a right leg injury that appeared serious. Church suffered the injury with 7:31 to play in the third quarter, and he was replaced by
Mana Silva
. Several Cowboys players were tapping Church on the shoulder pads and offering him words of encouragement after he went out.
Miles Austin
also suffered an injury (ribs), but he returned and ended the day with five catches for 107 yards. Left guard
Nate Livings
left with a hand injury in the first quarter but returned and didn't have any more issues. With Church out, the Cowboys were left without their starting safeties.
Gerald Sensabaugh
didn't play because of a calf injury.
False start penalties:
The Cowboys were riddled with false start penalties. Right tackle
Doug Free
was flagged three times and Witten twice. Left tackle
Tyron Smith
was also called for one. The false start penalties could be attributed to center
Ryan Cook
and the cadence with Romo or a lack of concentration.
Austin outplays Jackson:
The two big-play threats from a receiving standpoint, Austin and
Vincent Jackson
, had opposing performances. Austin finished with five catches for 107 yards, his 12th 100-yard receiving game of his career. Jackson, the deep-play threat for Tampa Bay, had one catch for 29 yards, that one coming in the fourth quarter.
What's next?
The banged-up Cowboys will face the
Chicago Bears
on "Monday Night Football." Among the missing starters: nose tackle
Jay Ratliff
(ankle), center
Phil Costa
(back), Sensabaugh (calf) and Church (right leg).
September, 23, 2012
9/23/12
4:30
PM ET
LANDOVER, Md. -- A few thoughts on the
Washington Redskins
' disappointing
38-31 loss
to the
Cincinnati Bengals
in their home opener Sunday at FedEx Field.


What it means
: Plenty of excitement but ultimately disappointment for the 80,060 who bought tickets to watch the home debut of Redskins rookie quarterback
Robert Griffin III
. The Redskins got their offense going in the second half with some gimmicky option plays, and Griffin gave them some thrills on the final series as he tried to drive them 99 yards in the final two minutes. But that drive fell short. Overall, Griffin was battered most of the day by the Bengals' aggressive defense, was sacked five times, fumbled twice and, though his final numbers were good, had his most difficult game yet as a pro. The loss was the Redskins' sixth in a row at FedEx Field. That's the longest current home losing streak in the NFL.
Secondary concerns:
The Bengals opened the game with a shocker of a play, lining up rookie receiver
Mohamed Sanu
to take the snap in the shotgun while quarterback
Andy Dalton
split out wide. Star wide receiver
A.J. Green
beat the coverage and Sanu hit him in stride for a 73-yard touchdown catch. Now, had that been some sort of fluke, that would have been one thing. But it was the first of three Cincinnati touchdown passes in the game that covered at least 48 yards. The Redskins are playing without projected starting safeties
Brandon Meriweather
(knee injury, could be back next week) and
Tanard Jackson
(suspended for the year), and cornerbacks
Cedric Griffin
and
Crezdon Butler
both left this game with hamstring injuries. They weren't great in the secondary to begin with, and the injuries have left them short-handed on top of that. They're likely to continue to be beaten deep if they can't generate consistent pressure on opposing quarterbacks. And while they pressured Dalton pretty well for the most part, they were remarkably vulnerable on any play on which he had time to throw.
More injury problems:
Redskins left tackle
Trent Williams
left the game in the first quarter with a knee injury. He came back in the second quarter but clearly wasn't right, and he didn't return to the game after halftime. Williams is the best player on the Redskins' offensive line, and his absence helped allow
Carlos Dunlap
and the rest of that Bengals defensive front to take their shots at Griffin.
Miscellany:
Tight end
Fred Davis
made his return to the game plan, catching seven passes for 90 yards as top wide receiver
Pierre Garcon
missed his second straight game with a foot injury. ... The Redskins rushed for 182 yards. Griffin led the way with 85 and fellow rookie
Alfred Morris
once again led the running backs with 78 yards and a touchdown on 17 carries. ...
Rob Jackson
looked good as the replacement for injured linebacker
Brian Orakpo
, catching an interception for a touchdown and making several nice plays on the edge. Jackson has the speed to play the position, but he likely lacks Orakpo's physical toughness.
History is made:
With 3:02 left in the third quarter, something happened in this game that had never happened before. Bengals running back BenJarvus Green-Ellis fumbled the ball. Entering the game, Green-Ellis had carried the ball 631 times in his NFL career, postseason included, without fumbling once. But as Green-Ellis got the ball near midfield on a first-down carry, Redskins cornerback
Josh Wilson
came flying in to strip and recover the ball, and Green-Ellis' amazing streak was over. It appeared to be a big play in the game, too, since two plays earlier the Redskins had scored a touchdown to tie it at 24. But Washington couldn't cash in the historic turnover and had to punt the ball away.
What's next:
The Redskins travel to Tampa, Fla., where they will face the Buccaneers next Sunday in a 4:25 p.m. ET game. It'll be the third straight NFC East game for the Bucs, who lost to the
New York Giants
last week in New Jersey and to the Cowboys on Sunday in Dallas.
September, 21, 2012
9/21/12
12:28
AM ET
It had been quite a while since the
New York Giants
won a game as easily as they beat the
Carolina Panthers
on Thursday night. Turns out, all they needed to do was hand the ball off to
Andre Brown
and throw it to
Ramses Barden
.
With their starting running back and best wide receiver injured and unable to play, the Giants were forced to turn to a pair of little-used backups from the middle rounds of their 2009 draft. But with a steady-as-ever
Eli Manning
directing the offense, Brown rushed for 113 yards and two touchdowns while Barden caught nine passes for 138 yards in a
36-7 Giants victory
in Carolina.
Let's start with Brown, who ran hard and with power behind an offensive line that hasn't been able to open holes in the run game for
Ahmad Bradshaw
at all over the past year-plus. Carolina's run defense has been one of the worst in the league this season, and that clearly had something to do with Brown's success, but Bradshaw has run against poor defenses, too, and he hasn't had as many as 113 rushing yards in a game since Oct. 25, 2010. The Giants used Brown in a very specific way, a lot of draw plays and straight-ahead running that took advantage of his power style. But he also ran with patience, showed some burst when he needed to and found the holes he needed to find.
It's possible this line Thursday, with
David Diehl
injured,
Will Beatty
back at left tackle and
Sean Locklear
at right tackle, just blocked better than it's been blocking in the other alignment. But it's also possible Brown is running better right now than Bradshaw is. And if Bradshaw is recovered from his neck injury in time for the Giants' Week 4 game in Philadelphia 10 days from now, the Giants might still be looking to reward Brown's performance with an increased number of snaps. Maybe they will rotate carries now the way Bradshaw and
Brandon Jacobs
used to. Heck, maybe Brown just went Lou Gehrig to Bradshaw's Wally Pipp. We shall see, but whatever the reason, it's been a long time since the Giants' run game looked as good as it did in this game.
Brown was the fourth-round pick of the Giants' 2009 draft and kept coming back after being cut twice. Barden was the third-round pick in that same draft, and his big problem over his first three years in the league was an inability to stay healthy. He got surpassed by
Victor Cruz
and had to fight for a roster spot this preseason, but during camp and in preseason games, he looked very good running those slant routes over the middle, using his size to shield the ball from defenders and showing good hands. So he made the team, and that's exactly the way the Giants used him in this game as the starter in place of the injured
Hakeem Nicks
. With Cruz drawing extra coverage on the other side, Barden was open all through the first half, and Manning kept throwing it to him with great success. Brown's runs and Barden's slants, along with a big game from a tight end,
Martellus Bennett
(who was supposed to be a run-blocker), helped the Giants march the ball down the field and build a 23-0 lead against a Carolina team whose starters looked overmatched against the Giants' backups.
[+] Enlarge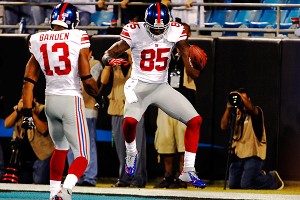 AP Photo/Bob LeveroneUnlikely heroes Ramses Barden (13) and Martellus Bennett combined for 15 catches for 211 yards and a touchdown -- Bennett's, here.
The Giants believe in maintaining a deep roster, developing players and replenishing their roster from within. A game such as the one they played Thursday night shows the validity of that philosophy. It also shows the value of Manning, who continues to find ways to get the best out of the players around him, no matter who or how experienced they are. Manning was a ho-hum 27-of-35 for 288 yards and a win the Giants get to enjoy for a week and a half before their huge Sept. 30 division matchup in Philadelphia.
Some other thoughts:
Beatty, by the way, was one of the Giants' second-round picks in that same 2009 draft. (Nicks was the first-rounder.) I will watch the game again to make sure, but it seemed he looked very good in his return to the starting lineup. The offensive line was a huge part of this game, in pass protection and in run blocking. And if Beatty is fully healthy at long last, the Giants have a chance to have the line they planned to have all along.
Top cornerback
Corey Webster
continued his early-season struggles and broke his hand, although he says he'll be ready for Philadelphia. But second-year corner
Prince Amukamara
played well, as did rookie
Jayron Hosley
. Amukamara still needs experience and will continue to be picked on while he accumulates it, and he might give up a big play or two here or there. But he's a technically proficient defensive back. He's sharp in his coverages. His footwork looks good. He positions his body well and uses his hands well. He plays the position very well and should be an asset as he continues to develop. Hosley, the Giants' third-round pick this year, plays fast and hard, and stays with the play even when it looks like it's dead. It helped him get an interception and disrupt a
Cam Newton
pass after Newton juked him on a corner blitz. Hosley looks like a mid-round gem who was ready right away. He injured his hamstring in the game, but it doesn't seem to be too serious.
Safety
Antrel Rolle
banged his left knee on a camera lens while racing out of bounds near the end zone toward the end of the game. The Giants said after the game that it didn't appear serious, but I wouldn't be surprised if Rolle got an MRI on Friday to be sure. Rolle would be a bad loss, as the Giants don't have much proven depth at safety. But whatever. Nicks and Bradshaw should have been bad losses, too, and their replacements combined for 268 total yards from scrimmage Thursday.
Jason Pierre-Paul
. There's just not much left to say. He's playing defense as well as any player in the league right now, and offenses are having a miserable time trying to even slow him down. His early batted passes had to be a big reason Newton couldn't get into a rhythm.