NFC East:

2013 Camp Confidential NFC
August, 12, 2013
8/12/13
9:00
AM ET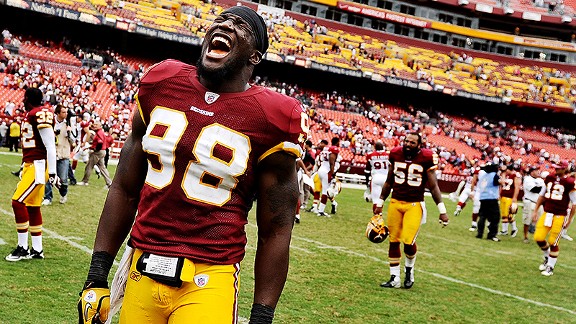 Patrick Smith/Getty ImagesWhile most of the attention is focused on quarterback Robert Griffin III, Redskins fans should be happy that pass-rusher Brian Orakpo is back and healthy.
RICHMOND, VA -- The focus is on the right knee of a certain quarterback. Every day, there's an update. Every day, there are questions about when
Robert Griffin III
will do more. And his health is often listed one through five as keys to the
Washington Redskins
season.

Except that the Redskins are confident in backup
Kirk Cousins
. And even if Griffin is healthy and productive, there's another massive key to the season: the development, and success, of the defense.
So it's good news for the Redskins that
Brian Orakpo
is back and, for now at least, spry and healthy. His impact on the pass rush is dramatic. The Redskins struggled to generate a consistent four-man rush in 2012 minus Orakpo, who was lost in Week 2 to a torn pectoral muscle.
"Rak being back makes
Ryan [Kerrigan]
better, makes
[Stephen] Bowen
better, makes the secondary better," nose tackle
Barry Cofield
said.
And it's good news for them that their rookie defensive backs show promise, with at least one likely to emerge as a starter and a second who could join that group by season's end. Safety
Bacarri Rambo
learned in the preseason opener versus Tennessee the need to take proper angles to the ball carrier, but a strength in practice has been his ability to quickly learn -- and to not get beaten deep. Corner
David Amerson
's skills are impressive and he fared well in his debut, playing more physically than he did at North Carolina State. Safety
Phillip Thomas
hurt his foot in the opener and is day-to-day; he, too, needs to learn what angles he must take and how to tackle in the NFL, but the coaches like his progress.
"They've been better than advertised," corner
DeAngelo Hall
said before the preseason win over Tennessee.
"They all look the part," Cofield said. "Our future is bright."
It's also good they can be creative with their linebackers, thanks to depth on the outside. Eventually, their secondary could offer versatility as well. And it's good news that nine projected starters will enter their third season in Jim Haslett's system.
But hold on.
It's not good news that the secondary needed such a youthful infusion or that the team doesn't have a full-time slot corner (though the flip side is they feel they have a few who can play here). Nor is it good news that defensive end
Jarvis Jenkins
will miss the first four games. Or the starting defense has rarely worked together because of a secondary that has players who are either returning from surgeries or getting nicked in practice.
Having two rookies, minimum, playing key roles in the secondary equates to many lessons learned. It could pay off in the future, but what will be the impact in the present? There is, after all, a natural learning curve in the NFL.
The defense ranked 22nd in points allowed last season, 28th in yards allowed and 30th versus the pass. But their regular-season performance must be broken down by their performance in the first nine games (a 3-6 record) and the last seven (all wins). The first nine games: 27.6 points per game (27th in the NFL) and 397.9 yards (28th). The final seven games: 20 PPG (ninth), 351.7 yards (19th).
"Guys really honed into the details of the game plan a lot better, understood situational football a lot better," linebacker
London Fletcher
said.
Considering the young players in the secondary, another split of first-half and second-half success could be in store this season.
If the Redskins want to return to the playoffs in consecutive seasons for the first time since 1991-92 -- and become a legitimate postseason threat -- the defense must build off those last seven games of 2012.
THREE HOT ISSUES
[+] Enlarge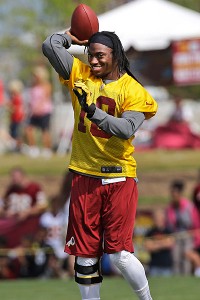 AP Photo/Steve HelberThere's no question the Redskins' season at least partially depends on the health of quarterback Robert Griffin III.
1. RG III's health.
As a rookie, Griffin was knocked from one game with a concussion, and his knee caused him to exit two games early and miss one full one. And because of his knee, he couldn't practice in the spring and hasn't yet worked in 11-on-11 work this summer. He's a smart and talented player, but missing a full offseason isn't the best way to progress. And Griffin's improvement as a passer -- in terms of reading defenses, etc. -- will help propel this offense further. He also needs to be smarter when he runs; many times last season he ran and took hits when he had an open target. He can't tuck the ball 10 yards behind the line as he did at times last season and take off running. With a healthy Griffin, the Redskins can rightly call themselves Super Bowl contenders. Without him? There are more question marks. Also, will he bristle if the Redskins continue to call designed quarterback runs, as they will do?
2. Defensive backfield.
The Redskins will start a rookie safety as much for what they don't have as for what Rambo offers. It's a tough spot to place a rookie sixth-round pick, even if his college production warranted him going higher. The corner play was inconsistent last season, to say the least; how much will Amerson help as a rookie?
Brandon Meriweather
hasn't been healthy with Washington and has been in and out of practice this summer. There are equal amounts of promise and question marks in the secondary.
3. The pass rush.
The Redskins' secondary struggled in part because of the inability to mount a consistent pass rush in 2012, minus their best pass-rusher, Orakpo, as well as improving end
Adam Carriker
. Orakpo is back, and his impact should be noticeable in the way he sets up others, even when he doesn't get a sack. Without him, the Redskins resorted to more blitzes and other tactics, often leaving the secondary more exposed. For the defense to improve, the rush must be more like in 2011 (41 sacks).
REASON FOR OPTIMISM
The offense. The Redskins averaged 6.2 yards per play, the best for a Mike Shanahan-coached team, a season ago. It's not just Griffin; it's also running back
Alfred Morris
. Both had standout rookie seasons while still learning the NFL and their own offense. The (so far) healthy return of receiver
Pierre Garcon
and tight end
Fred Davis
is also important. If Griffin is healthy, the Redskins have a dynamic quarterback. Griffin was raw as a passer in 2012 in terms of reading coverages and going through progressions. Yet he only tossed five interceptions because he's a smart player and rarely threw into danger. As he improves as a passer, he'll rely less on his legs, and the offense will evolve. Even if Griffin must sit out, second-year quarterback Cousins has shown good signs of being able to take over for stretches. Morris is not just a product of the zone read. His patience and vision are outstanding, and his strong legs lead to broken tackles.
REASON FOR PESSIMISM
Griffin's health/defensive depth. Yes, the coaches are confident in Cousins, and he's shown little reason to have them feel otherwise. He tosses more picks in practice than, say, Griffin did a season ago. But Cousins is smart, understands the offense and is progressing in the pocket, though he only threw 48 passes as a rookie (four touchdowns, three interceptions). Could he, like Griffin a season ago, avoid the back-breaking turnovers? He'll have to prove that's the case. Meanwhile, the defensive depth is thin at inside linebacker and now along the line for the first four games because of Jenkins' suspension and Carriker's injury. If everyone stays healthy, the Redskins could have solid depth at corner, but they still have inexperience here. Safety is thin, too, because of injury concerns and/or talent level.
OBSERVATION DECK
Roy Helu has looked like he'll help in a big way on third downs. There was some rust in the preseason opener. He was too fast to the hole at times; he failed to lower his shoulder at times. But his skills as a runner in the open field were evident. He can make quicker cuts than the other veteran backs on the roster, which will make him dangerous in space. He had two cuts versus the Titans that showed his quick feet. The screen game could be more interesting for Washington this season. The Redskins lacked such a runner last season, but Helu needs to prove he's durable. If he is, the Redskins will benefit. They point to his 28-yard touchdown run versus Seattle two seasons ago as proof. To refresh, he hopped over a Seahawk at the line en route to a score.

[+] Enlarge

AP Photo/Tom DiPaceRedskins linebacker Ryan Kerrigan has been focusing on his hand work this offseason.

Linebacker Kerrigan took too wide a path to the quarterback last season, going too much upfield rather than taking a more direct route to the passer (something Orakpo does). But Kerrigan continues to work on his game, and it shows. He's made it a point to use his hands even more -- especially his left hand on inside counter moves. Kerrigan has shown quick hands in rushes versus right tackle Tyler Polumbus, enabling him to win to the inside.

The Redskins used Kerrigan in a four-point stance at left tackle in a nickel package versus Tennessee on the play in which he recorded a sack. It helped that rookie Brandon Jenkins was next to him and Orakpo at right outside linebacker. It provides Kerrigan with another pass-rusher on his side to take away a possible double-team and a pass-rusher on the other side who commands offensive attention. Kerrigan was more successful rushing inside, where his quick hands work well versus guards.

Former Tampa Bay starting right tackle Jeremy Trueblood, who was benched by the Bucs last season, has struggled in camp. He'd have to make major strides in order to earn a roster spot. Another veteran former starter, receiver Devery Henderson, is in the same spot. Henderson, once known for his speed, isn't getting much separation in camp.

The Redskins will have some issues at inside linebacker if veteran Nick Barnett doesn't have much left. Roddrick Muckelroy struggled against Tennessee and worked with the third unit. Bryan Kehl didn't do much in that game, either, and too often looked a step slow. He looked better last summer, but it's clear they could be in trouble here if something happens to starters Fletcher or Perry Riley.

The Redskins like rookie running back Chris Thompson's explosiveness, but it's tough to see it on the sideline, where he's spent most of camp while still recovering from last fall's ACL surgery. Thompson, a fifth-round pick, did not practice during the spring, either, so he's far behind when it comes to working in this offense. But former Florida State teammate Jenkins continues to flash as a pass-rusher. The Redskins are already working him in with the first defense in various nickel packages.

Tight end Niles Paul is catching the ball much better this season than last. An underrated part of switching from receiver to tight end was that he'd be running routes from different areas and often shorter routes -- so he'd need to turn and catch a harder-thrown pass. Not every pass he dropped last season can be blamed on that, but it was something Paul had to adjust to and, based on camp, he's done so. Paul has rarely dropped a pass this summer, if at all. He also played fullback with the second and third string against Tennessee. If the Redskins keep only one fullback, as expected, they would need one of their tight ends to play the spot in a pinch.

Whether Fletcher can still play at a high level remains to be seen, but there's no doubt about his desire to compete, especially if you just watch him in practice. When it's a competitive team portion, Fletcher is vocal and demanding. He even chastised the third unit once for a coverage breakdown during 11-on-11 work. He is not coasting to the end of his career.

Don't be fooled by the numbers Griffin is posting in 7-on-7 work, when he routinely completes at least 13 or 14 passes out of 17. Most of the throws are shorter or checkdowns. When he throws downfield, his accuracy has been spotty. There has to be an impact on missing so many workouts, and this is one of them. He'll occasionally launch a beautiful deep ball, but it's the 20- to 25-yard throws on which he's still shaking off the rust.

Morris has had a quiet camp, but don't read that as him not doing as well. He shows all the same skills. And if Morris weren't so humble, perhaps there would be concerns about his ability to sustain success. But those who trained with him in the offseason rave about his work ethic (and leg strength). Morris is one of the more in-demand interviews, yet continues to constantly stop and answer questions -- often for 10-15 minutes at a time. When Morris says things like "I'm just Alfred," it's not an act. He hasn't allowed himself to bask in his rookie-year glory.

There are still question marks along the offensive line, with Polumbus still needing to prove he can be an effective pass-blocker at right tackle. He needs to do a better job with his hands. He's not a long-armed tackle, so he can't bail himself out of trouble if he's a little off with his technique. His margin for error is smaller. It's something he worked on in the offseason, but it needs to show up more consistently. Behind him, veteran Tony Pashos has the most aggressive punches of the right tackles, and it's helped him versus the backup rushers. But after not playing last season and playing hurt the previous, he still needs to become more consistent. The Redskins say they have more depth along the line in general, but it's young and unproven.
August, 6, 2013
8/06/13
10:00
AM ET
EAST RUTHERFORD, N.J. -- The buzzword around the
New York Giants
the past few years has been "consistency." As in, they need to find ways to be more consistent week-to-week, month-to-month in order to achieve their goal of making the playoffs. When they make the playoffs, the Giants are a threat to win the Super Bowl, as they showed two seasons ago. But in three of the past four seasons, they have failed to qualify for the postseason.

The issue, ironically, is that for all of their in-season inconsistencies, the Giants are actually one of the most consistent teams in the league year-to-year. Their regular-season win totals the past four seasons are 8, 10, 9 and 9. There are teams all over the league that would kill for that kind of consistency -- to stay annually in the division race deep into December and be in position to get themselves into what Giants general manager Jerry Reese calls "the tournament." But for the Giants, it's not good enough.
"I guess we are consistent when you look at it that way. So we need to be better," quarterback
Eli Manning
said before Giants training camp practice Friday. "We expect to be a team that can get 11 wins, that can get 12 wins in a season. So I think it's really just playing to our potential, is really what we're saying. We've got to avoid the bad games. We should be in every game we play."
There are multiple levels on which to attack the problem. Manning himself says he's working to improve his accuracy, especially insofar as it helps the Giants get back to hitting big plays in the passing game. Around him the offensive line and the receiving corps are working to get and stay healthy and be cohesive. The run game is transitioning to younger players. On the other side of the ball, the Giants hope the pass rush can rebound from a 33-sack season (the Giants' lowest team total in that category since 2009) and return to the dominant form that helped it win the Super Bowl two seasons ago. If that happens, they believe the secondary will play better and a defense that allowed the second-most yards in the NFL last year will necessarily improve its ability to control games and steer away from the annual potholes.
"Since I've been here, we've kind of fallen into that same trap. We've had that midseason letdown," said safety
Antrel Rolle
, who's entering his fourth season with the Giants. "And I'm not quite sure why that's happened, but we definitely need to break that mind frame and get above the nine, 10 wins, because we're better than that. Our standards are way beyond that."
The Giants are holding training camp this year at their regular-season practice facility, mere yards from the stadium in which the Super Bowl will be played six months from now. The view of hulking MetLife Stadium from their practice fields, along with the Super Bowl countdown clock Reese installed in the locker room, is making sure the Giants keep their very high goals in mind as they prepare for the 2013 season.
THREE HOT ISSUES
[+] Enlarge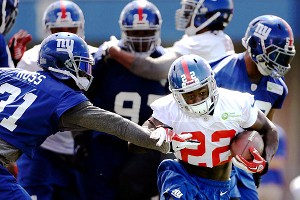 AP Photo/Seth WenigDavid Wilson will now have the chance to be the lead back in New York's running attack.
1. Who will carry the ball?
With mainstay
Ahmad Bradshaw
off to Indianapolis, the running game is in the hands of 2012 first-round pick
David Wilson
and
Andre Brown
, who was the Giants' goal-line back before an injury ended the 2012 season for him. Wilson has everyone excited because of his game-breaking potential, but it's clear that whichever of these guys shows the most as a pass-blocker will get the bulk of the carries.
"You really can't play unless you can protect the quarterback," Giants coach Tom Coughlin said. "Fortunately, those two young men as well as our other running backs have had the opportunity to look at Ahmad's film and get a better understanding of the complexities of our protection packages. Those two guys are very, very fast and very skilled, and we definitely believe in the balance theory. To play great football, we're going to have to run the ball."
Expect a carry split not unlike what the Giants have shown in years past. But if Wilson shows he can stay on the field for three downs, he could emerge as a star. No Giants back in recent memory has been as explosive a runner as he is.
2. Can they get to the quarterback?
The pass rush is in flux as well.
Osi Umenyiora
is in Atlanta.
Jason Pierre-Paul
is recovering from back surgery and may not be ready for Week 1.
Justin Tuck
has 12.5 sacks in his last 32 games.
Mathias Kiwanuka
is moving back up to the line after a couple of years in the linebacking corps. And they only had 33 sacks last year. The Giants, historically, do not have the kind of success they intend to have without a dominating pass rush.
Tuck says he's rejuvenated after two tough years -- healthier than he's been in any camp since 2010. He's in the final year of his contract, and if he looks like his old self this year, he and the team will benefit dramatically. Toughening up inside at defensive tackle should help as well, and if Pierre-Paul makes a full recovery, this will be a driven unit capable of much bigger things.
3. Last stand for the old guard?
"Me worrying about contracts or things that are going to happen in the future doesn't really help me in the present," Tuck said after practice last Friday. "I've never been a player that played the game for money or played for a big contract. If I did, don't you think I'd have been more inclined to play well the last two years and not have to worry about the contract now? I just want to go out there and prove to people that Justin Tuck can do still do his job very well."
Tuck's feelings echo those of teammates
David Diehl
and
Corey Webster
. All three are proud Giant champions who took a lot of criticism for their disappointing play in 2012. All three are determined to play better in 2013. All three are likely done in New York next year if they don't. The Giants are placing a big bet on the professional and personal pride of some of their title-team cornerstones. They're all talking tough in August, but it's got to translate into turn-back-the-clock production for the Giants' key veterans.
REASON FOR OPTIMISM
[+] Enlarge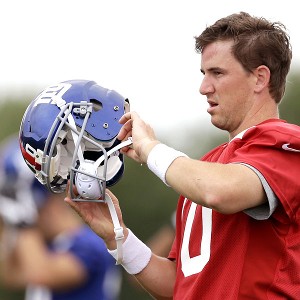 AP Photo/Seth WenigEli Manning has plenty of offensive weapons this season and the unit will be capable of putting up a lot of points.
Manning is always the biggest reason for optimism in East Rutherford. Steady, reliable and capable of making every clutch throw there is, the Giants' franchise quarterback is the sun around which their current universe revolves. With
Victor Cruz
back in the fold after an offseason contract dispute,
Rueben Randle
looking good as he prepared for his second season, the young legs in the run game, and a new tight end in
Brandon Myers
who caught 79 passes in Oakland last season, Manning is surrounded by exciting weapons on offense. And if top receiver
Hakeem Nicks
can shake his latest offseason injury bout and stay healthy all year, this is an offense capable of scoring a lot of points in a hurry.
REASON FOR PESSIMISM
The one issue on offense -- and it's a big one -- is the blocking. Bradshaw was a great blocking back, and as we've already discussed we don't know what Wilson and Brown can bring as blockers over a full season.
Martellus Bennett
was a great run-blocking tight end, and that's not a strength of Myers' game. Diehl is proud, determined and worthy of the benefit of the doubt, but he's coming off a bad season. Interior offensive linemen
Chris Snee
and
David Baas
have struggled the past few years with injuries. All of the skill-position talent is exciting, but it could be undone if the Giants can't answer some of their big blocking questions.
OBSERVATION DECK
Rolle said that when Kenny Phillips went down with his injury problems last year, he had to play a lot in the box while fellow safety Stevie Brown handled the post safety role. Brown did collect eight interceptions in that role, but the Giants want him to be more versatile now that Phillips is gone and he's a full-time starter. Having a full training camp to work as a starter is helping Brown become the kind of interchangeable safety they need him and Rolle to be. "We already know he's a ballhawk and can go and he can go get the ball and do something with it once he gets it," Rolle said. "Now he's showing us that he can play in the box and definitely be a versatile safety."

They don't want to talk about it because they don't want to give away their plans, but the Giants have worked on some different alignments of the defensive front seven this camp. Usually a strict 4-3 team, the Giants have tried some 3-4 looks or some hybrid looks that ask their defensive ends to stand up and either play outside linebacker or at least look as though they might. The idea is to confuse the offense and possibly to be in better position to react to the run-heavy, read-option offenses in Washington and maybe Philadelphia.

Third-year cornerback Prince Amukamara is healthy and hoping to build on his solid second season. He said his goal is to play well enough that he's able to stay on one side and Webster on the other side of the field for the whole game, rather than having Webster assigned to the other team's No. 1 receiver regardless of where he lines up. The coaches say that's their goal for their cornerbacks as well, and Amukamara's strong camp is leading them to believe they can play that way.

Former Eagle Cullen Jenkins has worked some at defensive end as well as tackle. His experience playing different positions in 3-4 and 4-3 fronts could help the Giants if they plan to be varied and have multiple looks on defense.

Randle, the team's second-round pick in 2012, is a big-bodied outside threat who could keep Cruz in the slot where he's at his best. It's still premature to project Randle as Nicks' long-term replacement, but from what I saw he's a guy who knows how to use his size and his leaping ability to out-fight a defensive back for a ball in traffic. His speed becomes more of an asset the further he gets down the field, because of his long strides.

The biggest-impact 2013 draft pick could be second-rounder Johnathan Hankins, who looks like a valuable part of the rotation at defensive tackle. Third-rounder Damontre Moore is at least a situational pass-rusher at this point, and it's easy to see the way those playmaking instincts help him get off the ball and into the backfield. First-round pick Justin Pugh isn't running with the first team (and he's actually out right now with a concussion), but they have worked him at tackle and guard and they believe he's going to be a valuable long-term piece for them at some position on the line. Right now, though, he's clearly behind Diehl at right tackle.

We've come this far without mentioning linebacker, and I don't have much to report. Between their nickel packages, the three-safety looks they like so much, and the possibility that they might show some 3-4 here and there, it's just not a high-priority spot. Spencer Paysinger is making a push for the starting spot at weakside linebacker, with Keith Rivers on the strong side and Mark Herzlich in the middle at least so far. But I think the linebacker alignment could depend on who shows something on special teams.
July, 30, 2013
7/30/13
12:00
PM ET
PHILADELPHIA -- Chip Kelly sometimes sounds as though he's speaking in fortune cookies. The
Philadelphia Eagles
' new coach has an array of easily digestible sayings he employs to illustrate his points, whether he's speaking to the media in a news conference, addressing his players in a meeting or just passing them in the hallways. Last week, he trotted out "touchdown, first down, get down" as the progression of possibilities he wants his quarterbacks to go through in their minds on each play and then said "durability is the most important ability" when discussing players' health. He's got a million of them, and they're all designed with a teaching purpose in mind.

"We spend a lot of time as a staff talking about that: 'What's the best way to teach our guys?'" Kelly said after the Eagles' practice Monday. "Because the bottom line is, it means absolutely nothing what we know, because we're not the ones playing. So our job, very simply, is that we need to create an environment where our players have a chance to be successful and then get out of the way and let them go play. And if we can arm them with information so that they can not have to think on the field but react, then we're doing what we're supposed to do."
I asked some Eagles players for their favorite Kelly-isms.
"He always says, 'Take 15,'" left tackle
Jason Peters
said. "And that means take 15 minutes out of your day to do something positive, whether it's studying your plays, go call a loved one, just take 15 minutes out of your day to do something positive. Whatever you do in that 15 minutes is going to help the teammate across from you or beside you."
"He'll just say, 'The little things,'" guard
Evan Mathis
said. "It just means doing everything like a professional. Just carry yourself on the field, off the field the same way. Clean up after yourself after you eat. Parking in the right place. Being here on time. The little things. It helps you focus things the right way. How you carry yourself off the field translates to the way you carry yourself on the field. Just get used to forming good habits."
"'Let the world see what you want them to see,'" running back
LeSean McCoy
said. "Good plays, bad plays, you let the world see that. Same thing off the field. Whatever you may tweet, however you may act in public, that's what the world will see. So always be thinking about what you want the world to see."
The fact that everybody seems to have his favorite speaks to the number of these mini-mantras Kelly employs, but also to one of the central teaching tenets he learned from former NFL coach Tony Dungy when he approached him, before taking this job, about the challenges of coaching professional players as opposed to collegiate ones.
"The one thing Tony told me is that if you can make individual players better, then they're going to listen," Kelly said. "So I think when you're dealing with anybody, no matter what business it is, if people understand that you care about them and you want to help them, then I think they're going to take to it. And these guys understand us and I think we've got a pretty good understanding of them as a staff."
If Kelly's first mission was to get his players to buy in, then he's done well. He's connected with them on a personal level, impressed them with his preparedness and his ideas and installed an atmosphere that appears conducive to the teaching he wants and needs to do.
"I just like his attitude, man," McCoy said. "He's always positive. Good days, bad days, always positive."
Long way to go, obviously, and many more good and bad days ahead once the Eagles get into the grind of the NFL season and try to improve on last year's 4-12 record. But this is training camp, a time of excitement, hope and teaching. And Kelly's got all of that humming so far.
THREE HOT ISSUES
[+] Enlarge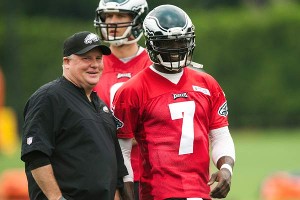 Howard Smith/USA TODAY SportsMichael Vick's experience gives him front-runner status to start at QB for Chip Kelly.
1. Who will be the starting quarterback?
It appears to be a two-way race between veteran
Michael Vick
and second-year man
Nick Foles
with rookie
Matt Barkley
a long-shot possibility to start at some point if not right away. But it's very wide open, and Kelly isn't planning to make any final evaluations until he sees his candidates play in some preseason games. "A quarterback is like a teabag," he has said more than once, the meaning being that you don't know what's in a teabag until you steep it in water. Since the quarterbacks haven't yet been in an environment that lends itself to reliable conclusions about the way they'll function in game situations, there's no way to know yet who's the best choice.
Vick is the obvious front-runner, based both on experience and 2013 upside. But the fact that he has foot speed and Foles doesn't won't win him the job. He's got to show he can handle the quick decision-making Kelly wants from his quarterback, and that he's willing to give up on a play for the sake of protecting the ball and making it to the next play. Throughout his career, Vick has been a guy who's preferred to extend plays in the hopes of making big ones. If he doesn't show a willingness or ability to change that, he could lose the job to Foles or even Barkley. Don't be surprised if each of those guys starts games for the Eagles this year. They don't appear to have a great solution on the current roster.
2. Replacing Jeremy Maclin.
The Eagles' leading receiver in 2012, Maclin went down with a torn ACL in practice Saturday and is almost certain to miss the entire season. The fact that this happened so early in camp gives Kelly time to adjust his offense around Maclin's absence. And although speedy wideout
DeSean Jackson
should be heavily featured and guys like
Jason Avant
,
Arrelious Benn
and
Riley Cooper
have a chance to contribute more, it's probably better to look to the tight end group and the running back group for solutions here. The Eagles have depth at both of those positions, with players who can contribute as receivers and make the kinds of short-range and medium-range plays that will help speed Kelly's offense along. None of them offers the playmaking versatility or the speed of Maclin, but there are plenty of options here for Kelly, and if Plan B doesn't work out there are lots of potential Plans C, D, E, etc.
3. What will the defense look like?
"We're going from a wide nine 4-3 defense to a 3-4," Kelly said. "When do we get to a 3-4? I don't know."
What Kelly means is that, while the ultimate goal is to play a base 3-4, two-gap system on defense, he's not going to force square pegs into round holes right away just because that's what he wants. If the players he has on defense aren't ready to swing all the way to that 3-4, two-gap system, then he's going to stop the transition at some yet-undetermined midpoint and fashion his 2013 defense around their capabilities. And if it doesn't work, then they go out next offseason and find personnel who can better handle what he wants to do.
The question is whether a defense can succeed in the short term while it endures such a transition. Change is worth making for the Eagles on defense, but how quickly the players master the changes required of them will go a long way toward determining whether they're a 2013 contender.
REASON FOR OPTIMISM
The energy and the enthusiasm in camp are very high, and the players do seem to be buying what Kelly and his staff are selling. That's always going to be a question mark with a new coach, and it could continue to be one if the team starts losing and the attitudes turn sour, but for now everybody seems to be enjoying the novelty.
"Every single thing has been very well thought out, very well researched, and there's a rhyme and reason to everything," Mathis said. "And it definitely matters. It helps you understand and just give it your all. When you can trust the game plan, the road map that you've been given, you can just focus on applying yourself and doing it."
REASON FOR PESSIMISM
[+] Enlarge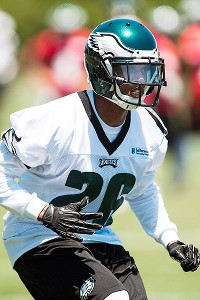 Howard Smith/USA TODAY SportsCary Williams will be one of the players trying to improve the Eagles' defense.
On the flip side, there are plenty of these. This is a team that won four games last season, doesn't have a great option at quarterback and is having to learn a dramatically different defense that's asking some players to play new positions. The secondary is different, but there's no way to say for sure that it's better until we see what guys such as
Cary Williams
,
Patrick Chung
and
Kenny Phillips
bring to the party. There's a lot of change, and probably more is still necessary before this team is where it wants to be.
"The way we're looking at it is that we're trying to develop into a team like we've had in the past, that can consistently compete," GM Howie Roseman said. "We want to win now, obviously, because in this league you can never say you're going to have a redshirt year. But at the same time we want to build it the right way. We don't want to take shortcuts. In the past we were in a situation where we felt like we were close, so we did some things that you do when you're a team that you think is right on the verge. For us, if we build it the right way, good things will happen."
As is the case with any team that bottoms out at 4-12 and changes coaches, the Eagles have a great deal of work to do. Kelly and his staff are wisely operating according to a long-term plan, and it's entirely possible that this season is a transition or rebuilding year just out of necessity.
OBSERVATION DECK
Andy Reid's Eagles training camps were well known as some of the hardest-hitting camps in the league. Although the Eagles practiced in pads Sunday and Monday, there was no tackling to the ground and there won't be. Kelly said, "We have four preseason games for that." He doesn't like the risk of his own players injuring their teammates, and he thinks keeping everyone on their feet encourages proper tackling technique. It's new in Philly, but not unheard of. Some teams, like the Pittsburgh Steelers, never do any hitting at all in training camp.

One of the defensive keys will be the ability of pass-rushers Trent Cole and Brandon Graham, who had been 4-3 defensive ends, to transition to standup 3-4 outside linebacker roles. Cole says he enjoys the extra room he has to rush the passer, and Graham says that pass coverage is "a weakness of mine" and that he has to improve in that area.

For a few moments Monday, it appeared Kelly had his running backs on leashes. Turns out, this was a new drill in which one back carries a ball with a string attached to it while another runs behind him holding the other end of the string and trying to pull the ball loose. Obviously, it's a drill designed to improve ball security.

The standout player in the secondary, to me, was second-year cornerback Brandon Boykin, who works mainly as the nickel corner but could get more work on the outside if he continues to show well.

As much as the Eagles would like former Giants safety Phillips to help, he looks to me like a guy whose knee isn't fully healthy, and of course it may never be.

The loss of reserve linebacker Jason Phillips, who tore his ACL during Monday's practice and was placed on injured reserve, could show up more than you'd think. The Eagles signed Phillips because he was a special teams star in Carolina, and his loss is a blow to their coverage units.
July, 25, 2013
7/25/13
9:00
PM ET
By
Todd Archer, ESPNDallas.com
| ESPN.com
OXNARD, Calif. -- The feeling
Tony Romo
had early in his career when he was just trying to make the
Dallas Cowboys
' roster is the same one he feels today as he chases a Super Bowl.

"For me, I tell this to some buddies and high school kids a lot of the time, it's all relative to the way you look at it," Romo said. "They'll be like, 'Wow, you play in the NFL or whatever.' The same feeling I get going out on a Sunday is the same feeling a high school kid gets going out on a Friday night. They're excited. They're energetic. They've put in a lot of time and effort. It means a lot to them. It means everything to them. To me, that aspect of it doesn't change, no matter where you're at. Sometimes your surroundings change a little bit. Sometimes the just desperate feeling of trying to make the team; that doesn't change now. It's just a different goal. Now it's not trying to make the team. Now it's trying to win a championship. Now it's trying to get better so we can take the next step. Now it's just that feeling that you have. But it's still that desperate kind of act of wanting to take that next step. There's just another step always. It's going to be the same thing even after we get that job done."
Despite missing the playoffs the past three seasons and losing Week 17 de facto NFC East title games in each of the past two seasons to the
New York Giants
and
Washington Redskins
, the Cowboys rewarded Romo with a six-year contract extension this offseason worth $108 million, including $55 million guaranteed.
They also guaranteed Romo more say in the offense.
At 33, Romo is the oldest Cowboy and is entering his seventh full season as the starting quarterback. He has seen all that a quarterback can see from opposing defenses and in the offseason was able to communicate his ideas to coach Jason Garrett, offensive coordinator Bill Callahan and the rest of the staff.
Once the season starts, Romo will spend time with the coaches during the week going over the game plan.
"I think anytime the more you are involved, I think there is no question the more comfortable you are with anything," Romo said. "I think that just goes with the territory. You gain a lot over the years with experience. You understand a lot offensively. You start to understand what has made us successful. You understand what can make our lives easier, what can make my job easier, and you just go hammer things out."
Last year when Romo asked for a certain play or two in the game plan, it might not get called for a few games. That won't be the case this year with Romo putting in that "Peyton Manning time" owner and general manager Jerry Jones alluded to in the offseason.
[+] Enlarge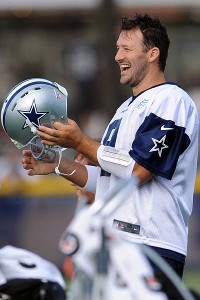 Jayne Kamin-Oncea/USA TODAY SportsQuarterback Tony Romo will have a greater responsibility this season as he will have an active role in the Cowboys' offensive game planning.
"What I want to do as a head coach, what our coaching staff wants to do, is just create more of a forum for him to be able to do that, keep those lines of communication open," Garrett said. "His job is to play quarterback for the Dallas Cowboys. It's not an easy job. That's his job. We feel like his involvement will help him do that job better and help our football team even more."
Perhaps even get the Cowboys back to the playoffs.
THREE HOT ISSUES
1. Dez Bryant's dominance.
No player has caught the eye more in training camp than Bryant, who is entering his fourth season. Over the second half of last season he was one of the best receivers in the NFL with 50 catches for 879 yards and 10 touchdowns.
Since arriving in 2010, Bryant has always been able to make the highlight catch, but he became more reliable in his route-running and decision-making, which helped in his jump in productivity. He even made plays while hurt, displaying toughness by playing the last three games with a broken index finger that required postseason surgery. He has had no problems with the injured finger in camp.
As good as Bryant was, he has his sights on becoming the NFL's best receiver.
"This is what I truly believe: I always feel like there's always room to get better," Bryant said. "I think just by going in, getting everything I already know, cleaning it up, sharpening it up the best way I possibly can and just learning more and more the coaches give me, I feel like I'll be taking a step each and every day."
2. Monte Kiffin puts stamp on defense.
Kiffin is 73 years old, but he doesn't act that way. On the first day of training camp, he implored the crowd to get loud to excite his defense. When he has been displeased, he has thrown his hat to the ground. When he's not happy with himself, he has given himself a slap in the head.
"He's a fired-up guy," linebacker
Bruce Carter
said. "You never know what you're going to get with Coach Kiff. He brings a lot of excitement to the defensive meeting room. Guys are really adapting to him well."
A lot of eyebrows were raised when the Cowboys hired Kiffin after his so-so run at USC. Kiffin believes having more time with the players than he had in college will help ease the adjustment from the 3-4 to the 4-3.
The key hire might have been defensive line coach Rod Marinelli. He worked with Kiffin in Tampa Bay and led a turnover-driven defense in Chicago for four years. Kiffin's knowledge, combined with Marinelli's expertise, give the Cowboys an edge they did not have the past few years on that side of the ball.
3. Jason Garrett, walk-around coach.
Offensive coordinator/assistant head coach Bill Callahan will call plays, freeing up Garrett to handle game situations and the entire team.
When Garrett took the job on a full-time basis in 2011, Jimmy Johnson advised him to work as a "walk-around" head coach, but he held on to the play-calling duties. Whether they were taken away from him or he gave them up is up for debate, but the Cowboys' hope is Garrett's coaching ability will be enhanced.
While Jones has backed the coach and talked of a future beyond the final two years of Garrett's current contract, this is a win-now season for Garrett. He has gone 8-8 in each of his first two full seasons and lost both season finales with playoff spots on the line. Jones' patience would be put to the test with a fourth straight non-playoff season.
Garrett has been around the NFL a long time as a player and coach and understands the life.
Without having to overlook every nook and cranny of the offense, Garrett has been all over the practice fields in Oxnard, Calif.
"I have always felt that he found a way to see everything," linebacker
Sean Lee
said. "He doesn't miss much; he never has in the past and he won't in the future. He's a guy who's on top of every detail and knows what's going on. That's what makes him a great coach, and that's why we all respond to him."
REASON FOR OPTIMISM
The Cowboys lost five major components of their defense to injuries last year and had
DeMarcus Ware
playing with one healthy arm, which led to the dismissal of defensive coordinator Rob Ryan. Lee, Carter,
Barry Church
,
Orlando Scandrick
and Ware are healthy now, which will help a defense that has to get better at creating turnovers.
The Cowboys do not seem overly concerned about the long-term effects of early training camp injuries to defensive tackle
Jay Ratliff
(hamstring) and defensive end
Anthony Spencer
(knee).
Using frames of references from the defenses Kiffin and Marinelli have run, the Cowboys appear to have the right pieces for the 4-3. The Cowboys view Lee and Carter the way Chicago viewed
Brian Urlacher
and
Lance Briggs
. They look at Ware and Ratliff the way Tampa Bay used to view
Simeon Rice
and
Warren Sapp
.
A healthy defense should make Kiffin's first year a success.
REASON FOR PESSIMISM
On a team that has not made the playoffs the past three seasons, the Cowboys' key pieces still look largely the same: Romo,
Jason Witten
, Ware, Ratliff and
Miles Austin
.
[+] Enlarge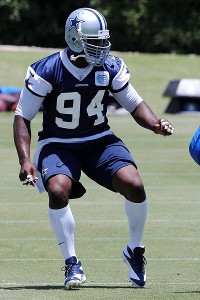 Matthew Emmons/USA TODAY SportsThe Cowboys are counting on veterans, including a healthy DeMarcus Ware, to lead Monte Kiffin's defense this season.
Because of salary-cap constraints and the desire to re-sign Romo, the Cowboys were not able to be major players in free agency. Their biggest pickups were linebacker
Justin Durant
and safety
Will Allen
. In the draft, they traded down from the 18th pick to No. 31 to take center
Travis Frederick
, whom many rated as a third- or even fourth-round pick.
The Cowboys are banking on core players who have won one playoff game and missed the playoffs more than they have made it.
OBSERVATION DECK
If there was any worry about Ware's recovery from offseason shoulder surgery and the move from outside linebacker to defensive end, they were calmed very early. Ware had a three-sack practice on the second day of camp and has given left tackle Tyron Smith fits.

While Ware is healthy, his counterpart on the other side is not. Spencer will miss two to four weeks of camp because of knee surgery. Spencer had a breakout year in 2012 with 11 sacks and was added to the Pro Bowl. He missed time in the offseason as well but does not believe it will affect his knowledge of the defense with the move to defensive end.

The offensive line was a question last year, and it is a question again this year. Guards Mackenzy Bernadeau (hamstring) and Nate Livings (foot) have not been able to practice. Ronald Leary, who is expected to compete for a starting job, has not practiced because of a calf injury. For a unit in need of continuity, the beginning of camp has not gone well.

The loss of defensive end Tyrone Crawford for the season because of a torn Achilles is a big one. The Cowboys wanted the second-year player to be a big part of their rotation at end and tackle this year and possibly be a starter in 2014. Without Crawford, the Cowboys will have to scramble for help, but so far they have not shown any interest in the more veteran names available.

The Cowboys will go without a fullback on the 53-man roster when the season opens, relying more on two-tight end formations. In Witten, the Cowboys have one of the best tight ends in the game. They have rookie Gavin Escobar, drafted in the second round, and James Hanna, last year's sixth-rounder, as the top backups. Escobar has benefited from extra work early in camp and could become a decent intermediate target for Romo.

If there is an unknown player to watch as the regular season approaches, it is second-year running back Lance Dunbar. He made the Cowboys last year as an undrafted free agent and saw his role increase a little as the year went on. With Felix Jones now in Philadelphia, Dunbar is the leader to be the true third-down back. Several of the veterans have noticed his speed and quickness and believe he could have a solid season as a pass-catcher.

Right tackle Doug Free saw his pay cut in half in the offseason, down to $3.5 million, but he is off to a better start to training camp. Free struggled last year and ended up splitting time late in the season with Jermey Parnell. That has not been the case this summer, and not just because Parnell has been slowed by a hamstring strain. Free has been more firm in the run game and as a pass protector.

With so many games decided by a field goal in the NFL, teams need a top-flight kicker. The Cowboys have one in Dan Bailey. He has had eight winning or tying kicks in the last two minutes in his first two seasons.