NFC East:

2013 Hall of Fame
August, 5, 2013
8/05/13
11:04
PM ET
CANTON, Ohio -- Safety
Matt Johnson
will have an MRI on his left ankle when the Cowboys return to Oxnard, Calif., on Monday morning.
Johnson was hurt in the second quarter of Sunday's 24-20 win against Miami as he tracked down wide receiver
Chad Bumphis
on a 45-yard gain. Johnson landed awkwardly as he tackled Bumphis and limped to the sideline.
X-rays during the game were negative.
Also, defensive end
Ben Bass
was kicked in his left knee after defensive end
Kyle Wilber
pressured quarterback
Matt Moore
. Bass was examined by the medical staff and did not return to the game, but owner and general manager Jerry Jones said he was told it's not believed to be serious.
Running back
Phillip Tanner
had X-rays on his left arm. He left in the first quarter but was able to return to the game. After the game, Tanner said he was fine.
Rookie wide receiver
Terrance Williams
did not play against the Dolphins after suffering a concussion in practice Friday but still made the trip to Canton.
"I'm going to tell you day by day, but we don't think what he has is a serious issue," coach Jason Garrett said of Williams' status.
August, 5, 2013
8/05/13
1:38
AM ET
CANTON, Ohio --
DeVonte Holloman
will always have the Hall of Fame Game.
The rookie linebacker came up with the play of the day with a 75-yard interception return for a touchdown after grabbing a tipped pass and sprinting to the end zone to give the Cowboys a 17-0 lead with 6:35 left in the first half.
"I thought about it the whole way here, and it actually happened," Holloman said of his pick-six. "I had a celebration in my mind and I was kind of overwhelmed so I decided to celebrate with my teammates instead."
Holloman's interception was one of two takeaways by the Cowboys' defense against the Dolphins. On Miami's first play from scrimmage, the exchange between quarterback and running back was muffed and
Nick Hayden
came up with the ball.
Four plays later, the Cowboys had a 7-0 lead after a
Phillip Tanner
touchdown.
"The correlation between taking the ball away and scoring points in this league is huge," coach Jason Garrett said. "When we've played our best around here it's been when we've been taking the ball away and protecting it."
Holloman hopes it is not his last takeaway. He might get to show off the celebration.
So what was it anyway?
"I might save it for later," he said, "so I can't spoil it."
August, 5, 2013
8/05/13
1:28
AM ET
CANTON, Ohio -- At the opening training camp news conference, coach Jason Garrett said the Cowboys need to run the ball more and need to run the ball better in 2013.
In Sunday's 24-20 win against Miami, the Cowboys got the more (34 carries) and the better (170 yards).
Joseph Randle
led the Cowboys with 70 yards on 13 carries.
Phillip Tanner
had 59 yards on 10 carries, including a touchdown.
Lance Dunbar
had 22 yards on four carries to start the game.
Kendial Lawrence
had a 5-yard touchdown run late in the fourth quarter.
"I thought it was a good start running the football," Garrett said. "We ran it well. We ran it a few different ways. We ran it inside. We ran on the edge. I thought the backs ran hard."
The Cowboys had only one game last season with more than 34 carries (42 at Baltimore). They had five games with 17 or fewer runs last season. They ran it 17 times in the first half Sunday.
"There's always room for improvement," Tanner said. "We've still got a long ways to go. We'll go watch the film, capsulize what we did well, and look at what we did wrong and fix that. But this felt like a solid foundation."
August, 4, 2013
8/04/13
11:42
PM ET
CANTON, Ohio -- The
Dallas Cowboys
opened their preseason with a 24-20 win against the
Miami Dolphins
on Sunday in the Hall of Fame Game thanks to a stingy defense and a solid running game, which was something they did not really have last season.


The Cowboys have now won their preseason opener four straight years. What does that mean? Not much, since they have missed the playoffs in three of the last four seasons.
What it means:
With a new playcaller on offense in Bill Callahan and a new defense led by Monte Kiffin, getting off to a good start is a positive. The only starters that played were tackles
Tyron Smith
and
Doug Free
, center
Travis Frederick
and linebacker
Justin Durant
. Free and Smith played a series. Frederick moved over to guard in the second quarter and for some of the third. Durant played a handful of series. While it's still a question, the Cowboys found some answers for depth in guys like
George Selvie
,
Phillip Tanner
and
Joseph Randle
.
DeVonte Holloman with a pick-six:
The rookie linebacker had the most athletic play of the night when he reached back to snag a
Matt Moore
throw intended for
Chad Bumphis
. Holloman was able to compose himself and then sprint 75 yards for the touchdown, slamming Moore to the turf with a facemask. Last season, the Cowboys forced turnovers at an alarmingly infrequent rate, which led to Rob Ryan's firing and Kiffin's arrival. On the first series,
Nick Hayden
came up with a fumble recovery that set up Tanner's touchdown run. In the second half, the defense forced two fourth-down stops.
There's a running game:
One of the biggest complaints about Jason Garrett was his willingness to abandon the run. Callahan's background as an offensive coordinator has many believing the Cowboys will have more balance. In the first half, the Cowboys' three runners -- Tanner, Randle and
Lance Dunbar
-- averaged more than five yards per carry. In the second half, Randle did a nice job of picking up yards on his own. The Dolphins weren't playing many of their regulars, but the fact that the Cowboys ran it 17 times for 97 yards in the first two quarters was a good sign. Last season, the Cowboys had four games in which they had fewer than 17 carries. Even undrafted rookie Kendial Lawrence got into the act with a 7-yard touchdown run with 1:57 to play in the game.
Injury concerns:
Safety
Matt Johnson
was off to a good start by starting the game, but he was hurt tracking down Bumphis on a 45-yard catch and run. He suffered a left ankle sprain and did not return. Defensive end
Ben Bass
hurt his left knee and did not return to the game but appeared to be fine on the sideline. He did not go to the locker room for X-rays, and he did not receive extra attention from the athletic training staff. Tanner hurt his left arm in the first quarter but was able to return to the game.
What's next:
The Cowboys play at Oakland on Friday in preseason game No. 2, and the starters will see some playing time against the Raiders.
August, 4, 2013
8/04/13
12:44
AM ET
By
ESPN.com staff
| ESPN.com
Longtime Dallas offensive lineman Larry Allen was inducted into the Pro Football Hall Of Fame after 10 career Pro Bowl selections in 14 NFL seasons.
Click here
for the full transcript of Allen's speech.
August, 2, 2013
8/02/13
2:00
PM ET
OXNARD, Calif. – As he sat with opposing players before they had to play against
Larry Allen
, John Madden could notice the dread.
"You didn't sleep easy the night before, hoping you get to play against Larry Allen," Madden said. "They knew it. There's no pro football player that has a fear of another guy that plays on that level, but he was so doggone strong and there wasn't much you could do against him."
Allen will be the 14th Cowboy inducted into the Pro Football Hall of Fame on Saturday, and Madden, a Hall of Famer himself, can't wait to see him in Canton, Ohio. He shares northern California ties with Allen and got to know him over the years.
Madden remembers Joe Greene praising Allen, even if Greene never played against him. He recalls the respect
Reggie White
had for Allen. And he remembers the words coaches like Mike Holmgren and George Seifert had for Allen.
Even Allen's teammates were amazed at what he could do.
"When
Nate Newton
played he came in at 300 pounds, and that was a number that you didn't want to exceed," Madden said. "I remember those days because I coached and those 300-pound guys would be 299, and Nate always fought his weight. He said he always had to be under 300 pounds and he said, 'Then this Larry Allen comes in and he weighs 330 pounds and they're all bragging about it. They never let me weigh 330 pounds, and then we got this guy and I saw him and he was a different 330 pounds than I (had) ever seen.'"
What made Allen so great?
"He had everything," Madden said. "That was the thing he had. He had strength and knew how to use it. There are a lot of guys that have strength and power and don't use it. There are other guys that don't have it and go and get beat. He was the type of guy that could use it at the line of scrimmage and use that in space. He could pull and get at defensive back downfield and he could block at the point of attack and pass protect. That's what makes a great player. You don't say he had one thing. He had everything."
Allen made offensive line play cool, and few were cooler or better than Allen, according to Madden.
"He has to rank right up there at the top," Madden said. "I think you have to go by the ones you've seen, and I've always put John Hanna up there as that guy. I had Gene Upshaw and he's a Hall of Fame guard, and I put Larry Allen right there with that group. There was never a question with me whether or not he was a Hall of Famer. He's one of the all-time great NFL players at his position, and you could make an argument that he's the best, but you'd have to wrestle some other guys for it."
August, 2, 2013
8/02/13
10:18
AM ET
OXNARD, Calif. -- Bill Parcells has not coached the
Dallas Cowboys
since the 2006 season, but his impact on the team remains through the seven players still on the roster.
Tony Romo
,
Jason Witten
,
DeMarcus Ware
,
Jay Ratliff
,
Jason Hatcher
,
L.P. Ladouceur
and
Miles Austin
all played under Parcells in Dallas.
"There's a few left there," said Parcells, who will be inducted into the Pro Football Hall of Fame on Saturday. "They still have my long snapper (LaDouceur), right? There's a few, I don't think too many, but still a few. I look forward to seeing them."
ESPN Dallas asked the remaining players for their favorite Parcells story.
TONY ROMO
Undrafted free agent, 2003
"Going against the Giants the day they put me in at halftime. I remember we were leaving the hotel and he goes, 'Hey, are you ready to go today?' He'd done that before and he's sitting down and I said, 'I'm ready,' and he's just like, 'No, are you ready to go today?' I said yeah. 'Make sure you are.' It was just something different about it in the way he approached it. He was letting me know that if the opportunity came up he had come to the conclusion, I feel like, that if the game wasn't going the right way he was going to go to me. He ended up doing that. I just remember he made me feel very comfortable in the sense of knowing. I had gone three and a half years and played maybe two snaps in the NFL, so it was going to be a big moment for me no matter what, so he allowed me to get a little bit ready. He made it easy on me so I only threw three interceptions in that half."
[+] Enlarge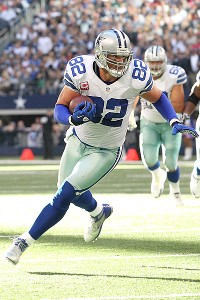 Matthew Emmons/US PresswireJason Witten remembers receiving baby food from coach Bill Parcells during his rookie season.
JASON WITTEN
Third round, 2003
"I broke my jaw my rookie year. I get out of the hospital on a Tuesday and I come in Wednesday morning to the meeting and we had treatment at 6:30 a.m. I come in there and my mouth is swollen. I'm obviously off that week's game and he walks in at 6:45. It's 15 minutes into treatment and there's really nothing they can do other than give me an ice pack to help with the swelling. I'm just kind of there because I have to be there. Bill walks in and looks at Jim Maurer and Britt Brown, 'Where's Witten?' and he made a beeline to me in the corner. I'm still on pain meds, the whole deal. I haven't been out of surgery 24 hours and he's like, 'Listen to me. I've got the key to what's going to get you back out there quickly. Now, I've been here with guys and I've seen guys go through this and the big thing is keeping weight on and your stamina up. You'll be OK. I went to the store and I got you this … ' He pulled out two jars of baby food, sweet potatoes. And he was dead serious. He goes, 'Go get this. There's good calories, good fat. It'll keep your weight on.' And was completely serious about eating baby food. No, I didn't eat it. But it was pretty cool to think he really believed that I could come back and play. And I did play, obviously, the next day. I still think he probably thinks I ate that baby food."
DEMARCUS WARE
First round, 2005
"For me as a rookie coming in, it's your responsibility of getting his Gatorade. You think about getting a guy a Gatorade, and, 'Ah, I can do that every practice,' but he would play mental games with it. He made it challenging to the point where right before the defense and offense guys would get done, he'll go to the other end of the field and I'd have to run all the way down the field to him. He liked orange Gatorade and on the first one I brought to him somebody gave me blue and I ran down and it was wrong, so that was my first mess-up. Secondly, he'd just talk to me the whole time either about
Lawrence Taylor
or some other pass-rushers that sort of played like I did to him. So he'd be on the side of the field and the horn would ring and I had to run full speed all the way back to the huddle, so that was like an extra thing he did. I could tell he had a smirk on his face and he was laughing. He always played those games with me. I figured it out one day. I put the trainer right beside him and told the trainer, 'Hey, just make sure you get him this orange Gatorade. You see me running down, just make sure it's right no matter what.' He'd start talking to me and I was like, 'Coach, I'll be right back. I've got something to do.' He figured it out though pretty quick."
[+] Enlarge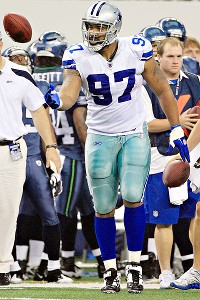 AP Photo/Tony GutierrezJason Hatcher calls Bill Parcells one of the best coaches that he's ever had.
JASON HATCHER
Third round, 2006
"My favorite Parcells story kind of stunk for a minute, but it was my rookie year and I had a baby. My wife went into labor at like 1 o'clock, so we were at the hospital at like 5:30 in the morning. I called Bill and I said, 'Coach, my wife just had a baby. No one is in town to kind of support her, what should I do? He said, 'I tell you what, you do what you think is best.' I did what I thought was best and stayed with my wife. About three hours later my D-line coach called and said, 'You got to get up here at 5:30 (in the morning) and watch all the film.' And Bill fined me $5,000. But I ended up not having to pay thanks to
Jason Ferguson
and
Terrell Owens
. They went and got it changed for me. But just a great guy; I don't hold that against him. That's just who he is. He's a straight shooter, and if not for that guy, I wouldn't be here. That's one of the best coaches I ever had."
MILES AUSTIN
Undrafted free agent, 2006
"He was always hard on me. Todd Haley was our receivers coach and he made sure Todd was always hard on me. I remember we played a game in Atlanta and I broke my hand. I never broken anything during a game, especially up to that point because I didn't play much football, but I remember thinking, 'Damn, my fingers are messed up.' I don't know if I should talk to a trainer or what. I'm like working my way over to trainers, about to say something and he's like, 'Miles, get back in there. Tape it up.' They literally gave me like an Advil essentially and taped me back up and played the game. But it's one of the things you're glad you did it later. At the time, I'm like, 'Oh, my goodness, I've still got to kick return. I've got to cover kicks and run and tackle somebody and my hand is banged up.' It's one of those things where you're happy you did it afterward. Those are the coaches you look at that you remember and feel a great way toward because they're the ones that helped you through adversity."
L.P. LADOUCEUR
Free agent, 2005
"We were at camp my first (full) year in 2006 and I go to weigh in, and right as I weigh in he's sitting there with Joe Juraszek and he tells me, 'There's the only guy who doesn't have any competition at camp,' and I'm like, whatever. He says, 'Don't you forget that I got four guys lined up just for you.' Hahahahahaha. He was just playing with me head, but he was good at it. He knew what he was doing. He's in the Hall of Fame, so he did something right a few times."
JAY RATLIFF
Seventh round, 2005
"My draft call on draft day, I don't remember what Jerry (Jones) said, but I remember Bill getting on the phone and he says, 'Well, I guess we're going to draft you,' and in my mind I'm like, 'You guess?' I was like, 'Well, Coach, I appreciate the opportunity,' and he's like, 'Yeah, yeah, yeah, you'll get a fair shot,' and he hung up the phone. That's been my motivation ever since."
February, 2, 2013
2/02/13
7:46
PM ET
NEW ORLEANS -- A Hall of Famer is a Hall of Famer, period. They don't rank the busts in Canton in any particular order, don't stack certain ones above others.
Yet to those of us who perceive these things from the outside, it sometimes seems as though our Halls of Fame contain an extra, higher rung somewhere for the greatest of the all-time greats -- people who, even among fellow Hall of Famers, seem to exist on a higher plane of excellence.
Bill Parcells, the former
New York Giants
and
Dallas Cowboys
coach who was elected to the Hall of Fame on Saturday, is one of those people. That he was not elected last year in the first year of his second time being eligible was a greater surprise than his election this time around.
Parcells was a giant with a lowercase "g" as well as an uppercase one. He was a changer of the game, a program-builder, the only coach in league history to lead four teams (Jets and Patriots) to the playoffs. He was a two-time Super Bowl champion with the Giants and won an AFC Championship with the Patriots. He coached eight division champions and won 57 percent of his games as a head coach. The roster of coaches he helped develop as assistants includes Bill Belichick, Tom Coughlin and Sean Payton.
Criteria for election to Halls of Fame can hard to define, but one question you often hear as a tool for evaluation is, "Could you tell the history of the game without him?" Parcells' impact is such that you could not tell the story of the past three decades in the NFL without spending a good portion of it on him.
He's elite even as a Hall of Famer, one of the busts people will make the trip to see, and he clearly deserved his election.
February, 2, 2013
2/02/13
6:50
PM ET
NEW ORLEANS -- Larry Allen said he started crying when he got the news Saturday night that he had been elected to the Pro Football Hall of Fame on the first ballot.
Makes sense. What Allen did for a living -- play guard in the NFL for 14 years, the first 12 with the
Dallas Cowboys
-- was crushing work. While Allen might have been one of the most decorated guards in NFL history, being selected to 11 Pro Bowls, winning a Super Bowl and being elected to two all-decade teams, the amount of attention offensive linemen get isn't commensurate with the difficulty of the work they do. Quarterbacks get the glory, as do star wideouts, running backs, pass-rushers and even the occasional cornerback.
After doing what he did as well as he did it for as long as he did it, to be elected to the Hall of Fame as a no-brainer on the first try has to be supremely gratifying.
It's not a surprise, though. Allen must have been one of the easiest calls the voters made this year in their eight-hour (!) selection meeting. He was an absolutely dominating player -- an All-Pro selection every year from 1995-2001. He had strength, instincts and
incredible speed
and quickness for a man of his mountainous size.
During his time, he was the very best in the entire league at what he did, and the length of time for which he did it makes him one of the best offensive linemen of all time. If you didn't know that a couple of hours ago, Allen now has proof. He is, officially, a Hall of Famer.
February, 2, 2013
2/02/13
6:02
PM ET
NEW ORLEANS -- Two of the NFC East candidates up for election to the Pro Football Hall of Fame this year were selected for induction.
Former
New York Giants
and
Dallas Cowboys
coach Bill Parcells became a Hall of Famer on his fourth try, after being eligible in 2001 and 2002 and again last year. Former Cowboys offensive lineman Larry Allen was elected in his first.
The announcement was made at 6 p.m. ET Saturday.
Former Giants defensive lineman Michael Strahan, eligible for the first time, was among the 10 finalists but did not receive enough votes to be elected this year. I'm a bit surprised that Warren Sapp made it and Strahan did not, and I'll have more on that later, as well as analysis on the elections of Parcells and Allen.
Wide receiver Cris Carter also was elected, and while he will be remembered as a Viking, he did play the first three seasons of his career with the
Philadelphia Eagles
. So I guess we can count him as an NFC East Hall of Famer as well.