August, 3, 2013
8/03/13
4:30
PM ET
CANTON, Ohio -- Bill Parcells has a tall and successful coaching tree that features Bill Belichick, Tom Coughlin and Sean Payton, who have combined to win six Super Bowls since 2001.
All three will be in attendance at Saturday night's Hall of Fame ceremony.
"I had a pretty good crew," Parcells said. "That's what we say in Jersey. I really did."
Belichick was an assistant coach under Parcells with the
New York Giants
,
New York Jets
and
New England Patriots
. Coughlin was Parcells' assistant with the Giants. Payton had a three-year run with the Cowboys from 2003 to '05.
It was almost only a two-year run when Payton initially accepted the
Oakland Raiders
' offer to become head coach following the 2004 season, but Parcells and owner Jerry Jones talked Payton into staying with Dallas, bumping Payton's salary to $1 million.
Payton left after the '05 season for the
New Orleans Saints
.
"Sean gets it," Parcells said. "He really gets it. Like all of us when we're young, he didn't always get it, but he gets it now. And he knows what's important, and he's absolutely a terrific listener. He's very bright, creative and I have a high regard for him. I really do."
August, 3, 2013
8/03/13
12:30
PM ET
CANTON, Ohio -- It was easy to tell when
Larry Allen
was excited during a game.
He would raise his right arm and pump it up and down after a long gain.
The crowd noticed, but Allen said he never really caught the reaction.
"I don't think the crowd knew what that meant," Allen said. "Whenever I did that, that was to Sean Payton because I wanted him to run the same play over again. So if I did something good on that play, I'd do that and he'd run the same play."
John Madden has said Allen is one of the three best guards to ever play, along with John Hannah and Gene Upshaw. Bill Parcells had Allen with Hannah and
Mike Munchak
as one of the three best.
The reason? His strength.
"I'd punch them, two-handed punch, pass protection," Allen said.
He learned it from Hudson Houck, his line coach when the Cowboys drafted him in 1994.
"I think he has four Hall of Famers he's coached," Allen said. "Players he coached played in over 100 Pro Bowls, so he's a great coach."
August, 3, 2013
8/03/13
10:30
AM ET
CANTON, Ohio – Warren Sapp's introduction to Rod Marinelli was rough, but as Sapp enters the Pro Football Hall of Fame, he's not so sure he would be here if not for the
Dallas Cowboys
' defensive line coach.
From 1996-03, Marinelli was the
Tampa Bay Buccaneers
' defensive line coach and Sapp was at the top of his game. Or so he thought.
"He made me dream beyond anything I could see for myself because he spent more hours there," Sapp said. "I realize that now. I get Defensive Player of the Year in 1999, 12.5 sacks, and we lose in the championship game, 11-6. I get back the next day and I walk into the meeting room with my chest out, 'What you got for me now?' He said, 'Let's see if your play can catch up with your athletic ability.' What does that mean? He says, 'What can you do athletically?' I said, 'Almost anything,' and he said, 'There you go.' I come back with 16.5 sacks. He always had the next challenge for me. He would never let me rest."
It was a tough love, too.
"If he wanted to talk to the group, he would yell and curse at me," Sapp said. "When he first started doing it, I waited in the meeting room and said, 'Me and you got to talk.' He said, 'I'm not talking to you. I'm talking to the unit. But if I talk to you like that they'll allow me to talk that way.' I couldn't fathom it, 'Coach, I'm giving you everything I've got. Look at the tape.' He says, 'I know, but I want to get that from the rest and if I talk to you, they'll follow."
August, 2, 2013
8/02/13
6:30
PM ET
Bill Parcells knows exactly why Quincy Carter failed with the Cowboys. And it has nothing to do with drugs. Or mental illness.

The 2001 second-roound pick -- the 53rd player taken -- had a substantial fear of success.

That's why he figured out a way to get released in training camp less than a year after leading the Cowboys to a 10-6 record and their first playoff berth since 1999.

"I became pretty close with Quincy personally, and this kid had a lot of good qualities," Parcells said. "He was smart. He understood it. But I just couldn't save his ass. I really couldn't.

"You just didn't have the time. There he is, he got his team in the playoffs, he's the starting quarterback of the Dallas Cowboys, he's playing good, he's improving, he can get out of trouble, he's pretty smart, he can make almost every throw -- and it's just, some people just can't fight the pressure to succeed.

"They just can't fight it. It's too much on them once the bar gets up a little bit. It's too much. I don't know all the problems or the demons exactly, but that's what eventually took him down."

Carter started three games for the New York Jets in 2004 and never played another NFL down.

Tony Romo was an undrafted free agent on the 2004 Cowboys, hoping to prove he belonged in the NFL. Forty-one-year-old Vinny Testeverde, who started 15 games, and Drew Henson were also on the roster for the Cowboys, who finished 6-10.

Less than three seasons later, Romo started his first game for the Cowboys. Now, he's one of the league's best quarterbacks.

Parcells wasn't surprised Romo received an opportunity to play.

"There were a couple of guys there that I knew I was going to have trouble counting on," Parcells said. "Henson because of his newness and he didn't seem to be able to sort things out and Quincy because of, you know ... "
August, 2, 2013
8/02/13
6:01
PM ET


Larry Allen and Bill Parcells found themselves at the wrong point in their careers, when Parcells took over the Dallas Cowboys in 2003.

Allen, a great player, was a 10-year veteran trying to squeeze a few more years out of his body. Parcells, a great coach, was trying to make the Cowboys a winner after the worst three-year stretch of the Jerry Jones era.

We shouldn't be surprised they clashed.

The surprise is that it was rooted in Allen's offseason approach. Allen wanted his offseason conditioning program built around the bench press, which is what he'd always done. Parcells wanted him doing clean and jerks as the base of his offseason program because it's an exercise that builds strength and power.

"I was paid to play football," Allen said. "I just wanted to do what I had always done. It's what made me the player I was and I wanted to do it my way."

Parcells said Allen's personality made it difficult for them to develop a rapport or find a common ground. If Allen hadn't signed a six-year, $37 million contract extension in 2002, he probably wouldn't have lasted three seasons with Parcells.

"I think he's a good person. I always thought that. He was a little overweight at the time," Parcells said of the 2004 training camp. "He wasn't in great condition. I'm trying to get my program started and I got him -- one of my best players supposed to be running wind sprints up and down the field not practicing. That was hard for him and that was hard for me.

"I never really conversed with Larry on an intimate basis. I see him and he's cordial and nice. He had a great career."

Despite their differences, Parcells said Allen is one of the top three guards he's ever seen.

"He's right there at the top with John Hannah and Mike Munchak," Parcells said. "Larry was very powerful, probably the most powerful player I'd ever seen."

August, 2, 2013
8/02/13
6:00
PM ET
CANTON, Ohio – Bill Parcells was extremely hard on his quarterbacks when he was a head coach.
He would have mostly one-sided arguments with
Phil Simms
,
Drew Bledsoe
and
Vinny Testaverde
over the years when something would go wrong and even when things would go right.
At the Pro Football Hall of Fame on Friday, Parcells, who will be inducted Saturday, was asked which quarterback he coached that he would want forever and
Tony Romo
was mentioned.
"Well, what do you want them for?" said Parcells, who coached the Cowboys from 2003-06. "If you want them for fighting it out, just fight it out to death -- Phil Simms. You want them for, OK, just passing the ball, you want to make this 100 percent passing, picturesque and classic, then I have to have Vinny Testaverde. Now if you want to play the modern game and you got to be elusive and get away from then, you give me Tony Romo."
Parcells took to Romo quickly after signing him as an undrafted rookie, but he didn't have Romo throw a pass in a regular-season game until 2006. Romo started 10 games in what turned out to be Parcells' final season, going 6-4 and directing the Cowboys to the playoffs.
Over the years, they have stayed in touch mostly by telephone and Romo, like
Jason Witten
, can still hear Parcells in the back of his mind when he's on the field.
"Bill is a big influence on me," Romo said. "He taught me a lot about the game and the approach. He had some great wisdom in a lot of areas. It wasn't just to manage the team. It was about people. It was about his ability to know little things you might be thinking or might be going on in your head. I think he's pretty gifted at that."
August, 2, 2013
8/02/13
5:35
PM ET
CANTON, Ohio – On Aug. 22, 2005, it did not take
DeMarcus Ware
long to make an impression.
Going against Seattle's perennial Pro Bowl tackle
Walter Jones
in just his second preseason game ever, Ware had three tackles, two forced fumbles, a sack, an interception, a pass deflection and a fumble recovery.
Ho-hum.
Parcells was quick to remind those asking questions after the game to not get Ware's bust for the Pro Football Hall of Fame ready just yet.
"With this media the way it is nowadays and the internet and the social media, we're quick to anoint these guys," Parcells said Friday. "You know, that's the last thing he needed to hear, in my opinion, at the time because he really didn't know what the hell he was doing and that was the truth. But he found out and he continued to do it well. I'm proud of him and he's turned into quite a football player."
Perhaps one who could have his bust at the Pro Football Hall of Fame with Parcells' bust. Ware has been named to the Pro Bowl for the last seven years and his 111 sacks are a team record.
"He's done a terrific job, that kid," Parcells said. "He's a good competitive kid and he's a high-quality person, highly motivated. He's a quality guy."
August, 2, 2013
8/02/13
4:00
PM ET
A year after Bill Parcells retired, the Cowboys went 13-3 and posted the best record in the NFC.

So does Parcells have any regrets about not hanging around at least one more year because there's a good chance he could've taken his third different team to the Super Bowl?

Instead, he wound up with same number of playoff wins as Dave Campo after four seasons. The difference, of course, is that Parcells built the foundation of that 2007 team.

"We had talented players by that time, and it had transitioned from what you would call a smaller, quicker style of play to a bigger more powerful style," Parcells said of the transition to the 3-4 defense. "We had some good backs. We had some pretty good receivers. Tony (Romo) was coming along, but I don't look back at that stuff.

"You decide what you're going to do. You don't base it on what might be in the future because you just don't know."

August, 2, 2013
8/02/13
2:00
PM ET
OXNARD, Calif. – As he sat with opposing players before they had to play against
Larry Allen
, John Madden could notice the dread.
"You didn't sleep easy the night before, hoping you get to play against Larry Allen," Madden said. "They knew it. There's no pro football player that has a fear of another guy that plays on that level, but he was so doggone strong and there wasn't much you could do against him."
Allen will be the 14th Cowboy inducted into the Pro Football Hall of Fame on Saturday, and Madden, a Hall of Famer himself, can't wait to see him in Canton, Ohio. He shares northern California ties with Allen and got to know him over the years.
Madden remembers Joe Greene praising Allen, even if Greene never played against him. He recalls the respect
Reggie White
had for Allen. And he remembers the words coaches like Mike Holmgren and George Seifert had for Allen.
Even Allen's teammates were amazed at what he could do.
"When
Nate Newton
played he came in at 300 pounds, and that was a number that you didn't want to exceed," Madden said. "I remember those days because I coached and those 300-pound guys would be 299, and Nate always fought his weight. He said he always had to be under 300 pounds and he said, 'Then this Larry Allen comes in and he weighs 330 pounds and they're all bragging about it. They never let me weigh 330 pounds, and then we got this guy and I saw him and he was a different 330 pounds than I (had) ever seen.'"
What made Allen so great?
"He had everything," Madden said. "That was the thing he had. He had strength and knew how to use it. There are a lot of guys that have strength and power and don't use it. There are other guys that don't have it and go and get beat. He was the type of guy that could use it at the line of scrimmage and use that in space. He could pull and get at defensive back downfield and he could block at the point of attack and pass protect. That's what makes a great player. You don't say he had one thing. He had everything."
Allen made offensive line play cool, and few were cooler or better than Allen, according to Madden.
"He has to rank right up there at the top," Madden said. "I think you have to go by the ones you've seen, and I've always put John Hanna up there as that guy. I had Gene Upshaw and he's a Hall of Fame guard, and I put Larry Allen right there with that group. There was never a question with me whether or not he was a Hall of Famer. He's one of the all-time great NFL players at his position, and you could make an argument that he's the best, but you'd have to wrestle some other guys for it."
August, 2, 2013
8/02/13
10:18
AM ET
OXNARD, Calif. -- Bill Parcells has not coached the
Dallas Cowboys
since the 2006 season, but his impact on the team remains through the seven players still on the roster.
Tony Romo
,
Jason Witten
,
DeMarcus Ware
,
Jay Ratliff
,
Jason Hatcher
,
L.P. Ladouceur
and
Miles Austin
all played under Parcells in Dallas.
"There's a few left there," said Parcells, who will be inducted into the Pro Football Hall of Fame on Saturday. "They still have my long snapper (LaDouceur), right? There's a few, I don't think too many, but still a few. I look forward to seeing them."
ESPN Dallas asked the remaining players for their favorite Parcells story.
TONY ROMO
Undrafted free agent, 2003
"Going against the Giants the day they put me in at halftime. I remember we were leaving the hotel and he goes, 'Hey, are you ready to go today?' He'd done that before and he's sitting down and I said, 'I'm ready,' and he's just like, 'No, are you ready to go today?' I said yeah. 'Make sure you are.' It was just something different about it in the way he approached it. He was letting me know that if the opportunity came up he had come to the conclusion, I feel like, that if the game wasn't going the right way he was going to go to me. He ended up doing that. I just remember he made me feel very comfortable in the sense of knowing. I had gone three and a half years and played maybe two snaps in the NFL, so it was going to be a big moment for me no matter what, so he allowed me to get a little bit ready. He made it easy on me so I only threw three interceptions in that half."
[+] Enlarge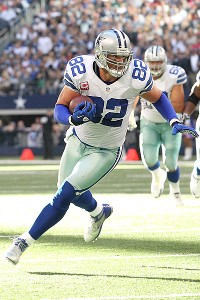 Matthew Emmons/US PresswireJason Witten remembers receiving baby food from coach Bill Parcells during his rookie season.
JASON WITTEN
Third round, 2003
"I broke my jaw my rookie year. I get out of the hospital on a Tuesday and I come in Wednesday morning to the meeting and we had treatment at 6:30 a.m. I come in there and my mouth is swollen. I'm obviously off that week's game and he walks in at 6:45. It's 15 minutes into treatment and there's really nothing they can do other than give me an ice pack to help with the swelling. I'm just kind of there because I have to be there. Bill walks in and looks at Jim Maurer and Britt Brown, 'Where's Witten?' and he made a beeline to me in the corner. I'm still on pain meds, the whole deal. I haven't been out of surgery 24 hours and he's like, 'Listen to me. I've got the key to what's going to get you back out there quickly. Now, I've been here with guys and I've seen guys go through this and the big thing is keeping weight on and your stamina up. You'll be OK. I went to the store and I got you this … ' He pulled out two jars of baby food, sweet potatoes. And he was dead serious. He goes, 'Go get this. There's good calories, good fat. It'll keep your weight on.' And was completely serious about eating baby food. No, I didn't eat it. But it was pretty cool to think he really believed that I could come back and play. And I did play, obviously, the next day. I still think he probably thinks I ate that baby food."
DEMARCUS WARE
First round, 2005
"For me as a rookie coming in, it's your responsibility of getting his Gatorade. You think about getting a guy a Gatorade, and, 'Ah, I can do that every practice,' but he would play mental games with it. He made it challenging to the point where right before the defense and offense guys would get done, he'll go to the other end of the field and I'd have to run all the way down the field to him. He liked orange Gatorade and on the first one I brought to him somebody gave me blue and I ran down and it was wrong, so that was my first mess-up. Secondly, he'd just talk to me the whole time either about
Lawrence Taylor
or some other pass-rushers that sort of played like I did to him. So he'd be on the side of the field and the horn would ring and I had to run full speed all the way back to the huddle, so that was like an extra thing he did. I could tell he had a smirk on his face and he was laughing. He always played those games with me. I figured it out one day. I put the trainer right beside him and told the trainer, 'Hey, just make sure you get him this orange Gatorade. You see me running down, just make sure it's right no matter what.' He'd start talking to me and I was like, 'Coach, I'll be right back. I've got something to do.' He figured it out though pretty quick."
[+] Enlarge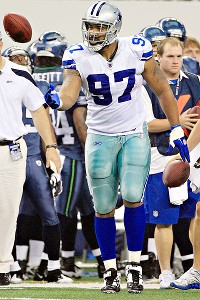 AP Photo/Tony GutierrezJason Hatcher calls Bill Parcells one of the best coaches that he's ever had.
JASON HATCHER
Third round, 2006
"My favorite Parcells story kind of stunk for a minute, but it was my rookie year and I had a baby. My wife went into labor at like 1 o'clock, so we were at the hospital at like 5:30 in the morning. I called Bill and I said, 'Coach, my wife just had a baby. No one is in town to kind of support her, what should I do? He said, 'I tell you what, you do what you think is best.' I did what I thought was best and stayed with my wife. About three hours later my D-line coach called and said, 'You got to get up here at 5:30 (in the morning) and watch all the film.' And Bill fined me $5,000. But I ended up not having to pay thanks to
Jason Ferguson
and
Terrell Owens
. They went and got it changed for me. But just a great guy; I don't hold that against him. That's just who he is. He's a straight shooter, and if not for that guy, I wouldn't be here. That's one of the best coaches I ever had."
MILES AUSTIN
Undrafted free agent, 2006
"He was always hard on me. Todd Haley was our receivers coach and he made sure Todd was always hard on me. I remember we played a game in Atlanta and I broke my hand. I never broken anything during a game, especially up to that point because I didn't play much football, but I remember thinking, 'Damn, my fingers are messed up.' I don't know if I should talk to a trainer or what. I'm like working my way over to trainers, about to say something and he's like, 'Miles, get back in there. Tape it up.' They literally gave me like an Advil essentially and taped me back up and played the game. But it's one of the things you're glad you did it later. At the time, I'm like, 'Oh, my goodness, I've still got to kick return. I've got to cover kicks and run and tackle somebody and my hand is banged up.' It's one of those things where you're happy you did it afterward. Those are the coaches you look at that you remember and feel a great way toward because they're the ones that helped you through adversity."
L.P. LADOUCEUR
Free agent, 2005
"We were at camp my first (full) year in 2006 and I go to weigh in, and right as I weigh in he's sitting there with Joe Juraszek and he tells me, 'There's the only guy who doesn't have any competition at camp,' and I'm like, whatever. He says, 'Don't you forget that I got four guys lined up just for you.' Hahahahahaha. He was just playing with me head, but he was good at it. He knew what he was doing. He's in the Hall of Fame, so he did something right a few times."
JAY RATLIFF
Seventh round, 2005
"My draft call on draft day, I don't remember what Jerry (Jones) said, but I remember Bill getting on the phone and he says, 'Well, I guess we're going to draft you,' and in my mind I'm like, 'You guess?' I was like, 'Well, Coach, I appreciate the opportunity,' and he's like, 'Yeah, yeah, yeah, you'll get a fair shot,' and he hung up the phone. That's been my motivation ever since."
August, 1, 2013
8/01/13
12:16
PM ET
OXNARD, Calif. -- We've all heard stories about
Larry Allen
's strength, power and the raw athleticism that made him one of the best offensive linemen ever.
We can all recite the stories about him bench-pressing 700 pounds and chasing New Orleans linebacker Darion Connor 50 yards to prevent a touchdown as a rookie.
And we've all seen video of him destroying linebackers and defensive backs when he pulled, creating running lanes for
Emmitt Smith
.
"Across the board, he was the best football player I ever played with -- and I played with them all," former Cowboys safety
Darren Woodson
said. "
Troy [Aikman]
, Emmitt,
Michael [Irvin]
,
Deion [Sanders]
... Larry Allen was the best.
"He was also the smartest."
Say what?
That's right. Talk to any player or coach who played with Allen during his 12 seasons in Dallas and they'll tell you he was among the game's most intelligent players.
Former offensive line coach Hudson Houck used to joke that Allen was the best offensive linemen on the field and in the classroom.
"He wanted to know everyone's assignment," six-time Pro Bowl guard
Nate Newton
said. "If the quarterback was rolling out, he wanted to know exactly where he was supposed to end up so he could adjust his block properly.
"He always asked a lot of questions, but he asked a lot of smart questions. He always wanted to know what we were supposed to do if the defensive player didn't do what we thought he would do."
Allen was a second-round pick from tiny Division II Sonoma State in the 1994 draft. Six games into the season, he was starting. The six-time All-Pro played every position except center on the offensive line.
"Do you know how smart you have to be to go from playing at Sonoma State to starting for a two-time Super Bowl champion?" Woodson said. "Think about how big that jump is. Think about the kind of offense we had in Dallas and what he ran at Sonoma State.
"I don't know how Larry did in math or what kind of grades he made, but he understood everything about football and concepts and that's what helped make him a great player. He anticipated things because he knew where everyone was on the field and he could adjust."
NFC EAST SCOREBOARD
Sunday, 10/26
Monday, 10/27