NFC East:

2013 NFL awards
February, 2, 2013
2/02/13
9:15
PM ET
NEW ORLEANS -- A big night continued for the NFC East when
Dallas Cowboys
tight end
Jason Witten
was named the NFL's Walter Payton Man of the Year. The award is the only one of the night that honors a player's off-field contributions, and Witten beat out fellow finalists
Larry Fitzgerald
of Arizona and
Joe Thomas
of Cleveland.
I wrote about Witten
and this award a couple of days ago, and it suffices to say that I'm more impressed with this than I am even with
Robert Griffin III
's Offensive Rookie of the Year Award or any of the other football-based honors being handed out at the NFL Honors show here tonight. Nothing against any of those guys or the remarkable things they accomplish on the football field, but take a moment to realize why Witten's being honored.
Witten is being honored because he helps fund, establish and improve battered women's shelters in Texas and Tennessee. Himself a childhood victim of domestic violence, Witten's SCORE foundation works to install positive male role models in these shelters whose job it is to demonstrate appropriate adult behavior to the children who are growing up in them. This is a guy using his status as a football hero to make the world better. And he's doing that in a real, on-the-ground way -- not just flinging money at a problem.
And yes, there are players all across the NFL and other sports who do this, too, in their own way, including Fitzgerald and Thomas. I just think it's a great thing the NFL does to incorporate this award into its annual awards show and elevate it to the status of the MVP and other awards on which people spend so much time and attention. Football is great, and we all enjoy it very much, but it's just a game. The work Witten's doing is about real life. And that's why I think he won the best award of the night.
February, 2, 2013
2/02/13
8:31
PM ET
NEW ORLEANS --
Washington Redskins
quarterback
Robert Griffin III
was named the NFL's
Offensive Rookie of the Year
at the league's awards ceremony here Saturday night. The vote wasn't even close. Griffin got 29 votes while Colts quarterback
Andrew Luck
got 11 and Seahawks quarterback
Russell Wilson
got 10.
And while many will and should make the argument that the race was closer than the final vote indicates, the significance of Griffin's accomplishment must not be understated. To win this award in this season from among this field of all-time great rookie quarterbacks is a genuinely outstanding honor. The 2012 rookie class of quarterbacks appears to have been an all-timer, and the debate about which of the three is the best has a chance to rage on for a decade or more. Griffin, by virtue of his award, starts with the lead.
It would have been no great injustice if either Luck or Wilson had won the award. Each of these three was outstanding and made a strong case. Each had plenty of numbers to back him up -- Luck with the rookie passing records, Wilson with the brilliant second-half stats as he also led his team to the playoffs, Griffin with the dazzling rushing numbers (before he hurt his knee) to augment his historically accurate passing stats.
[+] Enlarge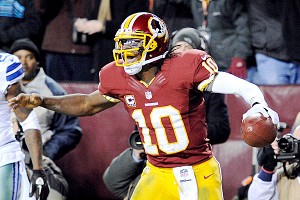 AP Photo/Nick WassRobert Griffin III easily outdistanced fellow QBs Andrew Luck and Russell Wilson to win the award.
What I think probably set Griffin apart in the minds of the voters is the dramatic degree of his impact. All three of these rookie quarterbacks led their teams to the playoffs, and Luck's team had won only two games the season before (which is why they got Luck). But there is a perception, and a pretty well justified one, that Griffin singlehandedly dragged a sagging Redskins franchise from two decades of doldrums and made them exciting, interesting and relevant again. The Redskins' lack of a franchise quarterback over the past 20 years had become the sad story of their entire organization, and the driving force behind the decision to trade three first-round picks and a second-round pick for the chance to draft Griffin. That he made as good as he did on that trade, and that he did so right away and in such breathtaking fashion, may have set him apart.
After all, the Colts weren't that far removed from the excellence of the
Peyton Manning
era, and the Seahawks had kind of been looking like a team on the come under Pete Carroll. The Griffin story was one of a dazzling young savior come to answer the desperate yearnings of a once-great franchise that was stuck in a ditch. You could argue that he was simply the best of an excellent bunch, and he might well have been. But I think either of those other two guys could have the same said about them. Griffin was somewhat uniquely the perfect man for his time and situation, and what he did in 2012 was no less than transform a franchise.
We don't know what awaits him -- whether the recovery from his ACL reconstruction will delay the start of his second season or limit him in the long term. But this is a rookie of the year award, based solely on the accomplishments of this one season. In that context, Griffin is a worthy winner. And as I'm sure he'd tell you, beating out the two brilliant young quarterbacks he beat out makes it even more impressive.

NFC EAST SCOREBOARD
Thursday, 8/21
Friday, 8/22
Saturday, 8/23