NFC East:

2013 NFL owners meeting
March, 20, 2013
3/20/13
4:15
PM ET
PHOENIX -- Everybody wants to know what Chip Kelly's
Philadelphia Eagles
offense and defense is going to look like. So does he. As Kelly pointed out Wednesday in answer to questions about the schemes he intends to run in his first year as an NFL head coach, he hasn't had a chance to get his players on the field yet. And he doesn't think it's right to impose a "system" on a group of players without first getting a handle on what they do well.

"Our defensive staff understands, just like our offensive staff understands, that everything you do has to be personnel-driven," Kelly said. "So we can say we want to run this defense, but if we don't have the personnel to do it, we still have to play games. So how do we adapt? How do we adjust? The process is about evaluating what you have and then finding out what their strengths are and how to play to their strengths and also how to hide their weaknesses."
Many have assumed the Eagles will run the kind of fast-paced offense Kelly's teams ran at the University of Oregon. And the hiring of Billy Davis as defensive coordinator led many to believe the Eagles would run the "4-3 under" type of defense Davis ran when he was defensive coordinator in Arizona. But Kelly has repeatedly resisted labels or descriptions for his planned schemes and alignments because he (wisely) wants to get a handle on what kind of roster he has before imposing structure on it.
So while I know everybody wants to know what roles
Trent Cole
and
Brandon Graham
will have if the Eagles line up in a 3-4 alignment instead of a 4-3, and how
DeSean Jackson
will be used on offense. But as we have discussed many times here, you don't hire a star college coach like Kelly to coach your NFL team because you liked the system he ran at Oregon. You hire him because you think he's smart and open-minded and has the ability to lead men. And the best way to lead men as an NFL head coach is to first find out what kind of men you have then figure out the best way to succeed with them.
Coaches who come in determined to do things their way, and add personnel that fit their idea of the proper scheme, aren't the ones that last. If Kelly is smart, as he appears to be, he'll find ways to use talented guys like Cole and Graham even if they don't fit defined roles and terminology Davis used in Arizona. He's operating as though he's still at the start of a long-term process. He gets one extra minicamp since he's a new head coach, and he said he's going to have it the week before the draft. That's when he'll start figuring out who goes where, and I think if you're an Eagles fan you can be intrigued and excited to follow along as he pieces it all together between then and the start of the season.
March, 20, 2013
3/20/13
2:55
PM ET
PHOENIX --
Dallas Cowboys
coach Jason Garrett said Wednesday that nothing has changed with regard to the decision on whether he'll continue to call the team's offensive plays in 2013. Garrett has been the playcaller on offense since before he was head coach and has said in the past that he didn't want to give up those duties. But there has been much discussion about the team making such a change this offseason, and for a while it appeared team owner Jerry Jones was set to either bring in a playcaller or hand the duties over to offensive line coach Bill Callahan.

Garrett
That hasn't happened, however, and it certainly seems as though
Garrett is resisting
:
"The job of a head coach is a significant one with a lot of responsibilities," Garrett said. "The job of an offensive coordinator/play-caller is a significant one with a lot of responsibilities. And I understand it because I have been doing it for the last two and half years. There is a reason that 28 of the 32 head coaches don't do it. But there are some compelling examples as to why you do do it. It's been something that has been relatively successful for us."
I have to think this is more about organizational control, however, and Garrett not wanting to give up the degree of that control he currently possesses. There are strong indications, their denials notwithstanding, that the changes made to the coaching staff this offseason were made by Jones and not Garrett. The Cowboys' coach may be trying to fight off a public perception that he has no say in how his team is run, and holding onto play-calling duties could be a line in the sand for him.
I think it's possible that ridding himself of play-calling duties could be a good thing for Garrett and make him a better head coach. He seems to be doing the head-coach part of his job well. He has the respect of his players and control of the locker room, and the Cowboys held together through a great deal of adversity in 2012 to contend for the division title until the final day of the season. Handing over play-calling duties to someone else he trusts could help him continue to flourish in his other role.
However, one of the key issues is whether Callahan's the man for the job. He has his hands full already with a messy offensive line that needs improvement and might yet add a couple of key pieces before the start of the season. The performance of last year's offensive line wasn't exactly promotion-worthy, either. Change for change's sake isn't usually a good thing, and if this is a change the Cowboys plan to make, I think they need to consider what they gain from it before pushing ahead.
March, 20, 2013
3/20/13
1:50
PM ET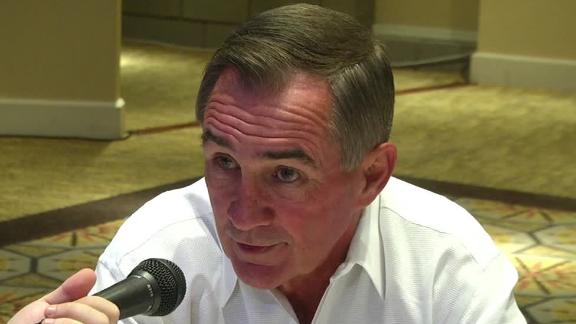 PHOENIX -- As
Washington Redskins
quarterback
Robert Griffin
III recovers from offseason knee surgery, the discussion about him focuses on the question of whether he can keep himself safe from further injury. The way he plays -- using his legs to extend plays or break down a defense -- lends itself to greater danger than that to which a more traditional pocket passer might be exposed. And the read-option offensive schemes the Redskins used in Griffin's rookie year necessarily expose quarterbacks to greater harm as well.
Griffin
For those reasons, Redskins coach Mike Shanahan says it's important for Griffin to work on ways of
keeping himself safe
on the field -- throwing the ball away when it's called for, sliding at the end of runs. These are things Shanahan believes Griffin hasn't had to do in the past, as he dominated at the college level, but can and will learn with experience.
And I think that's the important thing to keep in mind when we talk RG III -- that he's not a finished product. I don't think it's fair or safe to assume the offense the Redskins ran with him in 2012 is the one they plan to use for his entire career. I think it's entirely possible that he could flourish as a pocket passer and that the Redskins drafted him with that belief as well. Shanahan spoke Wednesday of the read-option's value as a psychological weapon against defenses, saying it doesn't matter how many times they run it in the game as long as the opponent has had to spend part of its preparation time worrying about it. Less read-option as Griffin's career progresses would not be a surprise.
Griffin is also a very intelligent young man who seems interested in having a long and successful career. I wouldn't be surprised if, come November, we're writing about ways in which his game looks to be evolving, with self-preservation taking a more prominent role. As Shanahan spoke of Griffin's need to keep himself safer, I didn't think he was expressing concern about whether he could.
In other Redskins news
, the team has reached agreement on a
contract
with former Buccaneers cornerback
E.J. Biggers
, who could be the replacement for
DeAngelo Hall
or could be the No. 3 cornerback if the Redskins find someone else better in free agency or in the draft.
March, 20, 2013
3/20/13
12:18
PM ET
PHOENIX --
New York Giants
coach Tom Coughlin's table was right next to
Philadelphia Eagles
coach Chip Kelly's table at the NFC coaches breakfast this morning at the NFL owners meeting, and Coughlin perked up when asked about the Eagles' new head man.
"He should have been coaching for me!" Coughlin said. "I offered him a job one time. We interviewed Chip for a quality control position a long time ago."
Coughlin said that Kelly and Dave DeGuglielmo, who was a Giants assistant from 2004-08, were good friends and that DeGuglielmo recommended Kelly for a job while Kelly was coaching at New Hampshire. Coughlin remembers being impressed by Kelly, but he said Kelly wanted to be the quarterbacks coach and all the Giants had open at the time was the quality control coach job.
"We thought highly of him when we brought him in," Coughlin said. "Obviously, he's done very well."
Andy Reid is the only Eagles coach against whom Coughlin has competed since becoming coach of the Giants in 2004, and he admits that there will be challenges associated with the unknown aspect of what Kelly plans to run when the Giants play the Eagles for the first time in 2013.
"We're going to prepare for what the young coach has done so very, very well," Coughlin said. "What else would you do? And we're going to have preseason games and we're going to have to do some speculating, I'm sure."
March, 20, 2013
3/20/13
10:20
AM ET
PHOENIX -- Rich Campbell of
The Washington Times
asked
New York Giants
owner John Mara about his status as Public Enemy No. 1 among
Washington Redskins
fans since the management council (of which he's the chair) imposed $36 million in salary-cap penalties against the Redskins a year ago. Mara played along:
It was at these meetings last March when he told reporters the Redskins violated "the spirit of the salary cap" during the uncapped 2010 season. "Quite frankly, I think they're lucky they didn't lose draft picks," he said.

Mara believes those words prompted his vilification.

"I think that's where it comes from, but it's over and done with," he said. "It didn't exactly hurt them. They put together a hell of a team last year."
Mara also told Rich that he is not the one who orchestrated the penalties, instead shifting the responsibility to "the league office and the players' association," which is a bit disingenuous since the NFLPA was not involved in this situation until Mara and the management council decided on the penalties and the league had to strong-arm the players into signing off on them under threat of a reduced league-wide salary cap. Mara earned his villain status among Redskins fans by leading the charge for the penalties long before that time and by publicly defending them a year ago.
But as he points out, the Redskins won the division last year and the Giants missed the playoffs.
March, 19, 2013
3/19/13
5:38
PM ET
PHOENIX -- The reason the
Philadelphia Eagles
were active in the early days of free agency wasn't that they set out to be aggressive but rather that they found prices that pleasantly surprised them. So said GM Howie Roseman on Tuesday at the owners' meetings. Roseman cited cornerback
Cary Williams
and pass-rushing linebacker
Connor Barwin
as two of the players whose deals he felt were low-risk for the team, and he indicated that the approach would continue.
Per Geoff Mosher
:
The Eagles can still afford to upgrade their offensive line and find another five-technique defensive end for their 3-4 defensive scheme, but Roseman on Tuesday indicated that he's not looking to spend on patchwork talent.

"Most importantly, I don't see a circumstance where we get someone that we think is just a one-year guy," he said from the Arizona Biltmore lobby at the NFL's annual owners meetings. "Anything we do at this point would be someone who we think has a future as we build this program, because that's where we are now."
If they sign another big name, it likely would be one of the free-agent offensive tackles near the top of the market -- Cincinnati's
Andre Smith
or New England's
Sebastian Vollmer
. But since the top tackle,
Jake Long
, didn't sign until just a couple of days ago, that market has been slow to develop. If it develops in the Eagles' favor, Smith or Vollmer would fit the description of a longer-term solution (as opposed to
Eric Winston
, who likely would not). But the point Roseman seemed to be trying to make was that the Eagles aren't looking to spend simply because they have cap room.
I think they ought to be players for the tackles as acquiring one would allow them to move
Todd Herremans
inside to guard and strengthen and deepen their offensive line overall. After last year, when they lost four starting linemen to injury, the Eagles have to be conscious of the importance of quality depth there. Of course, there's also the chance they could take a tackle with the No. 4 pick in next year's draft.
March, 19, 2013
3/19/13
4:30
PM ET
PHOENIX --
Aqib Talib
was a pipe dream, a cornerback solution that wasn't realistic for the
Washington Redskins
so long as there were other teams bidding on him in free agency. It was nice to think about, since he'd have fit their need in the secondary so well, but the reality of the Redskins' salary-cap crunch is that first-week free agents weren't going to be there for them this year.

So as discussed in
this Washington Post story
, the Redskins are on to Plan B. They believe they can succeed in the draft, even without the first-round pick they traded away last year in the
Robert Griffin
III deal, and they don't want to restructure current contracts just to fit in one-year free-agent fixes. But that doesn't mean they won't sign
anybody
. The cornerback and safety markets in particular have yet to really take shape, and the Redskins will be patient and see what sorts of bargains shake out for them later in the process.
You want names, though, and while I understand that it's very difficult to give you any beyond speculative ones. They Redskins could pursue an older veteran such as Tampa Bay's
Ronde Barber
, who doesn't fit their usual free-agent profile but might be worthwhile as a one-year stopgap. He has ties to secondary coach Raheem Morris, who used to coach the Buccaneers, and a veteran presence that would be welcome in the locker room. Free-agent
Antoine Winfield
would be a similar option at cornerback if they decide to go the older-guy-for-a-year route.
Failing that, look to younger free agents whose value might be suppressed due to some reason that could be overcome. Someone like former Dallas cornerback
Mike Jenkins
, who wasn't a starter for his own team last year but has experience as one and could be looked on as a potential value pickup because he didn't play as much last year.
I'd recommend using
our free-agent tracker
and looking through the cornerback and safety pages for guys who might fit into those types of categories. I do not know who the Redskins will sign or when they will sign someone. But they do still need help in the secondary, and the early part of free agency just wasn't going to offer it for them this year.
March, 18, 2013
3/18/13
9:03
PM ET
PHOENIX -- The NFL announced the ever-popular compensatory draft picks Monday, awarding extra picks to 16 teams whose net losses in free agency last year were deemed by the league's formula to have outpaced their net gains. The
Philadelphia Eagles
and the
New York Giants
each added a seventh-round pick. The Eagles' extra pick will be the 239th of the draft. The Giants' will be the 253rd.
Neither the
Dallas Cowboys
nor the
Washington Redskins
, who were both very active in free agency last year, received any compensatory picks.
The formula for determining these picks is not strictly a 1-for-1 equation. For instance, the Giants got a pick even though the number of compensatory free agents they lost (
Mario Manningham
,
Aaron Ross
and
Dave Tollefson
) was equal to the number they signed (
Martellus Bennett
,
Sean Locklear
and
Shaun Rogers
). The reason is that, according to the formula, what the Giants lost in free agency was more than what they gained. The formula, the league's official release says, is "based on salary, playing time and postseason honors."
The Eagles got the extra pick because they lost
Juqua Parker
and
Steve Smith
and signed
Demetress Bell
. It's safe to assume they wish Bell had performed well enough to prevent them from getting an extra seventh-round pick this year.
March, 18, 2013
3/18/13
9:55
AM ET

PHOENIX -- If you were hoping, as the
Washington Redskins
were, that they would come out here to the NFL owners meetings and be able to convince the league to give them back some of the $36 million in salary cap room it took from them last year as a penalty for the way they structured some contracts in the uncapped 2010 season, you can stop hoping.
According to Mark Maske of The Washington Post
, a recent series of discussions between the Redskins and the league went nowhere, and the league continues to hold firm in its refusal to reduce or eliminate the penalties.
The Redskins had $18 million taken from their salary cap last year and $18 million again this year. The
Dallas Cowboys
were penalized $5 million last year and $5 million this year for the same murky reason. The cap room was redistributed evenly among 28 of the other teams (everyone but the Saints and Raiders). Partly as a result, the Redskins and Cowboys had to struggle just to get under the cap by the start of the league year last week and have not been able to do much maneuvering since free agency began.
It was always a pipe dream for the Redskins to think they could get this fixed. As soon as Giants owner John Mara, the chairman of the committee that levied the penalties, came out at last year's league meetings and angrily asserted that the Cowboys and Redskins were "lucky they didn't lose draft picks" for their perceived offenses, it was clear the league was dug in on this. There was no harm in trying, of course, but to believe the Redskins would ever get relief would have been to ignore what was actually going on. The owners insist they agreed on certain unwritten rules of behavior regarding contracts in the uncapped year and that the Redskins and Cowboys violated those rules. End of story. At least I think it is, this time.
March, 17, 2013
3/17/13
9:55
PM ET
Cruz
PHOENIX -- Interesting
New York Giants
-related nugget from the first day of the owners meetings here Sunday. Co-owner Steve Tisch, talking about restricted free-agent wide receiver
Victor Cruz
, was asked if he thought the two-year, $6 million contract slot receiver
Wes Welker
signed with the
Denver Broncos
was a benchmark.
"I think Victor will get higher than that," Tisch said.
Which is the ultimate in self-fulfilling prophecies, right? I mean, if the team thinks he should get more than Welker, that would certainly seem to indicate he ultimately will. It's extremely doubtful that the agent would hear something like this and start negotiating downward, insisting that Cruz make less than Welker.
Anyway, the whole thing backed up my belief that the contract dispute between Cruz and the Giants breaks down along philosophical lines regarding what kind of receiver he is. If the Giants view him as a slot receiver and are willing to pay him more than Welker, who's the best slot receiver of his generation and a player on whom Cruz has said he modeled his game, then you can see why the Giants think they are being generous with their offer. But if Cruz is looking to cash in on his two huge seasons with top-receiver money based on the idea that his production stacks up with that of the top receivers, then it's unlikely the Giants are going to move up into his ballpark.
Round and round it goes. I still think it gets done eventually.