NFC East:

2013 NFL owners meetings
March, 18, 2013
Mar 18
6:13
PM ET
PHOENIX -- They said this would not happen. As someone who hated the idea of an outdoor Super Bowl in the Northeast from the moment it came up, I distinctly remember NFL commissioner Roger Goodell saying this would not happen. This was back when they announced that the 2014 Super Bowl would be held at MetLife Stadium in East Rutherford, N.J., and one of the many questions (along with "What the heck are you guys thinking?") was whether this meant other outdoor northern venues would become candidates for future Super Bowls as well. Goodell said no, that this New York thing was a one-time, special opportunity.
Nevertheless, at the NFL owners meetings on Monday,
Philadelphia Eagles
owner Jeffrey Lurie said he'd push for a Super Bowl in Philadelphia if the New York/New Jersey game is a success.
"I will, yes. I will, if it's a success," Lurie said. "New York will help us."
Lurie offered the NFL party line bit about how cool it is when football's played in the snow, asserting he has great memories from growing up in Boston and watching games played in the snow. And he said he thinks, as long as it's no threat to public safety, it'd be great if next year's game had a little bit of snow.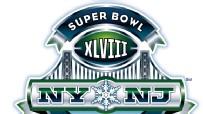 AP Photo/NFLLook, there's a snowflake there in the 2014 New Jersey/New York Super Bowl logo.
But again, as was the case when the New York/New Jersey idea came up, this clichéd and myopic argument ignores the many, many reasons not to do this. Ever again. Having the game in New Jersey next year is a monumental mistake, and the NFL will be lucky if it goes off without a hitch. The league should absolutely not press its luck by trying to do it again in Philadelphia, Washington, D.C., New England, Chicago or any such place where the threat of a weather-related, game-day mess is added to the threat of weeklong logistical havoc akin to what happened when they had a freak ice storm in 2011 in Dallas.
As I write this, according to weather.com, it is 36 degrees in the fine city of Philadelphia. "Areas nearby," the page I'm looking at tells me, "are reporting a mixture of rain and snow." It is also currently 44 days since the Super Bowl was played. That's more than six weeks gone by from Super Bowl Sunday, and the Northeast is still dealing with the very real daily threat of messy weather. Why, I continue to ask, would the NFL want to invite this to its signature event? And before you answer, please consider that the Super Bowl, from the NFL's standpoint, is not simply one game at 6:30 p.m. on a Sunday, but rather a weeklong festival of football to which the whole world comes, hoping to have a good time and party. It is important to the NFL that the entire week -- not just Sunday night -- go well. Dallas was an embarrassment, but at least that could be dismissed as a fluke because they don't generally have winter storms in Dallas in February.
They do, generally, and somewhat frequently, have winter storms in northern New Jersey. They have them in Philadelphia. The idea that the NFL would want to hold its signature event in a place where this is not only possible but likely -- and then also bring game day into the potentially messy equation by playing the Super Bowl in a cold-weather stadium without a roof -- is senseless and always was. The league is already juggling next year's schedule for Super Bowl week in ways it wouldn't have had to if sense had prevailed. There will be no "NFL Experience," because there's nowhere to put it. Media Day will be in a hockey arena in Newark, N.J. because the NFL doesn't want to risk having it outside in bad weather. The league has reportedly discussed contingency plans for moving the game to Saturday or some other day of the week if there's a big storm. "Super Bowl Friday" just doesn't have the same ring, right? Why invite these problems? And why more than once?
I hold to the belief that the New York/New Jersey Super Bowl was part of the deal with the owners of the Giants and the Jets when they agreed to build their new stadium. The league hasn't come out and said that, but I believe it to be the case. And if it is, fine. They've all made worse backroom deals, I am sure. But this should be where it stops, and if next year's game happens to go off without a hitch, the NFL should not allow that to change its mind about the outdoor northern Super Bowl as a repeatable concept. It's a bad idea and will continue to be a bad idea whether the league gets lucky next year or not. I thought, when this came up the first time, that Goodell had made it clear to other owners that this did not open things up for places like Philadelphia to follow suit. I think the NFL should make that clear again, tell Lurie to stand down, hope next year's Super Bowl goes off without any gigantic problems and then start putting the game back in places like Miami and New Orleans, where it belongs.
March, 18, 2013
Mar 18
4:55
PM ET
PHOENIX --
Dallas Cowboys
executive vice president Stephen Jones said the team is continuing its discussions with quarterback
Tony Romo
on a contract extension and that he believes they will eventually reach an agreement. Jones acknowledged it would be nice to reduce Romo's very high 2013 salary-cap cost, but he did not indicate any particular deadline or hurry for reaching a deal.
[+] Enlarge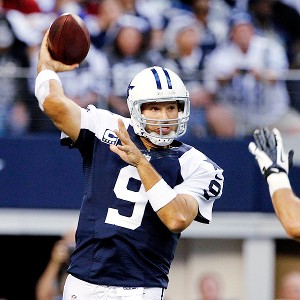 AP Photo/Tim SharpThe Dallas Cowboys are intent on getting a new deal done with quarterback Tony Romo.
"There's never really a start or stop time with Tony," Jones said in the lobby of the Arizona Biltmore. "I do think it will get done."
The Cowboys would like to lock up Romo long-term before his contract expires at the end of the 2013 season. Reducing this year's cap cost by spreading out signing-bonus money from a new deal over future years would be one benefit of that, but that's not the sole motivation. The Cowboys like and believe in Romo as their starting quarterback and want him around for a long time. Asked which was a higher priority, Romo's new deal or a new long-term deal for defensive end
Anthony Spencer
, Jones didn't hesitate.
"Tony's," he said. "Quarterbacks take precedence."
Jones didn't make much of the extent to which the team's salary-cap concerns have limited its ability to maneuver this offseason -- even as he revealed that the team had re-signed linebacker
Ernie Sims
to a veteran minimum deal and was down to "five figures'" worth of cap space.
"We were never going to be big players in free agency this year," Jones said. "We played there last year, and we felt like we did some good things, and we've got to see what the end results are. A big focus for us is on this draft. We need to draft well."
They do, indeed. Jones said he thinks that offensive linemen such as
Nate Livings
,
Mackenzy Bernadeau
and
Doug Free
will play better in 2013 than they did in '12. And he said the team thinks it has its two starting safeties already on on the roster, citing
Barry Church
and
Matt Johnson
. He acknowledged that the Cowboys can't count on Johnson, who was a midround pick last year and missed the whole season due to injuries, and he said he wouldn't be surprised if they added a veteran safety. But the draft is the Cowboys' only significant means of filling the holes on their roster right now, and they need to find 2013 starters in the early rounds. Especially on the offensive line.
In terms of line specifics, Jones said no decision has been made on Free, who would save the team $7 million in salary-cap space as of June 1 if cut.
"I think he improved last year," Jones said of the Cowboys right tackle. "Obviously, toward the end of the year, when the competition got going there, he played some of his best games."
I still think they'll upgrade at tackle, but since they don't know for sure whether they'll be able to do that with their first-round pick -- and since they can't get the savings until June anyway -- it makes sense for the Cowboys to hold on to Free for now and delay their decision until they know who his replacement will be.