NFC East:

2013 NFL Week 1 Double Coverage
September, 6, 2013
9/06/13
12:00
PM ET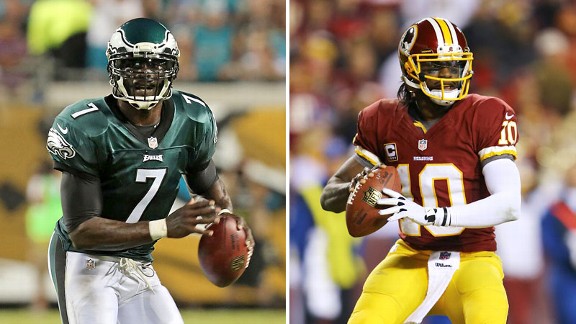 Getty ImagesThe Eagles' Michael Vick and Washington's Robert Griffin III meet in an important early showdown.
A matchup between the
Washington Redskins
and
Philadelphia Eagles
doesn't always need extra sizzle. It's not the main rivalry for either team, at least in the eyes of the fans, but it is one that has been entertaining and memorable over the years.
This game will be different. This time, it's the NFL debut for Eagles coach Chip Kelly. Not that anyone in Washington is paying close attention to Kelly. They're too distracted by the fact that quarterback
Robert Griffin III
will be playing in the opener exactly eight months after surgery on his right knee. ESPN.com's Redskins reporter John Keim and Eagles reporter Phil Sheridan provide their Double Coverage preview.
Sheridan:
How will Griffin's lack of live action since his knee surgery affect the Shanahans' approach on offense?
Keim:
I don't think it will have a major impact. Last year Griffin's first game back after his initial injury was against the Eagles. The Redskins did not use the zone-read option all that much and Griffin ran only one time in that game. They admitted that Griffin's knee situation affected what they called. But Griffin is healthy now, so I don't think they'll limit what he can do at all. If they don't run a lot of the zone-read, or if Griffin doesn't take off, I think it will have more to do with what the Eagles are trying to do defensively (or in what they're unable to stop: the run) than anything. They didn't use the zone-read a lot last season against the Eagles (
Alfred Morris
ran it from this look four times combined in their two meetings; Griffin threw five passes from the zone-read fake in those two games -- all in the second meeting when he was still hurt).
Keim:
How much of what we saw Chip Kelly run at Oregon will be used in Philly?
Sheridan:
My guess, and there can be nothing but guesswork at this point, is quite a bit. Kelly ran the ball a lot more at Oregon than is widely understood, and he has very good backs in
LeSean McCoy
,
Bryce Brown
and
Chris Polk
. There will be package plays and some read-option and some gimmicky stuff as well. I get the feeling Kelly sees this season as a kind of test kitchen to see what works and what doesn't in the NFL. So I think he'll run much of his Oregon offense and adjust as he goes.
Sheridan:
Will the Eagles see the Robert Griffin III who dominated them so thoroughly last season?
Keim:
A tough one off the bat, only because we really haven't seen him in live action since the Seattle game. When we saw him in 11-on-11 this summer, it was against the scout team. Last summer we had a strong idea of what he could do (and what they would run in the regular season). But the key for Griffin is that he's not limited in any way, and when we would see him run in practice, he clearly still has his speed. In some ways they'll see an improved version of the player they saw last season, thanks to an offseason devoted to film study. So I think they'll see someone even more committed to throwing the ball; last season at this time he was more apt to take off running even in practice. I didn't see him do that; again, it was against the scout team but even in 7-on-7 last season he would sometimes run. This year he'd find his checkdown. And the last reason he'll be helped: The Redskins have a healthy offense, something they never fully had in 2012. Receiver
Pierre Garcon
, tight end
Fred Davis
and third-down back
Roy Helu
are all healthy and key parts of the passing game.
Keim:
What do you think will pose the biggest problem for defenses?
Sheridan:
The Eagles' speed, and I'm not really talking about the no-huddle, go-go tempo here. That will be part of it, for sure. The Eagles will push the pace and try to wear defenders down, no doubt about that. But from
Michael Vick
to
DeSean Jackson
to McCoy, this is a fast team. Kelly's scheme is built on creating mismatches and turning that speed loose in space. If he's able to do that, then the Eagles will be able to score a lot of points.
Sheridan:
How much better will the Washington defense be with a healthy
Brian Orakpo
?
Keim:
The hope for the Redskins is that it's a lot better. I think that's a legitimate hope, because of the trickle-down effect. Orakpo is not
DeMarcus Ware
, and his career-best sack total is 11 (as a rookie). But Orakpo is good at setting up others, and he allows the Redskins to use more four-man rushes than they did a year ago in trying to generate pressure without him. They won't always get to the passer doing this, but it will provide needed help for the coverage and a secondary that struggled in 2012. In the rush, Orakpo's impact will be big on end
Stephen Bowen
. They work well on stunts, and with the line paying extra attention to Orakpo more often than not, it should allow Bowen to face more one-on-one blocking than he did last season. That allows him to collapse the pocket. On the other side,
Ryan Kerrigan
will be helped for two reasons: One, he's not the focal point of most blocking schemes now; two, he's excellent at getting to the quarterback after others have collapsed the pocket. But the defense will also be helped by Kerrigan's increased versatility -- he and Orakpo will line up in a variety of spots to rush. And by nose tackle
Barry Cofield
's continued improved play. Those factors, plus Orakpo's return, should elevate the defense from the back end of the pack to the middle.
Keim:
Vick says he feels rejuvenated -- is he playing that way, and does he look good in this offense?
Sheridan:
It must be remembered that Vick says he feels rejuvenated or reborn or rededicated every summer. Kelly rekindled Vick's love for football just as Andy Reid rekindled it several years running. The proof will be in the pudding, as they say. Vick's stellar performance in the first two preseason games was reminiscent of his breakout in 2010 -- Washington fans might remember that especially well. It's hard not to believe a similar decline -- injuries, turnovers, erratic play -- will follow. That is his challenge, to prove that this time he really has gotten a handle on how to prepare and perform like a consistent NFL quarterback.
Sheridan:
NFL defensive coaches must be champing at the bit to take on Kelly (and his reputation). How will Jim Haslett handle being first up?
Keim:
It's a tough task, and one the Redskins put New Orleans in a year ago. You wrote about this in a column the other day, and I think it's probably accurate: You focus on how you've dealt with certain players, like a Vick, in the past. Blitzing him has worked in the past; if they do that now, I'd guess they would try more overloads just to keep six or seven in coverage. I also think you have to show them different looks, get Vick to pause because his first read isn't there. Then I think Haslett will have to rely on preparation. When Kelly goes up-tempo, the players can't hesitate when lining up or in playing. He's fortunate to have a player such as linebacker
London Fletcher
inside. Few in the NFL are more prepared than Fletcher.
Keim:
The Eagles struggled to stop the run this summer, and had moderate success in this area last season. How will they approach defending Morris?
Sheridan:
Moderate success? You kill with kindness, my friend. The Eagles were 23d in the league in terms of rushing yards allowed. That doesn't mean they were stopping the run, though, as much as it meant they were ridiculously easy to throw the ball against. They gave up 33 passing touchdowns (against just eight interceptions) and a passer rating of 99.6. Teams threw early, got the lead and then ran just to kill time. The buzz phrase this season is "gang tackling" -- Kelly and new defensive coordinator Bill Davis have been preaching it all summer. Get to the ball carrier in waves. That has to be their approach with Morris. In the preseason, the Eagles gave up long runs way too often for anyone to feel too confident about them.
Sheridan:
What impact will the presence or absence or limited availability of
Brandon Meriweather
have on Washington's ability to counter the Eagles' speed at the skill positions?
Keim:
He played part of one game last season, the first meeting against the Eagles. In that game the Redskins blitzed the cornerback from the numbers, a spot they had not previously done (always had been from the slot). This left DeSean Jackson free for a moment. But the Redskins had done so because of Meriweather's speed and ability to rotate over quicker than their other strong safeties. The blitz worked. They ran this blitz a couple times in ensuing games, but not against a speed guy like Jackson. Even if he plays, I don't know if Meriweather will be 100 percent. He hasn't been since early in camp last summer. But he adds speed in the secondary, and when facing a team that makes you defend sideline to sideline that's a necessary element.
Keim:
Is this a better team? If so, in what ways other than a fast-paced offense?
Sheridan:
It probably will be a better team, if only because the snowball-rolling-downhill aspect stopped with the change at head coach. There is a palpable change in the atmosphere around the Eagles, and that should translate into a better product on the field. How much better? Probably not dramatically better in the win column, not in the first season. The defense still lacks proven playmakers, and the shift from a 4-3 to a 3-4 is bound to result in some growing pains. On offense, the expectation is that Kelly is innovative and novel enough to make an immediate impact. The return to health of the offensive line will help enormously there. But it is the same quarterback, with the same history of injuries and turnovers, behind center. All in all, this year is a stepping-stone. To what? Well, we should know better after Monday night.
Bonus stat of the week:
-15. That's the drop in rushing touchdowns for McCoy from 2011 (Eagles' record 17) to 2012 (2). Third biggest year-to-year decline in NFL history.
September, 5, 2013
9/05/13
12:00
PM ET
For the third time since 2007, the Dallas Cowboys and New York Giants will meet in a regular-season opener. The Giants have never lost at AT&T Stadium (4-0) but the Cowboys are 6-0 all time against the Giants in season openers, including last year's game at MetLife Stadium. ESPN Giants reporter Dan Graziano and Cowboys reporter Todd Archer bring you their Double Coverage preview:
Archer:
The Cowboys are looking to get off this 8-8 train they have been on the past two years. I'm curious as to where the Giants are entering 2013, two years after winning a Super Bowl.
Graziano:
Well, Todd, Cowboys fans may not want to hear it, but the Giants are trying to get off this 9-7 train. Because the team got raging hot at the end of the 2011 season and won the Super Bowl, people forget that the Giants finished that regular season 9-7, the same record as the 2012 season. The difference is, 9-7 wasn't good enough last season to win the NFC East and get into the playoffs. So the Giants want to stop leaving this thing to the whims of fate. When they beat teams like the Packers and 49ers, as they did last season, that makes them feel as if they can beat anyone. And because they feel that way, they believe they should be better than 9-7 every year. So their goal, they would tell you, is to play more consistently week-in and week-out so that they get up into that 11-win, 12-win range that pretty much guarantees you a playoff spot without having to sweat out the final weeks of December hoping other teams lose.
Can they do it? I'm not so sure. The pass rush really tailed off last year. They had 33 sacks after posting 48 in 2011. The Giants' defense is based on the ability of its front four to pressure quarterbacks, and when it's not doing that, it's a pretty ordinary team. So they're hoping
Justin Tuck
has a bounce-back year and
Jason Pierre-Paul
recovers soon from back surgery. I don't think Pierre-Paul is going to be ready to play Sunday night, but he could. Which reminds me: What's the state of that Cowboys' front four as the start of the season looms?
Archer:
The Cowboys are seeing if they can get Randy White and Ed "Too Tall" Jones out of retirement to help out, which tells you about the state of the defensive line. It's not good right now, and it looks like even if
Anthony Spencer
can play, he will be severely limited by his July 25 knee surgery. The earliest we'll see
Jay Ratliff
is October. So there's
DeMarcus Ware
, who looks great in this move to defensive end, and
Jason Hatcher
, a favorite of yours, I know. Other than that, you're talking about
Nick Hayden
, who wasn't in football last season, and
George Selvie
, JPP's running mate at South Florida.
The backups look even shakier with
Landon Cohen
,
Kyle Wilber
,
Ben Bass
,
Edgar Jones
(picked up Aug. 31 in a trade with Kansas City) and
Caesar Rayford
(picked up in a trade with Indianapolis on Tuesday). Not exactly the Purple People Eaters there, huh? But they must believe defensive line coach Rod Marinelli is a genius. They didn't go after a lineman in the draft and they haven't gone after anybody of note in free agency. I've referred to Marinelli as a pass-rush whisperer. If he can make this group work, then that 0-16 mark in Detroit could be erased. So if the Cowboys can't get to
Eli Manning
, then what can we expect from the Giants' receivers,
Hakeem Nicks
and
Victor Cruz
?
Graziano:
If Manning has time to find his receivers, he is of course dangerous. But the questions with those receivers is health. Nicks was banged up all last year with leg injuries and has been taking it very slowly all offseason, as he's determined to try his best to stay healthy throughout the final year of his contract. Based on the way he's looked in preseason, he's either not fully healthy or he's keeping something in reserve because he didn't want to overtax himself and risk injury in meaningless games. I have a hunch it's the latter, and that he'll be great -- at least until his next leg injury. Cruz is another matter. He bruised his heel 2 1/2 weeks ago in a preseason game against the Colts and didn't return to practice until Monday. He's feeling good, though he remains concerned about keeping the swelling down in that heel as the week goes along. We'll know after a couple of practice days whether he'll play, but at this point I expect that he will. The question is whether he'll have that explosive speed, if he's not sure he can make those hard cuts on a still-sore heel.
Receivers make for an interesting topic in this game. When people ask me which team in the NFC East has the best wide receiver corps, I never know what to say. These days, though, if
Miles Austin
is healthy, I'm inclined to say the Cowboys, because I'm a big fan of
Dez Bryant
. How's he been looking these days?
Archer:
Who is this Bryant guy? Never heard of him. Oh, wait, yeah, now I remember. He's been pretty good this summer. Actually, better than that. Actually, really, really good. He has picked up where he left off last year when he was, to me, the second-best receiver in the NFL, behind
Calvin Johnson
, in the second half of the season. Bryant's confidence has never been higher. Tony Romo's confidence in Bryant has never been higher.
That's not to say there won't be issues, but Bryant looks as if he's ready for a monster season. I'm curious as to how the Giants will defend him. For all of his physical abilities, he still needs to work on beating press coverage. Can the Giants be physical with him? Maybe that's how they go. But the key, in a way, will be Austin. He's healthy, and I say that without the "for now" added to it. If the Giants want to take away Bryant, then that's leaving Austin alone because you know they have to pay attention to
Jason Witten
, too. The Cowboys would appear to have it set up pretty well in that regard, but ... the offensive line. It's a mess, and the addition of
Brian Waters
is probably too late for this week.
What's the state of the Giants' line?
Graziano:
The Giants' line is not in great shape. They lost starting right tackle
David Diehl
and starting center
David Baas
to injury two weeks ago and have had to do a lot of reshuffling. This year's first-round pick,
Justin Pugh
, is now the starting right tackle. Left guard
Kevin Boothe
moved inside to play center, and
James Brewer
, a fourth-round pick from 2011, is starting at left guard. Brewer had never played left guard in a game until last week's preseason game in New England. He was drafted as a tackle and worked some at right guard in the spring. It's an issue worth watching, because they lost a lot of blocking help when they cut running back
Ahmad Bradshaw
and let
Martellus Bennett
leave as a free agent, and they're also without fullback
Henry Hynoski
, who has a knee injury.
Manning, to me, looked uncomfortable at times in the preseason with his protection. He's fine shuffling receivers in and out all of the time. He can make that work. But if he doesn't trust the folks in front of him to keep him from getting hit, it's another matter. Even the backups in Dallas should be able to find a way through that line early, and if they can, they could potentially get in Eli's head and find him in a generous mood. I heard they were working on forcing turnovers out there this year, which is nice, the way they're embracing such new, cutting-edge concepts. Are you seeing a difference in the way the defense goes after the ball?
Archer:
Absolutely. It started at the rookie minicamp when defensive coordinator Monte Kiffin and Marinelli had the players pick up every loose ball, even after an incomplete pass. They wanted to establish a mindset. It's worked. The Cowboys showed they could take the ball away. I remain a little skeptical because the core of these defenders has been around for some time, and only DeMarcus Ware and
Sean Lee
have shown they have a nose for the ball. Maybe throw in
Brandon Carr
, too. But until the whole unit does it, I can't believe these guys will all of a sudden turn into the Bears from last season. They need to have more than last season's 16 takeaways. More possessions equal more points. The offense rarely has been handed short fields to work with after turnovers, or even returns in the kicking game. Too often, the Cowboys have had to drive 80 yards, and we know that's a hard thing to do in this league. Defenses basically wait for the offense to have an unforced error and punt the ball. But the preseason was a good sign that they can take the ball from the defense.
The question is whether Romo & Co. can stop turning it over to the opponents.
I'm interested in the Giants' running backs.
Brandon Jacobs
has been gone for a season. Now Bradshaw is gone. So this is
David Wilson
's club now?
Graziano:
They are expecting big things from Wilson, yes. The initial plan was for him to get the early-down work and
Andre Brown
(eight touchdowns in 10 games last season) to get the goal-line work and the passing-downs work because they trusted him more in pass protection. That's what they'll miss most with Bradshaw -- he's as good a blitz-pickup back as there is in the league. Anyway, Brown broke his leg in the final preseason game last week in New England, and he's going to go on short-term IR. So Wilson likely gets those goal-line touches back, and they'll hope he's mastered the protection schemes enough to handle third downs as well. They have
Da'Rel Scott
and rookie
Michael Cox
to spell him, and they worked out
Beanie Wells
and some other vets this week, but as of now it does look as though the run game is in Wilson's hands.
He's a heck of a runner, Todd. Can break a big one at any time, and was really effective between the tackles last year, too. Explosive, high-end speed and runs with more power than people realize. He's got to show he's not a liability in pass protection, and if he does show that, he has a chance to be special. His biggest problem right now may be the absence of Hynoski, the great blocking fullback who's still out with a knee injury. The Giants are a passing offense built around Eli, but they wouldn't mind a more representative run game than they've had in recent years.