NFC East:

2013 NFL Week 12 Double Coverage
November, 22, 2013
11/22/13
1:00
PM ET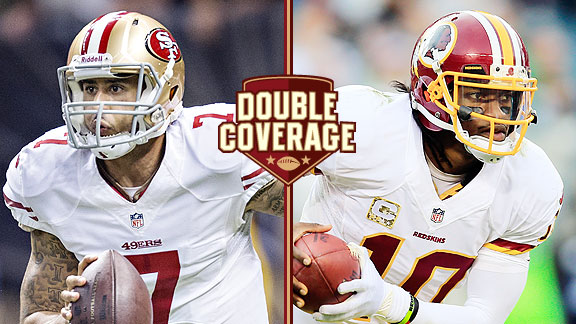 Getty ImagesColin Kaepernick and Robert Griffin are both trying to end their teams' two -game losing skids.
At one point this game looked like it might be a fun one. Two young, electric quarterbacks leading teams with big playoff aspirations on "Monday Night Football."
The narrative has shifted over time. The 49ers remain firmly in the playoff hunt, but quarterback
Colin Kaepernick
has not taken the leap many expected, whether because he lacks receiving targets or because of his own performance.
The Redskins aren't in any playoff race, done in by their own inconsistent play. And the honeymoon period for quarterback
Robert Griffin III
officially has ended. The 3-7 record isn't just his fault and he's capable of strong games, but he's a work in progress in the passing game. For Washington, a win might not turn its season around, but it certainly would take some sting off recent defeats and make the Redskins feel a little better.
ESPN.com 49ers reporter Bill Williamson and Redskins reporter John Keim break down the matchup.
John Keim:
Bill, we've been consumed with Griffin's up-and-down season. But he's not the only young QB enduring growing pains. Why has Kaepernick not had the season many expected? Is it just injuries to others?
Bill Williamson:
It starts with a lack of receiving weapons. He hasn't had much to work with beyond
Anquan Boldin
and
Vernon Davis
for much of the season. Kaepernick has had his moments and his Total QBR is 62.5, which is 11th in the NFL. He had Total QBR performances of 99 and 99.8 in Weeks 7 and 8, respectively. So, he has ability. But he has struggled in the fourth quarter all season.
Like Griffin, Kaepernick is in his second season as a starter and it hasn't been as smooth as his first season. John, which quarterback do you see having the better game Monday night?
Keim:
Well, one quarterback is facing a pass defense that has struggled and that's Kaepernick. Opposing quarterbacks have a 99.2 passer rating against Washington compared to 74.8 when facing the Niners. I also see both defenses trying to force the other quarterback to beat them. Teams have done this against Griffin sometimes by sitting on the play-action and, because of it, taking away favored routes. Griffin has been up-and-down and has been under a harsher microscope overall than probably any young quarterback. I wonder how he'll respond Monday after a difficult game and subsequent few days. He's a competitor so he won't back down. But the matchup for Kaepernick is just better and more conducive to success.
At the start of the season this game looked like it would be a big one. But the Redskins are 3-7 and have lost two straight and the Niners, while better off, have lost two straight. Again, is this just about injuries, are they not playing as well, or did they just have a two-game stumble?
Williamson:
I think it's a stumble. The 49ers were 6-2 and on a five-game win streak before losing to Carolina and New Orleans. The 49ers lost those two games by a total of four points. San Francisco could have easily won those games. San Francisco has played outstanding defense all season. The offense has struggled in the past two weeks. But I can see this team getting it together pretty quickly.
John, can you see the Redskins hanging in this game?
Keim:
The problem for Washington is that to win a game like this the Redskins must do more than play well on one side of the ball -- and probably need a good effort in all three phases. That's something they haven't really had this season and I don't know why I'd expect that to begin Monday against a good team. But hang for a while? Sure, but it will be difficult. They'll need a turnover or two early to help. While I think Kaepernick will have a stronger game, it's not like he's been lights out and the Redskins could make him work for a while; they've been good at making teams one-dimensional (yet still struggling). However, they've had problems against mobile quarterbacks this season and his ability to extend plays will be big. I don't think this will come down to a final drive as it has the past two weeks for Washington.
It does look like the Niners' defense is still one of the best. We know about the big names on this group, but what makes them so effective overall? And how have they fared against option quarterbacks?
Williamson:
This defense has been top notch all season. It's well-coached, and varied. It is tough against the run and its secondary has been strong against the pass. The Saints scored just two touchdowns at home against San Francisco. That tells you something about this defense. The pass rush has sagged some with
Aldon Smith
out for five games due to personal reasons. He's been back for two games and is still working his way into shape. The 49ers need to get him back in a groove. As far as option quarterbacks, they have fared pretty well against them and I don't expect this week to be different.
John, can you see the Redskins' offense challenging the 49ers' defense?
Keim:
Challenging? That will be tough because the Redskins need to prove they can throw the ball against a good pass defense. This is, by far, the best defense Washington has faced. In fact, of the Redskins' first nine opponents, none is currently ranked in the top 16 in yards allowed, though two teams are in that category for points allowed (Philadelphia, San Diego). The Redskins will have to make big plays in the pass game early, something they haven't done a lot of this season, and it sounds as if the 49ers will try to stop the run with just their front seven, making it tougher to move against them. Washington also continues to have issues in pass protection and Griffin still sometimes hesitates and therefore misses open guys. The Redskins have also turned the ball over quite a bit, not a good thing against a team that is plus-6 in turnover differential.
November, 21, 2013
11/21/13
10:00
AM ET
A lot has happened to the
Dallas Cowboys
and the
New York Giants
since they met in their season opener 11 weeks ago, and not much of it has been good. When they meet again at 4:25 p.m. ET on Sunday at MetLife Stadium, the second-place Cowboys will be 5-5 and the third-place Giants 4-6. The best thing either team has going for it is that the first-place
Philadelphia Eagles
are only 6-5. But that's a story for another day. This story is about the Cowboys and the Giants, and it's being told to you by ESPN Cowboys reporter Todd Archer and ESPN Giants reporter Dan Graziano, as only they can.
Dan Graziano:
Todd, not to be overly dramatic or anything, but I personally feel as though the Cowboys should be ashamed of themselves for not having run away with this dumpster fire of a division weeks ago. Do you agree?
Todd Archer:
I can't go that far. I'd put some of the blame on us, the media. We constantly build the Cowboys up to be better than they are because of the names we know. This team's issue is the names we don't know. They just don't have the depth required to pull away from teams. From afar, the eyes are always on
Tony Romo
,
Dez Bryant
,
DeMarcus Ware
,
Sean Lee
,
Jason Witten
and pick another big-name player. It's never on the underbelly of the roster. That's where Jerry Jones the GM has failed this team. The Cowboys got hurt last season and it seemed their strategy to avoid injury this season was "hope." That's never a good strategy, and they are now left taking guys off the street for the second straight season and putting them in the starting lineup. Maybe that's too easy, but I just don't see -- and haven't seen -- an uber-talented team here.
I guess with the Giants I have to start with how in the heck have they dug out of that 0-6 hole? Product of the competition?
Graziano
: Blaming the media? Come on, man. You're better than that. The Cowboys have let the
Nick Foles
Eagles pass them and the worst Giants team in a decade onto their back bumper. No excuse!
The Giants earned every bit of their 0-6 start and remain a terribly flawed team, but they have grown fat and confident over their past four games against this Pro Bowl roster of quarterbacks:
Josh Freeman
,
Matt Barkley
,
Terrelle Pryor
and
Scott Tolzien
. The defense has improved dramatically from the last time you saw it, largely because of the in-season trade for middle linebacker
Jon Beason
, the return of safety
Will Hill
from drug suspension and the improved health of
Jason Pierre-Paul
, who's as fired up for this game as Rachael Ray gets for Thanksgiving. But it remains to be seen if the defense can play as well against the remaining quarterbacks on its schedule as it has against the past four. The Giants' final six games are against Romo,
Robert Griffin III
,
Philip Rivers
,
Russell Wilson
,
Matthew Stafford
and Griffin again.
So the first one on that list is Romo, who's got some sweet-looking stats when you look in from the outside. How's Romo looking to you these days, and how well equipped is that Cowboys offense to test this new and improved Giants D?
Archer
: The stats look good because he is avoiding interceptions, but something has been wrong since he had his best game against Denver, when he went pass for pass against
Peyton Manning
. The offense, in general, has taken a step back. It is awful on third down. It can't get the ball to Bryant or Witten enough. Romo's completion percentage has taken a hit. He completed at least 69.4 percent of his passes in the first five games, and he has been better than 60 percent just once in his past five games. It's not that he is playing poorly. He's just not playing to the level we're accustomed to seeing, especially in November.
I'm curious to see how a "more involved" Jason Garrett affects the offense, even if Bill Callahan is still calling the plays. With the way the defense is playing, they have to be more aggressive. I think the bye week will help them come up with some fresh ideas on offense.
Let's stick with the quarterbacks.
Eli Manning
's season started awfully down here in Dallas and went that way for the first six weeks. He has curtailed the picks, so is it something he's done differently, or the coaches?
Graziano
: Well, in contrast to Romo, Manning has played quite poorly. The significant problems the Giants had in pass protection early in the season (many of which have not been solved) have left the two-time Super Bowl MVP jittery in the pocket, and he's not consistently planting his feet and making accurate throws.
Now, there were positive signs in Sunday's game against the
Green Bay Packers
. Manning's completion percentage of 71.4 was his highest in any game this season. His 92.4 passer rating was his highest since the opener, and his 279 passing yards were his highest single-game total since Week 5. So it's possible he's getting better and about to get on a roll.
The improved running game has helped, but the key is really going to have to be wide receiver
Hakeem Nicks
, who hasn't scored a touchdown all season and simply doesn't look like the same player he used to be. Manning and Nicks haven't developed any kind of rhythm this season, and it has crippled the passing game.
However, Todd, I'm not sure whether you heard about this or not, but the defense Manning faces Sunday gave up 40 first downs and 625 yards in its most recent game. That suggests to me that this game offers the potential for a Giants offensive breakout. Does it?
Archer
: There's no doubt it can. Lee is out.
Justin Durant
is out.
Morris Claiborne
could be out. Ware is banged up. So is
Jason Hatcher
. And those guys all played in the opener, when Manning threw for 450 yards and four touchdowns.
The defense is a mess. Even with those guys healthy, it was kind of a mess. Monte Kiffin just hasn't been able to get the job done. Good quarterbacks have lit up the defense, and the
New Orleans Saints
exposed the run defense. When the Cowboys have decided to play man coverage more, they have been better. When they have sat back in a zone, they have been torched. When coach Jerry Jones, oops, owner Jerry Jones says the Cowboys will use more man, you tend to believe him. I'm not sure it will solve much, but it will at least force Manning to make throws in tighter spaces.
JPP kicked off the week with some nice trash talk, so I'll ask this: Do the Giants hate the Cowboys more than any other team in the division?
Justin Tuck
has had his barbs in the past. So has
Brandon Jacobs
. Without
Patrick Crayton
, the Cowboys don't have anybody to really retort.
Graziano
: The Giants definitely seem to be a team that seeks any form of external motivation it can find, and they always seem to find it when they're getting ready to play the Cowboys. I think they feel like it's always a big game, always a rivalry game, the type of game that gets the fans fired up, and they look forward to feeding off that. They also feel as though they should have won that opener and that the six (SIX!) turnovers they committed are what cost them a chance to start the season 1-0. Much might have been different had they done that.
Anyway, the Giants are feeling considerably better about themselves now than they were after that game, and I think they're eager for a chance to put what they believe is a vastly improved product on a big stage. They'll be winding themselves up all week about this game because they feel like that's the best way to get up for it.
Where are the Cowboys right now psychologically? Had to be brutal after the New Orleans game, and by the time Sunday rolls around, they'll have been sitting on that for two weeks. Do you expect them to bounce back in a game like this, or do you think they're in a downward spiral?
Archer
: This is where they start to pay for past sins. They have had a history of late-season crashes. Maybe this one started a little earlier. For the optimists, the New Orleans loss was an anomaly. The other four losses have been by a total of 14 points. For the pessimist, it's the same old Cowboys. To me, this game is one that defines their season. If they lose, they won't be eliminated, but it's hard to see them being able to get out of the downward spiral. If they win, they'll be 4-0 in the division and all but eliminate the Giants, with the
Washington Redskins
almost out of the picture as well.
The best part of the bye week for the Cowboys was the chance to get guys healthy and get the healthy guys rested. They had been going at it for 17 straight weeks thanks to their time with the Hall of Fame Game.
The Cowboys have not shown they can stop a passing game by a good quarterback this season. It's been awhile since Nicks and
Victor Cruz
scored. Both went for more than 100 yards in the opener. Is there any reason to think they won't play a huge part Sunday?
Graziano
: They have plenty of track record to indicate that they can, but they simply haven't. Cruz has played well, but he's caught only one touchdown pass since catching three in the opener, and that was way back in Week 4. Nicks hasn't caught one all season. It's possible that playing Dallas will fire these guys back up, and that they'll play the way they played in Week 1. Nicks certainly has motivation to pick up his game since he's got six games left before unrestricted free agency, but I just don't think his legs are what they used to be. More and more, when the Giants get in close, Manning looks for
Rueben Randle
, who leads the team with six touchdown catches.
In the opener, the Giants had a good coverage plan against the Dallas wideouts, keeping a safety on Bryant's side and asking
Terrell Thomas
to handle
Miles Austin
in the slot and not let him get past him.
Terrance Williams
wasn't a factor yet, though, and the Giants had no answer that night for Witten. How will the challenge be different for the Giants secondary this time around?
Archer
: Williams has kind of hit a wall here lately. Or maybe defenses are getting a better read on him. Austin's return should help, but his hamstrings are as reliable as my youngest daughter doing her homework every night. Sometimes it's OK, sometimes it's not.
The Cowboys swear they spent the bye week trying to devise ways to make it difficult for teams to double-team Bryant and Witten. They have to be a bigger part of the offense. They can't just be decoys. Austin had 10 catches in the opener but for only 72 yards. They'll need to go down the field and make some big plays. To do that, they'll need to pass protect, so that might mean less shots for Witten. One thing to pay attention to on Sunday is how active Garrett is with Romo between series. If he is talking to him, then there really has been a change with the offense.
What will the atmosphere be like Sunday? Have the fans jumped back on the bandwagon or are they skeptical as well?
Graziano:
It seems to me that Giants fans want to believe. There's a segment of the fan base that will always believe because it's seen this team come back from dire-looking circumstances and win Super Bowls. But there's a more realistic segment that wants to see the team get back to .500 before believing in this group. A victory over the Cowboys would really start to get the bandwagon humming again. So I think it could go either way for the crowd Sunday.
Thanks, Todd. Always good chatting with you. Travel safe, and I'll see you Sunday.