NFC East:

2013 NFL Week 15 Double Coverage
December, 12, 2013
12/12/13
12:00
PM ET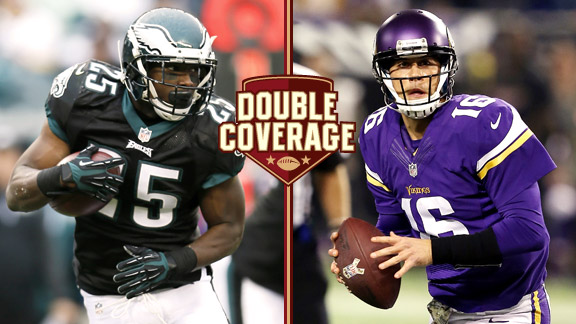 AP PhotoLeSean McCoy and the explosive Eagles offense visit Matt Cassel and the struggling Vikings.
The
Minnesota Vikings
and
Philadelphia Eagles
couldn't be in much different places than they were a year ago.
In 2012, the Vikings made a seven-game improvement, winning their final four games and riding
Adrian Peterson
's 2,097-yard season to a 10-6 record and a playoff berth. The Eagles, meanwhile, lost nine of their final 10 games, finished 4-12 and fired longtime coach Andy Reid. This season, it's Philadelphia that's racing toward the playoffs, with a new quarterback (
Nick Foles
), one of the most exciting offenses in football and an 8-5 record. The Vikings haven't been able to settle on a quarterback, have blown five leads in the last minute of games and might be preparing to part with coach Leslie Frazier after starting the season 3-8-1.
To get you ready for the game, ESPN.com Vikings reporter Ben Goessling and Eagles reporter Phil Sheridan discuss the matchup and the rapidly changing directions of both teams:
Ben Goessling:
Phil, it's been surprising to see how much better the Eagles' offense has worked under Nick Foles than
Michael Vick
, considering how well Chip Kelly's system seemed to suit Vick. What is Foles doing to make it work so well, and just how bad of a matchup is this for the Vikings' defense?
Phil Sheridan
: At the moment, I'd have to say the Eagles' offense is a tough matchup for any defense. Their past two opponents, Arizona and Detroit, came in as well-regarded defenses. The Eagles scored 24 points on the Cardinals by early in the third quarter and then exploded for 34 second-half points in the snow Sunday against the Lions. The Eagles are able to run or pass at a high level right now, which makes them just plain tough to defend.
As for Foles and Vick, it does seem counterintuitive that a running threat wasn't as effective as the relatively slow-moving Foles in Kelly's offense. But Foles is good at several key facets of what Kelly wants done. He's become adept at keeping the tempo up in the no-huddle. He's been accurate in the passing game. And he's made good decisions when Kelly's play call presents him with an option.
Kelly gave a hearty endorsement of
Toby Gerhart
, whom he faced while he was at Oregon and Gerhart played at Stanford. Kelly said he thought Gerhart could be an impact player who just happens to be stuck behind one of the great backs of all time. What's the deal? Can Gerhart replace Peterson and keep the Vikings' offense going?
Goessling:
It depends on his health. He's dealing with a hamstring issue of his own, so if Peterson does indeed miss the game because of his sprained foot, Gerhart might not be able to handle the same kind of workload as Peterson. He's only got two games of 20-plus carries in the NFL, but then again, as Kelly said, he's certainly built to take a pounding. He's a stout, physical back who runs well between the tackles and does a solid job picking up blitzes. Plus, he's not exactly afraid to embrace the idea that he's auditioning for other teams before he hits free agency in March. He certainly isn't going to be a featured back in Minnesota behind Peterson, and while I'm sure the Vikings would like to keep him, he might find better opportunities elsewhere.
What's the key to solving the Eagles' defense? The Vikings probably won't be at full strength this week, given their running back situation and the fact they've been shuffling through quarterbacks all year. What do they need to do to move the ball and avoid the turnovers the Eagles have been creating lately?
Sheridan:
It is still possible to move the ball on the Eagles. They give up a lot of yardage and are vulnerable to runs after the catch in the short- and intermediate-passing game. I was fascinated to see if they could handle
Calvin Johnson
and
Reggie Bush
on Sunday. But the weather limited Johnson and Bush didn't play at all, so that riddle remains unsolved. Teams have been able to move the ball but have bogged down or turned it over in the red zone. If the Vikings can find ways to score from inside the 20, they can stay in the game.
One key for opponents is not falling behind. Green Bay, Washington and Arizona did, and that allowed the Eagles' defense to concede rushing yards and go hard after quarterbacks. That has led to turnovers as much as anything.
Not so long ago, it was intimidating for opposing offenses to come into the Metrodome and deal with
Jared Allen
coming off the edge with all that crowd noise behind him. Is Allen still that kind of force, and has the atmosphere changed with the team struggling this season?
Goessling:
Allen hasn't been the same guy this season. He'll still play hard, and he's as relentless in his pursuit of a quarterback outside the pocket as anybody you'll find in the league, but he just looks like he's lost a step. He isn't as quick around the edge as he used to be, and he's gotten lost when he's been double-teamed. The guy who has brought more of the Vikings' pass rush this season is right end
Brian Robison
, who got a contract extension from the team during the season. He's not quite as quick off the edge as Allen was in his prime, but he might be a better edge rusher now, and he's good at knowing when to disengage from his blocker, step back and deflect a pass.
The Metrodome has lost a little of its edge in recent weeks with the Vikings struggling, but I wouldn't sleep on the fans there: If the game is close Sunday, they'll still get loud. They've only got two more games to crank up the volume in that old Teflon-coated warehouse before it's torn down, so I'd expect the noise level to be there, if partly for nostalgic reasons.
From afar, it would seem like the Eagles have every reason to be confident heading into the final stretch of the season. How far do you think they're capable of going in the playoffs?
Sheridan:
That's a heck of a question, because the whole idea of the playoffs seemed so remote just a few weeks ago. Gradually, as the Eagles got within striking distance of the Cowboys in the NFC East, it seemed like a good first season for Kelly if the Eagles could get a taste of the postseason.
Now? After five wins in a row, they are in sole possession of first place in the division. Foles and
LeSean McCoy
are putting up epic numbers. The defense hasn't allowed more than 21 points in nine games. That sounds to me like a team that can win a home playoff game. Can they go to Seattle or New Orleans and win? That seems like a stretch, but the Eagles keep raising their own ceiling.
Leslie Frazier's first NFL coaching job was here in Philadelphia as an assistant on Andy Reid's staff. He seems to be in a tough spot there, with the kind of quarterback issues that undermine even good coaches. Is the feeling that Frazier is to blame for this season, and what kind of job security does he have?
Goessling:
I certainly wouldn't put it all on Frazier -- the quarterback situation has been a mess, and the Vikings have also paid dearly for GM Rick Spielman's decision to cut
Antoine Winfield
and go almost completely with young defensive backs. That's had as much to do with the Vikings' defensive issues as anything else, and when you've got problems at quarterback and in the secondary, you're going to have a really hard time in today's NFL. Players are still playing hard for Frazier, but the Vikings have blown five leads in the last minute, and coaching issues seem to have contributed to at least a couple of those breakdowns. What's more, Frazier didn't get a contract extension after the Vikings' surprise playoff berth last year, so to come back, he'd either have to coach into the final year of his deal or get an extension. Neither one of those seem as likely as him paying the price for the Vikings' many issues this year.
December, 12, 2013
12/12/13
10:00
AM ET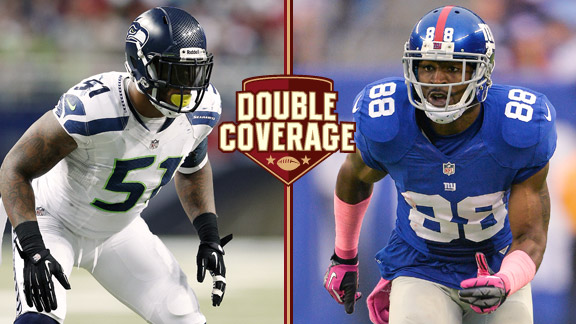 AP PhotoBruce Irvin and the Seahawks are beatable on the road. Can Hakeem Nicks and the Giants win?
The 11-2
Seattle Seahawks
have had their playoff spot wrapped up for a couple of weeks already and have their eyes on the top seed in the NFC. The 5-8
New York Giants
were eliminated from playoff contention Sunday and openly admit that they're playing for pride from this point forward. These two teams meet Sunday at MetLife Stadium -- a place the Seahawks hope to return to in early February for the Super Bowl.
ESPN.com Seahawks reporter Terry Blount and Giants reporter Dan Graziano break down the matchup between the league's best team and one of its most disappointing teams.
Graziano:
Terry, let's start with Seattle's exciting young quarterback. The Giants this year have seen
Terrelle Pryor
,
Cam Newton
and
Robert Griffin III
, who are the only quarterbacks with more rushing yards than
Russell Wilson
has. From your standpoint, what sets Wilson apart from those other mobile quarterbacks?
Blount:
Dan, there are so many intangibles about him that defy description. Some obvious ones are his character, his attention to every detail in his preparation and his underrated skills as a passer. But more than anything else, Wilson has the unusual ability to perform at his best when things appear to be at their worst. I've never seen him rattled, and he rarely makes a careless mistake. He has led the team to nine game-winning drives in his short career, and he almost did it again Sunday at San Francisco. As for his mobility, one thing that clearly sets him apart is his ability to make accurate throws downfield while he's running in either direction.
Speaking of quarterbacks,
Eli Manning
got off to a really rough start this season. What happened, and where is he now compared with seasons past when he was playing at a Pro Bowl level?
Graziano:
Manning's biggest problem at the start of the season was his protection. The offensive line, never great to begin with, was hit with injuries to key starters and never got the kind of blocking help it received in past years from supplemental positions like running back and tight end. Manning has already taken more sacks (33) than he has ever taken in a full season, and there are three games to go. He also had no running game whatsoever for the first half of the season until
Andre Brown
got healthy. And top wide receiver
Hakeem Nicks
has had an awful season in the final year of his contract. Manning obviously could play better, and he'd admit he has missed his share of throws. But I think he's a quarterback who really needs to be comfortable with his surroundings, and this year that hasn't been possible for him.
The Seahawks are so dominant at home, but while they've been good on the road they are clearly not
as
good. We know about the home crowd and the advantage it gives them, but are there on-field things they don't do as well on the road?
Blount:
One noticeable difference in the past three road games is that Wilson hasn't run much because defenses are trying to keep him in the pocket. Wilson had one carry for 2 yards last week at San Francisco, and only 38 yards on seven carries in the past three road games combined. They won two of those three games, however. Still, after Wilson ran for 102 yards at Indianapolis in Week 5 (ironically, one of Seattle's two road losses) teams have focused on not allowing him to beat them with his feet. He's running well at home (he rushed for 47 yards against New Orleans two weeks ago) but not so much on the road.
If the Giants pull off the upset Sunday, they'd send a message that despite a disappointing season, they still have the ability to get it done against the best of the best. Do you get the sense that they'll have a little added fire against a team that many people believe is Super Bowl-bound?
Graziano:
I do. A few of the Giants have already talked about that in the wake of the loss Sunday that eliminated them from postseason contention. There's a lot of talk around East Rutherford about "playing for pride," and that's not hollow with this group. They held together after the 0-6 start and have been professional in their play and their preparation since. This isn't a team that has or will quit on its season. It's just a team that's not very good. I don't think they have the personnel to hang with the Seahawks on Sunday, but if they lose it won't be for a lack of effort.
They do have a tendency to seek and drum up external motivation, and Seattle's excellent record will provide some of that. Tom Coughlin said Monday that they looked forward to measuring themselves against a team like this. The only dissenter so far is wide receiver
Victor Cruz
, who said he'd be "even more disappointed" if the Giants won this game, since it would tell him they had the capability to play with top teams all year and just didn't.
San Francisco had a strong game on the ground Sunday, and the Giants' run game has been considerably better in the second half. Is it possible to run on the Seahawks, or was that a one-game fluke by
Frank Gore
?
Blount:
Some Seattle fans might say it was a one-play fluke, the 51-yard run by Gore on the final drive that set up the game-wining field goal. Take that off the table and the Seahawks did OK against the 49ers' rushing game. However, one stat is a little scary. Of San Francisco's 163 yards on the ground, 137 were before contact, including Gore's big run. The Seahawks have been up and down on this all season. They held
Adrian Peterson
to 65 yards and allowed only 30 yards rushing at Arizona, but also had back-to-back games in which they allowed 200 yards rushing. Now they have to get it done without linebacker
K.J. Wright
, who had 80 tackles this season. He's out with a broken foot. It's hard to predict, but the Seahawks are so focused on the pass rush that they can get burned sometimes on the ground.
The Giants have struggled to stop the run, and
Marshawn Lynch
is one of the best backs in the league. I'm guessing the Seahawks are going to give him the ball early and often, especially if the weather is bad. Will the Giants load the box to try to stop Lynch?
Graziano:
Actually, stopping the run is one of the few things the Giants have done well. They've held down some top backs, such as Peterson,
LeSean McCoy
,
Alfred Morris
and
Eddie Lacy
. Until the Chargers got 144 yards on 40 carries against them Sunday, this had been a fairly consistent strength. So they'll be keyed on Lynch for sure.
Before the Packers game a few weeks ago, I asked
Justin Tuck
if Lacy reminded him of anyone. He said, "a bigger Marshawn Lynch," and then complained that they had to deal with Lynch again a few weeks later. They stacked the box against Lacy that day, but they weren't scared of
Scott Tolzien
's ability to beat them downfield even if they used single coverage on his receivers. Wilson is likely to make them think twice about committing as much to the run as they did that day, and they'll likely rely on the guys in their strong defensive-tackle rotation to get off of blocks better than they did in San Diego.
December, 12, 2013
12/12/13
10:00
AM ET
IRVING, Texas -- The
Green Bay Packers
and
Dallas Cowboys
are two of the most storied franchises in NFL history, but with three games to play in the 2013 season both are on the outside of the playoff chase and in need of a win.
The Packers have fallen on hard times without
Aaron Rodgers
but won last week against the
Atlanta Falcons
. The Cowboys are coming off a humiliating loss to the
Chicago Bears
and have a short week to get ready.
ESPN.com Packers reporter Rob Demovsky and Cowboys reporter Todd Archer debate the matchup in this week's Double Coverage.
Archer:
I'll skip the "What's Aaron Rodgers status?" and ask about Ted Thompson's approach to the backup quarterback. The Cowboys pay
Kyle Orton
a lot of money to hopefully never throw a pass. Is there any regret form the Packers that they did not have a better backup quarterback situation behind Rodgers, considering their struggles without him?
[Editor's note: Rodgers was officially ruled out for Sunday's game on Friday.]
Demovsky:
Thompson admitted at the end of training camp that he probably should have signed
Vince Young
much earlier than he did, although after watching Young for about a month, I'm not sure he would have been any better had the Packers signed back in the spring. Where they probably erred was in not drafting a quarterback. They overestimated what they had in
Graham Harrell
and B.J. Coleman, and neither one developed enough. When Ron Wolf was the GM, he made it a regular practice to draft a quarterback in the middle-to -late rounds. Not all of them worked out, but guys like
Ty Detmer
,
Mark Brunell
,
Matt Hasselbeck
and
Aaron Brooks
all came up through the Packers' system.
Packers defensive coordinator Dom Capers said
Tony Romo
is "playing probably as good as he has in his career." Do you agree with that assessment?
Archer:
I'd agree with that, sure. It's hard to argue against his numbers. He has 3,244 yards passing with 27 touchdowns and seven interceptions. He's taking care of the ball. He had one really careless throw and it cost the Cowboys big-time in their loss to the
Denver Broncos
. Romo gets most of the blame for the December/January woes this team has had, but in his last 16 games he has 34 touchdowns and seven picks. It's hard to play better than that. But you know what? He has to. This defense is so bad that Romo has to be nearly perfect. There can be no poor drives. If they don't get points they at least need to chew up time because there's not an offense the Cowboys can slow down right now.
When the Packers won Super Bowl XLV at AT&T Stadium they were able to overcome so many injuries, especially on defense as we talked about. The difference this year is Rodgers missing time, but is there anything more to it than that?
Demovsky:
They did end up with 15 players in injured reserve in their Super Bowl season, and then during that game itself they lost
Charles Woodson
to a broken collarbone. But you know what? This defense played fine early this season and even during the stretch
Clay Matthews
missed because of his broken thumb. Capers said last week that losing Rodgers had nothing to do with the Packers' defensive slide, but I'm not buying it. The Packers' defense got four turnovers in the Thanksgiving game at Detroit and still got walloped 40-10 because the offense couldn't do a darn thing with them. To be sure, there are issues on defense. Their failure to address needs at safety has hurt them up the middle, where their inside linebackers also haven't played well enough.
It sounds like Monte Kiffin is already taking heat, but how much of it is personnel? When I saw Packers castoff
Jarius Wynn
playing Monday night against the Bears, to me that was a red flag that there are talent issues, perhaps some of them caused by injuries.
Archer:
There are talent issues and there are depth issues. Blame the owner and GM who constructed this team. Blame the coaches -- Kiffin and Rod Marinelli -- for saying the line was a position of strength. The Cowboys thought they had pieces to fit Kiffin's scheme at the start of the year.
DeMarcus Ware
has not been DeMarcus Ware in part because of injuries, but he acknowledged he has to play better.
Bruce Carter
was supposed to be the ideal weak-side linebacker and he just has not made any plays. The corners are more man corners and Kiffin has tried to play more man but all of them --
Brandon Carr
,
Morris Claiborne
and
Orlando Scandrick
-- have had issues.
Sean Lee
has been hurt and could miss Sunday's game with a neck injury. He's been good but the defense has been lit up with him on the field, too. It's just a mess. Until Jerry Jones realizes he needs better players, not necessarily better schemes, it will be a mess.
Let's stick with the defensive coordinators. From the outside looking in, it appears Capers is catching a lot of grief too. Are the Packers committed to the 3-4 regardless or could they pull a Dallas and move to a 4-3 in the future?
Demovsky:
When the cornerstone of the defense is Matthews, an outside linebacker, I would think they'd have to stick with the 3-4 even if they part ways with Capers, which I'm not sure will happen anyway. Mike McCarthy has continually praised Capers and the defensive staff. It's probably more about personnel. They need a few more playmakers to help out Matthews. They haven't gotten enough production from their defensive front. I'd look for an overhaul in personnel more than a coaching change.
Knowing the temperature in the Cowboys locker room like you do, how do you think they will react to getting steamrolled Monday night? Is this a group that will fight? Or will they pack it in?
Archer:
This is where I have to give Jason Garrett credit. This team has fought. Maybe they didn't fight all that much in the losses to New Orleans and Chicago, but they have not packed it in. You saw the last time the Cowboys packed it in in 2010 at Lambeau Field when Wade Phillips was the coach. The Cowboys lost 45-7 and were completely disinterested. Phillips was fired the next day and Garrett took over. There is some gumption to this team. They do work hard. They do the right things. I'll say it again: Most of it is a talent issue. I'd expect the Cowboys to come out with the effort Sunday because they're still very much in the playoff chase. But do they believe they can really make a run? I don't know about that.
December, 12, 2013
12/12/13
10:00
AM ET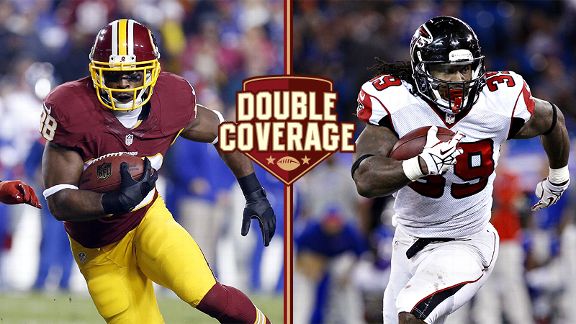 USA Today SportsPierre Garcon and Steven Jackson will be looking to take advantage of woeful defenses on Sunday.
If you thought this season was bad for the
Atlanta Falcons
, take a look at what's happening with the
Washington Redskins
.
Head coach Mike Shanahan is under fire. Second-year quarterback
Robert Griffin III
hasn't been himself. And the Redskins won't even get a chance to draft high, with their top pick set to go to the
St. Louis Rams
.
Despite all the drama in Washington, the Falcons still have a challenge on their hands. The Redskins named
Kirk Cousins
the starter for Sunday's game. When the teams met last season, Cousins completed 5 of 9 passes for 111 yards -- including a 77-yard touchdown -- after Falcons linebacker
Sean Weatherspoon
knocked Griffin out with a concussion. Cousins also threw two interceptions in the Falcons' 24-17 win.
"I don't think they bat an eye if they have to go with Cousins," Falcons defensive coordinator Mike Nolan said.
Fans might want to cover their eyes if this battle of 3-10 teams is a dud. ESPN.com Falcons reporter Vaughn McClure and Redskins reporter John Keim discuss Sunday's game:
McClure
: John, I thought the Redskins had a chance to be a playoff team after what I saw from them at the end of last year. Now, everything seems to be imploding. Can you talk about Mike Shanahan's status and why it has been such a difficult season for him and the team?
Keim
: For now, Shanahan is the head coach of the Redskins; how long that lasts is anyone's guess. Safe to say it will not last into next season. Things are just too toxic, and the friction between the head coach, his offensive coordinator -- son Kyle -- and quarterback Robert Griffin III is at the heart of this situation. Shanahan has one year left on his contract, but it makes no sense for owner Dan Snyder to continue this relationship. That was an underlying concern in the spring and summer, but you figured if they won enough it could be overcome. But their defense has been abysmal, their special teams dreadful and their offense inconsistent.
Griffin lost some explosiveness because of his knee surgery, but he is healthy. He's just not very good in the pocket, or, at best, he's inconsistent. The line is not built to protect a pocket passer, especially one who takes a bit longer. That clearly has held them back, but so has an average-at-best receiving corps -- although
Pierre Garcon
has been excellent. Until recently they've been rather healthy. It has been a typical Redskins disaster. Seasons that begin with high hopes rarely end with any fulfillment.
When you lose in Washington, things get out of control with various stories. We don't hear much from Atlanta. Why is that? How has this team dealt with having a similar situation as Washington?
McClure
: I think a lot of that has to do with the head coach. Although some fans have questioned Mike Smith throughout this season, Smith has done a good job keeping things together and trying to remain positive. He received a vote of confidence from both owner Arthur Blank and general manager Thomas Dimitroff based on his track record, which included five consecutive winning seasons before this year. And Smith has the respect of his players, who have firmly supported him throughout. Not to mention the Falcons have a stand-up quarterback in
Matt Ryan
, who never points fingers, and a veteran spokesman in tight end
Tony Gonzalez
. I think the Falcons realized a team isn't going to lose its top playmaker (
Julio Jones
) and have a sudden rash of injuries every season, so they fully believe they can rebound next year.
At the same time, the Falcons know they have to improve up front along the offensive line and be better defensively in terms of limiting explosive plays. Although the Redskins have struggled, surely they see an opportunity to expose the Falcons in those two areas, correct?
Keim
: Well, you would think. But the Redskins haven't had a lot of explosive plays and their rush hasn't overwhelmed anyone other than the
Oakland Raiders
. I will say, the Redskins' offense still gets players open, but for whatever reason -- lack of time, quarterback indecision -- they're not always hit. That's a big reason why their passing game has been inconsistent this season. A lot is on the quarterback, but it's not the lone reason. Defensively,
Brian Orakpo
is playing well, but they haven't had enough consistent pressure from anyone else lately. Until Sunday against Kansas City, the Redskins had done a good job of stopping the run and making teams one-dimensional. But
Jamaal Charles
and the Chiefs dominated them up front.
Why has the Atlanta defense struggled so much? Just injuries?
McClure
: I think injuries have factored into the equation. Early in the season, the Falcons lost defensive end/linebacker
Kroy Biermann
(Achilles) for the year. Then linebacker
Sean Weatherspoon
, the spiritual leader of the defense and team, missed seven games after suffering a Lisfranc foot sprain. But a lot of the defensive issues have come down to fundamentals and technique. Defensive coordinator Mike Nolan counted 28 missed tackles in recent games against New Orleans and Buffalo. Plus, the pass rush has been inconsistent all season, which has led to the explosive plays through the air.
On a positive note, some of the young players such as rookie cornerbacks
Desmond Trufant
and
Robert Alford
, and linebacker
Paul Worrilow
have come of age. How has the Redskins' 2013 draft class come along this season?
Keim
: Their 2013 class hasn't been all that productive. Second-round corner
David Amerson
has been a regular all season as their No. 3, but he has been inconsistent. He has been more physical than I anticipated and he has made plays. But I'm not yet sold that he'll become a solid starter, which they definitely need. Third-round tight end
Jordan Reed
has been terrific -- when healthy. But he missed the past three games because of a concussion. I really like him, but durability was an issue for him entering the draft. The rest of the class hasn't done much. Safety
Bacarri Rambo
misses too many tackles and looks like a backup. Nobody else has done anything. So it's not as if the Redskins can develop a lot of young players from this group. I don't think this class will be one of their most productive.
The Falcons still have good talent on offense, but the numbers have been mostly dreadful since Julio Jones was hurt. Obviously he's a great player, but are you surprised at the impact his loss has had?
McClure
: Not surprised at all, John. You can't take an explosive receiver such as a Jones out of a high-powered offense and expect things to flow the same. It changes the way defenses approach the game, when Jones is on the field. He had catches of 25-plus yards in four of five games before going out with the injury, including an 81-yard touchdown against the St. Louis Rams.
Harry Douglas
has done an admirable job filling the void, but he would be the first to say he's no Julio Jones. I'd put Jones in the same category as
Calvin Johnson
, when healthy. And where would the Lions be without Johnson? I expect a totally different Falcons team with Jones back next season, provided he returns to full strength with no setbacks.
NFC EAST SCOREBOARD
Sunday, 10/26
Monday, 10/27