NFC East:

2013 NFL Week 2 Double Coverage
September, 13, 2013
Sep 13
12:00
PM ET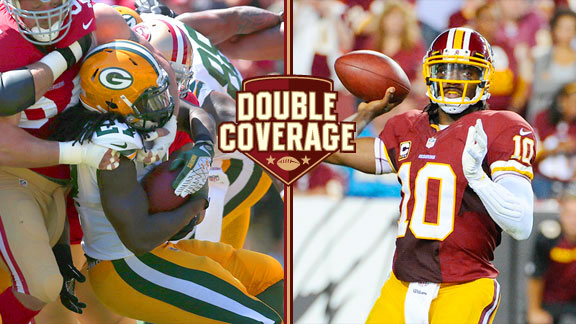 AP Photo, Getty ImagesEddie Lacy, left, and Robert Griffin III are among the keys to Sunday's Packers-Redskins matchup.
The
Green Bay Packers
and
Washington Redskins
, NFC division winners last season and playoff hopefuls this season, both lost in Week 1.
That means, barring a tie, when they meet Sunday at Lambeau Field, one of these teams will be in an 0-2 hole to start this season.
"It's not about, does it make or break your season," Redskins quarterback
Robert Griffin III
said this week.
ESPN Packers reporter Rob Demovsky and ESPN Redskins reporter John Keim break down the key elements to this matchup.
Demovsky:
John, let's get right to perhaps the most closely watched knee rehabilitation in recent NFL history. You've watched Griffin's every move in his comeback from the knee injury. You have chronicled practically every step he has made since, and by now, you've dissected the film of Monday night's loss to the
Philadelphia Eagles
. What limitations, if any, did he play with?
Keim:
Griffin did not look the same and showed the effects of not playing in a game in the preseason -- and of recovering from major knee surgery in January. Was his knee 100 percent? Everyone says it is, including the doctors. But his game was not 100 percent, as should be expected. Jon Gruden pointed it out a few times on Monday night, showing how Griffin wasn't always transferring his weight onto his front leg when he threw. In some cases, the line was getting shoved back and provided him no chance to step into a throw. But it was evident early, even when he had that room. It seemed like his reactions in the pocket, especially early, were not where he would want them to be. He also made the worst passing decision of his career, throwing an interception into triple coverage to a receiver who never even appeared open. He finished strong, though most of the passes he completed during this stretch were short throws. Still, he showed a better rhythm. It's going to take him a few games.
The Packers just played a mobile quarterback; how did they take away
Colin Kaepernick
's legs -- and how did it leave them vulnerable to the pass?
Demovsky:
The Packers did a good job limiting Kaepernick's running opportunities by playing a lot of zone coverage. That kept the defenders' eyes on the quarterback, and they rarely had their backs turned to him. However, that meant they couldn't play as much press coverage as they normally would, and the result was that they gave up massive amounts of yardage to receiver
Anquan Boldin
, who caught 13 passes for 208 yards, and allowed Kaepernick to throw for 412 yards. Now, it should be noted that the Packers were missing two key players in the secondary, safety
Morgan Burnett
and cornerback
Casey Hayward
, who both missed the game because of hamstring injuries.
How much, if anything, do you think Redskins can learn from watching the way Kaepernick and the 49ers attacked the Packers?
Keim:
I'm sure there is a lot to learn, but I wouldn't be surprised if they anticipate different looks in the secondary because of who might be back for Green Bay and because Griffin needs to prove himself as a dynamic threat again. Until he does, I wouldn't be surprised to see teams play him more aggressively, or at least without as much fear. I'm not sure how long that will last; until he makes them pay, I suppose. But I also think what Washington needs to do more than learning from Green Bay's game is learn from its own. The Redskins killed themselves with penalties and poor decision-making. That meant their bread-and-butter run game could never get going, and their offense sputtered until it was 33-7.
Are Burnett and Hayward expected to play Sunday? If so, how big a difference will that make for the Packers?
Demovsky:
Hayward won't play. He already has been ruled out and is likely to miss at least another game or two. This is the second time he pulled the same hamstring. The first time, he missed a month. He reinjured it Aug. 23, and if it's as severe, he could be out for a while. Last season, his six interceptions were huge for the defense. Burnett's injury didn't seem as bad, and it was somewhat surprising that he missed the 49ers' game. The Packers hope he can play, because their safety play with
M.D. Jennings
and
Jerron McMillian
was subpar at San Francisco.
Speaking of the secondary, the Redskins were 30th in the NFL last season in passing yards allowed. Are there any signs that will improve this season? I would think
Aaron Rodgers
would be licking his chops to play against this defense.
Keim:
It's debatable how much they've improved. Long term? I think they'll be helped because two rookies -- starting free safety
Bacarri Rambo
and cornerback
David Amerson
-- are playing key roles. Rambo's big issue is tackling, mostly in the open field. His coverage has mostly been fine, but I don't think he's been challenged in a way that Rodgers could on Sunday. I like Amerson's future, if he remains disciplined with his technique. He's a better tackler than anticipated. But Washington has issues at strong safety because of
Brandon Meriweather
's constant injury issues (missed Monday with a groin injury). The Redskins used a cornerback who had never played safety before in his place (
E.J. Biggers
), and he struggled. Their corners,
DeAngelo Hall
and
Josh Wilson
, do some good things but are not top-line starters. What this group needs more than anything is a better pass rush.
Speaking of the rush, how is the Green Bay offensive line holding up without
Bryan Bulaga
, and where is it susceptible?
Demovsky:
Perhaps surprisingly, Green Bay's young tackles, rookie
David Bakhtiari
on the left side and second-year man
Don Barclay
on the right, held up well against the 49ers.
Aldon Smith
beat Bakhtiari a couple of times for sacks, but Smith does that to a lot of tackles. It's why he had 19.5 sacks last season. But other than those two plays, Bakhtiari's first start went fine. Barclay is much improved over last season, when he filled in for Bulaga the final six games. As a unit, the run blocking needs to get much better.
Eddie Lacy
didn't have much running room, and when he did, there were penalties -- three of them on left guard
Josh Sitton
, who is normally pretty clean -- that wiped away the Packers' longest rushes of the game.
Looking at the big picture, one of these teams is going to be 0-2 after this game (barring a tie). If that's the Redskins, how devastating would that be for them? I know they finished strong last season, but I'm sure they don't want to put themselves in a hole again.
Keim:
It's a hole they could dig out of with games against the
Detroit Lions
at home and on the road against the
Oakland Raiders
in the following two weeks before their bye. But I don't think any team wants to start off 0-2, especially one that has designs on accomplishing grand things in the postseason, which, if healthy, the Redskins should have. I also think it would depend on how they look against Green Bay. If they play well and lose a close game, it still suggests they're on a certain path (no moral victories, but more about being headed in the right direction). If it's an ugly game like it was for nearly three quarters Monday? Then it suggests other issues. That would be difficult for them to swallow. But the one thing I've seen with this group, last season and in the previous few, is that they are resilient. Their mindset is a good one for a 16-game season.
I would think if there's any formula for stopping the Green Bay offense, everyone would use it. But is there a theme to when teams are able to slow this attack?
Demovsky:
For about the past year and a half, teams have played the Packers predominantly one way -- keep both safeties back and dare them to run the ball. That's why they drafted Lacy in the second round. The hope is that teams will start respecting the Packers' running game and bring a safety in the box to stop it. That would give Rodgers more open space to throw in the secondary. Lacy did not get off to a strong start against the 49ers, but he did have one impressive series late in the game in which he gained 26 yards on five carries. Problem was, he couldn't get much else done the rest of the game.
September, 13, 2013
Sep 13
12:00
PM ET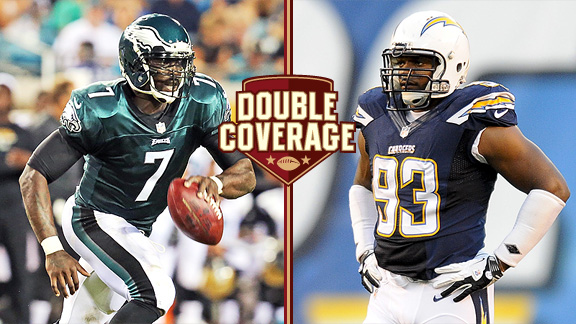 USA TODAY Sports, Getty ImagesSan Diego will have to rotate Dwight Freeney to keep him fresh against Michael Vick and the Eagles.
PHILADELPHIA -- The similarities were striking, and then everything was completely different.
New head coaches made their debuts Monday night for the
Philadelphia Eagles
and the
San Diego Chargers
. Both teams held big leads early in the third quarter.
Chip Kelly's Eagles hung on for the win. Mike McCoy's Chargers lost on a field goal as time expired.
As a result, the mood in Philadelphia is downright giddy as the city prepares for Kelly's home opener Sunday against the Chargers. The mood in San Diego is a bit different.
Let's start there.
Phil Sheridan:
How are the Chargers handling that dispiriting loss?
Bill Williamson:
I think we will see the answer to that question on Sunday. The Chargers are saying the right things and they are going about their business. But this loss was devastating. San Diego led Houston 28-7 in the third quarter before being outscored 24-0 to end the game. San Diego was known for blowing leads in the Norv Turner era. To start the
Mike McCoy
era the same way has to sting badly. The Chargers looked really good for most of this game. But they have to wallow in the defeat. I wouldn't be surprised if it takes them a while to get out of the funk Sunday.
Are the Eagles in any danger of being overconfident?
Sheridan:
Actually, I think they are. There has been a lot of talk this week about how they showed the world they're a legitimate contender now, and that Kelly's offense can work and so forth. Meanwhile, they have former coach Andy Reid coming back Sept. 19 for a much-hyped game against Kansas City. This is a bit of a trap game, for sure.
Can the Chargers handle Kelly's no-huddle, high-pressure offense?
Williamson:
This is not the easiest team to prepare for after such a painful defeat. One of the reasons the Chargers fell apart Monday night was because the defense wore down. It was a nice, comfortable night in San Diego against a normal-paced offense. What is going to happen on a hot day in Philadelphia against Kelly's amped offense? San Diego has a decent defense but it lacks depth, especially on the line and in the secondary. Keeping bodies fresh could be an issue.
Did the Eagles wear down themselves on Monday night?
Sheridan:
They definitely did. It was very humid at FedEx Field. Center
Jason Kelce
said he needed to hit the oxygen tank for the first time since college (in fairness, it was only Kelce's 19th NFL game). Kelly said he would be more careful to rotate players in order to keep them fresh. But this will be an issue all season for the Eagles.
Is
Dwight Freeney
the player he was in Indianapolis?
Williamson:
In short, no. But he's not bad. Freeney, 33, was very active against Houston. He had a half sack, but he was in the backfield often. The question is, can Freeney handle the Kelly attack on a regular basis? He is more of a rotational player. Keeping him on the field against the Eagles may be difficult. I could see his effectiveness wearing down late in the game if he doesn't get a chance to rest much.
Is the Eagles' defense as good as it appeared against
Robert Griffin III
?
Sheridan:
That is very much up in the air. RG III was not at all himself in his first live action since blowing out his knee last season in the playoffs. He found a rhythm in the second half, and the Eagles were not able to stop him.
Philip Rivers
is obviously a very different kind of quarterback. This Eagles secondary could be vulnerable to a smart, accurate passer -- especially if starting cornerback
Bradley Fletcher
(concussion) isn't able to play.
September, 12, 2013
Sep 12
12:00
PM ET
For the third time in their careers, brothers
Peyton Manning
and
Eli Manning
will oppose each other as the starting quarterbacks in the same NFL game. Peyton's
Denver Broncos
travel to East Rutherford, N.J., to take on Eli's
New York Giants
at 4:25 p.m. ET on Sunday at MetLife Stadium. Both of these teams have dreams of playing in the Super Bowl in that very same building in February. But while Denver looked the part of the contender in its Week 1 rout of the defending champion Ravens, the Giants turned the ball over six times in an ugly opening-week loss in Dallas. Broncos team reporter Jeff Legwold and Giants team reporter Dan Graziano break down this week's Battle of the Brothers.
Dan Graziano:
So yeah, Jeff, I don't know if you were able to dig this up on your end, but my research does indeed confirm that the two starting quarterbacks in this game grew up in the same house with the same parents. I wonder if others will catch on and ask some questions and write some stories about that angle this week. I don't expect Eli Manning to admit that he's looking for revenge after his big brother beat him twice while he was with the Colts, but I'm sure there's some element of that going on. I have two little brothers myself, and personally I'd be pretty annoyed if I ever lost an NFL game to either one of them. Do you think this game means a little something extra to Peyton Manning?
Jeff Legwold:
Dan, I wasn't planning to ask about this ... but OK, I'm in. I've been around Peyton since my time in Nashville and his at the University of Tennessee, so I'm fairly certain Peyton isn't a big fan of this from a personal perspective. Plenty of his friends said after the Colts released Peyton they didn't even think he would go to an NFC team, let alone the Redskins (pre 2012 draft, of course) because there was far more potential to face Eli if he did. They'll talk this week, but there won't be any football on the phone. From a football standpoint Peyton is in regular-season mode, which is intense, focused and running the show. The Broncos didn't show all of their changes on offense against the Ravens last week -- they have another gear they can hit in the no-huddle they didn't use against Baltimore -- but Peyton has plenty of places to go in the passing game. How do you think the Giants' revamped defensive front will approach all of that?
DG:
Yeesh. Another gear? The rest of the league can't be excited to hear that. The most positive and effective change the Giants made on defense this offseason was at defensive tackle, where they believe they've beefed up and are better suited to stop the run than they were a year ago. But while that sounds nice and useful, the plain fact is that the Giants' defense needs a dominant pass rush from the front four in order to be effective. The linebackers are terrible, and Dallas' short-range-passing game plan Sunday night showed that it's not hard for the rest of the league to figure that out and take advantage of it. The cornerbacks are just so-so, and if
Prince Amukamara
is out with a concussion (still unknown at this time), that unit becomes a liability. The key will be
Justin Tuck
and
Jason Pierre-Paul
generating pressure on Peyton from the edge. Pierre-Paul looked rusty and didn't play a full game Sunday as he was coming off of June back surgery and missed the preseason. If he can take a big step forward this week in terms of conditioning and practice time, that would help. He's the difference-making player in their defensive front -- the one who has the ability to take over a game if he's 100 percent. They need him as close to that as possible if they're going to pressure Peyton Manning enough to limit the time he has to take advantage of all of those options.
Peyton's brother has his share of options as well. Three different Giants receivers had more than 100 yards in the opener, including big second-year wideout
Rueben Randle
. With
Victor Cruz
in the slot and Randle and
Hakeem Nicks
on the outside, how are the Broncos equipped to cover the Giants' receivers?
[+] Enlarge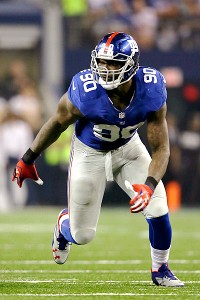 AP Photo/Tony GutierrezJason Pierre-Paul and New York's pass rush may be the key to containing Peyton Manning.
JL:
It is an issue for the Broncos, especially if
Champ Bailey
(left foot) isn't ready to go. He was jogging early in the week, but did not take part in Monday's practice. He has been in for treatment every day, including Tuesday, and still hopes to get himself back in the lineup. The Broncos signed
Dominique Rodgers-Cromartie
in the offseason because they believed he could take his game to another level and that they could help him do that. He played like the former Pro Bowl pick (2009) he was in the opener and shut down
Torrey Smith
and showed plenty of athleticism. But take Bailey out of the mix and the Broncos are small when they go into the nickel. When Bailey doesn't play, the 5-foot-10
Chris Harris
starts and the 5-foot-9
Tony Carter
then comes in for the nickel. Without Bailey that puts Harris in the slot and Carter on the outside and quarterbacks tend to go after Carter in that situation. If Bailey plays -- and he's made no secret he wants to -- that gives the Broncos better matchups. Defensive coordinator Jack Del Rio likes to mix it up overall and uses a lot of people, and if they get the right down-and-distance situations, he likes to even break out a seven-defensive back look and the rushers come from everywhere in the formation.
When Del Rio is looking at the Giants' running game, what will he see?
DG:
Oh, yes. The run game. Better known as "The Only Thing I've Been Writing About Since Sunday Night." I still think the answer to your question is second-year back
David Wilson
, though his much-publicized pair of fumbles (and his less-publicized issues in pass protection) have the Giants tweaking last week's plan to give Wilson a full starter's workload. They had a bunch of veteran backs in for workouts Tuesday and ended up signing
Brandon Jacobs
, but Wilson is still the former first-round pick and the big-play threat who's likely to get the bulk of the first-down and second-down work as long as he doesn't fumble anymore. They had planned to use
Andre Brown
as the passing-downs back and the goal-line back before Brown broke his leg in the final preseason game, and after Wilson's tough opener, it looks as though Jacobs has been brought in to fill Brown's role. But Wilson's still their best running back, and assuming they throw him right back in there, he's someone for whom the Broncos will have to account. When he does hold on to the ball, he's impressive to watch run.
One guy who obviously stood out for the Broncos in their opener was the tight end,
Julius Thomas
. The Giants had no answers for
Jason Witten
on Sunday and, as I mentioned earlier, don't have anyone in their linebacking corps to really cover tight ends. So was Thomas a one-game wonder, or is this a serious candidate for a major role in the passing game?
JL:
Dan, the Broncos and Thomas waited two years to see what folks saw last Thursday night. Since the Broncos took the former Portland State basketball player in the fourth round of the 2011 draft, he offered glimpse after glimpse on the practice field of what the potential was. But he suffered an ankle injury on his first NFL catch -- in the second game of his rookie season -- and wasn't the same after. He had surgery to repair the ankle before last season and spent much of the year simply being a game-day inactive. But coming down the stretch last season, players kept talking about what Thomas was doing in practice, and in training camp this summer he consistently ran away from defensive backs. He's great at getting the ball in a crowd and the Ravens did what most defenses figure to do, rotate coverage to the likes of
Wes Welker
and
Demaryius Thomas
, and leave Thomas with just one defender. Thomas is still raw in some of his route running -- he is in just his fourth year of football after just one season's worth in college -- and sometimes will drop one he shouldn't, but the guy is a matchup problem for defenses, especially since Peyton Manning trusts him enough to throw it to him in almost any situation.
Opposing tight ends did plenty of damage against the Broncos' defense last season with 81 receptions for 948 yards and 11 touchdowns as a position group. They've seen
Brandon Myers
plenty in previous seasons, how does he fit in an offense with so much output at wide receiver?
DG:
Yes, Myers was kind of the forgotten man Sunday night with all of the wideouts going nuts. And as long as those three wideouts are healthy and productive, I wouldn't be surprised to see that continue. Myers is the Giants' fourth different starting tight end in four years. And over the past five years, the Giants' leading tight end has averaged 40.6 catches per season.
Martellus Bennett
's 55 catches last year were the most by a Giants tight end since
Jeremy Shockey
caught 57 in 2007. So while Myers was a big receiving threat in Oakland, I doubt he'll threaten 70-80 catches this year as a Giant. They just don't use their tight end as a weapon in the receiving game the way a lot of teams do. Now, might they pick a matchup, such as this one, in which you say the team hasn't been strong against tight ends, and throw it to him more in such a game? Entirely possible. Myers looked like a significant part of the offensive game plan in training camp practices, so there are definitely some packages in which they'll throw to him. But right now, with injuries on the offensive line and the problems they're having in general with pass protection, I believe they need Myers to stay in and block more.
Speaking of protection, and getting back to what I think is one of the key points at least from the New York end, what's the state of the Denver offensive line in front of big brother Manning? Are the Giants' pass-rushers in for a challenging day?
JL:
That was THE story in the preseason for the Broncos. Two of their starting linemen -- right tackle
Orlando Franklin
and left tackle
Ryan Clady
-- had offseason surgeries and Clady didn't play in the preseason. They lost center
Dan Koppen
to a torn ACL in training camp and spent much of August signing veteran linemen to address depth issues, before finally bringing two of those signees --
John Moffitt
and
Steve Vallos
-- onto the final 53-man roster. They want the three-wide set to be their base formation on offense -- they ran their first 20 plays from scrimmage out of it against the Ravens -- but can't play it if they can't protect. Their first target in free agency, because they felt like they surrendered far too much pressure up the middle, was guard
Louis Vasquez
, who got the longest deal (four years) the Broncos gave to any player they signed in the offseason. They had some bobbles early against the Ravens, went to a two-tight end set briefly in the second quarter to reset things and kept themselves together when they went to three-wide after that. Center
Manny Ramirez
is the key; when he plays well, the Broncos can stay in that three-wide look and they can consistently pressure defenses out of it.
Rushing a Manning is something the Broncos have to consider as well. What do the Giants think of a pass rush without
Von Miller
in it for another five games?
DG:
I'm sure they wish he was coming back in time to face the Eagles in Week 4 and the Cowboys in Week 5. But as a Week 2 development, the Giants will take it. Preseason injuries shook up the Giants' line. They have rookie first-rounder
Justin Pugh
starting at right tackle, which wasn't the plan. They have left guard
Kevin Boothe
playing center and backup tackle
James Brewer
playing left guard for the first time in his life. Add in the blocking downgrade at running back, and Eli Manning's protection is one of the major issues the Giants are having right now. Like his brother, Eli has an insanely quick release, so he doesn't need a Hall of Fame line in front of him in order to be successful. But he does need some level of comfort back there, because he's not at his best when he has to move his feet.
George Selvie
and a cast of backup rushers had success against the Giants' line Sunday night and helped rattle Manning into three interceptions, so it's not as though the Broncos necessarily need Miller to get the job done. What are they doing with their pass rush to overcome that significant loss and the loss of
Elvis Dumervil
to the whims of a fax machine?
JL:
With Dumervil now in Baltimore and Miller suspended for five more games for violating the league's substance-abuse policy, the Broncos are missing 29.5 sacks from last season's defense that tied for the league lead (52) last season. The Broncos talked to plenty of veteran pass-rushers in the offseason and, after deciding
John Abraham
and
Dwight Freeney
wanted too much money, they signed
Shaun Phillips
during the draft weekend. And it's Phillips who is going to have to be the biggest part of the solution in the pass rush until Miller comes back. He was up to the challenge with 2.5 sacks and a forced fumble against the Ravens. Del Rio likes plenty of pressure packages when the Broncos get the lead and will rush players from anywhere in the formation The Broncos are particularly aggressive and creative out of their dime looks as well as the seven-defensive back look. They still have to show they can win one-on-one matchups in the rush when the game is tight, however. The rush didn't really kick in against the Ravens -- Flacco was largely untouched in the first half last Thursday -- until the Broncos had built the lead and the Ravens had to open things up some.
The Giants will be one of three NFC East teams the Broncos will play over the next four weeks, so do the Giants believe the Broncos' no-huddle look will be an kind of preview for what's to come with the Eagles?
DG:
Good question. The Cowboys showed some no-huddle Sunday, and obviously the Giants are going to have to expect it from the Eagles, so perhaps these are some good early tests for them. Makes me think it really would help if they had some better all-around instinctive playmaker types in the linebacking corps. But they don't prioritize that position, and they think if they can get to the quarterback they can make up for deficiencies there and in the secondary. We'll see. It's a lot to ask of Tuck and Pierre-Paul, but they've both been great players at times in the past.
Anyway, I think that about covers it. Should be a fun one Sunday at the Meadowlands. See you there, Jeff.
September, 12, 2013
Sep 12
11:55
AM ET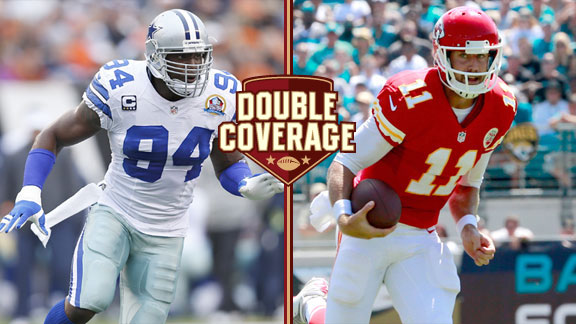 Getty ImagesDeMarcus Ware and the Dallas defense will work to prevent Alex Smith and the Chiefs from getting into a rhythm on offense.
The
Kansas City Chiefs
and
Dallas Cowboys
won their season openers last week in different manners. The Chiefs had an easy time against Jacksonville while the Cowboys won a wild shootout against the Giants. The teams, which haven't faced one another since 2009, play on Sunday at Arrowhead Stadium. ESPN Chiefs reporter Adam Teicher and Cowboys reporter Todd Archer bring you their Double Coverage preview.
Teicher:
The Chiefs had six sacks against Jacksonville last week. How healthy is
Tony Romo
and how ready is he to deal with what could be a strong pass rush?
Archer:
He'll be healthy enough and he won't wear anything more than his normal rib protector. He played through a cracked rib and punctured lung in 2011 and actually threw five interceptions in his first three games after that. Last week against the Giants he was sacked just twice, but the Cowboys used a lot of quick and underneath throws.
Miles Austin
,
Jason Witten
and
Dez Bryant
didn't average more than 8.8 yards per catch against New York. I think you'll see some of that as well to combat the Chiefs' pass rush. Jason Garrett said the pass protection against the Giants was the best the team has had in a long time, so considering that pass rush, I think the Cowboys will have some confidence going into Sunday's game. And perhaps they could add your old friend
Brian Waters
into the mix this week. He was inactive against the Giants but the feeling is that he will be ready for action this week. We'll see.
But speaking of quarterbacks, how is
Alex Smith
meshing with Andy Reid?
Teicher:
So far, so good. Reid called plays to Smith's strengths in Jacksonville last week. Mostly quick, short stuff. He completed 21 passes but for just 173 yards. Generally got the ball out of his hand in a hurry.
Dexter McCluster
averaged 14.3 yards per catch, but among the Chiefs' other eight receivers who caught at least one pass, none averaged better than 11 yards per catch. Smith was able to do what he did so well the past couple of seasons for the 49ers. He didn't commit any turnovers and completed more than 60 percent of his passes. Smith also managed the game well. He did a nice job of reading coverages and took advantage of some mismatches the Chiefs were able to create with their formation and their motion. But the Cowboys will present a more interesting challenge than the Jaguars did.
How is the transition to the 4-3 going for the Cowboys and do they have the personnel to make it work?
Archer:
The transition has gone pretty well, but the defensive line is a mess. When they made the move they envisioned
Jay Ratliff
as their
Warren Sapp
, to a degree, and he will miss the first six games while on the physically unable to perform list.
Anthony Spencer
could make his debut Sunday, but he hasn't been on the field since undergoing knee surgery July 25.
Tyrone Crawford
was supposed to be the top backup and he tore his Achilles on the first day of camp. But at least there's
DeMarcus Ware
up front. The Cowboys felt like
Sean Lee
and
Bruce Carter
could fit in any defense and added
Justin Durant
as a free agent to take the Sam spot. If Lee and Carter can stay healthy, then this defense has a chance to be really good. The secondary is going through a transition.
Brandon Carr
and
Morris Claiborne
are not the prototypical Tampa 2 corners, but the Cowboys say they will mix a lot of their looks the way Seattle did with its scheme. They don't have a
John Lynch
, if I'm staying with the Monte Kiffin theme, but they like
Barry Church
(forced fumble, fumble recovery for a TD in the opener) and have vet
Will Allen
in the other spot. Kiffin and Rod Marinelli are a good mix together. They have changed the defensive mindset when it comes to takeaways as you can see with the six last week. Marinelli had the "secret sauce" in Chicago and brought it with him here. The Cowboys gave up too many big plays against New York, but I think this will be a bend-and-don't-break defense, not one that eats up offenses.
We'll have to get used to seeing Reid in red Sunday, but how has his first year with the club been? I wondered if he would take a break after so many years with the Eagles, but he hopped right back on the bus.
Teicher:
He seems energized by the move to K.C. That was the question I had, as did a lot of other people, when he took the job: How much did he have left in the tank? But he really attacked the job from the day he walked through the door. He's not as involved with personnel decisions as he was his last few years with the Eagles. The Chiefs hired a general manager, John Dorsey, with extensive personnel experience in part so they could free Reid from some of those duties. He's the playcaller on offense and has been very hands-on at practice. From the GM to the coaching staff to the offensive and defensive systems to the starting quarterback and 29 other players who weren't with the Chiefs last year, there's a lot new in Kansas City but Reid has done a nice job so far of tying it all together quickly. Reid, along with Dorsey, has already changed the culture in the organization from one where a lot of people had their own agendas to one where everybody seems to be pulling in the same direction. And you're right, even to those of us who see him daily, he still looks weird in red.
The Cowboys have a difficult schedule with few breathers and play in a division that looks to have a lot of parity. Assuming they stay reasonably healthy, what's a realistic expectation for Dallas this season?
Archer:
On our prediction posts to kick off our NFL Nation blog, I said 10-6 and make the playoffs, so after they beat the Giants, I'm sticking with that. However, I must say the defense has me worried. I can't imagine the Cowboys getting six takeaways a game and they were shredded by
Eli Manning
. They have
Peyton Manning
,
Drew Brees
,
Jay Cutler
,
Aaron Rodgers
,
Robert Griffin
III,
Michael Vick
(or Chip Kelly),
Matthew Stafford
and
Philip Rivers
on the schedule with a rematch with Eli coming, too. The national types always talk about the talent level of the Cowboys, but I don't know if they really get beyond the top 10 or so players. Yes, at the top the Cowboys are strong, but it falls off pretty quickly in my opinion. I believe they'll get better with their pass defense because it can't get worse, but they'll need to mix things up. On offense, they've always put up yards but struggled with points. Now I think they'll be better in the red zone and that'll help. So I'm sticking with 10-6.
What are the Chiefs' chances? They seem to be a chic pick to be a postseason team.
Teicher:
I predicted the Chiefs to finish at 8-8 and even though they looked strong last week against Jacksonville, I'm not quite ready to back off from that until I see them beat a better team. The Chiefs are a talented team, particularly on defense. The Chiefs have a lot of new elements but they looked last week as though they've meshed them all very quickly. The Chiefs have a favorable early schedule and need to take advantage because it gets more difficult the second half of the season. The formula they used to beat the Jaguars is the one they'll need to be successful: strong defensively with the defense and special teams helping the offense in terms of favorable field position. Then, a most efficient offense.