NFC East:

2013 NFL Week 6 Double Coverage
October, 11, 2013
10/11/13
12:00
PM ET
IRVING, Texas -- The
Dallas Cowboys
and
Washington Redskins
will meet for the 107th time in their historic rivalry, but neither team has gotten off to the kind of start to the season they envisioned.
At 2-3, the Cowboys are tied for the NFC East lead, and the Redskins are 1-3 coming off their bye weekend.
ESPN.com Redskins reporter John Keim and ESPN.com Cowboys reporter Todd Archer break down Sunday's matchup at AT&T Stadium with this week's Double Coverage.

Archer:
The last time
Robert Griffin III
was at AT&T Stadium he threw four touchdown passes and was dynamic. Are we starting to see Griffin look like the Griffin from last season?
Keim:
Todd, we are starting to see more of the old Griffin, though the offense was rolling a lot better at that time last season than it is now. But in the last game before the bye at Oakland, Griffin used his legs more -- mostly to escape trouble -- and big plays resulted. That's his game; even if the zone-read option isn't a huge factor, his legs still can be. But the difference was this time there were a couple plays on which, last season, he would have taken off running. Instead, he kept his eyes downfield and threw for a solid completion. I think it'll help him to have a more balanced attack; his play-action passes were lethal last season, as the Cowboys discovered. Because of how the games have unfolded, they haven't been as balanced as they'd like.
I'll stick with quarterbacks:
Tony Romo
's stats are fantastic. Is this his best start? If so, why?
Archer:
It's definitely his best start. I know people won't get the interception at the end of the Denver game out of their heads, but his decision-making has been great. He's seeing the field. I think with his involvement in the offense, he's taken it upon himself to be more careful, but against the Broncos he was smartly aggressive with his throws down the field. He is more accurate than he has ever been as well, completing better than 70 percent of his passes. I think the Denver game could be the start of something for this offense in terms of how they attack defenses. Romo loves the empty package because he can get the ball out of his hands quickly and he's got some quarterback friendly targets.
The last time the Redskins saw Romo, they hurt him with pressure. Safe to say that with 15 sacks they're still pressure happy?
Keim:
Yeah, they want to pressure, but they had to send extra guys last season against him because, without
Brian Orakpo
, their four-man rushes applied little pressure. Six of their seven sacks against Oakland earlier this season came with four-man rushes, allowing them to focus on coverage. That would be their ideal. However, those rushes take a little time to develop and Romo is much better than
Matt Flynn
was for the Raiders. So I would definitely expect some blitzes; they can't let Romo get comfortable in the pocket. They had success with blitzes through the A-gaps and sending linebackers off the edge. They also sent several slot-corner blitzes. I think they'll still do some of that Sunday, but if they don't get there, big plays will follow.
While we're on the topic of blitzes, aside from one play last season, Romo did not handle the extra rushers well. However, last week against Denver he did. Has he improved in this area?
Archer:
He has done better in that area. So far, he has four touchdowns and no interceptions against the blitz this season and has been sacked only three times. The offensive line is playing as well as it has played in three or four seasons, and I think, as Romo's confidence in it has grown, the ability to attack the blitz has grown. Part of it is experience. Part of it is getting rid of it quicker. Part of it his better protection. Having offensive line coach Bill Callahan as the playcaller might mean he's more willing to give his guys some help with extra blockers, but it's not like the Cowboys go into a shell when they see a blitz.
From afar,
Alfred Morris
is off to a good start. He hurt the Cowboys last December, too. How's his health?
Keim:
His health is fine. The ribs are a little bit sore, but he's practiced fully Monday and Wednesday, and, barring a setback, he'll play Sunday. Morris' total rushing yards are down, but he's averaging 5.3 per carry and 2.30 yards after contact, both better than in 2012. Morris is taking better angles and does an excellent job setting up blockers because he's so patient. Teams have keyed on him in the zone-read but he's still effective in the outside zone game. There have been some blocking issues from all over, but the Redskins want to run the ball more, so look for that Sunday.
We hear a lot about the Dallas passing game, but
DeMarco Murray
is off to a strong start. How good has he been, and what sort of problems could he cause the Redskins?
Archer:
I don't feel as good about Murray as you do about Morris, even though the numbers tell a different story. He has been OK, but he has left yards on the table. I guess every running back does, but his just seem more noticeable. He's not been able to run it much, with just two 20-carry games, which -- oh, by the way -- have come in the Cowboys' two wins. I hate the stat, but the Cowboys are 10-0 when he gets 20 carries. Why not just hand it to him 20 straight times to open the game? I kid. Anyway, I think the Cowboys have found out they run best when they are in a three-wide set, which spreads the field and gives Murray some options. The Cowboys will need him Sunday, especially if the Redskins decide to play coverage, but the coaches need to call on him when the running game isn't doing that well. He's also a decent receiver out of the backfield, and the third-down back,
Lance Dunbar
is battling a hamstring injury.
I want to go back to the Redskins' defense. I've thought a few times
DeAngelo Hall
was done in recent seasons, but he was great versus
Dez Bryant
in last season's finale. Do you think the Redskins will have him follow Bryant on Sunday?
Keim:
I do expect them to do that a decent amount Sunday. He did the same thing against
Calvin Johnson
a couple weeks ago. They used
Josh Wilson
against Bryant a lot in the first game, but Wilson is playing more in the slot in the three-corner set. And rookie
David Amerson
is not ready to cover Bryant more than a little bit, though he does have the size. So that leaves Hall, at least when they're in man coverage. If they play him like they did last season, then they will mix in a lot of zone coverage in an effort to give Romo pause. I'm with you: Every time I think Hall has slipped a bit, he'll have a big game. Hall will get beat and often gives up too much cushion, but he's a smart player who competes hard. It serves him well.
This is a pretty basic question, but how has the transition been to the 4-3?
Archer:
To be kind, I'll just say not as well as the Cowboys had hoped. They have been lit up the past two games by
Philip Rivers
and
Peyton Manning
. I guess there's no shame in having either of them do that, but it's been historically bad around here. The problem is they cannot generate pressure with four rushers. They miss
Anthony Spencer
, who's out for the season. They miss
Jay Ratliff
, who is on the physically unable to perform list. They miss
Tyrone Crawford
, who tore his Achilles the first day of camp. As well as
George Selvie
and
Nick Hayden
have played, you like them more as rotation guys and not starters.
DeMarcus Ware
has been banged up for three straight games, and
Jason Hatcher
has been put in check the past two games. They don't blitz often, but I'm not sure they have faith in their coverage to try to do it more.
One area that has killed the Cowboys in this 4-3 is passes to runners and tight ends, but those doesn't look to be featured parts of the Washington offense. Could that change Sunday?
Keim:
I think it could change, at least to a degree. They do like to get the ball to the receivers, but one reason running back
Roy Helu
hasn't been a bigger factor in the pass game is because of their inability to convert third downs, which prevent more plays. But Helu has shown the past two games just how dangerous he can be in the open field. I saw some of the issues Dallas had covering backs; Helu would hurt them. At tight end, their top two pass-catchers,
Fred Davis
and rookie
Jordan Reed
, are both healthy. Reed is an up-and-comer, an athletic kid who makes tough catches. He's a threat after the catch, so there's a chance the Cowboys' troubles here will continue.
The Cowboys allow only 3.8 yards per rush. Is that a function of them stopping it well or teams not testing them more on the ground?
Archer:
The easy answer is a little of both. They did a nice job on Kansas City's
Jamaal Charles
, but late in the game, he converted a crucial third down. San Diego and Denver were able to grind them a little.
Knowshon Moreno
had 93 yards on 19 carries and a lot of his work was done between the tackles. I'm not sure if they're better suited to handle Washington's running game this season compared to last season. They were just guessing on some zone-read stuff at FedEx Field and were mostly wrong. And it's not like Monte Kiffin slowed it down when he was at USC. They've done OK when teams have tried to pound it on them, but San Diego and Denver were able to run out of a stretch look.
.
October, 10, 2013
10/10/13
1:00
PM ET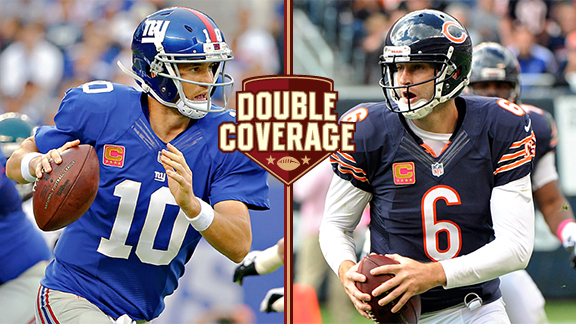 USA TODAY SportsGiants quarterback Eli Manning and Bears quarterback Jay Cutler are having drastically different seasons.
Desperate teams make for intriguing matchups, which might be exactly what we see Thursday night at Soldier Field, when the winless
New York Giants
face a
Chicago Bears
team coming off two consecutive losses.
The Giants are off to their first 0-5 start in more than 20 years, while the Bears hope to get back to the positive vibe created by a 3-0 start. After Thursday, the Bears will play only one game in 24 days as they travel to Washington on Oct. 20, before taking their bye the next week.
ESPN.com's Bears reporter Michael C. Wright and Giants reporter Dan Graziano break down the matchup.
Michael C. Wright:
No team has ever started the season 0-5 and made the playoffs. My guess is everybody in that locker room believes the Giants can be an exception to that. What's the feeling in the locker room and is there genuine belief the Giants can right the ship?
Dan Graziano:
I think the Giants are shell-shocked, Michael. I don't think, in their wildest imaginations, they could ever have expected to be 0-5 with 20 turnovers and a minus-100 point differential. I truly don't believe they know where to put themselves or how to handle this situation. Last week, with a division game in front of them and an 0-4 record, there was talk of being able to fight their way back into things. Now, when you ask them about that, they say they don't even want to think about whether they can make the playoffs. It's all just, "We just need to win a game -- find a way to win one game." Things are truly awful with the Giants on every level right now, and the worst thing about what they've done is the 20 turnovers -- most of any team in the league. With that in mind, I'm inclined to think that Chicago is absolutely the worst possible place in the world for them to have to go on this particular short week. Am I right? Is the Bears defense the same kind of turnover-generating monster it was in the Rod Marinelli days?
Wright:
You might be, Dan. But at the same time, the turnovers seem to have dried up somewhat. The Bears forced 11 takeaways during their 3-0 start, but over the past two games, they've taken the ball away three times, and had no takeaways Sunday in the loss to New Orleans. Given New York's penchant for turnovers, and the fact that takeaways have been ingrained in the culture of this team's defense dating back to the start of the Lovie Smith regime, I'd guess the Bears find a way to force at least one turnover in this game. The Bears lead the league in points off takeaways (55), rank No. 1 in takeaways (14) and since 2004, have returned more interceptions for touchdowns (28) than any team in the NFL. So despite the recent drought, the Bears still field a turnover-producing defense.
Speaking of turnovers, Dan,
Eli Manning
leads the league in interceptions. Why? Is it the result of bad luck, bad decisions? Is he just forcing things and trying to make a play because of the team's dire situation?
Graziano:
After Sunday's game, Tom Coughlin said he really believes Manning is trying to do too much -- to take too much of the responsibility on himself. And honestly, I think that excuse held up a lot through the first four games, as several of the interceptions came when the team was well behind late and he had no choice but to try crazy throws to get them back into it. But Sunday was flat-out weird. The score was 22-21 Eagles early in the fourth quarter when Manning threw his first interception, and it was the first of three he would throw in the span of nine throws. The whole game fell apart as a direct result of those plays, and Coughlin also pointed out that Manning was flagged for three costly intentional grounding penalties in the game. Coughlin called Manning's mistakes "demoralizing" to the team, and it was clear he was uncomfortable criticizing the quarterback with whom he has won two Super Bowls. I think Manning is a quarterback who's just not comfortable right now, and his performance may be a symbol of the team at large as one that finds itself in uncharted territory and unsure of what to do and how to act. This all started because of a horrible offensive line that's still not doing its job, but Manning's errors Sunday were largely unforced, and I think they're evidence that the problems are snowballing.
How about the Bears? They looked so good those first three games and now have lost two. They also looked more vulnerable to the pass rush Sunday against the Saints. The Giants have only five sacks this year and aren't the fearsome pass-rush unit they were in the days when they were able to sack
Jay Cutler
nine times in a single half. But will they get opportunities to turn it around Thursday night? Or do the Bears protect Cutler better than they used to?
Wright:
The protection is definitely better under Marc Trestman, who prioritized keeping Jay Cutler clean from the first day he became head coach. The Saints definitely got to Cutler early on, sacking him three times in Chicago's first 12 plays from scrimmage. But after that, the protection held well and didn't surrender another sack. Give New Orleans coach Sean Payton and defensive coordinator Rob Ryan credit for devising a few blitzes the Bears admitted they weren't prepared for. Chicago's offense is almost exactly the same as the system run by the Saints, so Payton likely gave Ryan some pointers about the scheme's vulnerabilities in protection. The offensive line has given up nine sacks through the first five games. Last year, they'd given up that many in the first two games. So I wouldn't count on the type of performance we saw a few years ago when Cutler absorbed nine sacks in that brutal first half against the Giants. This is a much-improved offensive line, bolstered by an offensive scheme designed to get the ball out of Cutler's hands quickly.
Since we're being a little nostalgic here, what about Tom Coughlin? Under Coughlin, the Giants have been in these types of situations before where they've struggled, but later rebounded wonderfully. Aside from the losses, what's different about the current situation?
Graziano:
I think you see symptoms of decay on the lines, and to me that means the problems run deeper and will take a long time to correct. Yes, they're 0-5, but they're also 3-10 in their past 13 games dating back to the midpoint of last season. The offensive line is a wreck, and they haven't developed replacements for their aging and injured guys. The defensive line doesn't get sacks anymore (
Jason Pierre-Paul
has one in his past 11 games), and they haven't developed anyone in the pipeline on that side either. These are foundational problems that are showing up and killing this team, and the only way to fix them is with a few good drafts. The Giants, I believe, are embarking upon a painful rebuild, and I'm fascinated to see if they can accomplish it while Manning is still in his prime, and take advantage of whatever window he has left.
Coughlin's going to get to coach them as long as he wants to, however, as a result of the two Super Bowl titles. But how about the Bears' first-year coach? What's different there with Marc Trestman at the helm this year?
Wright:
The biggest difference is the level of trust Trestman has established among the players -- Cutler, especially -- in such a short period of time. It has totally changed the culture in the locker room, and you see evidence of it every day at Halas Hall. In the past, coaches rarely stepped foot into the locker room, but now, you see coaches in there every day chatting with the players. Most important, Cutler totally believes in what the team is doing offensively, and that certainly wasn't the case in the past. You can see that in the way Cutler reacts to adversity. In past years, the Bears had a tendency to go into a tailspin when they fell behind or when Cutler was taking sacks or turning the ball over. Not anymore. The Bears put together come-from-behind victories in their first two games, and in the past two losses, the club rallied from horrid starts to get back in serious contention. Trestman is definitely a very cerebral coach, and almost every player in that locker room raves about him being a good listener.
.
October, 10, 2013
10/10/13
12:00
PM ET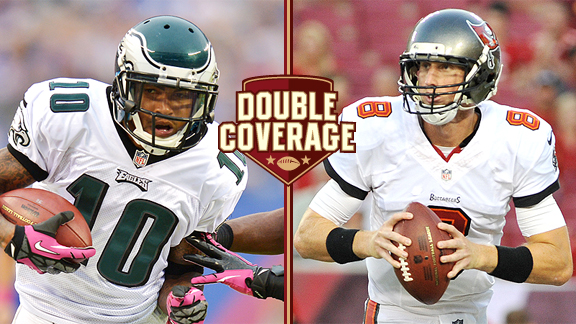 Getty ImagesDeSean Jackson is on pace for over 1,600 yards, while Mike Glennon is looking for his first win as an NFL starter.
TAMPA, Fla. -- Sunday's meeting between the
Philadelphia Eagles
and
Tampa Bay Buccaneers
represents a culture clash of offensive styles.
The Eagles have been making headlines with their fast-paced offense, while the Bucs have been plodding along with a passing offense that ranks No. 32.
ESPN.com Eagles team reporter Phil Sheridan and Bucs team reporter Pat Yasinskas discuss the matchup.
Phil Sheridan:
Eagles fans are familiar with Bucs coach Greg Schiano through his Rutgers and Penn State connections. Has he been able to hold the locker room together through this
Josh Freeman
episode?
Pat Yasinskas:
It has been a challenge and I guess you could say it remains a work in progress. There have been some reports that some veteran players aren't sold on Schiano's old-school ways. He might be a little overboard with his thoughts on order and discipline. But this was a team that was in disarray when he arrived. The Freeman episode was a major distraction, but it's over now. Schiano needs to take this team and move forward from all the Freeman stuff.
Speaking of coaches who have come from college backgrounds, Chip Kelly fits that profile and his offense has generated a lot of headlines. From a distance, it seems as though Kelly's offense has been up and down. What are your thoughts on whether this offense can be successful in the NFL over the long term?
Sheridan:
Talk about a work in progress. We all saw the Eagles burst out of the blocks in that Monday night opener in Washington. We really haven't seen much of the Kelly offense -- uptempo, innovative, aggressive -- since then. The Eagles have the NFL's top rushing offense, but that seems inflated by quarterback
Michael Vick
's rushing yards as well as defenses' willingness to let the Eagles amass yardage as long as it doesn't translate to a lot of points. Meanwhile, it does seem as though the offense wears down in games after trying to push the tempo early. I'm not sure that means Kelly's scheme won't work in the NFL or if he just doesn't have the personnel to run it.
On that note, it's especially tough on a team when one side of the ball is playing at a high level and the other is struggling. How has the Bucs' defense been able to hold opponents to such low-scoring totals?
Yasinskas:
Pitting the defense against the offense is another concern for the Bucs. Their defense has played well, overall, while the offense has struggled mightily. Although no one has griped publicly, I sense that the defensive players are frustrated with the lack of production from the offense. The secondary, the defensive line and the linebackers all have had some very bright moments. But the offense has been dismal. If things continue like they are, it's only a matter of time before there are some ill feelings from the defensive players.
Speaking of the defense, how has Philadelphia's been so far? It seems like all the talk has been about the offense, but we really don't know much about the defense.
Sheridan:
Talk about a work in progress -- oops, did I already say that? Kelly hired Bill Davis to install a 3-4 defense with a bunch of new starters (three quarters of the secondary, plus
Connor Barwin
), or old starters at new positions (
Trent Cole
, especially). The defense was OK in the opener, terrible for long stretches against San Diego, Kansas City and especially Denver, then OK again against the Giants on Sunday. There are no real playmakers, the kind who keep offensive coordinators up at night, but overall, this group seems to be jelling a bit better. The equation this year always had the offense producing enough points to carry a developing defense. So far, the offense has let down the defense.
Other than he's tall,
Mike Glennon
is an unknown to people around here. Can he play on this level or do you sense the bigger plan is to get through this season and find a quarterback in the draft?
Yasinskas:
The jury is very much out on Glennon. But Schiano has liked Glennon since he tried to recruit him out of high school and would like to make things work. Glennon is the kind of quarterback Schiano likes -- he's a rah-rah, fiery leader (something Freeman was not). Perhaps more importantly, Glennon has the big arm that Schiano covets. Schiano's core offensive philosophy is to run the ball well and take some deep shots with the passing game, so Glennon fits the profile of what Schiano is looking for in a quarterback.
Speaking of quarterbacks fitting in, how much different should we expect Philadelphia's offense to be with
Nick Foles
playing in place of Vick?
Sheridan:
I won't use the work-in-progress joke again because I'm better than that. Kelly swears it is the same offense regardless of who is playing quarterback. That is what we football insiders technically call balderdash. Kelly went with Vick because the veteran still represents a serious threat to run the ball, which in turn gives Kelly's read-option the edge it needs. Foles can move in the pocket and elude a pass rush, but his mobility doesn't translate to 20-yard read-option runs. But he does get the ball out more quickly in a rhythm passing game, so it will be interesting to see if the receivers who haven't been open for Vick -- talking
Riley Cooper
,
Jason Avant
and the tight ends -- are more involved if Foles plays.
.