NFC East:

2013 NFL Week 8 Double Coverage
October, 25, 2013
Oct 25
12:00
PM ET
Already this season,
Denver Broncos
quarterback
Peyton Manning
has faced his younger brother, Giants quarterback
Eli Manning
, and has made his first visit to Indianapolis as an opposing player.
So, what's another reunion?
Washington Redskins
coach Mike Shanahan will stand on a sideline inside Sports Authority Field at Mile High for the first time since the Broncos fired him following the 2008 season. That ended a 14-year tenure as the head coach, which included two Super Bowl wins with current Broncos executive vice president of football operations
John Elway
as his quarterback.
The Broncos are 6-1, having suffered their first loss of the season against the Colts in Week 7. The Redskins (2-4) have won two of their last three after an 0-3 start. ESPN.com Redskins reporter John Keim and Broncos reporter Jeff Legwold break down this week's game:
Legwold:
John, we'll get to the football in a minute. Sunday's game is essentially unprecedented in that a coach is coming back to face the team with which he won a Super Bowl -- one that is now run by his former quarterback. How has Shanahan described all of this? And do you get any kind of sense it means any more to him than any other opponent?
Keim:
You probably know as well as anyone how Mike gets in these situations. He's talked about how important Denver is to him because he spent 21 years there, his kids were raised there and he still maintains a home in the area. But Shanahan is as competitive as they come, and there's no doubt his mindset is not on sentimentality, but on proving he should not have been fired in the first place. I remember hearing stories while he was in Denver about him, after winning the Super Bowl, showing reporters their newspaper clippings from early in the season. He coaches with a chip; it's what drives him to be successful.
I think Mike might feel better if the Broncos' offense wasn't playing so well. But have defenses started to attack them differently -- and with more success -- lately?
Legwold:
For all of their struggles this season -- and at 0-7, the Jaguars have had plenty -- it was Jacksonville's defense that opened the box a bit, and the Colts took that cue. It was the Jaguars, being such a heavy underdog, who played more aggressively on defense than any of the Broncos' first five opponents. Jacksonville's defensive backs were more physical with the Broncos receivers, and the Colts went to the next level with that. The Colts played in press coverage much of the time on the outside, matched up one-on-one on the Broncos wideouts, kept the two safeties deep and defended the run with seven in the box most of the night. Now, it is a testament to the Broncos offense that "holding" it to 33 points, as the Colts did, was a season low. But it is probably a template others will try to duplicate, at least until the Broncos show they have an answer.
To that end, how do you think the Redskins will attack Manning and the Broncos' wide receivers?
Keim:
They have to be aggressive, as they were against
Tony Romo
and against
Jay Cutler
, until he got hurt. The Redskins will not blitz every down by any means; they feel good about their ability to pressure with four -- thanks to having linebackers
Ryan Kerrigan
and
Brian Orakpo
and nose tackle
Barry Cofield
. But they will blitz from the slot and send the safety off the edge once in a while. Anything up the middle will come from the linebackers. What they've also tried to do the last couple weeks against very good receivers is jam them and disrupt timing. They won't do it every down; sometimes they'll do it at the line and sometimes they'll wait a couple yards. They will mix coverages; Washington uses a lot of three-corner, one-safety sets and that enables corner
Josh Wilson
to sometimes disguise his position. Will he be in the slot? Strong safety? That occasionally buys them time to get free on the rush. They will have a tough time against
Wes Welker
, as everyone does. But with issues at safety this week --
Brandon Meriweather
's suspension and
Reed Doughty
's concussion -- I think you have to mix it up. If they try to just play coverage against Peyton Manning, he will pick them apart. It's not their style to just sit back.
Are you surprised by what Denver's offense has done? If so, what surprises you?
Legwold:
I'm a little more surprised defenses were so passive early in the season in terms of how often they rushed Manning, especially after he simply torched coverage looks week after week. Despite the avalanche of touchdowns through the weeks, team after team chose coverage over pressure, and that's probably understandable, given Manning has routinely eaten up blitz packages like breath mints throughout his career. But until the Jacksonville game, defenses had rushed Manning with four or fewer on 70 percent of his dropbacks. The Jaguars and the Colts were more aggressive and had some success against a battered offensive line. There is a slight chance right tackle
Orlando Franklin
(knee) could be back this week -- that is the most optimistic scenario with the bye coming next week for the Broncos -- but left tackle
Ryan Clady
is on injured reserve. Manning has always been quick to adjust, so the Broncos will handle some things better than they did against the Colts. But when they're right and in rhythm, there are defensive coordinators who say the Broncos are as close to unstoppable as the league has to offer because they routinely have four pass catchers in the pattern who can consistently beat one-on-one coverages.
Staying on quarterbacks, the general feeling around the league seems to be that
Robert Griffin III
has been more himself over the last two games or so. Is that the case, or have the Redskins made some kind of adjustment to help him along?
Keim:
No, I think the adjustment has been more about Robert trusting his knee and feeling good enough to let loose again. The Redskins say there were runs for him in the game plan in the first couple weeks, but I think that was just lip service and a desire to try and con other teams. The reality is, Robert wasn't going to be running a lot early in the season. I also think Dallas and Chicago both played in a way that fed into his running: man coverage on the outside and a big focus on stopping running back
Alfred Morris
. The Bears played as if they had not seen the Dallas tape; there were times when most of the eyes were on Morris, a contrast to last season when they were more on Griffin. So he had to run more. But I really think this is about him feeling better -- not healthier, but just overall better.
Teams blitzed Griffin early in the season because he wasn't quite himself. They also played the zone read with a little more discipline (until last week). How do you think Denver will react to his style of play?
Legwold:
It's easy to forget in all that's happened all over the league since, but it was John Fox, former offensive coordinator
Mike McCoy
and current offensive coordinator Adam Gase who dropped the read option on the NFL in the 2011 season. The Broncos had
Tim Tebow
at quarterback then, and discovered he didn't function well in a traditional pro-style, dropback passing offense. So they unveiled the read option against the Raiders that season, won big and eventually made the playoffs at 8-8. The Broncos have since defended the look well, but Griffin will be the most explosive player they've seen running it. Defensive coordinator Jack Del Rio is aggressive and the Broncos like to try to force the issue.
Champ Bailey
won't play because of a foot injury, but Del Rio likes his other corners enough to play plenty of man coverages. They will likely use some sort of spy on Griffin in some down-and-distance situations, and take a measured approach in the pass rush so they don't get too deep into the backfield and give Griffin escape routes.
Staying with the Redskins' offense a little more, on the outside it looked as though there was at least a small rift between Griffin and both Mike and (offensive coordinator) Kyle Shanahan earlier this season. Was that the case, and if so, have they worked through it?
Keim:
A rift? Not sure if it went that far (though perhaps this is semantics), because that feels harder to repair. But there was definitely a little tension as the coaches and player sought to get on that so-called same page. From Griffin's perspective, what I've always heard is that it was a matter of him being able to trust his coaches -- that what they told him during the week would play out on Sunday. He needs to trust them. From Mike Shanahan's perspective, he always liked to let Griffin know who was in charge. For Shanahan, this is a business relationship, though Griffin seems to like having something more from those he works with. Shanahan only wants to win a Super Bowl. That's it. Griffin's dad didn't help the cause by talking about how his son shouldn't run the ball; the coaches would point out that Griffin's ability to run is why he was so good last year. He's not an accomplished passer yet and needs his legs to be dynamic. I've always felt this was an evolving relationship and one that could work. But I'll be curious to see what happens with it should the Redskins fail to turn their season around (and it becomes a disaster). Just keep in mind: Griffin is tight with the owner.
How did
Von Miller
look in his return and is he enough to save the Broncos' defense?
Legwold:
Miller looked like he had missed six weeks' worth of practice. At times he flashed his ability, but he also looked rusty and sluggish. Time will ultimately tell the tale, but it will be interesting to see if the extra 10-15 pounds he said he added in intense workouts during his suspension affect his play. His game before the suspension (for violating the league's substance-abuse policy) was predicated on speed off the ball, explosiveness and the ability to change direction at full speed, without losing any momentum toward the ball carrier. It was just one game, and publicly Fox keeps saying it will get better, but Miller did not consistently show that same explosiveness this past Sunday. Internally, some with the team are concerned Miller continues to avoid taking any full responsibility for what's happened. He is now in Stage 3 of the league's drug program, which means his next suspension is for at least a year,and he's tested up to 10 times a month for the remainder of his career. Yet he continues to say he doesn't have a substance-abuse problem or need any help in a treatment program. So, some are left to wonder how exactly he got all the way to Stage 3 without having a substance-abuse problem. Put it all together and Miller certainly does have question marks around him. On the field, though, the Broncos need him to be better than he was Sunday night if he's going to have the kind of defensive impact they hope to see.
In the end, with a 2-4 start, is Shanahan in any real trouble with owner Daniel Snyder if they don't rebound to make the postseason or at least be in the hunt down the stretch?
Keim:
I haven't heard Shahanan would be in that sort of trouble. I think it would take an outright disaster for anything to happen, and former Redskins tight end
Chris Cooley
, for example, recently said that Shanahan would return regardless (Cooley remains close to many in the organization). But the interesting part will be whether he gets an extension. Shanahan signed a five-year deal and has constantly said that owner Dan Snyder would give him all five; otherwise he would not have come here. But would he want to enter the last year of his contract without an extension? So there is a scenario under which Shanahan does not get fired, but presses Snyder for an extension. At that point, Snyder has a decision to make; if he doesn't grant the extension, then Shanahan could end up resigning. Once again, there could be offseason drama in Washington.
Do you view Denver as a legitimate Super Bowl contender, or do you have concerns that they're built more for the regular season than postseason success?
Legwold:
In the end, if they can avoid too many more major injuries, they'll have the offense to put themselves in the title hunt. The question will be, can they find enough defense from a unit that, somewhat surprisingly, hasn't performed nearly to the level of last season? Also, they have to play with a little more edge on offense. Receivers can't always be looking for a flag because there is some contact, and they can't react as poorly as they sometimes do after fumbles or other misfortunes. Just get back up and play. But it is a talented group who generally works hard across the board, and when it plays with purpose and toughness, it can be the best the league has to offer. It's a matter of keeping their eye on the ball, as it were, and closing the deal.
.
October, 24, 2013
Oct 24
12:00
PM ET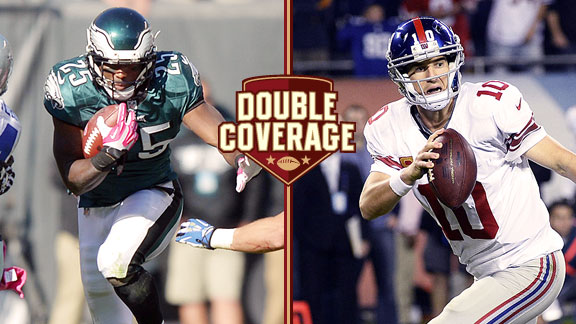 USA TODAY SportsA steady diet of LeSean McCoy will help keep Eli Manning and the New York offense on the sideline.
Just three weeks after the
Philadelphia Eagles
beat the
New York Giants
36-21 at MetLife Stadium, the NFC East rivals meet again Sunday. This time, the scene is Lincoln Financial Field, where the Eagles have lost a franchise-record nine consecutive games.
As he did last time,
Michael Vick
is expected to start at quarterback for the Eagles. Vick was injured before halftime of that game and hasn't played since. In his absence,
Nick Foles
led the Eagles to a decisive win in Tampa and an equally decisive loss to Dallas. Foles left that game with a concussion.
As he did last time,
Eli Manning
will start for the Giants. The Eagles intercepted Manning three times in the fourth quarter. Against the Vikings Monday night, Manning had his first game of the season without an interception, after throwing 15 in the Giants' first six games. All six were losses, which is probably not a coincidence.
Dan Graziano, who covers the Giants for ESPN.com, chatted with Eagles reporter Phil Sheridan about Sunday's game.
Phil Sheridan:
Now that the Giants have that elusive first win, is there a sense the season is salvageable?
Dan Graziano:
Phil, I really think the Giants have excelled at one thing this year, and that is keeping their focus on the week at hand and pushing the ugly, big picture out of their minds. They know they're in a huge hole at 1-6. If they stopped to think about it, they'd probably realize their chances of making it a season are impossibly low. But they're not stopping to think about it. They are enjoying the fact that they won a game for the first time since Week 17 of last year, and then they're locked in on trying to beat the Eagles and get another one. This is where Tom Coughlin's leadership shows, I think -- in the Super Bowl runs but also in a tough time like this, when it really is all about playing for pride, but over the years we've seen a lot of teams unable to do that when a season slips away. The Giants are unlikely to quit on their season, no matter how bad it gets, and that week-to-week focus is critical to that.
How about the Eagles? Ol' Mike Vick couldn't finish the game three weeks ago and hasn't played since, but it sounds like he's starting Sunday, right? Will he be at full strength and able to rip off those long runs that caused the Giants so much trouble the first time?
Sheridan:
I doubt Vick himself will know the answer to that one until he tries it, Dan. That's the thing about an injury like a hamstring or other pull. You can't be sure it's 100 percent until you do something that would make it pop again without popping it. Vick has been avoiding that while the injury heals. That question leads to the next point, which is that Vick running was about the only thing working for the Eagles in that game against the Giants. He couldn't get the passing game going and the Giants drew up the blueprint Dallas just copied to contain
LeSean McCoy
. So this shapes up as a tough test for Vick and the rest of the offense.
Speaking of that Giants' defense, it looked as if
Jason Pierre-Paul
had a little more bounce Monday night. How much better and healthier is that defense than it was even three weeks ago?
Graziano:
Pierre-Paul did look better in the first half, I thought. I thought the same thing in the first Eagles game. But we haven't seen him maintain it throughout a game yet, and regardless of how he looked Monday, he's still a player who has one sack in his past 14 games. The Giants need him to be great, and he hasn't been. They believe there's a week coming when he'll terrorize people again. They wish they knew which it was. The biggest difference, though, to me on the Giants' defense is new middle linebacker
Jon Beason
, who has really taken over as a leader and a playmaker the last two games since coming over in that trade from Carolina. Beason is getting the defense fired up before the game and lined up during it, and his performance so far really points to how glaring their need was for anything at all at linebacker. The whole defense is more energized and organized now, and they are doing a good job limiting opposing running backs, especially between the tackles. Vick and McCoy are going to have to find room outside if they're to pile up yardage.
How's that Eagles defense shaping up these days? I know they were happy when Eli Manning started throwing them the ball a couple of weeks ago in the fourth quarter, but they weren't much for stopping a weak Giants offense in the first three quarters. Are they improving on defense in Chip Kelly's first year?
Sheridan:
They were darn near respectable against the Cowboys Sunday. It's important to remember that the Eagles played the Broncos right before the first game against the Giants. Peyton Manning put up 52 on them. It was an Arena League game. The Eagles desperately needed to show some improvement. When Eli Manning hit on a couple of deep throws, it looked like another debacle in the making. That fourth quarter, and those three picks, helped a lot. The Eagles were fine against Tampa Bay, but that was against a rookie quarterback making his second start. So playing well against
Tony Romo
and
Dez Bryant
was a big step. They aren't going to scare anyone, but they can get some pressure on the quarterback, play the run reasonably well and are improving in the secondary. It remains a work in progress, but you can actually see the progress, which helps.
Seems like the Giants went ahead and grafted an entirely new running attack onto their offense since the last go-round. How effective have
Brandon Jacobs
and
Peyton Hillis
been? And has that helped Eli get the passing game going a little bit more effectively?
Graziano:
Well, Jacobs rushed for 106 on 22 carries in the loss to the Bears, but he and
Da'Rel Scott
hurt their hamstrings in that game, so they ended up signing Hillis last week and running him and rookie
Michael Cox
out there for their first carries of the season Monday. Figure
David Wilson
and
Andre Brown
were supposed to be the "co-starters" preseason, and they're down to their No. 5 and 6 running backs. I think the Jacobs game was a fluke against a bad Bears defense that has nothing on the defensive line right now, and while Hillis got some love Monday, they averaged only 2.0 yards per carry against the Vikings. The one thing that I think has come out of the past two games in terms of running backs is that Hillis looked like a good checkdown option for Manning catching passes out of the backfield. So many of Manning's issues this year come down, I think, to his insufficient comfort level in the pocket due to protection issues. Having a checkdown pass-catcher whom he trusts would be a helpful thing in terms of limiting turnovers.
And Manning cutting out the turnovers sure would put the Giants' fans in a better mood going forward. Speaking of which, what's the mood like around the Eagles in Philadelphia these days? The fans high on Chip Kelly? Skeptical? And ultimately, do you think they break their home losing streak against the last team they beat down there?
Sheridan:
I would say there is a fair amount of skepticism about Chipper right now. Not being Andy Reid only goes so far (especially when Big Red is Bigger, Redder and 7-0). Reasonable fans (there are a surprisingly large number of those here) expected it to take a little time to implement Kelly's plan. I think whatever doubts have crept in are due to Kelly himself: a silly two-point conversion try against San Diego, admitting he didn't know an injury/timeout rule, a truly dreadful offensive showing against the Cowboys, and so on. We just haven't been dazzled by the promised bells and whistles on offense. Still, there is a lot of curiosity about where this is going and what Kelly will do next. As for predictions, well ...
.
October, 24, 2013
Oct 24
12:00
PM ET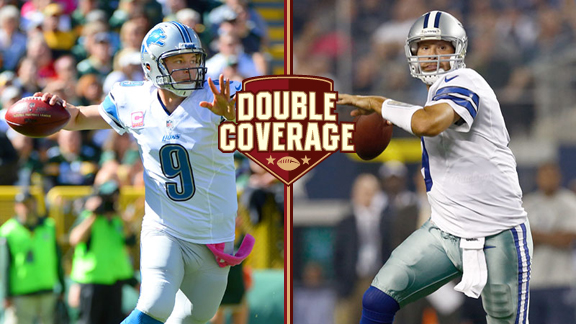 Getty ImagesBoth Dallas quarterback Tony Romo and Detroit quarterback Matthew Stafford have seen needed improvements in certain aspects of their games this season.
It is a matchup between two potential playoff teams and two of the best wide receivers in the game,
Calvin Johnson
and
Dez Bryant
.
But the Dallas-Detroit game on Sunday has other twists, too. For the Lions, Sunday is a chance to grab back some momentum from a strong start to the season. For the Cowboys, it could be a chance to widen their lead on their NFC East opponents.
Dallas NFL Nation reporter Todd Archer and Detroit NFL Nation reporter Michael Rothstein break down what you might see Sunday afternoon.
Rothstein:
Let's start here -- last week in Detroit there was a lot of discussion of
A.J. Green
and Johnson as two of the best receivers in the league. Now it is Bryant and Johnson this week. What is it that Bryant does that should really concern Detroit's cornerbacks, who let Green go for 155 yards Sunday?
Archer:
Bryant can go get the ball. He is virtually impossible to defend in the red zone (and sometimes he'll push off too), but cornerbacks just don't have a chance on him. He's a better route runner now than he was last year and the Cowboys are using him on more varied routes. When he came into the league he would make the spectacular play but couldn't make the boring play consistently. Now he's doing both. But his No. 1 attribute is his physical style. He will fight for the ball and fight for yardage. He's special in that regard.
The Cowboys have had
Brandon Carr
follow Demaryius Thomas,
Pierre Garcon
and
DeSean Jackson
the past three games. I'm sure they'll do the same with Calvin Johnson. When teams have matched up with Johnson like that, how has or hasn't it worked?
Rothstein:
There haven't been too many teams that have single-covered Johnson -- at least not for extended periods of the game. The closest would have been against Arizona in Week 2, but the Cardinals have
Patrick Peterson
and Johnson had six catches for 116 yards and a touchdown against him. Really, the only thing that has slowed Johnson this season was a knee issue that kept him out of the loss to Green Bay and limited him against Cleveland a week later. Not surprisingly, Johnson still draws a ton of attention with a safety rolling to him over the top.
What that has done is opened up the offense underneath for
Reggie Bush
and, to an extent,
Joique Bell
. When both are healthy and playing well, the Lions have had a pretty strong offensive threat from deep threats to short bursts. How does Dallas plan on dealing with that, especially considering
DeMarcus Ware
's questionable status?
Archer:
Running backs and tight ends have hurt the Cowboys in the passing game this year. The safeties have been only OK but are coming off a pretty good game at Philadelphia against
LeSean McCoy
, who's as shifty or more than Bush. The Cowboys had their best tackling game last season against the Eagles.
Sean Lee
and
Bruce Carter
have played better here lately and will be largely responsible for the backs, but safeties
Barry Church
and
J.J. Wilcox
will be a presence too. Losing Ware would be a big blow to a defense that has to get pressure on
Matthew Stafford
. The Cowboys have been rolling in new guys pretty much every week across the defensive line, and added Marvin Austin this week to help at tackle.
Speaking about the defensive line allows me to talk about Rod Marinelli. He has been nothing but great here with those no-name guys, but what's the feeling of him up there considering that 0-16 season?
Rothstein:
That was before my time -- I was still covering the Charlie Weis Notre Dame years when Marinelli was in Detroit -- but I can say I have not heard anything about that season in my short time here and most of the current team arrived in 2009 or later.
But the 0-16 season contributes to the typical angst the Lions fan base has over any success the team has -- as in waiting for the bottom to drop out. But most of this team is so new, there isn't much of that feeling. Plus, as injured receiver
Nate Burleson
said earlier this year, when you go to play in Detroit, you know there are going to be questions about losing streaks to be broken and demons to be exorcised.
Since we're chatting a little bit about defense,
Tony Romo
is being sacked on 6 percent of his attempts, so is Dallas' line doing a good job protecting him or are these more coverage sacks? What's going on with the protections?
Archer:
The line has improved a lot from recent years, especially in pass protection. They revamped their interior line with
Travis Frederick
, their first-round pick at center,
Ronald Leary
at left guard and
Brian Waters
, who did not play last season, at right guard. Tackles
Tyron Smith
and
Doug Free
are performing better than they did a year ago. Romo has taken a number of coverage sacks this year, and he's also elusive for a guy who does not appear to be the most athletic. He has terrific vision and a quick release that can bail him out of trouble. As strange as it sounds, I think Romo also has seen the value of taking a sack and not forcing a throw.
Let's stick with the quarterback play. Stafford is a Dallas kid, so we know his background. He likes to throw it around, but like Romo, his interceptions are down. Is he just being more careful with the ball or has the attack changed a little?
Rothstein:
Having Reggie Bush in the offense has allowed Stafford to throw the ball shorter more often and as an old coach I used to cover once said, "Short passes are happy passes." They are also more likely to be completed passes. Here's something to consider with Stafford as well. His numbers could be much better, but his receivers have dropped 6.9 percent of his passes. Hold on to even half those and he's completing around 65 percent of his passes this season. He also has gotten much better at throwing the ball away instead of forcing passes. That's been a big change. There is an accuracy component to it as well, but he isn't taking nearly as many downfield chances.
Speaking of semi-homecomings, you mentioned Carr earlier. Does this game mean more to him because he is coming home as he grew up and played his college ball in Michigan? And second thing on that, has Dallas changed a lot from last season or can a guy like
Kevin Ogletree
help this week?
Archer:
I'm sure it does but Carr will attempt to downplay it. He still carries that Grand Valley State/fifth-round pick chip on his shoulder even if the Cowboys gave him a $50 million deal last year as a free agent. He has done a terrific job here the past three weeks as we talked about earlier. Jason Garrett even went out of his way to praise Carr's work on special teams, so you can see the Flint in him hasn't left. As for the Ogletree angle, he had a hard enough time with the offense that I don't think he would help with the defense. The Cowboys have a completely different scheme from Rob Ryan's 3-4 to Monte Kiffin's 4-3. Ogletree will know some personnel, but the corners are playing a little different than they did a year ago so I don't think it will matter much.
I haven't asked about the Lions defense yet. Just by looking at the numbers they seem to be pretty good situationally: third down, red zone. Is that the wrong read here?
Rothstein:
The defense is kind of a little bit of everywhere. Great on third down over the first month of the season -- not as much over the past three weeks. Perhaps a corollary here is the defensive line not getting quite as much pressure on opposing quarterbacks the past three weeks as it did during the first month of the season. Red zone defense has been pretty good. Overall, it is a decent Lions defense.
DeAndre Levy
is having a Pro Bowl-caliber season at linebacker and the defensive line and safeties have been good. Cornerback has been a bit up-and-down, though.
My final question to you sticks with this theme. We touched on the Dallas offensive line earlier, but how do the Cowboys deal with
Ndamukong Suh
? He is a guy who can change games on his own.
Archer:
This is part of the reason why the Cowboys wanted Frederick, Waters and Leary. They're stout players. The Cowboys have not had much power in the middle and it has hurt the running game as well as pass protection. Suh, obviously, offers a different challenge. Waters has the strength necessary but he does not move like he did a few years ago. The Cowboys will give him some help but not all the time. And I think Romo can help out the line as well by getting rid of the ball quickly. The Cowboys only take a handful of downfield shots a game, relying mostly on underneath stuff to work their way down the field.
The Lions are 4-3 like the Cowboys and this is a huge game for both when you start thinking about December and playoff chases. You touched on this earlier, but is the town ready to get behind the Lions, especially because the Tigers aren't in the World Series and it's still early in the Red Wings' season?
Rothstein:
I think there is some of that, for sure, and I think there is the hope among the fan base that this year's Lions team is for real. But as I mentioned earlier, there is going to be that sense of dread -- which is why a win for Detroit on Sunday would really go a long way to bolster that fan base confidence. And probably to maintain the confidence in the locker room as well.
.