NFC East:

2013 Week 1 Upon Further Review NFC
September, 10, 2013
9/10/13
1:35
PM ET
A review of four hot issues from the Washington Redskins' 33-27 loss to the Philadelphia Eagles:
[+] Enlarge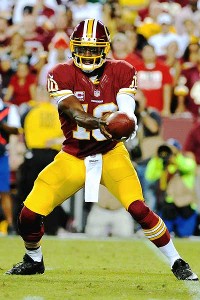 Brad Mills/USA TODAY SportsRedskins QB Robert Griffin III had a shaky first game back following offseason knee surgery.
Robert's Rust:
It turns out
Robert Griffin III
is human after all and even he needs game action to get back into a groove. Griffin learned lessons as a rookie in the 2012 preseason about being in the pocket and dealing with the rush. He clearly was off on some throws. The final two quarters will help get his feel back. Though almost all of those passes were underneath throws, it enabled him to find a rhythm. The Redskins say they practice like it's a game, but no experience is better than game experience. It's not just about the physical aspects, but also the mental. Griffin said he thought he saw something else on his first interception. But replays showed the corner,
Brandon Boykin
, had
Santana Moss
covered the whole way with safety help. There was never a chance to squeeze the ball into him. When Griffin is in rhythm, he does not make that throw.
Not so special teams:
The Redskins lost the field position battle because the offense struggled to move the ball and because the special teams provided no help. Returner
Chris Thompson
fair caught one punt at the 5-yard line (it might have been downed around there anyway) and he ran back three kickoffs for 56 yards. Those three returns left Washington with the ball at its 9, 13 and 21, respectively. A bad debut for the rookie. Punter
Sav Rocca
started out fine, but his 34-yarder gave Philly the ball at Washington's 44 en route to a touchdown. And placekicker
Kai Forbath
missed a 40-yarder wide right -- he was 17 of 18 in 2012.
Safety trouble:
With
Brandon Meriweather
still nursing a sore groin -- he really hasn't been healthy at all in Washington since signing in 2012 -- the Redskins opted for speed at safety and moved corner
E.J. Biggers
to strong safety. It did not give the Redskins what they had hoped. Biggers did not tackle well (missing
LeSean McCoy
, as others did, on his 34-yard touchdown run in the third) and appeared to be out of position (he wasn't alone) on a
DeSean Jackson
touchdown in the opening quarter. They did not use veteran
Reed Doughty
, a better tackler but not as strong in space, in coverage. Rookie free safety
Bacarri Rambo
also missed tackles.
Run down:
Running back
Alfred Morris
had a terrible start with a fumble on his first series and dropping a pitch in the end zone for a safety. Morris only gained 45 yards on 12 carries. But too often a missed block caused him to cut back several yards deep in the backfield, preventing a possible solid run. On some of these plays, it would be well-blocked to where he was headed. It wasn't just the linemen; the tight ends lost some blocks, too. Regardless, it prevented the Redskins from taking pressure off Griffin with the run.
September, 9, 2013
9/09/13
12:00
PM ET
ARLINGTON, Texas --
An review of four hot issues from the Cowboys' 36-31 win over the Giants:
Big hustle play:
In last year's season-opening win against the Giants,
Tyron Smith
made a touchdown-saving tackle after an interception, and then the defense held
Eli Manning
and his offense to a field goal. On Sunday,
DeMarco Murray
tracked down safety
Ryan Mundy
after an interception at the Dallas 1, and once again the defense held New York to a field goal.
[+] Enlarge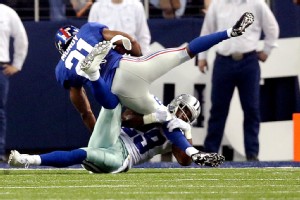 Matthew Emmons/USA TODAY SportsDeMarco Murray tackled Ryan Mundy just short of the goal line and the Cowboys held the Giants to a field goal.
On first down,
David Wilson
was stopped for no gain. On second down
George Selvie
sacked Manning for a 10-yard loss. On third down
Brandon Myers
was tackled at the 2, setting up the field goal.
"Defense did a great job but that doesn't happen if DeMarco doesn't make that hustle play," coach Jason Garrett said. "We talk about the team, the team, the team all the time. That was a team play."
Dirty work:
Dwayne Harris
made his name late last season as a punt returner and valuable backup receiver. On Sunday he had two catches for 12 yards and averaged 9.5 yards on two punt returns, but it was his work on the coverage teams that stood out most. He had three special-teams tackles, stopping Giants returner
Rueben Randle
cold. Last year Harris had five solo special-teams tackles the entire season.
Playing from ahead:
How strange was Sunday's game? The Cowboys did not trail the entire game. They could not say that at all last year. And by at all, we mean at all. They trailed at some point in every game in 2012. The last time they did not trail in a game came on Dec. 17, 2011, at Tampa Bay when they beat the Buccaneers 31-15.
Lineup changes coming?
Brian Waters
was inactive, but the Cowboys want to work him in as quickly as possible. The question is where?
Mackenzy Bernadeau
started at right guard and left guard
Ronald Leary
made the first start of his career. For Waters, a Week 2 start at Kansas City, where he spent the first 11 years of his career, would seem fitting.
"We'll see how he fits into the mix, gets himself acclimated to our system and get him ready to play again," Garrett said. "But I thought our guys fought well tonight. We'll talk about how the roster evolves, how the starting lineup evolves over the next couple of weeks."
September, 9, 2013
9/09/13
12:00
PM ET
An examination of four hot issues from the Giants' 36-31 loss to the Cowboys:
[+] Enlarge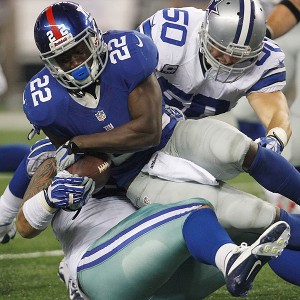 Ron Jenkins/Fort Worth Star-Telegram/MCT via Getty ImagesGiants running back David Wilson lost two fumbles in Sunday's loss to the Cowboys.
David Wilson's fumbles
. This isn't like last year, when the Giants could afford to stash Wilson on the bench after his Week 1 fumble against the Cowboys because he was a rookie and they had
Ahmad Bradshaw
and
Andre Brown
in the backfield. Bradshaw is gone and Brown is out until at least Week 10 with a broken leg. Wilson is supposed to be the guy who breaks out in the Giants' run game this year and emerges as the big-play threat they drafted him to be. Even if they sign a veteran back this week, the Giants know they need Wilson to recover from Sunday's two fumbles and earn his way back into the lineup as the starter and lead runner. He'll have to get another shot, and soon.
The secondary.
The defense was on the field too much and playing with too short a field as a result of the turnovers, but I thought the Giants' secondary covered well. Had a plan and executed it. The Giants shaded a safety to
Dez Bryant
's side all night, whether he was lined up on
Corey Webster
,
Prince Amukamara
or
Aaron Ross
. They kept
Terrell Thomas
in the slot on
Miles Austin
, and he purposely played off of Austin so as not to let him get behind him for a big play. It was probably a blueprint for next week's game against the Broncos (watch for Thomas on
Wes Welker
in the slot), though if Amukamara's concussion keeps him out of next week's game, using Ross at corner for a whole game could cost them.
Linebacker as a weakness
. The Cowboys' plan was clearly to attack the middle of the field with short-range passes against the Giants' linebackers, which is a position of weakness for the defense. Tight end
Jason Witten
didn't have 18 catches as he did in the previous matchup, but he had eight and Austin had 10 in that part of the field as
Tony Romo
made a point of getting rid of the ball as quickly as possible. The Giants' pass-rushers must find a way to force quarterbacks to take shots deeper down the field. It will increase the chances for opponents' mistakes and reduce the Giants' dependence on the linebackers to handle the middle of the field so much.
High-octane receivers
. If the Giants can get the play blocked (and there were issues with that Sunday night as well), their passing offense will keep them in games.
Victor Cruz
and
Hakeem Nicks
both looked healthy, and
Rueben Randle
had a 100-yard game as well. With that many options to throw to,
Eli Manning
could pile up yards this year. The key now is to make it so he's not always playing from behind.
September, 9, 2013
9/09/13
8:00
AM ET
CHARLOTTE, N.C. --
A examination of four hot issues from the Carolina Panthers' 12-7 loss to the Seattle Seahawks on Sunday at Bank of America Stadium:
[+] Enlarge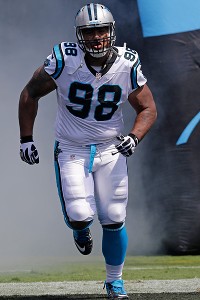 AP Photo/Chuck BurtonRookie defensive tackle Star Lotulelei had a strong first game.
As advertised:
The defensive front seven might be better than advertised. It held running back
Marshawn Lynch
to 43 yards on 17 carries and the ground game to 70 yards. Rookie tackle
Star Lotulelei
showed star potential with four tackles and good inside pressure. The secondary remains a question as advertised. Cornerback
Josh Thomas
lost containment on consecutive deep passes, the second resulting in a game-winning 43-yard touchdown in the fourth quarter. Quarterback
Russell Wilson
completed a gaudy 75 percent of his passes for 320 yards -- his first 300-yard passing game -- for a rating of 115.7. Holding the Seahawks to 12 points was solid overall, but not enough to overcome a worse-than-advertised offense.
Deep trouble?
Quarterback
Cam Newton
attempted only four passes beyond 10 yards, the second-lowest total of his career. He finished with a career-low 125 yards passing. Perhaps the play calling was conservative going against one of the best defenses in the NFL. Newton said the offense pretty much stuck to its game plan, but if this is the game plan of new offensive coordinator Mike Shula all season, the Panthers might be in deep trouble. They might be anyway with
Steve Smith
and the untouchables (only one player touched a pass outside of Smith) at wide receiver.
Brandon LaFell
, who was supposed to emerge as the second receiver, didn't catch a pass. He was targeted only once, and there was a hold on that play. Newton said Shula "did an unbelievable job calling plays," and the Panthers took what was given to them. He also said, "we have to be more aggressive and take the bull by its horns and go." The good news is they won't face many defenses as tough as Seattle's.
Close not good enough:
There's no such thing as a moral victory because you played arguably the best team in the NFC to within five points. Not when your record was 1-7 in games decided by seven or fewer points a season ago and when your head coach is 2-13 in games decided by a touchdown or less. Losing close games breeds more close losses. If this trend isn't reversed, it leads to a coaching search.
Missed opportunities and silly mistakes:
Marginal teams can't afford to miss opportunities or make silly mistakes. The Panthers, a marginal team, had both contribute to the loss. The most-glaring missed opportunity was
DeAngelo Williams
' fumble at the Seattle 8-yard line with the Panthers trailing 12-7 in the fourth quarter.
The silly mistakes? Backup defensive end
Frank Alexander
was disqualified for swinging at an offensive lineman after coach Ron Rivera warned his players the Seahawks get "chipper," his word for doing things to get you out of your game. Thomas had a punt go off his leg after
Ted Ginn Jr.
had called for a fair catch, which resulted in a turnover.
Armond Smith
was penalized twice -- yes twice -- for illegally going out of bounds and returning to the field on punt coverage. It all adds up to a loss if you're a marginal team.