NFC East:

2013 Week 11 Upon Further Review NFC
November, 18, 2013
11/18/13
9:25
AM ET
A review of four hot issues following the
Washington Redskins
'
24-16 loss
to the
Philadelphia Eagles
:
Ref-gate:
The NFL will look into left tackle
Trent Williams
' allegations that umpire Roy Ellison called him a "garbage-ass, disrepectful m-----f-----" Sunday, which teammates corroborated. If that's indeed what Ellison said, it's beyond uncalled for by someone in his position. But for the Redskins, the conversation should not shift away from why they're 3-7 and where they might be headed. The problem with their season has not been officiating, it has been their own play. In fact, Washington had only four penalties Sunday compared to nine for the Eagles. And for the season, Washington is averaging 6.1 penalties per game compared to 7.2 in 2012. Some bad calls? Yes. Missed calls? Absolutely (See: Dallas). I've also seen
David Amerson
get away with what looked like holds or pass interference penalties. Williams' accusations are serious, but when adding up reasons for their bad record, officiating is far down on the list. Good teams overcome obstacles.
[+] Enlarge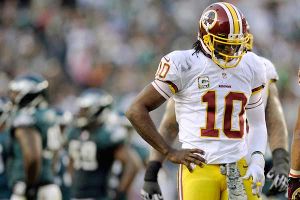 Michael Perez/AP PhotoRedskins QB Robert Griffin III is still maturing as a passer, even during a Week 11 loss at Philadelphia.
Return game:
The Redskins used
Nick Williams
on punt returns Sunday and nothing changed. He muffed one punt and failed to field another that led to a 15-yard roll to the Washington 4-yard line. Williams was playing for a punt to the other side of the field, so he was aligned on his left hash (with the ball on the right hash). When the ball was snapped and as punter
Donnie Jones
started to angle the other way, Williams drifted to his left, anticipating a punt to that side. Williams said he handled it the right way, but it still begs the question: Would a more experienced returner have handled it differently -- not drift so soon -- and saved those 15 yards? Regardless, the return game looked a lot like it had all season. Williams will get more chances and you can't draw conclusions after his first game in the NFL; but at some point the return game needs to provide a spark.
Griffin's passing:
One week
Robert Griffin III
looks as if he's maturing as a passer (Chicago, San Diego, Minnesota). The next week he looks bad (Denver, Philadelphia). The reality is that Griffin is an inexperienced passer and any legitimate improvement won't come until next season. It's not just about making reads; it's about going through progressions at a certain pace and maintaining your mechanics. Things that are tough to work on during the season. He was bad from the pocket Sunday and his big plays occurred when he could get outside of it -- the touchdown passes to
Darrel Young
and
Aldrick Robinson
.
Second chance:
Former starters
Josh Morgan
and
Fred Davis
were inactive Sunday -- for Morgan it was the first time. Neither is happy with their situation, but both might get another opportunity because of injuries.
Leonard Hankerson
is undergoing an MRI Monday to determine the extent of a possible LCL injury to his left knee. If he has to miss time, then Morgan would return to the lineup at the Z position. But he needs to be a lot more productive than he had been in the first nine games (19 targets, 11 catches, 124 yards). Yes, he didn't play as much, though he also didn't do enough to maintain his grip on the starting job. Davis lost his job as much because of the emergence of rookie
Jordan Reed
as anything; a sprained ankle didn't help, either. But Reed now has a concussion and his status for Monday's game versus San Francisco won't be known until later in the week. It could provide Davis an opportunity to remind everyone that only a year ago he was a good receiving tight end.
November, 18, 2013
11/18/13
8:00
AM ET
EAST RUTHERFORD, N.J. -- An examination of four hot issues from the
New York Giants
'
27-13 victory
against the
Green Bay Packers
:
Pierre-Paul
Anatomy of a game-changer:
Linebacker
Jon Beason
said part of the scouting report on the Packers'
Scott Tolzien
was that the ball came out of his hand on a low trajectory. So if the Packers were going to be taking three-step drops all night, as they were, the Giants' pass-rushers were instructed to get their hands up quickly to try to bat down the ball.
Jason Pierre-Paul
knew this, and he said he also knew, right before that fourth-quarter play, that Tolzien was going to throw a screen pass to his side of the field. So Pierre-Paul stayed home instead of rushing and threw his hands up in the air. But he didn't want to bat down the ball; he wanted to catch it. Which he did. And then he ran 24 yards for the game-sealing touchdown.
Don't blame Eli for this one:
Eli Manning
's second-quarter interception was his league-leading 17th of the year, but it was clearly not his fault. Wide receiver
Louis Murphy
was supposed to break inside -- Giants coach Tom Coughlin said there was no option on the route, and that Murphy just blew it. What was weirder, though, was that Murphy was on the field instead of
Hakeem Nicks
, who appeared to hurt himself on a play earlier in the drive on which
Tramon Williams
was called for pass interference. Nicks sat out a few plays, and after the Murphy blunder some teammates went over to talk to and encourage Nicks, who returned to the game on the next drive and didn't want to talk after the game about what was bothering him.
Getting the ball:
After allowing an average of only 206.3 yards per game during the first three games of their winning streak, the Giants gave up 394 to the Packers on Sunday. But they also got three turnovers, giving them a total of 11 during their four-game winning streak after forcing only seven during the first six games of the year. They have won the turnover battle in three of their past four games.
Looking ahead:
Pierre-Paul said of the Cowboys, who come to town next week, "We're going to put it on them, man."
Brandon Jacobs
said, "Playing the Cowboys is always good. That's one of the opponents I love to play more than anybody in the National Football League. It means something to our football team." The Giants moved the ball against a relatively full-strength Cowboys defense in Week 1 but lost mainly because they turned it over six times. They are eager for revenge against a Cowboys defense that will be without middle linebacker
Sean Lee
. If the Giants' offensive line can protect Manning, the game could be a shootout. That's a big "if," but Manning's 279 passing yards Sunday were his most since Week 5, his 71.4 completion percentage was by far his highest of the season and his 92.4 passer rating was his highest since the opener in Dallas.