NFC East:

2013 Week 12 SF at WAS
November, 26, 2013
11/26/13
3:50
AM ET
1. I can't believe how wrong I was about this season, picking the Redskins to go 10-6 and then to get hot in the playoffs and reach the NFC Championship Game. Yes, I bought in to what I saw in the summer and to what I heard. I bought into them having the right sort of locker room (still think that) and how players coming back from injuries would help and how
Robert Griffin
III might not be himself but would be good enough and that the defense would be better. I hate being wrong; I was very wrong. It's easy to see what you missed when you look back.
2. I do remember at one point this summer wondering if they really weren't a 7-9 team. Could Griffin really come back and play at a certain level? But I dismissed that notion because I did not foresee Griffin, even coming off the knee, struggling this much. I did not account enough for how defenses would defend him and the offense. But I thought they had enough playmakers on offense --
Alfred Morris
,
Pierre Garcon
,
Fred Davis
and even
Jordan Reed
-- to offset his return from knee surgery. Wrong. What we've seen from Griffin at least is that he has a ways to go to become a consistent quality passer.
3. Do not blame all of this on Griffin. I don't. But he is the most important player and the one who lifted the entire franchise a year ago. You can't dismiss what he accomplished in 2012. You can't ignore what he has to learn from 2013. But the defense hasn't helped and the special teams have yet to make a big play, let alone change a game around. The protection isn't always there and the receivers are rather ordinary aside from Garcon. Add it up: 3-8. Griffin's play covered up flaws last season; apparently it's exposing flaws this season.
4. Afterward, coach Mike Shanahan said, "It was one of the poorest performances since I've been here." Yes it was. That's what is disturbing. They had a lot to prove after two losses and a week of controversy. A win was needed, but really they just needed to play well. They did not. Shanahan is an accomplished NFL coach and a smart man, but he should be coaching for his job over the next five weeks. One player said what bothered him is that they're letting the coaches down. Many privately feel strongly about having the right person in charge. Great. Then win. Otherwise, changes will be made -- and no one can say owner Dan Snyder acted irrationally.
5. Everything that goes on with Griffin will be dissected and rehashed more than most players in the NFL. It was like that when things went well for him last year; it was like that in the offseason when he rehabbed and it's like that when he's playing the way he is this season -- and the team is playing just as poorly. So: When his father enters the locker room shortly after the media and is in there for a while, chatting with his son at his locker, it's noteworthy. I haven't seen other parents ever do that (sometimes you see players' kids, like
DeAngelo Hall
's. But not parents). There are signs about no visitors in the locker room. I don't know if it's a big deal or not. I do know it's different. I do know it was not a good week for it to happen from appearance sake. But it's already out there on various websites, so now it's here, too. Make of it what you will.
6. Griffin took his turn at shooting down the NFL.com report that stated he went to the coaches and asked them not to show his bad plays on film. "It's false. There's no need to respond to untrue things. I just echo what coach said [Sunday] and it's completely false. People are trying to character assassinate me and it's unfortunate."
7. There isn't a whole lot to say about the game. The Redskins were in it and had a chance to make some noise trailing 10-6 when the defense recovered a
Vernon Davis
fumble at the San Francisco 49-yard line early in the third quarter. The offense gained 8 yards and were stopped on a fourth-and-2 run by
Roy Helu
. Why Helu? Because the Niners would be expecting a pass (they had three receivers in the game as well). But their front is good; they won that battle and that was that. The Niners drove down and scored and the Redskins responded with three drives that combined for minus-12 yards.This was the best defense Washington faced, by far, and an offense that had been moving against mediocre units could not generate much of anything (190 total yards).
8. I have no idea why tight end Fred Davis wasn't a bigger part of the game. There were too many big-picture topics being discussed after the game so this will be one that's revisited Monday. That's all I'll say on this one for now.
9. San Francisco linebacker
Ahmad Brooks
had a terrific game. His speed and strength gave the Redskins' right side fits; he and
Aldon Smith
owned the edges and even if they didn't make the play they made it tough for the Redskins to run outside. Tight end
Logan Paulsen
knew it would be tough to face them and he was right. Smith's long arms made it difficult for smaller guys like
Niles Paul
to block him and he gave left tackle
Trent Williams
problems, too. And their inside linebackers were excellent at anticipating plays and being aggressive going to the ball. They did not fear this offense.
10. Brooks said to reporters about Griffin: "He's obviously a man and he makes his own decisions, but I personally don't feel he should be playing right now. ... I don't think he should be playing," he said again. "You can see it. Everybody can see it, everybody can see it." Exactly how long was Griffin supposed to sit out? Had he sat out this long and not played, he'd have been ripped. The only reason he shouldn't be playing is if the coaches feel he does not give them the best chance to win. Otherwise, he's still the future and must stay in and keep learning.
November, 26, 2013
11/26/13
2:55
AM ET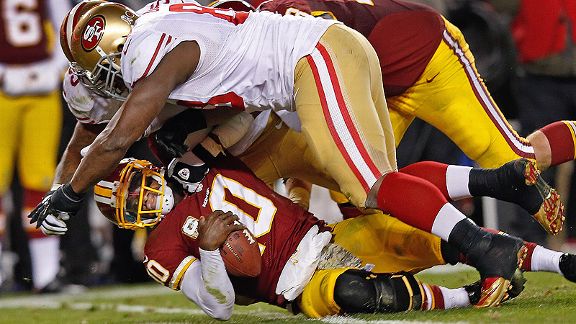 AP Photo/Alex BrandonAfter going 10-6 and winning the NFC East last year, the Redskins are 3-8 through 11 games.
LANDOVER, Md. -- They don't have the answers, though they certainly say all the right things. They're trying hard. They're led by the right people. They have the right guys in the locker room. Here's the thing: Parades aren't thrown for those accomplishments. Not when you're four years into a regime.
The
Washington Redskins
are 3-8. They're 3-8 in a season that began with high expectations. They're 3-8 and headed nowhere fast, all the while trying to convince everyone, most of all themselves, that they're moving in the right direction.
They'll have to forgive everyone outside the organization for thinking this is not the right direction. Some of it can be explained, but not all. If they have the right players and have the right coaches and have the right organization, then they would be better than this. They would put up a better showing on prime-time TV than
losing 27-6
to the
San Francisco 49ers
.
At this point, you must question everything, because nothing seems to be working.
"We certainly deserve some criticism now, that's for sure," Redskins guard
Kory Lichtensteiger
said.
If the coaching is fine, as the players say, then it's on the players. If the players are good enough, as they still say they believe, then it's on the coaches. If both of those are working to their capability, then it's on those responsible for bringing in those players.
Something is not working. It's not just the quarterback. You can point your finger just about anywhere and have a legitimate beef. You want to blame head coach Mike Shanahan? Go ahead. You want to blame defensive coordinator Jim Haslett? Have at it. You want to target special-teams coordinator Keith Burns? Stand in line. You want to point the finger even higher and look at the owner, Dan Snyder? Fair game.
The Redskins have gone from being a team playing badly to just being a bad team. It's not about the record; it's about the way they've gotten there. It's about the fact that they haven't played a complete game at any point this season. It's about needing to do so in the next five weeks.
"It's fair at this point to wonder," Lichtensteiger said, when asked if they're just a bad team. "It's just a bad display of football tonight by us."
True, the salary-cap penalty (brought on by their actions, others would say) put them in a bad spot. They couldn't fill holes they knew were coming or already existed. True, the quarterback's lack of an offseason hurt as well. It prevented a quarterback who needs to learn to pass at an NFL level from taking what he learned as a rookie and improving upon it.
But does that explain all that has gone wrong? No, it does not. If everyone wants quarterback
Robert Griffin III
to look in the mirror and accept blame for his shortcomings, then everyone else must do the same, starting at the very top of the organization. Good organizations win consistently. The Redskins have not done so since 1992. If they had been banged up all season plus had those other issues? OK, a 3-8 fall would not be inconceivable. That hasn't been the case.
They've collected players who won't blame one another. That's great -- and to this point players have not done so. They're more shocked than anyone at what has happened. But four years into a regime, there should be more to hang your hat on than this, especially when an owner will have a decision to make in a month or so: Do you extend the contract of the head coach or tell him he must serve as a lame duck? Or do you fire him? You need to provide more than talk. There has to be an upward stretch over the next five weeks.
[+] Enlarge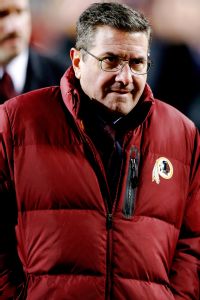 AP Photo/Joe RobbinsThe blame for this disappointing season stretches all the way to owner Dan Snyder.
"At the end of the day the only stat that matters is the win and loss column," Redskins left tackle
Trent Williams
said. "You can choose and judge by that and you can make your own opinion. I'm never going to say we're a bad team."
That's not the players' job, of course, to say such a thing.
"What am I supposed to do? Come up here and talk about how bad we are?" Griffin said. "My job is to answer your questions and move on to the next day and get better. ... I mean, I love my guys. I'll go to war with them any day."
It's the proper attitude to have. Again, it's a locker room full of proper attitudes. The locker room culture is better than it was during Jim Zorn's two seasons as coach, when backstabbing happened all the time. You still don't hear players knocking the head coach; even privately, it's just the opposite.
But it's not enough anymore to sell that, because the locker room will change after this season. The defense needs an overhaul and there are only three defensive regulars who will be 26 or younger next season -- linebacker
Ryan Kerrigan
, corner
David Amerson
and end
Jarvis Jenkins
. That means a defensive rebuild is coming. That means more change next season. Are you confident the right changes will be made?
"This is unacceptable when you look at what we were able to accomplish last year," linebacker
London Fletcher
said. "To be where we're at, it's not a good feeling at all. Individually, you have to look at yourself."
Yes, they do.
"We had high hopes, but we understood talk is cheap," said defensive end
Kedric Golston
, who has been with the team since 2006. "That's been our message. We're prepared and we work hard and we're coming up short. It's frustrating, but the onus is on us, the people in this locker room and the people in this organization. We can't blame anybody else for it."
The tough part this season? There's so much blame to go around. There are so many areas that need to be fixed.
November, 25, 2013
11/25/13
11:33
PM ET
LANDOVER, Md. -- A few thoughts and observations after the
Washington Redskins
' 27-6
loss
to the
San Francisco 49ers
:

What it means:
The Redskins are a mess. They're 3-8 and have dropped the notion that they can turn their season around. Now they just have to salvage it and prove that they are indeed headed in the right direction. You can blame the salary-cap penalty and
Robert Griffin III
's knee all you want, but this team has more issues that must be addressed. The Redskins are now staring at a third double-digit loss season in four years and that can't be acceptable for anyone, not when the team -- from the top on down -- expressed great optimism in the summertime despite knowing they were coming off two years of cap hell and that Griffin had no offseason. San Francisco is a better team so there's no shame in losing, but to not play well at home and on "Monday Night Football" is not a good thing. The Redskins have five weeks to prove that another direction is not needed.
Stock report:
Down -- cornerback
Josh Wilson
. He was in a mismatch against the 49ers' bigger targets -- not just in terms of height, but overall size. A tough night for Wilson. Also, Griffin and the pass game in general. His protection did not help him, but Griffin was unable to make plays on his own downfield. The 49ers used a lot of two-deep looks, which always makes it difficult for this passing game. Griffin missed one chance when he failed to lead
Aldrick Robinson
on a deep ball. Robinson still had a chance to catch the ball -- and should have caught the ball -- but if Griffin throws it out front a little bit it's a touchdown. That is, if Robinson catches it on the run. Still, too many breakdowns up front, including by left tackle
Trent Williams
.
Wherefore art thou?:
Tight end
Fred Davis
barely played and was not much of a factor when he did get into the game. We'll have to find out why that's the case and if there were circumstances that kept him from playing more (his week of preparation, for example). The Redskins' starting tight ends,
Logan Paulsen
and
Niles Paul
, did not play well.
Second-half breakdown:
The Redskins had just 30 total yards in the second half after gaining 160 in the first half. They managed just 7 yards in the third quarter.
Up next:
The Redskins get to play another game in prime time, which is probably not what this team needs. They host the
New York Giants
on Sunday night. America might be giving thanks on Thursday; it probably won't be Sunday night.
November, 25, 2013
11/25/13
7:58
PM ET
LANDOVER, Md. -- The
Washington Redskins
will try to snap a two-game losing streak without three starters, one of whom they already knew wouldn't play. But in addition to tight end
Jordan Reed
, the Redskins will be without starting defensive end
Stephen Bowen
and fullback
Darrel Young
because of injuries. Also, ESPN980 reported that
Santana Moss
would handle punt-return duties Monday night.

Bowen was not rushing as well as he has in previous seasons, but his play against the run has been solid. He re-injured his right knee last week against Philadelphia and did not practice all week.
Chris Baker
will replace him in the starting lineup. Though Baker can be disruptive at times, he also has a tendency to play undisciplined and leave gaps in the defense. Still, he can occasionally make plays in the backfield.
The Redskins don't have a backup fullback, but their tight ends are familiar with the position enough that they can fill in. Indeed, tight end
Niles Paul
will play fullback for Young. They'll also use tight end
Fred Davis
for the first time since an Oct. 13 game at Dallas. Davis, a pending free agent, is not as athletic as Reed but has been aching for another chance since losing his starting job earlier this season. The Redskins didn't sour on Davis as much as they liked others for what they needed, including
Logan Paulsen
as a blocker. But this will be a good chance for Davis to prove what he can still do.
As for Moss, he'll apparently take over for
Nick Williams
after a rough debut a week ago. Moss at least gives the Redskins an experienced returner, something they have not had all season in
Josh Morgan
and then Williams. It's surprising it took this long for them to go with Moss, but they've wanted to save him for slot duty and not wear out the 34-year-old.
San Francisco will be without starting guard
Mike Iupati
and starting defensive lineman
Ray McDonald
. Iupati does a good job pulling for the 49ers and will be replaced by
Adam Snyder
.
Demarcus Dobbs
will replace McDonald on the left side. They already were down starting corner
Tarell Brown
, who will be replaced by
Tramaine Brock
.