NFC East:

2013 Week 13 NYG at WAS
December, 2, 2013
12/02/13
3:35
AM ET
1. The Redskins keep finding new ways to hurt themselves. During Sunday night's
24-17 loss
to the Giants it was the rolled snap that led to a tipped punt that traveled only 18 yards and provided the
New York Giants
excellent field position. The Redskins have gone from recovering their own fumbles for touchdowns in 2012 to botched long snaps. Long snapper
Kyle Nelson
, filling in for injured and out for the year
Nick Sundberg
, said he started to snap the ball and tried to stop. "I heard something and I shouldn't have snapped it. Should have waited. Worst case we take a delay of game or false start," Nelson said. Yep, that kind of a season.
2. And then there were the lack-of-composure fouls.
Pierre Garcon
kicked the ball in the end zone after a failed pass play -- from what I understand, the ball was thrown where it was supposed to be. Garcon wasn't there. He then kicked the ball after New York's
Prince Amukamara
dropped it in the end zone. "Because we didn't score a touchdown," Garcon said. "[If] we'd spotted 75 yards and didn't score a touchdown ... I'd have punted it harder."
3. Then there was
Santana Moss
, who did not like holding being called on him. "He called a holding and I just thought it was a B.S. call and I told him it was a B.S. call and he gave me unsportsmanlike conduct. I guess I got a unsportsmanlike conduct for saying, 'B.S. call.' " Teams trying to snap losing streaks can't afford those sort of 15-yard losses. You dig out of such holes by playing with composure. Instead the Redskins built a 14-0 lead, saw the Giants rally to tie and then resorted to their habit of playing losing football.
4. There is genuine frustration on the faces of numerous players, notably Garcon and Moss and tight end
Logan Paulsen
. Garcon gave short answers to every question he was asked. Paulsen looked exhausted and drained. Moss was passionate. Others looked stone faced or numb (
Ryan Kerrigan
). I don't think every player takes losing this hard. That's not to say you should feel sorry for them. Just an observation. Losing has taken a toll. It's not easy to keep asking, "Why are you bad?" It's even harder to keep answering the questions. Four more weeks.
5. The Giants did an excellent job taking away running back
Alfred Morris
. Some teams have geared up to stop the play-action pass (partly because they felt they could win matchups up front). The Giants knew they could not win if Morris had a strong game. They rotated their safeties and messed up blocking assignments on outside zones. "It affects what the target is," tight end Logan Paulsen said. Their line also slanted in ways the Redskins did not always handle. It's why Morris had a subpar game. Amazingly, he had more yards receiving (27) than rushing (26). Let that sink in.
6. I thought this was interesting stuff from Paulsen. I'll just let him have the stage, but I'll also make it clear: He wasn't blaming anyone in particular, just pointing out where the offense is at right now. "Last year we were able to keep it pretty simple and a lot of basic stuff was very effective for us. This year teams have had a year to look at us and look at that seven-game run and say, 'This is what they're doing and this is what we need to do to stop them.' So the counter punches to their counter punches are things we have not been able to execute as well."
7. There's more from Paulsen: "We sit in meetings and see it on tape and say these are the plays we need to get to and these are the plays we need to execute to counteract. We haven't been able to nail that home. It's hard to explain. We rep something all week and we expect a certain coverage and sometimes that look isn't there and we have to get to other things in the progression and other routes have to win that aren't the primary route." In other words, the Redskins have not successfully evolved as an offense for whatever reason.
8. The Redskins opened with their no-huddle on the first drive and it worked well, as did the play action (even off zone read). So why not use it more? The no-huddle works great, but for an inconsistent offense it can also lead to quick three-and-outs, which is the fear (they were 5-of-16 on third down). It then puts a struggling defense in bad spots. Also, they did use it later in the game, but a holding penalty on a first down put them in a bad place and they returned to huddling. Denver and New England can use this strategy all game because they operate at a much higher efficiency. They make the no huddle; it's not the other way around.
9.
Robert Griffin
III completed his first 12 passes and looked calm and poised in the pocket early. He did a better job hitting checkdowns in the first half. On his touchdown pass to Paulsen, Griffin did an excellent job holding the safety by looking to his left, then throwing back to the middle to an open Paulsen. You can't blame Griffin for the failed last drive, not when he had three passes dropped and a fourth one was stripped. Yes, he missed on some throws (by the way I don't think
Aldrick Robinson
was open in the first half deep down the field. I want to see it again, but my recollection is that the safety came up as the ball was being dumped off to the right flat). I'll have a better feel for his game after re-watching the coach's film.
10. It's clear the Redskins missed tight end
Jordan Reed
and fullback
Darrel Young
, both out with injuries. The Redskins used
Evan Royster
as a fullback in short yardage situations; not his strength and he was stopped twice for no yards. Young has hurt New York in the past on such plays. The Redskins' offense had terrific field position (average starting yard line was their own 32). But they started four drives from their own 41 or better and managed just 10 points.
December, 2, 2013
12/02/13
2:45
AM ET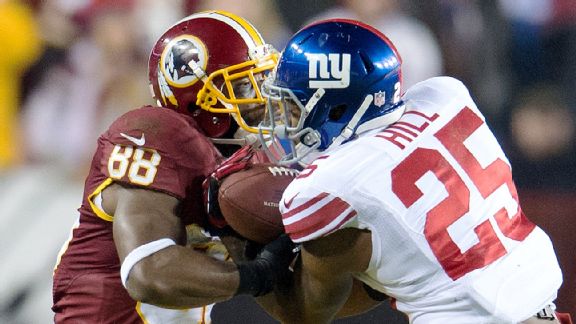 Harry E. Walker/MCT/Getty ImagesWill Hill of the Giants takes the ball away from the Redskins' Pierre Garcon in the final moments.
LANDOVER, Md. -- The officials messed up the final sequence of plays for the
Washington Redskins
on Sunday night. There's little doubt about that, and it impacted the Redskins' approach to their final two plays. It might have altered the game.
There's just one problem.
Despite the botched handling of the yard markers and the confusion that followed, the Redskins still blew it themselves. Maybe they wouldn't have called a deep pass on third down and less than 1. Still, the play was open and tight end
Fred Davis
dropped the ball at the New York 30-yard line.
And maybe they would have opted for a different play than a short hitch on fourth-and-1. Still, receiver
Pierre Garcon
had the ball and it was stripped from him.
The chain gang hurt the Redskins. But the Redskins are 3-9 after a
24-17 loss
to the
New York Giants
for a reason. They keep hurting themselves, and it's a big reason why many, many jobs are now on the line. And should be. It's happened way too often this season, and Sunday night provided more proof that they just don't know how to play winning football -- one season after they won the NFC East.
That means they roll back snaps that lead to 18-yard punts. That means they can't convert when given a golden opportunity at the Giants' 12-yard line after an interception -- getting three points instead of seven. That means a receiver (Garcon) kicks a ball in the end zone after a failed play (though it was on third down and didn't cost them points) and it means another receiver (
Santana Moss
) gets flagged for telling an official a holding penalty on him was a "B.S. call." These are veterans.
That's frustrated football, of which the Redskins have played plenty. It's also how you end up losing games against sub-.500 teams at home and being mathematically eliminated from playoff contention after 12 games.
"Losing is hard to deal with," Garcon said.
"Frustrating to the point I can't even tell you," Moss said.
Add it up, and coaches are in trouble and careers are in jeopardy. The Redskins are one defeat from their third double-digit loss season in four years under coach Mike Shanahan. He took over a team that had lost 12 games under Jim Zorn; four years later they need a strong finish to avoid tying that number.
"We're professionals. We know what's at stake in terms of our careers and the coaching staff and the season," Redskins tight end
Logan Paulsen
said. "We can't worry about what's already happened. We have to worry about what we can control, and that's the next game."
The problem is, owner Dan Snyder will be looking back and wondering what the heck really has gone wrong this season. As he should. As he must. The Redskins have lost four straight games and look closer to a team that could finish 3-13 than one that might win a couple more games.
For weeks the Redskins have talked about the impact of the salary-cap penalty as well as the time quarterback
Robert Griffin
III missed in the offseason while rehabbing his surgically repaired right knee. The problem is, that does not explain this sort of collapse. Not in this game. Not in this season.
Plenty has changed in Shanahan's tenure from when he took over. What hasn't is the ability to win consistently. A competitive 7-9 finish given some of the outside issues? Understandable. A strong final four games? OK, they recovered. And, of course, a 7-9 mark could still happen. Problem is, the Redskins have shown no reason to think that it will. Therefore, the questions will now arise starting with the most obvious: What do you do with Shanahan?
He'll be owed $7 million next season. His staff will be owed a good chunk of change, too. That means if Snyder wants to change coaches he'll not only have to pay them off, but he'll have to pay for a new head coach and his staff. That also means new schemes on both sides of the ball and more roster turnover. It's not what Snyder wants.
All that without a first-round pick this spring thanks to the Griffin trade. A future that looked so bright before Griffin's surgery now looks cloudy at best. There are building blocks, but a lot more blocks are needed.
The coaches and players are giving Snyder little choice in the matter. They're not an undermanned team playing well but coming up short. They're a confounding team that has yet to play a complete game this season.
Two of their past four losses have come against Minnesota and the Giants, neither of whom have a winning record. They blew double-digit leads against both. The Redskins show flashes of what they were in building those leads and follow with reminders of who they are in losing them. Heck, they've held double-digit leads in four of their last six games, winning only one of those.
"We lost composure. We lost everything. We lost yards. We left points out there. It was everything," Garcon said.
He was talking about Sunday's game. He was right. He also could have been talking about the season. Amazingly, they'll play their final four games with nothing on the line. Oh, except for jobs.
"You don't like to play for pride, but sometimes that's the card that's dealt," Shanahan said. "That's where we're at right now. We'll see which guys step up and play at a high level for the remaining games."
Through 12 games the answer has been: not many. If Shanahan and company want to return, that will have to change.
December, 2, 2013
12/02/13
2:30
AM ET
LANDOVER, Md. -- It's not completely accurate to say
Justin Tuck
needed a game like this, because Tuck doesn't really "need" anything. Yes, Sunday was the first day of the final month of Tuck's current
New York Giants
contract. But he hasn't been sweating that all year, so there's no reason to expect him to start now.
"This is a guy who's got two Super Bowls and a Pro Bowl under his belt," teammate
Mathias Kiwanuka
said after watching Tuck collect a career-high four sacks in the Giants'
24-17 victory
over the Redskins Sunday night at FedEx Field. "I feel like, whatever happens with him, he's going to be fine."
Tuck thinks that, too, which is probably the reason why this contract year hasn't seemed to bother him the way it has appeared to affect, say, wide receiver
Hakeem Nicks
. Tuck didn't love the fact that he only had 2½ sacks in his first 11 games of the season, but he felt he'd been playing well. He had graded out consistently well against the run all year, and he'd been jokingly calling himself "Mr. Almost" in reference to the number of times he felt he'd been very close but the quarterback got away.
"I missed some tonight, too," he said with a grin Sunday night. "Sometimes it can be hard to believe. We come in and we all say the right things sometimes, but sometimes, in the back of your head, you're thinking, 'It's time.'"
Tuck's time to get the sacks was Sunday. With fellow defensive end
Jason Pierre-Paul
out with a shoulder injury, Tuck and Kiwanuka weren't coming off the field against the Redskins, and they felt added responsibility to deliver in a big way. Tuck realized what he was doing was special as he was doing it, but he still managed to maintain the same mellow focus that has guided him through a 2013 season that hasn't been easy for him or the team.
"Somebody asked me on the sideline how I felt when there were three minutes left, and I said, 'Ask me in three minutes,'" Tuck said. "It's a big feat, obviously, but we have to win. If I had been standing there with four sacks and a loss, I wouldn't have given two cents about four sacks."
Tuck symbolizes so much about the Giants right now. His ability as one of their captains to keep his cool and perspective through the 0-6 start is a big reason why they've been able to win five of their last six. But looking beyond this year, Tuck symbolizes a franchise that obviously needs to rebuild while confronting difficult decisions about some of its championship mainstays.
"Everyone knows I'm a New York Giant through and through," Tuck said. "People ask me, 'Do you want to be here next year?' and that's a stupid question. Of course I do."
When the season began, Tuck was coming off a couple of down years by his standards, and it was reasonable to think he needed a big year if he wanted to convince the Giants to keep him. They have a big decision to make on Nicks, who continues to slog through a miserable contract year that's hurting his chances to return. They're confronting unwieldy cap numbers on guys such as Kiwanuka,
Antrel Rolle
,
Chris Snee
and
David Baas
. And of course, Tuck is a free agent. These are Giants who have won championships, some more than one. They are Ring of Honor candidates who will forever be beloved and welcomed back by the team's owners and fans. Yet, for the nitty-gritty financial reasons that govern today's NFL, it's impossible to say whether they'll be on the team next season.
[+] Enlarge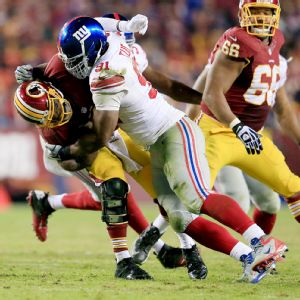 Rob Carr/Getty ImagesJustin Tuck's career-high four sacks helped the Giants rally from a 14-0 deficit and take down the Redskins on the road Sunday night.
Each and every one of them would do well to follow Tuck's example, and not just the one he set Sunday night by dominating the game on defense.
"That's the way you lead," said defensive tackle
Linval Joseph
, who is also headed for free agency and doesn't know his Giants future beyond New Year's Eve. "You lead by showing, and tonight he had a great game."
From the standpoint of a player in a contract season, Tuck has led by example since the start of training camp. His season to date has been a clinic in focusing on what you can control and not worrying yourself silly over the stuff you can't. You would never know, from spending any time around Tuck, that he's in the final month of a contract.
"Because he's never let that be a focal point," Kiwanuka said. "You know he wants to do well, like everybody wants to do well in a contract year. And when a guy comes out and continues to work, continues to work and puts in the time day in and day out the way that guy does, you wish good things for him.
"Four sacks is huge for a guy who does all the little things that don't show up in the numbers. You look, on third downs, we're using him inside as an inside rusher. Nobody talks about that and the effect it has on your sack numbers. But coaches who are evaluating what we do can tell you he's having a very good year. I'd be very surprised if he's not back here next year."
That didn't seem likely three months ago, and it might not be the case. But the way Tuck has played and handled himself this year has set him up well. And after a night like Tuck had Sunday, you start to think Kiwanuka might just turn out to be right.
December, 1, 2013
12/01/13
11:29
PM ET
LANDOVER, Md. -- Thoughts and observations after the
Washington Redskins
' 24-17
loss
to the
New York Giants
:

What it means:
The speculation over Mike Shanahan's job will increase dramatically. The Redskins are now 3-9, have lost four in a row and have shown no signs whatsoever this season that they are a good team. It's one thing to lose at home to San Francisco, which is just a better team. It's another to lose at home to a 4-7 team when you proclaim to still be capable of playing well. On national TV, no less. The Redskins have some serious questions to ask as an organization, which should have been the case before this game. But there's no doubt this team has put owner Dan Snyder in a position where he has to consider every alternative. We know all the excuses for the Redskins -- cap penalty,
Robert Griffin III
's knee. But that will never explain all that's gone wrong this season or in this game.
Stock report:
Down -- right side of the Redskins' offensive line.
Chris Chester
and
Tyler Polumbus
had a rough night against the Giants and
Justin Tuck
in particular. Tuck had success no matter who he went against. Chester in particular has to play better. Down -- The ability to stay poised in close games and play winning football. Hasn't happened this year. Up -- linebacker
Brian Orakpo
. He finished with two sacks and played the run well.
Bad hands:
The Redskins could not hold onto the ball on their final drive of the game. They dropped the ball three times on the drive, including one by tight end
Fred Davis
at the Giants' 30-yard line. Then, on the final play, receiver
Pierre Garcon
had the ball stripped from him after catching a pass on fourth-and-1 that would have resulted in a first down.
Up next:
The Redskins play a third straight game at home, this time against Kansas City. The Chiefs enter with a three-game losing streak.
December, 1, 2013
12/01/13
11:24
PM ET
LANDOVER, Md. -- A few thoughts on the
New York Giants
'
24-17 victory
against the
Washington Redskins
on Sunday night at FedEx Field:

What it means
: As we have been saying since they were winless in mid-October, these Giants aren't going to roll over on their lost season. Even down 14-0 in the second quarter Sunday night, they were fighting and determined to win a division game on the road. Expect it to continue, regardless of results, the rest of the way. Many of the positives from this Giants' season were on display in this one --
Andre Brown
at running back,
Jon Beason
at middle linebacker, the strong run defense and solid work by members of an undermanned secondary winning their one-on-one coverage and tackling battles. The Giants are 5-7 and two games behind a first-place tie between teams against which they went a combined 1-3. They're cooked. But they're not playing like it, and if you're a Giants fan that's all you can ask at this point.
Stock watch, UP:
Defensive end
Justin Tuck
. On the first day of what many have long thought would be his final month as a Giant, Tuck recorded four sacks and helped lock down the defense in the second half against
Robert Griffin
III and the Redskins. Tuck has had a fine season overall, but that hadn't been showing up in the sack numbers, as he only had 2.5 in the team's first 11 games. Healthy and productive, he could be making a push for either a big free-agent deal or to convince the Giants to keep him -- if that's what he wants.
Stock Watch, DOWN
: Left tackle
Will Beatty
. On the flip side, Beatty struggled mightily in pass protection against Redskins linebacker
Brian Orakpo
, who's making a free-agent contract push of his own. Orakpo had two sacks, and pressure from him helped force
Eli Manning
into a third-quarter interception. Beatty has been erratic in this, the first year of the five-year free-agent deal he signed with the Giants last offseason.
What's next:
The Giants are back on the road next week, as they travel to San Diego for a 4:25 p.m. ET Sunday game against the 5-7 Chargers, who lost at home to the Bengals this week.
December, 1, 2013
12/01/13
9:58
PM ET
LANDOVER, Md. -- All week, the
New York Giants
warned us not to judge
Robert Griffin III
and the
Washington Redskins
' offense on last Monday night's miserable performance against the
San Francisco 49ers
. The Giants remembered struggling twice last season with a dynamic, multifaceted Washington offense they found difficult to solve. And regardless of the struggles the Redskins had last week, the Giants believed them capable of a rebound.

As if on cue, the Redskins started Sunday night's game hot, employing an up-tempo, no-huddle style off the opening kickoff and driving 73 yards in 14 plays for their first opening-possession touchdown since Dec. 9 of last year. After possessing the ball for 11:22 of a possible 15:00 in the first quarter, the 3-8 Redskins added a second-quarter touchdown for a 14-0 lead and appeared to have the 4-7 Giants on their heels. They were dominating on offense as well as on defense, where Giants left tackle
Will Beatty
was having a terrible time with Redskins pass-rusher
Brian Orakpo
, and on special teams, where
Santana Moss
was performing well on punt returns and
Sav Rocca
had one of his own punts killed at the Giants' 1-yard line.
Though they wobbled early, the Giants have recovered with a couple of nice touchdown drives of their own.
Andre Brown
capped a 74-yard drive with a 23-yard touchdown run, and an
Eli Manning
touchdown pass to tight end
Brandon Myers
covered 22 yards to cap an 81-yard drive with 35 seconds left in the first half. The Giants have come back to tie the score at
14-14
and will get the ball to open the second half.
So, a fair amount of good as well as bad so far, and here are a few things I've noticed:
As tough a time as the offensive line has in pass protection, it's doing a truly exceptional job of run-blocking for the second week in a row. The Giants have 73 rushing yards on 11 carries for an average of 6.6 yards per carry.
Peyton Hillis
broke a 27-yarder earlier in the drive that resulted in Brown's 23-yarder, and the Giants' best bet for keeping the pass rush off of Manning is likely to continue to show they can pick up big chunks of yardage against the middle of the defense.
There could be a huge number of passing yards in the second half, because right now no one is stopping anyone in the passing game. Manning is 10-for-12 for 101 yards, and Griffin is 16-for-17 for 149 yards. The Redskins' secondary has been a problem for them all season (and last season, too), and the Giants are very thin at cornerback with both
Corey Webster
and
Trumaine McBride
inactive for the game. If the quarterbacks can get time to throw, as Griffin has all night and Manning did in the second quarter, this could be a shootout the rest of the way.
Run defense continues to be a Giants' strength. They've done a good job all season against top running backs, and in the first half tonight they have held Washington's
Alfred Morris
to 11 yards on nine carries. They have depth and quality at defensive tackle and are very tough in the middle of the defensive line. Defensive end
Justin Tuck
also has been strong against the run. The Giants' defensive line isn't generating a pass rush, and without the injured
Jason Pierre-Paul
they should continue to struggle to do so. But if they can take away Morris, they could frustrate Griffin by limiting his options.
Hakeem Nicks
is active after sitting out last week's game with his abdominal injury, and he looks fine, but he hasn't had many opportunities. The Redskins are sticking cornerback
DeAngelo Hall
on him and occasionally shading a safety to his side, and his one catch so far was a jump-ball for which he barely out-fought Hall. He continues to struggle to get separation, and Manning does not appear to be looking his way early in the progressions. Manning has targeted Myers four times, Brown three times,
Victor Cruz
twice and no one else more than once.
The ESPN.com boxscore credits Giants middle linebacker
Jon Beason
with 10 solo tackles already, which is insane, but Beason is flying around out there and managed to run down Griffin on one play to force him out of bounds short of the first-down marker on third down. The Giants aren't great, but no one can say they're not playing hard.
The Giants seem to be using a safety on
Pierre Garcon
's side, as well as sticking top cornerback
Prince Amukamara
to him. Which would be smart, since the Redskins don't have any scary receiving options after Garcon. Tight end
Jordan Reed
is inactive for the second game in a row because of a concussion, and
Josh Morgan
isn't showing much. Garcon has caught all four passes thrown his way, but for only 32 yards. The Giants have done a good job bringing him down after the catch.
December, 1, 2013
12/01/13
7:25
PM ET
LANDOVER, Md. -- No surprises on the
New York Giants
' list of inactive players for Sunday night's game against the Redskins here at FedEx Field. Defensive end
Jason Pierre-Paul
, running back
Brandon Jacobs
and cornerbacks
Corey Webster
and
Trumaine McBride
were all ruled out Friday, quarterback
Ryan Nassib
is always inactive and the other two are backup offensive lineman
Stephen Goodin
and tight end
Adrien Robinson
, who's been inactive all year.
Jayron Hosley
starts at the left cornerback spot that used to be Webster's and has been McBride's in recent weeks.
Mathias Kiwanuka
starts at right defensive end in place of Pierre-Paul, though you can probably look for rookie
Damontre Moore
to get into the mix at defensive end at some point. And with centers
David Baas
and
Jim Cordle
both on injured reserve and out for the season,
Kevin Boothe
will start at center while
James Brewer
replaces Boothe at left guard.
Peyton Hillis
, inactive the past two weeks, will replace Jacobs as the backup running back when starter
Andre Brown
needs a break.
The issues in the secondary, where the Giants' only healthy cornerbacks are Hosley,
Prince Amukamara
,
Terrell Thomas
and raw rookie
Charles James
, could be helped by the injury issues the Redskins are having on offense. Dynamic rookie tight end
Jordan Reed
, who missed last week's game with a concussion, was initially expected to play tonight but was ruled inactive after experiencing a pregame headache. And fullback
Darrel Young
, an unsung key to the running game and the success of
Alfred Morris
, is also inactive due to a hamstring injury.
Evan Royster
is listed as the starter at fullback in Young's place, but that likely means the Redskins will change some things about the way they call plays in the run game.
Reed is the No. 2 target of quarterback
Robert Griffin
III in the passing game, and his absence means the Giants should be able to commit extra attention to top wideout
Pierre Garcon
due to the lack of scary options behind him.
Much more as the night progresses here at FedEx Field.