NFC East:

2013 Week 13 OAK at DAL
December, 2, 2013
12/02/13
8:00
AM ET
IRVING, Texas -- if there is one thing that drives Rod Marinelli it is loyalty.
From 2009-12 he was the
Chicago Bears
defensive coordinator. When the Bears decided to part ways with Lovie Smith, Marinelli decided to part ways with the Bears. It was both personal and business.
The Bears' loss was the
Dallas Cowboys
' gain. Marinelli is the most over-qualified defensive line coach in the NFL.
It has not been easy for Marinelli. On the first day of training camp he lost
Tyrone Crawford
for the season due to a torn Achilles. The first time he sees
Jay Ratliff
play in 2013 could be against the Cowboys on Dec. 9.
Anthony Spencer
played in just one game before undergoing microfracture surgery on his knee.
DeMarcus Ware
missed three games with a quadriceps strain.
Jason Hatcher
missed a game with a stinger.
And the Cowboys have had an assembly line of defensive linemen come and go throughout the season.
In Chicago, Marinelli had a lineup that was largely set over the years.
When he spoke with the media during the Cowboys bye week, Marinelli said he had not thought much about the Bears.
"I'll say this, he was one of my very best friends," Marinelli said of Smith. "I went there because of him, not for any other reason. We had a long tenure together and I believe in him. I've started this thing off about my beliefs, being old fashioned or whatever, I have a strong belief in what he believes in and I liked it. For me, it's got to be that or I struggle. I never want to not do it with all my heart. For me, that was Lovie's defense."
November, 29, 2013
11/29/13
1:00
PM ET
ARLINGTON, Texas -- Might the Cowboys have finally found a position for
Kyle Wilber
?
Wilber
He moved to strongside linebacker during the bye week because of a hamstring injury suffered by
Justin Durant
on Nov. 10 against the
New Orleans Saints
. The coaches moved Wilber from defensive end to linebacker out of necessity more than anything.
Against the
New York Giants
, Wilber had seven tackles after recording just 11 in the first 10 games. He also had his first tackle for loss in his first start. In Thursday's win against the
Oakland Raiders
, Wilber had four tackles, a quarterback hurry and a fumble recovery that led to a
DeMarco Murray
touchdown.
"We felt like Wilber was a good football player and we felt like he showed up on special teams and just was productive and showed up around the ball a lot," coach Jason Garrett said.
But he is something of a tweener. He was drafted to play outside linebacker in a 3-4 and the coaches moved him to defensive end when the Cowboys moved to a 4-3. Wilber was given plenty of chances to earn playing time with all of the injuries on the defensive line but could not grasp a job.
Maybe the Cowboys got a little lucky with a position finding Wilber rather than him finding a position.
"I think he played 25 plays in the game last week against the Giants and had 24 production points," Garrett said. "That doesn't mean anything to you guys but that was a really positive performance. He was around the ball a lot ... He is certainly still learning the position. He doesn't always pull the trigger as quick as he needs to just because he hasn't seen the looks as much, but he is playing better and better."
And he at least might force the Cowboys to make a decision when Durant is healthy.
November, 29, 2013
11/29/13
11:30
AM ET
By
Calvin Watkins
| ESPN.com
ARLINGTON, Texas -- It didn't matter who it was up against, the
Dallas Cowboys
' run defense needed to do something positive against the
Oakland Raiders
on Thursday.
After allowing over 400 rushing yards the previous two games, the Cowboys held the Raiders, the NFL's fourth-leading rushing attack, to just 50 yards.
"It's just techniques, fits and guys in the right place where they're supposed to be at, that's all it is," defensive tackle
Jason Hatcher
said. "We just going to keep doing it in this scheme and keep playing hard. This scheme is kinda coming together for us."
Coming into the game, the Cowboys allowed a league-worst 5.1 yards per rush, including 3.4 yards before contact per rush, 31st in the NFL.
But Oakland had seven rushes that didn't gain a yard and averaged just 2.0 yards per carry, the second-lowest average allowed by the Cowboys since a Week 2 game against the
Kansas City Chiefs
.
"Watching them on film, (assistant) coach Tony Sparano believes in running the ball," Hatcher said. "We were able to shut them down and we did an awesome job and hopefully we can keep doing it. That's been our nemesis all year. We've been getting gashed. Hopefully we found something in the run game."
November, 29, 2013
11/29/13
11:00
AM ET
ARLINGTON, Texas --
Dez Bryant
's touchdown drought ended with the kind of catch we've become accustomed to seeing him make.
It was a back-shoulder fade against former Cowboys cornerback
Mike Jenkins
, who really had no chance being in single coverage against Bryant, who boxed out Jenkins and made a jumping catch in the end zone for his ninth score of the season but first in 14 quarters.
[+] Enlarge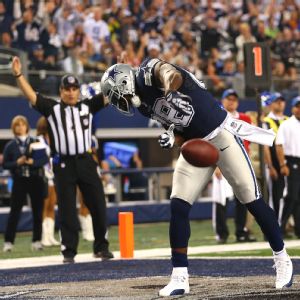 Ronald Martinez/Getty ImagesDespite scoring a touchdown for the Cowboys, receiver Dez Bryant says there's another play he'll scrutinize more in the coming week.
Receivers coach Derek Dooley will probably breeze through that play during the film session reviewing Dallas' Thanksgiving
31-24 win
against the
Oakland Raiders
.
But Bryant anticipates they'll spend plenty of time on his final catch, when he caught a short pass on second-and-goal from the Oakland 7-yard line and had only backup cornerback
Phillip Adams
between him and the end zone. Bryant attempted to juke Adams and got stopped a few yards shy of pay dirt, a play that will bother him over the long weekend.
"No doubt! No doubt!" said Bryant, who had seven catches for 61 yards and the touchdown. "I screwed it up. I don't know why I didn't keep attacking. I should have kept running outside and I didn't.
"I know I'm going to hear it from coach Dooley. He's going to keep rewinding it. Coach Dooley is all about north and south."
Another play that Bryant will hear plenty about from his position coach: His fumble during the Cowboys' two-minute drill at the end of the first half, which fortunately was recovered by left tackle
Tyron Smith
to keep the touchdown drive alive.
That's two consecutive games that Bryant fumbled. That's a trend that needs to end, but he believes focusing on it only increases the odds of him fumbling again. And he also believes worrying about minding his manners on the sidelines -- a reaction to the overreaction to his emotional outbursts during the Cowboys' Oct. 27 loss to Detroit -- has only distracted him.
"I'm being strictly straight up honest," Bryant said. "After that [fumble] happened, I'm like, forget this. I've got to talk. I don't care who's looking. I'm gonna be me. This is how I've got to be.
"I can't be watching it and be worrying about everything else, worrying about catching the ball and paying attention to the tuck. When I do that, that's when I screw up. I've got to go out there and just play Dez, just got to be Dez."
November, 29, 2013
11/29/13
9:00
AM ET
ARLINGTON, Texas -- Well, well, well, the
Dallas Cowboys
find themselves in position to make the playoffs as the season's calendar hits December. It seems like old times, doesn't it?
At 7-5 following the
31-24 win
against the
Oakland Raiders
, the Cowboys are in first place in the NFC East with four games to play.
Their formula is simple: keep winning. Just like it was in 2008 when they entered December with an 8-4 record. Just like it was in 2009 when they entered December with an 8-3 record. Just like it was in 2011 when they entered December with a 7-4 record. Just like it was last year when they entered December with a 5-6 record and ripped off three consecutive wins.
In 2008, they lost three of their four December games to finish 9-7 and miss the playoffs. In 2011, they lost four of their last five to finish 8-8 and miss the playoffs. In 2012, they lost their final two games to finish 8-8 -- again -- and miss the playoffs.
The only successful run came in 2009 when the Cowboys closed the season with a three-game winning streak to finish 11-5 and win the NFC East.
"You have to be careful about taking a global point of view," coach Jason Garrett said.
Garrett does not do global views. He is the anti-Christopher Columbus. But Cowboys owner and general manager Jerry Jones is not afraid of the global view. He wants to see if the earth is round.
Jones knows the Cowboys have two road games left against the
Chicago Bears
(Dec. 9) and
Washington Redskins
(Dec. 22) alternating with home games against the
Green Bay Packers
(Dec. 15) and
Philadelphia Eagles
(Dec. 29).
"I still think that it's going to come down to beating the Eagles," Jones said. "Then again, I'm not forgetting about Washington. We've got these two away, two at home, formidable teams. Two of them are neck and neck. One of them will probably get (Aaron) Rodgers back, so those will be big games for us. Chicago on the road. Washington on the road. Believe you me, they're going to sit here with some resolve after a game like they had the other night. So we've got our hands full. This will be a good test for us. If we can come through this thing and somehow get them and have some success and maybe have a chance for the playoffs, we'll have run a good gauntlet that gets us ready if we don't get hurt in a key spot."
[+] Enlarge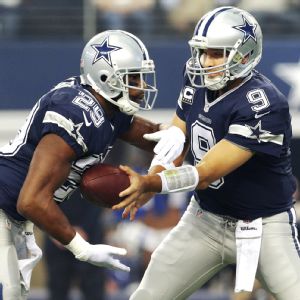 AP Photo/LM OteroCan Tony Romo quiet the naysayers who say the Cowboys QB cannot win games in December?
Bill Parcells waited to take global views until Thanksgiving. Once he got to Thanksgiving, he would know if his team was in the chase or not. At that point, it was about finishing and positioning.
The Cowboys have to prove they can finish. It has been a theme of Garrett's for the past couple of seasons. On Thursday, they proved they can come back for a win just four days after an emotional, last-second win on Sunday against the
New York Giants
.
The Cowboys trailed 21-7 in the first half before
Tony Romo
directed a 73-yard drive that ended in a touchdown run by
DeMarco Murray
with 10 seconds left.
"We did start slow, but this team I think it's starting to get to the point where there is no panic anymore," cornerback
Brandon Carr
said. "A slow start doesn't necessarily mean that's the way the game should go."
An ill Romo was flawless in the second half Thursday, completing all 12 of his passes. The Cowboys put together drives of 10, nine and 14 plays in the second half in scoring 17 points. And now Romo gets another chance to change the belief so many have of him.
As good as Romo has been in November -- he's now 24-5 -- is as poor as December has been for him. He is 11-15 in December.
"We just need to win some games," Romo said. "I think more than anything else you've just go to keep stacking wins together and see where you're at at the end. Our football team continues to try to improve each week that goes by and I think we're playing some of our better football right now."
November, 28, 2013
11/28/13
11:15
PM ET
ARLINGTON, Texas --
Dallas Cowboys
left tackle
Tyron Smith
blocks a heck of a lot better than he talks.
Want to know how well he's playing? He's not the guy to ask.
[+] Enlarge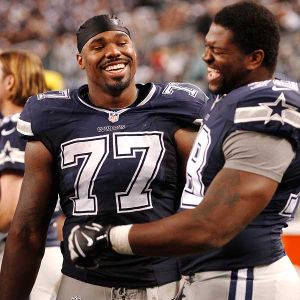 Tim Sharp/AP PhotoDallas Cowboys LT Tyron Smith (77) is having a solid season protecting Tony Romo's blind side.
"It's all about cleaning up things from the week before and moving on from it," Smith said, one of his longer answers during a brief media session following his dominant performance in a
31-24
Thanksgiving win against the
Oakland Raiders
.
You could watch the film of Smith's last two games. You could see him silence
New York Giants
defensive end
Jason Pierre-Paul
, whose mouth wrote checks his body couldn't cash against Smith, who held the former Pro Bowler to a grand total of one tackle, no sacks and no pressures in Dallas' key NFC East win last week. You could check out Smith helping clear the way for the Cowboys' running backs to run through the Oakland defense for 145 yards and three touchdowns, one of which featured the 22-year-old tackle blocking two Raiders.
Lamarr Houston
, Oakland's outstanding right defensive end, recorded only two tackles and no other statistics against Smith.
Or just ask almost anybody else in the Cowboys' locker room. They'll eagerly tell you how well Smith, who will be a cornerstone of the Cowboys' offensive line, is performing during his third NFL season and second at left tackle.
"I hope people recognize how good he's playing right now," said quarterback
Tony Romo
, who has been sacked by Smith's man only once in 12 games. "He's had a fantastic season, and he keeps getting better and better."
Added defensive end
DeMarcus Ware
, who is frequently seen working with Smith on footwork during free time in training camp: "I feel like he's playing like one of the best tackles in the league right now. I feel like he's having a Pro Bowl year."
In other words, Smith is fulfilling the potential the Cowboys saw in him when they selected him ninth overall in the 2011 draft, making him the first offensive lineman drafted by Dallas in the first round during owner/general manager Jerry Jones' tenure.
There are few offensive linemen as physically gifted as Smith, who is a cut 6-foot-5, 318-pounder with rare agility for a man his size. In terms of pure talent, Jones mentions Smith's name in the same sentence of recently inducted Hall of Fame guard
Larry Allen
.
"Let's don't quite get Tyron to Canton yet, but still, that's what comes to mind with a player like him," Jones said. "But he's not as strong as Larry Allen. And frankly, probably not as sudden, but he's very smooth and is ... every bit the athlete, every bit the player you want at left tackle."
Jones added the Cowboys made a good decision to draft Smith, whose performance is speaking volumes in supporting that case.
November, 28, 2013
11/28/13
10:25
PM ET
By
Calvin Watkins
| ESPN.com
Romo
ARLINGTON, Texas -- The
Dallas Cowboys
had just two health issues from their game with the
Oakland Raiders
on Thursday.
Quarterback
Tony Romo
played while still recovering from the flu. Romo said he picked it up Wednesday night, but other than a soft voice while speaking with reporters, finished the game with no problems. He finished 23-of-32 for 225 yards with one touchdown pass, extending his string of throwing a touchdown pass in a franchise-record 23 consecutive games.
Running back
Lance Dunbar
's health appeared more serious.
Dunbar suffered a sprained left knee late in the fourth quarter and didn't return. Yet, Dunbar was standing in the locker room after the game with no ice on his knee as he spoke with reporters.
Dunbar
"I was scared," Dunbar said. "I didn't know (what it was), I just know it could have been bad when it happened."
When Dunbar went down, he grabbed his knee as the team trainers and team doctor rushed onto the field. Dunbar did walk off the field on his own power.
"I think I will be all right," Dunbar said.
The Cowboys' next game is Dec. 9, so the time off should help in his recovery.
"We will take a look at it," Cowboys owner/general manager Jerry Jones said. "But we've got two weeks, but it could be a week or so on that. He's in great spirits."
November, 28, 2013
11/28/13
10:20
PM ET
By
Calvin Watkins
| ESPN.com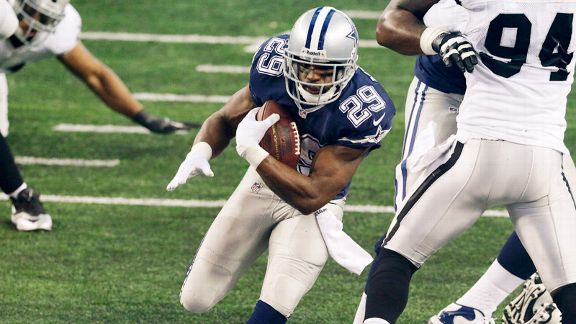 AP Photo/LM OteroDeMarco Murray rushed 17 times for 63 yards with three TDs in Dallas' win against Oakland.
ARLINGTON, Texas -- A few years ago, the
Dallas Cowboys
tried something with their running attack.
They wanted a one-two punch. It was supposed to be the power of Marion Barber and the speed of
Felix Jones
.
It never worked out. Barber's health betrayed him, and Jones just never could stay healthy. Each left the Cowboys for other teams, and while Barber is retired, Jones is plying his trade with the
Pittsburgh Steelers
.
Thanksgiving Day, the one-two punch the Cowboys were looking for to wear teams down was discovered.
In the Cowboys'
31-24 victory
against the
Oakland Raiders
, the run game produced 144 yards on 29 carries. We're not counting
Tony Romo
's kneel-down as one of the carries, in case you're wondering.
DeMarco Murray
rushed 17 times for 63 yards with three touchdowns, and
Lance Dunbar
rushed for a game-high 82 yards on 12 carries before leaving in the fourth quarter with a sprained left knee.
Murray was the power, averaging 3.7 yards a carry, taking measured steps on the day for the first three-touchdown game for a Cowboys player since
Julius Jones
did it in 2004. While Murray had a productive day, it wasn't as exciting as Dunbar's efforts, who averaged 6.8 yards per carry as he zipped through holes and bounced off tacklers.
It's unfair to Murray to say his day wasn't as productive as Dunbar's. But while Dunbar was the flash, Murray was the substance.
"I love it, I love it," Murray said of the one-two punch. "He's a great back, and he deserves to play and get his touches. It's a testament to [running backs coach] Gary Brown, who works us extremely hard. He puts us in great position to make plays, and I think that's what he showed [Thursday]."
Committing to the running game is something the Cowboys say they want to do but never accomplish. Remember the zero fourth-quarter rushes in the Kansas City game in September? How about the franchise-low, nine-carry contest against Minnesota?
According to the ESPN Stats & Info group, the Cowboys ran on 29 of 63 plays Thursday, excluding a kneel-down, their second-highest rate in a game this season. That's 46 percent. Before Thursday, the Cowboys had run on just 32 percent of their offensive plays, third-lowest in the league.
After the Cowboys took a 28-21 lead early in the fourth quarter, they ran the ball on 12 of their last 17 plays of the game. That shows a commitment given how both players touched the ball.
[+] Enlarge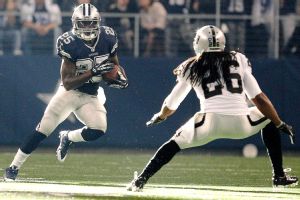 Ron T. Ennis/Fort Worth Star-Telegram/MCT via Getty ImagesLance Dunbar rushed 12 times for 82 yards against the Raiders, averaging 6.8 yards per carry.
"I love it, too," Dunbar said. "Our coach talks about it all the time, we should be unstoppable out of the backfield. Big powerful back and I'm a speed guy. Just wear and tear. He's going to wear the defense down, and I'm going to come in and change it up and follow behind him."
Both players have dealt with patience this season.
Murray waited to get the carries needed to show he's a productive player, but for a variety of reasons he wasn't given the chance. Dunbar battled health issues and seemed to be waiting outside the stadium to get his carries.
After the Vikings game, the Cowboys sounded like a sorry bunch in trying to explain why they didn't run it more than nine times in a one-score game. It's pretty simple, to be honest with you: Either you want balance or you don't.
This isn't about getting blown out and forcing yourself to throw 40 to 50 times a game. This is more about establishing yourself in the run game so when it gets cold and rainy and snowy on the road late in the season, you have something meaty to use for the offense.
Thanksgiving Day was one of those days when the Cowboys used the meat of their offense to take control.
"It was probably one of the better running games we've had all year," coach Jason Garrett said. "And when you can do that, all of a sudden you're getting some favorable matchups outside in the passing game. I thought once we got going on offense that Tony was outstanding. He completed a ton of balls in a row, starting with that drive right before the half. He really played well, and it all fits together."
Now the Cowboys have to maintain it. This isn't an end-of-the world deal, but if the Cowboys want to accomplish something in 2013, running the ball is vital for success.
"Very happy, very happy," Murray said. "I thought we ran it well, and Romo obviously threw it extremely well, and when he's throwing that way, you get two safeties [playing deep], and we definitely have to take advantage of that. And I think Dunbar came in and gave us a huge spark, and the offensive line did a great job blocking for us, and we were clicking."
November, 28, 2013
11/28/13
10:10
PM ET
ARLINGTON, Texas -- The
Dallas Cowboys
are undefeated without star middle linebacker
Sean Lee
this season.
That's not a trend they intend to test.
All indications are that Lee, who strained his hamstring in the Nov. 10 loss to the
New Orleans Saints
, will be back for the Cowboys' final four games. He said after the Cowboys'
31-24 win
over the
Oakland Raiders
on Thursday that he'd be "surprised" if he isn't ready to practice next week and play in the Dec. 9 game against the
Chicago Bears
and beyond.
[+] Enlarge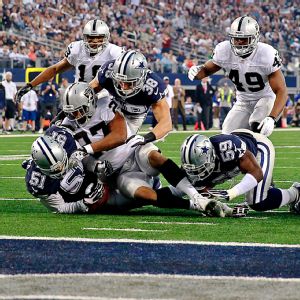 AP Photo/James D. SmithKyle Wilber recovers a fumble at the Raiders' 2-yard line. The Cowboys scored on the next play.
Those games are even more critical after the Cowboys managed to win a couple of games with Lee on the sideline. The much-maligned Dallas defense, which is ranked last in the league in total yards, did its part during Lee's recovery time to keep the Cowboys in the NFC East race.
"You've got to give a ton of credit to a lot of these guys that stepped up, guys like
Kyle Wilber
and
Ernie Sims
," said Lee, who played a critical role as a quasi-assistant coach the last couple of weeks, helping prepare Wilber and Sims to play new positions in the linebacker corps. "They've put a ton of work in. They've been unbelievable and a huge reason we've been able to win."
Nobody is pretending that the Cowboys' defense dominated the last two weeks. That's certainly not the case.
The
New York Giants
ran the ball down Dallas' throat, with running backs
Andre Brown
and
Brandon Jacobs
combining for 202 yards on 30 carries. But Dallas' defense held the Giants to 21 points and scored a touchdown of its own on
Jeff Heath
's 50-yard fumble return, doing its share to shut up the loudmouth Giants.
Defensive coordinator Monte Kiffin was determined to make sure the Raiders didn't beat Dallas with the running game, putting eight men in the box on a regular basis. That strategy didn't work out so well in the first half, when undrafted rookie quarterback
Matt McGloin
completed 11 of 15 passes for 146 yards to help Oakland take a 21-14 lead into the break.
It's less than ideal that ex-Cowboys receiver
Andre Holmes
(seven catches for 136 yards) had a career day -- really, those numbers are better than his previous career total -- but the defense again did enough to win the game with its best player wearing sweats.
Kyle Wilber, who might hang on to the starting strongside linebacker job even when
Justin Durant
is ready to return from his hamstring strain, recovered a fumble at the Oakland 2 to set up a touchdown when Dallas' offense desperately needed a spark. Cornerback
Brandon Carr
came up with an interception in the end zone to deny a Raiders threat. And the Cowboys' defense held Oakland to only three points after halftime.
The defense's performances certainly haven't been perfect without Lee, but the Cowboys' record has been.
"I'm not surprised that we've been able to win some games," owner/general manager Jerry Jones said, "but we just missed him a lot."
Lee expects to return next week, and the Cowboys hope to keep the momentum rolling.
November, 28, 2013
11/28/13
9:56
PM ET
ARLINGTON, Texas --
Brandon Carr
admittedly struggled in the first half against the
Oakland Raiders
.
Carr
That most of it came against former Cowboys practice squad wide receiver
Andre Holmes
made it worse to fans who expect more out of the $50 million cornerback.
But when it mattered most Thursday, Carr came up with the biggest play of the game for the Dallas defense in a
31-24 victory
.
Leading 28-21 the defense buckled when Holmes caught a 35-yard pass from quarterback
Matt McGloin
to the Dallas 21. Two plays later from the 20 McGloin chose to go at Carr with
Jacoby Ford
running a go route down the sideline.
"He just threw it up and they'd got enough big balls on us throughout the game," Carr said. "I figured it was time to go ahead and make a play and shift the momentum."
Carr was able to out-jump Ford for the ball to come down with his third interception of the season. The Cowboys' offense then drove 79 yards on 14 plays, eating up 6 minutes and 43 seconds before settling for a 19-yard field goal by
Dan Bailey
with 1:56 to play.
In the first half Holmes was able to beat Carr down the sideline on a similar play to the Cowboys' 1 after a replay review overturned what had been a touchdown.
"I was playing off this time," Carr said. "Just good ball placement by the quarterback. He read it and threw it to his big guys to go up and leap for the ball."
Tested a second time, Carr would not get fooled again.
"Just keep playing," coach Jason Garrett said. "It's the nature of the league, cornerbacks isolated out on islands. The quarterbacks and receivers in this league are good. The other guys, they're going to win sometimes ... B-Carr just kind of hung in there and kept battling and eventually he made the play in the end zone. It was a big play for us."
November, 28, 2013
11/28/13
9:38
PM ET
ARLINGTON, Texas --
Dallas Cowboys
quarterback
Tony Romo
has played through a fractured rib and a punctured lung. He's played through a bruised hand and a bruised back.
Add playing through a virus to the list.
Romo
Romo completed 23 of 32 passes for 225 yards and a touchdown in the Cowboys'
31-24 win
against the
Oakland Raiders
on Thursday. He needed a series of intravenous fluids after he became ill Wednesday night at the team hotel.
"This is the NFL," Romo said. "You play through anything. Guys played through a lot worse than what I was dealing with, I promise you that."
Romo and the Cowboys got off to a slow start against the Raiders, but he got hot on the final drive of the first half, completing five of seven passes for 69 yards to set up
DeMarco Murray
's 4-yard touchdown run that cut Oakland's lead to 21-14.
In the second half, Romo completed all 12 passes and connected with
Dez Bryant
on a 4-yard touchdown pass in the third quarter to give him at least one TD pass in 25 straight games.
"He got sick last night and was throwing up," coach Jason Garrett said of his QB. "Didn't have a great look on his face from a physical standpoint. Looked a little drawn to me. We talked about the great Joe Montana story and the Cotton Bowl. We didn't actually get him the chicken soup, but we tried to get a little drama going so he could respond to it. I think as much as anything else, when he got out there I think he started feeling good, particularly on that drive before the half, and I think it carried into the second half."
November, 28, 2013
11/28/13
7:59
PM ET
ARLINGTON, Texas -- A few thoughts on the
Dallas Cowboys
'
31-24 win
against the
Oakland Raiders
on Thursday.

What it means for the Cowboys:
Things started poorly when
Terrance Williams
fumbled the opening kickoff and
Greg Jenkins
returned it 23 yards for a score just 12 seconds into the game.
It was the quickest touchdown given up by the Cowboys in their history, but they were able to overcome a 14-point second-quarter deficit to take sole possession of first place in the NFC East with the win.
At 7-5, the Cowboys lead the division by a half-game over the
Philadelphia Eagles
(6-5) and are two games over .500 for the first time this season and the first time since Week 15 last season when they moved to 8-6.
The Cowboys will enter December with control of their fate and on a little bit of a roll.
Tony Romo
threw a touchdown pass in the 25th straight game and improved to 6-1 on Thanksgiving for his career.
Stock watch:
Lance Dunbar
, rising. Needing a boost, the Cowboys found it in Dunbar, the second-year running back from North Texas. He had 78 yards rushing in the third quarter that set up touchdowns by
Dez Bryant
and
DeMarco Murray
. He finished the game with 82 yards and was knocked out of the game in the fourth quarter with a left knee injury.
Defense turns it around:
Struggling is nothing new for the Cowboys' defense, but the Raiders had their way with them in the first half. In putting up 21 points, Oakland gained 185 yards and converted on four of seven third-down opportunities.
The saving grace was a fumbled snap by
Matt McGloin
that
Kyle Wilber
recovered at the Oakland 3 that the Cowboys turned into a touchdown.
In the second half, things were much improved. The Raiders had one first down and just 25 yards to start the second half as the Cowboys tied the game in the third quarter and took the lead for good on the second play of the fourth quarter.
Cornerback
Brandon Carr
rebounded from a poor first half to intercept McGloin on an underthrown ball in the end zone to
Jacoby Ford
. The Cowboys turned that into a clinching
Dan Bailey
field goal with 1:56 to play.
Finding the end zone:
Murray might have been usurped as the star of the ground game by Dunbar, but he contributed the first three-touchdown game of his career.
The last Cowboys running back with three rushing touchdowns in the same game was
Julius Jones
, who had three in a 43-39 win against the
Seattle Seahawks
on Dec. 6, 2004.
The Cowboys have nine rushing touchdowns on the season. A modest total, but the most they have had since 2010 when they had 10.
What's next:
The Cowboys have a mini-bye of sorts until the play again on Dec. 9 at the
Chicago Bears
. While winning the NFC East is the best and easiest way to make the playoffs, if the Cowboys want to have any wild-card hopes they almost have to win this game.