NFC East:

2013 Week 13 Upon Further Review
December, 2, 2013
12/02/13
10:45
AM ET
A review of four hot topics following the
Washington Redskins
' 24-17
loss
to the
New York Giants
:
Running trouble:
For the second week in a row, the Redskins faced a defense that, statistically at least, ranked among the top 11 in the NFL. For the second week in a row, the Redskins failed to generate a ground game. In the past two games, against two teams that have done well against the run, Redskins running back
Alfred Morris
has gained 78 yards on 25 carries. He was a bigger factor Sunday night in the first half in the pass game (27 yards) than in the run game (11). And he had two carries in the second half, gaining 15 yards. After that, Morris didn't touch the ball, which is really difficult to believe. Nor should that happen in a close game. I know the Giants geared up to stop him, but I also think this game exposes more problems with the Redskins' offense and its inability to adjust (or to make its adjustments work). It only works when it can play one way -- especially against the better defenses. The Redskins have played seven of the NFL's worst nine defenses in terms of overall yards allowed; if they want to factor in who they have faced at quarterback to explain some defensive issues, you have to look at this when gauging the offensive success. They have played two defenses in the top 11: New York and San Francisco. And the Redskins failed to sustain anything against either.
[+] Enlarge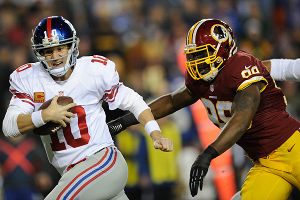 AP Photo/Nick WassOutside linebacker Brian Orakpo was credited with two sacks and two hurries against the Giants.
Orakpo's resurgence:
Linebacker
Brian Orakpo
continues to play well, and Sunday he was credited with two sacks and two hurries and again played the run well. On both sacks he was able to cut inside left tackle
Will Beatty
, something Orakpo hasn't done a lot of -- he's typically winning by driving his man back or going around him. Beatty even had outside help so he could play to the inside, but it didn't matter. Orakpo said last week that he's playing better now in part because the rust is gone, not to mention any fear about hurting his pectoral muscles again. He's playing for his next contract, too, though let's not look at this like he's, say,
Albert Haynesworth
. Nobody ever questioned Orakpo's effort. But it does make the next four weeks interesting for him. The Redskins need to find a way to keep him (
Rob Jackson
is just not the same player). But I wonder the pay level Orakpo is anticipating; he considers himself an elite pass-rusher.
Blocking woes:
If the coaching staff does return, and there's no scheme change, they'll have to make changes along the offensive line. They drafted three linemen last year; someone needs to emerge. Though the right side has struggled, they are far from the lone culprits. In the past two weeks, every offensive lineman has had issues. But that was true last season, too. However, the blocking on the edge was much better than it's been the past two games, with the tight ends and even the receivers. If
Santana Moss
, for example, holds his block on the bubble screen to
Pierre Garcon
early on the final drive, it has a chance to be an excellent gain. The big plays come when the blocking on the edges and downfield is good. That has not been the case.
Griffin's performance:
The reason why you don't sit
Robert Griffin III
in the next four weeks is because of games like Sunday night. He needs to continue to be placed in all kinds of situations if he's ever going to become a franchise quarterback. Some growth was evident in his game, with the first-half check-downs and freezing the safety with his eyes. Griffin needs to experience all of this over the next four weeks, because his development is crucial to the organization's future. That's true regardless of who is coaching here in 2014. It's imperative that he get put in positions to win a game at the end -- and then go do it. You build off such scenarios. Thing is, Griffin did what he could on that final drive, and his teammates didn't help with three drops and a stripped ball. Nor did the officiating crew with a botched down marker. (I'm not going over that again since it was covered in depth Sunday night; not much more needs to be said. A massive screw-up.) Still, there's nothing to gain by sitting Griffin.
December, 2, 2013
12/02/13
9:00
AM ET
A review of four hot issues from the
Houston Texans
' 34-31
loss
to the
New England Patriots
:
Texans blitzing Brady:
One of the difficulties for Texans quarterback
Case Keenum
as he learns to play in the NFL is dealing with blitzes. It's a mark of a young quarterback, and experience helps with that. Nothing better illustrated that than what Patriots quarterback
Tom Brady
did on Sunday.
ESPN Stats & Info took a look at Brady against the Texans' blitzes
. The Texans blitzed Brady on 21 percent of his dropbacks in the first half. He completed 2 of 7 passes and threw for 3.1 yards per attempt. In the second half the Texans ramped that up, blitzing Brady on 39 percent of his dropbacks. But by then he had figured it out. Brady completed 7 of 9 passes against blitzes in the second half and averaged 15.2 yards per attempt. His experience with figuring out defenses showed Sunday.
[+] Enlarge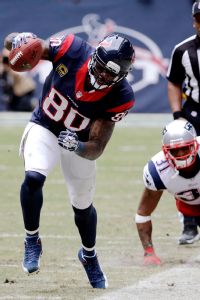 AP Photo/David J. PhillipAndre Johnson became the second-fastest player in NFL history to reach 900 catches.
Johnson's place in history:
Texans receiver
Andre Johnson
became the second-fastest player in NFL history to reach 900 catches. Only
Marvin Harrison
did it faster than Johnson's 150 games. And Harrison only beat him by one. Asked about it, Johnson gave answers that matched his personality. "I don't think it's really hit me yet," Johnson said. "To hear that, in my mind,
Jerry Rice
is the greatest receiver to ever play. So to do something faster than he's done is a tremendous honor."
Gronk'd:
Patriots tight end
Rob Gronkowski
had tremendous success against the Texans' defense. He caught six passes for 127 yards -- 44 yards in the first half and 83 yards in the second half. Gronkowski got open frequently (though we should mention that Texans safety
Eddie Pleasant
had some nice hits on him) and even when he wasn't open, he helped the Patriots' offense. One example was during a 9-yard touchdown pass to
Shane Vereen
in the third quarter. The score put the Patriots up 21-17. Vereen was left open with Gronkowski surrounded by Texans in the end zone.
Kubiak on the sideline:
After spending two games coaching from the press box, Texans coach Gary Kubiak finally got to return to the sideline. He was relegated to the press box on doctor's orders after suffering a transient ischemic attack on Nov. 3 at halftime of the Texans' game against the
Indianapolis Colts
. "I think we were operating as an offense better, and that gave us energy," Keenum said. "I think combined with him being on the field calming people down, and coaching us up as we needed it. ... Instead of relaying a message, he can tell me what he wants to tell me, when he wants to tell me. ... It felt like normal again." The offense did click better against the Patriots than it had in a while.
December, 2, 2013
12/02/13
8:00
AM ET
LANDOVER, Md. -- An examination of four hot issues from the
New York Giants
' 24-17
victory
over the
Washington Redskins
:
[+] Enlarge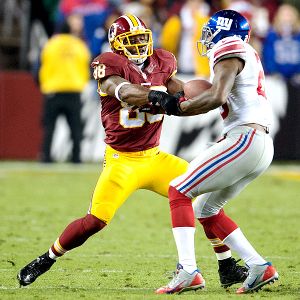 Harry E. Walker/MCTWill Hill ripped the ball from Pierre Garcon to seal New York's win.
The play that sealed it:
Safety
Will Hill
said that cornerback
Terrell Thomas
was hollering all game, "We need a turnover! Who's going to get a turnover?" So when Hill saw Redskins wide receiver
Pierre Garcon
holding the ball out away from his body on his fourth-down catch with a minute and a half left in the game, Hill figured it might as well be him. He ripped the ball out of Garcon's hands and stumbled forward eight yards knowing he'd locked down the game. "All I could think was about getting that ball to Eli so he could take a knee and we could get out of here with that W," an elated Hill said. Quarterback
Eli Manning
did indeed take two knees, and the Giants had beaten the Redskins.
Stopping the run:
Giants linebacker
Jon Beason
called running back
Alfred Morris
the "cowbell" of the Redskins offense. And while Beason meant "bell cow," he can be forgiven for misspeaking after his 17-tackle performance helped limit Morris to 26 yards on 11 carries. Beason said the Giants believed the Redskins could win if quarterback
Robert Griffin III
had a poor game while Morris had a good one, but not if it was vice versa. So the Giants committed to stopping the running back who came into the week third in the league in rushing. As they have against so many of the league's other top rushers this year, they succeeded.
Efficiency in the passing game:
Manning was under pressure all night, and pressure led to his one interception. But for the most part he did a good job managing a low-key passing game. He completed 22 of 28 passes for 235 yards and one touchdown. Tight end
Brandon Myers
, who caught the touchdown, was the Giants' second-leading receiver behind
Victor Cruz
with five catches and 61 yards. The ability to find Myers and running back
Andre Brown
in short range in the middle of the field helped Manning keep the pressure off enough to move the ball.
Tuck's huge night:
Justin Tuck
had four sacks, total, in the 2012 season. He had 2.5 sacks, total, in the first 11 games of this season. He had four sacks Sunday night. Tuck is a free agent at the end of this season, which means he may have just begun his final month as a Giant. But he says he hasn't been thinking about his contract situation all year, and it's easy to believe him. Tuck has been playing well this year, but it hadn't shown up in the sack totals. As he worked his way through the list of the other Giants (
Lawrence Taylor
,
Pepper Johnson
,
Michael Strahan
and
Osi Umenyiora
) who'd had four sacks in a game, he seemed to be relishing his place on the list. It was a satisfying night for a decorated Giants veteran.
December, 2, 2013
12/02/13
8:00
AM ET
PHILADELPHIA -- A look at four issues from the
Philadelphia Eagles
'
24-21 win
against the
Arizona Cardinals
Sunday.
[+] Enlarge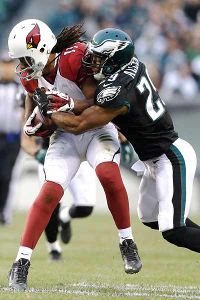 Matt Rourke/AP PhotoEagles safety Nate Allen did his best to keep Cardinals receiver Larry Fitzgerald in check during their Week 13 game Sunday.
Foles is lucky as well as good.
Nick Foles
needs to throw just two more touchdown passes to break
Peyton Manning
's NFL record of 20 touchdown passes without an interception. Foles also broke teammate
Michael Vick
's team record of 224 consecutive pass attempts without an interception. Going back to late last year, Foles has thrown 233 pick-free passes.
That's all good. But luck came in when he threw an ill-advised pass as he was being hit in the fourth quarter. The ball landed in the hands of Arizona cornerback
Patrick Peterson
, but the interception was negated by a holding penalty on safety
Tyrann Mathieu
.
"It definitely was a mistake by me," Foles said. "I was happy there was a penalty that kept our drive going. It wasn't a smart decision." It was the kind of decision that can turn a game around. Luck kept that from happening.
"That's just the game of football," Foles said. "It's a crazy game, and things happen."
Nate Allen isn't Brian Dawkins, but that's OK.
Allen, the fourth-year safety from South Florida, made a nice break on an underthrown
Carson Palmer
pass for an early interception. Allen was part of an egregiously bad secondary the past two years and has not exactly been a huge fan favorite. But his improved play has been a big part of the defense's development.
"He's one of the hardest workers in the building," Eagles defensive coordinator Bill Davis said. "It means so much to him. He's motivated because he hasn't had the success and everyone has been on him for a couple years here. Everyone wanted him to be Brian Dawkins and now everybody's kind of letting him be Nate Allen."
Fitzgerald? Check. Megatron?
The Eagles' defense did a decent enough job on Arizona's
Larry Fitzgerald
and
Michael Floyd
. Each caught a touchdown pass. Fitzgerald caught five passes for 72 yards, Floyd five for 99. Those are very good numbers, but neither could break open the game. That's encouraging, because the Eagles defenders get Detroit's
Calvin Johnson
here next Sunday.
"Those guys stepped up and took on the challenge of playing this top receiving group," Davis said. "There's a lot of times they were one-on-one. Throughout the game, I was mixing in [coverages], but there were a lot of snaps that were, 'Hey, get your man.'"
Davis often had linebacker
Connor Barwin
lined up directly across from Fitzgerald, especially in the slot. Barwin was able to get a more physical jam on Fitzgerald at the line before giving him up to a defensive back to cover.
The NFC playoff picture is a little clearer after this.
The Eagles earned a tiebreaker over Arizona should they wind up with the same record in the wild-card race. Sunday's win also keeps them within a game of San Francisco (8-4), which is currently in position to earn the second wild card. Chicago's loss to Minnesota leaves the Bears at 6-6, a game behind Detroit. The Eagles face those three NFC North teams over the next three weeks -- Detroit and Chicago at home, with Minnesota on the road in the middle.
The Eagles' best shot at the playoffs remains in beating Dallas (7-5) for the NFC East title, but the Cowboys are one of the teams with a realistic shot at a wild card.
November, 29, 2013
11/29/13
8:00
AM ET
ARLINGTON, Texas -- A review of four hot issues from the
Dallas Cowboys
' 31-24
win
against the
Oakland Raiders
at AT&T Stadium.
Where's the pressure?:
For just the second time this season, the Cowboys did not record a quarterback sack. The only other time it happened came against
Denver Broncos
signal-caller
Peyton Manning
.
Matt McGloin
isn't Manning, but he was getting rid of the ball quickly, and that made it difficult for
DeMarcus Ware
or
Jason Hatcher
to get to him. With
Jay Cutler
(possibly),
Aaron Rodgers
(possibly),
Robert Griffin
III and
Nick Foles
left on the schedule, the Cowboys have to hope this is not the start of a trend.
Harris
Missing Dwayne Harris:
Things started poorly when
Terrance Williams
fumbled the opening kickoff and Oakland returned it for a touchdown. The punt return game was only OK with
Cole Beasley
handling the job. Harris, who did not play because of a hamstring strain, is among the best returners in the NFL and has had a knack for big returns at big times. Beasley has the quickness necessary, but he does not possess Harris' strength to break through tackles. Williams has the speed, but he did not show Harris' vision on kick returns. The Cowboys also missed Harris' coverage skills as a gunner.
Good coaching:
DeMarco Murray
is the Cowboys' lead runner. That should not be in doubt, but offensive coordinator Bill Callahan should be credited for sticking with
Lance Dunbar
in the third quarter. The Cowboys found something that was working and kept hitting it. With the field spread with the Cowboys using three wide receivers, Dunbar's quickness kept the Raiders off guard. Dunbar's longest run -- a 45-yarder -- came out of 11 personnel. If Dunbar can stay healthy, he will give the Cowboys a good change-of-pace back down the stretch to complement Murray.
Protect the ball:
Dez Bryant
could not blame his second-quarter fumble on cold weather like he did his fumble last week against the
New York Giants
. The Cowboys have had conversations with Bryant about being more willing to go down instead of fighting for extra yards, because he has not always secured the ball. That wasn't the case Thursday, but Bryant has to be careful, and the Cowboys have to be careful it doesn't take some of his aggression away. Facing second-and-15 in the fourth quarter, Bryant fought off three tacklers and gained 14 yards to make a third-down conversion much easier.