NFC East:

2013 Week 15 PHI at MIN
December, 15, 2013
12/15/13
8:05
PM ET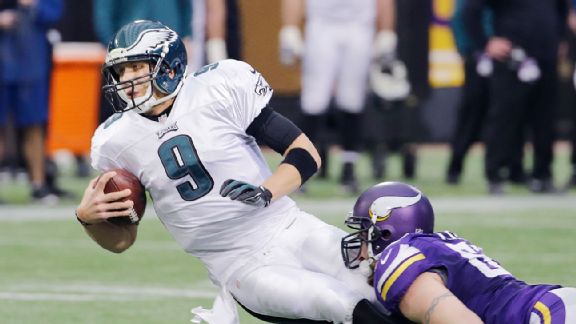 AP Photo/Ann HeisenfeltQuarterback Nick Foles threw for a career-high 428 yards but the Eagles were unable to keep pace with the Vikings.
MINNEAPOLIS -- A week after their winter-wonderland win had the
Philadelphia Eagles
in control of the NFC East, Chip Kelly's team didn't have a snowball's chance against the
Minnesota Vikings
on Sunday.
There's probably
not a good way to lose
, 48-30, to a team with a 3-9-1 record and without its best player, running back
Adrian Peterson
. But the Eagles managed to lose this game in the worst possible way, starting with their head coach.
Kelly now has a truly bad loss on his NFL record. The Eagles lost three games early to AFC West teams with very good quarterbacks. They lost back-to-back division games at home when injuries had their quarterback situation in disarray.
After that, with
Nick Foles
playing superbly and the defense improving weekly, the Eagles won five consecutive games to move into sole possession of first place in their division. With tough games remaining against the
Chicago Bears
and
Dallas Cowboys
, they needed to take care of business against the downtrodden Vikings.
They did not.
Kelly had a terrible day. He managed to give
LeSean McCoy
, the NFL's leading rusher entering the contest, just eight more carries than the Vikings' Peterson, who was inactive with a foot injury. His decision to go for it on fourth down at his own 24-yard line backfired badly. Then he had to waste a timeout to decide on going for a two-point conversion in the fourth quarter.
His offense was inconsistent. His defense was consistently terrible. His special teams plan gave the Vikings excellent field position all day long.
It was worse than that, though. Kelly's team
lost its composure as well
as this game. Wide receiver
DeSean Jackson
freaked out after an interception. Cornerback
Cary Williams
was benched by defensive coordinator Bill Davis because he couldn't control himself in the late going. The Eagles drew penalties for taunting and unnecessary roughness while the Vikings just kept piling up yards and points.
The Eagles believed last week's victory revealed their character. They better hope this week's loss did not.
"That will be straightened out," Kelly said. "That's not how we're supposed to play and obviously unacceptable and we'll take care of that."
Kelly didn't do much better after the game than he did during it. His explanation for ignoring McCoy just didn't make sense.
"We got down a little bit there, and we really weren't moving them very well out front," Kelly said. "We were down and it felt like we were down by two scores the whole time. Just trying to get back into it."
This is a team that was down 14-0 to Detroit last week in the third quarter, and rushed for 244 yards in a remarkable second-half comeback. One week later, the running game goes out the window at the first sign of difficulty?
Center
Jason Kelce
said the game plan was to attack Minnesota's injury-depleted secondary. And that makes perfect sense. But taking McCoy out of the game is supposed to be the opposing defense's No. 1 priority. Doing it for them just doesn't make sense.
The Eagles' first two possessions of the fourth quarter were critical. They went three-and-out on both of them. Kelly called six passes. Two were complete for a total of 10 yards. Three were incomplete. One resulted in a sack.
After the second of those futile drives, the Vikings scored a touchdown to make it 41-22. Game over.
Kelly's decision to go for it on fourth down, deep in his own territory, was a desperation move.
"We hadn't gotten anything going at that point in time," Kelly said. "So we were hoping we could jump start something there."
If McCoy had picked up the 18 inches needed, maybe it would have done just that. Instead, the Vikings got an easy field goal and the Eagles were in an even deeper hole.
"I thought we could have made it," Kelly said. "And I also thought if we don't make it, we're in trouble. If we can't get a half a yard, it tells you what the day's all about. You have to think on fourth and a half a yard, we can get a half a yard."
The loss didn't hurt the Eagles in the standings. Thanks to
the Cowboys' 37-36 loss
to the
Green Bay Packers
, the Eagles remain in first place. They squandered an opportunity to take a two-game lead and a chance to clinch the division before that season finale in Dallas.
Kelly said last week that he'd never experienced a let-down game as a head coach. Now he has.
"That's a good question," Kelly said. "I thought we had a great week of practice. But we don't make excuses. We didn't play well enough to win today."
"I said we're going to find out how we are being the favorites, how we respond to that," defensive coordinator Bill Davis said. "And we didn't respond well. I don't think it was because we were flat. But I know mentally and physically, we've got to be better than we were today."
It will be tough to be much worse. It didn't help that the Eagles unraveled so completely at the end. Kelly and Davis have to address the temper tantrums and unprofessional behavior displayed by their players.
"It showed a lack of maturity," wide receiver
Jason Avant
said. "Hopefully it does not carry on to the other games because we cannot have that in order to be a playoff team."
The Eagles built a case for themselves as a playoff team over five weeks of smart, winning football. They didn't undo all of that in one terrible day here, but they came uncomfortably close.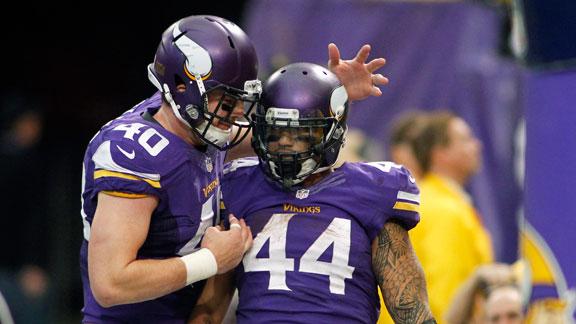 December, 15, 2013
12/15/13
4:23
PM ET
MINNEAPOLIS -- Quick thoughts on the
Philadelphia Eagles
' ugly
48-30 loss
to the
Minnesota Vikings
on Sunday:

What it means:
Eagles coach Chip Kelly officially has a bad loss on his NFL résumé. His Eagles were in first place in the NFC East, facing a 3-9-1 team without its best player, running back
Adrian Peterson
. Instead of securing their hold on a playoff berth, the Eagles were flat and looked unprepared and poorly coached in all three phases. Kelly didn't use running back
LeSean McCoy
enough and handed the Vikings three points by going for a fourth-and-1 at his own 24-yard line in the third quarter. Defensive coordinator Bill Davis had no answers for
Matt Cassel
, even with the Vikings down to a practice-squad running back. Special-teams coach Dave Fipp's plan to kick away from Cordarrelle Patterson gave the Vikings great field position all game.
Shredded and wounded:
Philadelphia's secondary was terrible even before losing nickel corner
Brandon Boykin
(possible concussion) and safety
Kurt Coleman
(hamstring). Cassel beat the Eagles deep for a 57-yard touchdown to
Greg Jennings
in the first quarter. He was able to convert third downs all too easily. Safety
Patrick Chung
was benched in favor of Coleman, then had to return when Coleman got hurt.
Colt Anderson
, forced into action, got burned on a big play by tight end
Chase Ford
. To make matters worse, the secondary committed a rash of penalties in the fourth quarter to fuel a Vikings touchdown drive.
Stock watch:
Falling:
Nick Foles
. He wasn't Sports Illustrated-cover-jinx terrible, but the magic carpet ride is over. Foles took sacks by holding the ball too long. He threw a jump ball for
DeSean Jackson
that was intercepted. Foles was also called for a penalty for an illegal block, which negated a Jackson touchdown run on a reverse. Foles threw three second-half touchdown passes, but his chance to stage a comeback win was undermined by the Eagles' inability to stop the Vikings at all.
What's next:
The Eagles face two must-win games. They host the
Chicago Bears
next week in a game that was flexed into prime time. Then they finish the regular season at the
Dallas Cowboys
, a game that could decide the NFC East title. The Eagles, who would lose on tiebreakers if they finish with the same record as the Cowboys, made things harder on themselves by not taking care of the Vikings.