NFC East:

2013 Week 15 SEA at NYG
December, 15, 2013
12/15/13
7:50
PM ET
EAST RUTHERFORD, N.J. -- Tom Coughlin had no qualms pointing the finger at one unit in particular after
Sunday's 23-0 thrashing
at the hands of the Seahawks at MetLife Stadium.
"I think defensively and with our special teams, we got it. Offensively, we did not -- there's no way to sugarcoat it," Coughlin said. "A pathetic offensive performance -- we didn't block anybody, we didn't make any plays, we didn't create any opportunities for ourselves."
In what has been a nightmarish season for their offense, the Giants hit rock bottom on Sunday as they managed just 181 total yards against Seattle. The Giants are the only team in the NFL that has been shut out this season, and have the indignity of having it happen to them twice.
"It's out there, you saw it. Everybody else saw it," Giants center
Kevin Boothe
said. "It's pathetic, embarrassing. Whatever word you want to use, It's accurate."
In a scene that has become all too familiar this season, the Giants' offense looked lost Sunday against one of the top defenses in the NFL. The Giants were unable to run the ball, tallying just 25 rushing yards, which is somehow not the team's season-low because of previous ineptitude.
When
Eli Manning
dropped back to pass, he was under constant pressure, getting sacked three times, and his receivers couldn't create any separation against Seattle's defensive backs. Manning was intercepted five times, and totaled just 156 passing yards.
The 181 offensive yards were the second-lowest on the season, once again magnifying how dismal the offense has been this season.
"Unfortunately, it sounds like a broken record over the course of the year, but just didn't execute," Boothe said. "Face a team like Seattle, they're going to make you pay, we knew that going into it. I don't really know what to tell you."
Coming into the season, the Giants' offense was expected to be among the league's best with Manning at the helm, and a talented group of receivers that could spread the field. The opener against Dallas gave high hopes with an aerial assault, but the Giants haven't been able to stretch together consistent offensive performances.
With Manning's five interceptions, he now leads the league with 25, and has also tied his career-high. After being sacked three times Sunday, Manning has been sacked 36 times, extending his career-high. The Giants have also turned the ball over in each of their 14 games.
The players are surprised an offense with this much talent can struggle so mightily. Dating to last season, the Giants have now been shut out three times in their past 17 games.
"I think if there was an easy answer, we would have fixed it. We have talented players and there's really no reason why we should struggle as much as we did this year, especially when you're so used to being successful," Boothe said. "It's tough. You have to figure things out here and play a great game next week."
December, 15, 2013
12/15/13
7:20
PM ET
EAST RUTHERFORD, N.J. -- This was about 45 minutes after the
New York Giants
had lost 23-0 to the
Seattle Seahawks
on their home field Sunday. Through with his postgame speech to the team, his media obligations and his check-in with the medical people on his injured players, Giants coach Tom Coughlin walked into the locker room by himself.
On his way back to his office, Coughlin stopped between the lockers of veteran defensive linemen
Justin Tuck
and
Cullen Jenkins
-- two men who'd just got done throwing their huge bodies around in whatever vain effort they could make to keep their team in the game despite a complete lack of offense. The conversation was quiet, and private, interrupted only briefly when linebacker
Jon Beason
stopped to shake his coach's hand on his way out. Looking for answers, Coughlin was alighting briefly on an oasis of competence before he himself got ready to head home.
"Not very well," he'd said a short time earlier when asked how he was taking this 5-9 season. "Not very well."
Sunday's loss ensured Coughlin's first losing season since 2004, which was the first for both him and
Eli Manning
with the Giants. The two have had great success together, doubling the franchise's supply of Super Bowl trophies, and for that reason I continue to believe that Coughlin will get to coach the team as long as he wants to coach it. But watching the way this season has gone, and looking ahead to the rebuilding challenge that awaits the Giants in this offseason and maybe the next, I also think it's fair to wonder how long that will be.
Make no mistake here: There has been no indication from Coughlin or from anyone close to him that he intends to retire at the end of this season. The odds are still extremely in favor of him returning in 2014. That's where your money should be if you're betting this, and Sunday didn't change that.
But the totality of the circumstances could, and it would be hard to blame Coughlin if it did.
I don't believe Coughlin has given any serious thought to whether he'll come back for 2014. When asked, he swears he hasn't -- that his focus is entirely on the next game -- and I think we all have enough history with Coughlin to take him at his word on that. But a month from now, two months from now, once the in-season intensity has faded and there's time to look over the big picture, it wouldn't be crazy to think a 67-year-old coach who just had his first losing season in the past nine and has only made the playoffs once in the past five might start thinking about whether he can or wants to do this anymore.
He was obviously and visibly upset after this game. He lauded the effort put forth by his defense and his special teams, but he called the performance of the offense "pathetic." Manning, to whom Coughlin's career will forever be tied in history for very good reasons, had thrown five interceptions to match his career high and raise his league-leading total to 25. Coughlin cannot explain the turnover problem the Giants have had this year, only acknowledge that it has crippled them.
"We're depending on our best people to try and win, and we didn't win," Coughlin said. "The ball was thrown up, and our guys have to fight for the ball."
He's not naming names, but wide receiver
Hakeem Nicks
' flop of a contract year has been an obvious burr in Coughlin's saddle, and there surely were plays Sunday on which it appeared Nicks could have fought harder for the ball. Coughlin made a non-specific reference to the offensive linemen's poor performance, noting "a couple of spots" where they had an especially poor day in protection. His team is outmanned, which makes it tough for him to sell his usual message about responsibility even to his players. Safety
Antrel Rolle
interrupted Coughlin in the postgame while Coughlin was telling the team he, as its coach, was to blame for the performance.
[+] Enlarge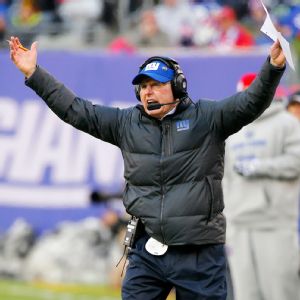 Jim O'Connor/USA TODAY SportsTom Coughlin is nearing the end of his first losing season since going 6-10 in 2004, his first year as the Giants' head coach.
"He can't coach heart," Rolle said later. "He can't make a player have passion about this game, and that's what we were lacking out there today."
Coughlin likely would tell you otherwise. His greatest coaching achievements have resulted from his ability to get the absolute most out of his players, from a heart and execution standpoint, when it mattered the most. He has been unable to do that this year, and it vexes him.
So it is fair to wonder how he'll evaluate this in a couple of weeks, when it's all over and there's no more opponent film to break down and he sits and thinks about what he wants to do. People close to Coughlin always say the same things about his purported retirement plans -- that he has no hobbies, nothing that's calling his name as a post-career activity, and that he'll coach until he feels he can't do it anymore.
It is not for me or you or anyone else to tell Coughlin when that will be, but it's fair to wonder. In spite of Manning's lousy year, the Giants are set at quarterback, and that could be enough to bring a coach back. But they need a ton of work at almost every other position -- the kind of work that could take multiple seasons to really fix things. Does Coughlin want to wait around through multiple rebuilding years? Does the status of veteran guard
Chris Snee
, who is Coughlin's son-in-law and could be a salary-cap cut this offseason, play into whatever decision he may feel he needs to make?
These are fair questions, and the only one who even might have answers to them at this point is Coughlin himself. You still have to think he's back in 2014, but the way this season has gone and continues to go gives you reason to wonder how badly he'll want to return.
December, 15, 2013
12/15/13
4:14
PM ET
EAST RUTHERFORD, N.J. -- A few thoughts on the
New York Giants
'
23-0 loss
to the
Seattle Seahawks
on Sunday at MetLife Stadium.

What it means:
Not a heck of a lot, really. The Seahawks are 12-2, probably the best team in the NFL and a strong bet to play on this field in the Super Bowl seven weeks from now. The Giants are 5-9, now assured of their first losing season since 2004, which was the first in New York for both Tom Coughlin and
Eli Manning
. There was a decent chance it would look as though the Giants didn't belong on the same field as Seattle, and it did.
Stock watch:
Eli Manning, DOWN. The Giants quarterback threw five more interceptions, bringing his league-leading total to 25 for the season, which ties his career high (set in 2010) with two games still to go. He also took three more sacks, which extends his career-high total in that category to 36 for the season.
Cruz injured:
Giants wide receiver
Victor Cruz
left the game in the second half with a concussion and a knee sprain after jumping high in the air to nearly make a brilliant catch (it was ruled incomplete on replay) and landing hard on his head. Cruz had 25 receiving yards in the game and has 998 for the season, so if the injuries keep him out the final two games, he'd fall just short of a third straight 1,000-yard season. Obviously, and as they should, the Giants will use the appropriate caution before putting Cruz back into a game. The league's concussion protocol could dictate whether his season is done.
Futility:
This is the second time this season the Giants have been shut out. They lost 38-0 in Carolina in Week 3. The last time the Giants were shut out twice in a season was 1996.
What's next:
The Giants travel to Detroit next weekend to face the Lions, who are 7-6 and in first place in the NFC North with their Week 15 game still to come on "Monday Night Football."
December, 15, 2013
12/15/13
2:40
PM ET
EAST RUTHERFORD, N.J. -- The
New York Giants
' defense looked early on as though it had come to play. Led by linebacker
Jon Beason
, it spent the first quarter and much of the second flying to the ball, making
Seattle Seahawks
quarterback
Russell Wilson
move his feet, and even doing a decent job limiting the damage done by apparently indestructible Seahawks running back
Marshawn Lynch
.

But even as that was going on, it was apparent the Seahawks were the team on the MetLife Stadium field with the superior personnel. Too often, when they flushed Wilson out of the pocket, he made an incredible play with his arm and/or his feet to get out of trouble. And even when they managed to hit Lynch four times inside the 2-yard line on one play, he bulled his way into the end zone for a touchdown. They remained game and determined, as
Linval Joseph
's sack of Wilson in the final 30 seconds of the half showed, but it does appear as though the Seahawks are wearing them down, which is what the Seahawks do.
And besides, there's not a lot a defense can do when the offense is totally broken.
Giants quarterback
Eli Manning
threw three interceptions in the first half, at least temporarily wresting the league lead from the Jets'
Geno Smith
, who plays later today. The first two were inexcusable, as they were fired directly at receivers who were completely blanketed in coverage by Seattle defensive backs -- first
Byron Maxwell
and second
Richard Sherman
. The third was on a vain Hail Mary on the final play of the half, as the Giants took a worthwhile shot from their own 40 with three seconds to go. Manning now has 23 interceptions for the season. His career high is 25, set in 2010.
Anemic all season, the Giants' passing game today has been nonexistent. Manning is 7-for-13 for 47 yards and the three picks. They're also doing nothing on the ground, where
Andre Brown
has 15 rushing yards on seven carries. They had the ball for only 11:34 of the first half, so it's not as though there's been much of a chance to do anything, but a big part of the reason they've struggled with time of possession has of course been the fact that they're giving the ball away so freely. The Giants get the ball back to start the second half, but at this point it's hard to see how that could qualify as good news for them.
I don't know anyone who expected the Giants to beat the 11-2 Seahawks here today. Sure, they still might. It's only 13-0 at halftime, after all. But to this point, this game has been the ultimate anticlimax in a season filled with them. The Giants right now don't belong on the field with this team, and it's their own field.