NFC East:

2013 Week 15 Upon Further Review
December, 16, 2013
12/16/13
8:00
AM ET
EAST RUTHERFORD, N.J. -- A review of four hot issues from the
New York Giants
' 23-0
loss
to the
Seattle Seahawks
:
[+] Enlarge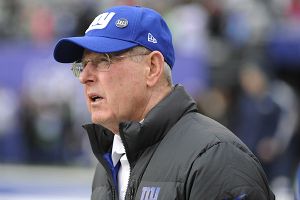 AP Photo/Bill KostrounTom Coughlin and the Giants are showing signs of frustration as they trudge down the stretch of a disappointing season.
Locker room strife?
The Giants have held together admirably all miserable season long, in spite of an 0-6 start and a generally dismal performance by their offense even during their four-game win streak. But after Sunday's game, coach Tom Coughlin laid the blame deservedly at the feet of the offense, and safety
Antrel Rolle
strongly indicated that he agreed. Wide receiver
Hakeem Nicks
bristled at Coughlin's use of the word "pathetic," and tight end
Brandon Myers
tweeted, "If ppl on this team wanna take shots at me an say I have no passion they are mistaken. I give everything I have each an every week." The Giants aren't going anywhere this season. They can't even finish .500 at this point. But the leaders and the coaches could conceivably face a challenge in keeping the locker room together to maintain some semblance of respectability in the final two weeks.
Nicks' woes continue:
It was easy to infer that Nicks was one of the players Coughlin suggested had to "fight harder for the ball," as
Eli Manning
was 1-for-4 for five yards and three interceptions when targeting Nicks on Sunday, according to ESPN Stats & Information. Manning is completing 56.8 percent of his attempts to Nicks this season with no touchdowns and six interceptions. The Giants entered this season hoping Nicks would have a big year and give them a difficult decision about how much to pay to sign him as a free agent. Instead, he has had a horrible one, and does not appear likely to be back. Amazing that he has fallen so far out of favor after being such a respected figure in their huddle and their locker room for his first four years.
Manning's miserable year:
Manning has matched his career high for interceptions in a season with 25. He threw 25 in 2010, but he still has two games to go in this season. He was sacked three times in Sunday's game, extending his career high in that category to 36 for the season with two games to go. He was 2-for-10 with four interceptions on throws of 10 or more yards downfield Sunday. If
Victor Cruz
is out next week in Detroit, which is possible after he left the game with a concussion and a knee sprain, it's hard to imagine how the Giants' passing game has a chance to do anything. And a run game that gained 25 yards on 14 carries Sunday didn't inspire much confidence that it can alleviate any of the pressure.
One positive:
The Giants did a good job limiting monster Seattle running back
Marshawn Lynch
between the tackles. He gained only 47 yards on 16 carries, though he did catch six passes for 73 yards. That looks like the kind of line top running backs were posting against the Giants back in September, which means the season has come full circle. Which is not, for the Giants, awesome.
December, 16, 2013
12/16/13
8:00
AM ET
ARLINGTON, Texas -- A review of four hot issues from the
Dallas Cowboys
'
37-36 loss
to the
Green Bay Packers
.
[+] Enlarge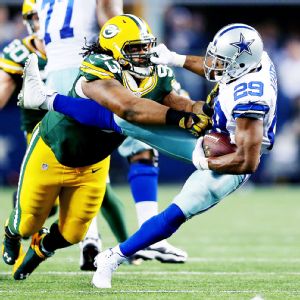 Ronald Martinez/Getty ImagesDeMarco Murray and the Cowboys are focusing on winning out and attempting to make the playoffs.
Recuperative powers:
If the Cowboys win their final two games, they will make the playoffs. If there is a message Jason Garrett is looking to sell as the team looks to rebound, that's it. The Cowboys' final two games are against the
Washington Redskins
and
Philadelphia Eagles
, teams they outscored 48-19 in meetings earlier this season. It's not the message a lot of fans want to hear, but it is what matters most as the Cowboys look to make the playoffs for the first time since 2009.
"I feel good that we have a chance to beat the Redskins, and if we do that, we'll get a chance to play Philadelphia with an opportunity to get in the playoffs," owner and general manager Jerry Jones said. "I know when I see us lose a game after having a lead like we had at halftime, anything can happen one way or the other."
Pathetic work:
On a day in which the offense gained 466 yards and 27 first downs, you would think everything worked well. It didn't. The third-down offense continued its season-long struggles as the Cowboys converting on just 2 of 9 chances. It was the third time this season the Cowboys converted on less than 30 percent of their third-down tries in a game. They are 56-of-159 on the season.
Tony Romo
said he has to be better on third downs, the receivers have to win in man-to-man situations and the blocking has to be better.
"We haven't done that well," Romo said of the third-down woes. "We have to do a better job."
No chance on D:
At one point, the Cowboys fielded a defense that had three players who were not with the team when training camp started (
George Selvie
,
Everette Brown
,
Corvey Irvin
), two undrafted free agents (
Jeff Heath
,
Cameron Lawrence
), a sixth-round pick (
DeVonte Holloman
) and a cornerback (
Sterling Moore
) who was out of football until Nov. 25.
Matt Flynn
became the fifth quarterback to throw four touchdown passes against Monte Kiffin's defense, joining
Eli Manning
,
Peyton Manning
,
Drew Brees
and
Josh McCown
. Flynn and McCown are backup quarterbacks, and the Cowboys will see another backup next week at Washington with
Kirk Cousins
quarterbacking the Redskins.
Still producing:
Jason Witten
caught 110 passes last year, an NFL record for tight ends in a season, but he had only three touchdowns. He has 59 catches this year and eight touchdowns. Witten needs one TD in the final two games to equal his career high. His eight from Romo this season are the most the duo has combined for in a season together. With 59 catches for 703 yards, Witten is averaging 11.9 yards per reception, which equals his career best so far. He might not have the starry numbers of the past, but at 31, Witten is not slowing down yet, either.
December, 16, 2013
12/16/13
7:50
AM ET
ATLANTA -- A review of four hot topics following the
Washington Redskins
' 27-26
loss
to the
Atlanta Falcons
:
Taking responsibility:
An underrated part of
Kirk Cousins
' game is his ability to say the right things. Cousins has made only two starts, but his handling of the postgame questions speaks volumes about his maturity. He's not afraid to put the blame on himself; it certainly was warranted on his two interceptions. No one else was at fault. He took the blame on the failed two-point conversion; Atlanta played it well, though, yes,
Josh Morgan
was open (
Pierre Garcon
was the primary read and
Desmond Trufant
blanketed him). So it's not all on Cousins. And when he talked about his successes, it was always about what the other guy did to help him --
Fred Davis
made a great catch; Pierre got open. It's not an act; this is how Cousins comports himself. I don't know what sort of quarterback Cousins eventually will become, but he has this part down pat.
[+] Enlarge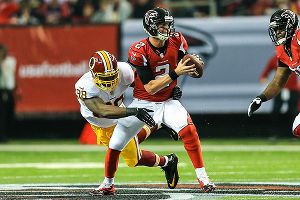 Daniel Shirey/USA TODAY SportsBrian Orakpo had another disruptive game, and he now has 58 tackles and 10 sacks.
Rak attack:
Linebacker
Brian Orakpo
had another terrific game. I know he's playing for a contract, but you can't discount his sacks either by just saying the season's over. If you do that, then you must discount other good performances, too. And no one else on defense is playing as well as Orakpo.
"I have to keep playing at a high level," Orakpo said. "I was able to get the tackle off his set, get his feet moving. He didn't know what change of direction I was going to go. I wouldn't say I was inside his head, but this game is about confidence and the confidence starts dwindling, that's when you take advantage."
Orakpo said he could tell left tackle
Lamar Holmes
' confidence had decreased: "I could tell because his feet were a little shaky as the game went on. At the beginning tackles have routine sets, but when your feet start moving too much that means you got him."
Turnover machine:
It's hard to underestimate the impact turnovers have had on the Redskins this season. They played well Sunday, except for the turnovers. Sadly for them, that's a difficult stat to overcome. They've turned the ball over 29 times, leading to 88 points -- the offense has scored just 74 points off turnovers. Last year, the Redskins turned it over 14 times and allowed just 51 points -- while scoring 113 points off opponent turnovers. That margin was third best in the NFL. In the past two seasons there have been 30 teams that have scored more points off turnovers than they've allowed; 22 have had winning records. The reasons for the turnovers must be fixed but there have also been some odd ones, like a couple involving running back
Alfred Morris
on Sunday. He wasn't hit that hard, yet still had the ball come free. Plays like that didn't happen last season, it seemed.
Toll of controversy:
There have been many crazy dramas surrounding the Redskins in the past 15 years, but this one probably has topped them all because of the big-name parties involved and the constant stream of reports. It's a good thing social media and blogs weren't around during the Steve Spurrier era or that would have felt as crazy as this one. It's hard to fathom how this season has unfolded and where it still might go. Though there appears to be at least one scenario under which coach Mike Shanahan returns, it still seems far-fetched to think all the parts will fall into place to make it work -- and then to think that will still result in a healthy organization. If it means giving him a contract extension, can you really justify that if they only win one more game? It would be tough to do minus all the drama, but with it? Even tougher. It's also hard to imagine the tension that exists between
Robert Griffin III
and Shanahan diminishing a whole lot, at least from the quarterback's perspective. The whole situation has weighed on players, with a number of them knowing their futures will be impacted by a coaching switch. In other crazy years, players knew from the beginning of the season that they were doomed and probably not good. So what transpired wasn't a surprise. That was far from the case in 2013, which is why for some the frustration level hasn't diminished a whole lot.