NFC East:

2013 Week 16 NYG at DET
September, 2, 2014
Sep 2
7:59
AM ET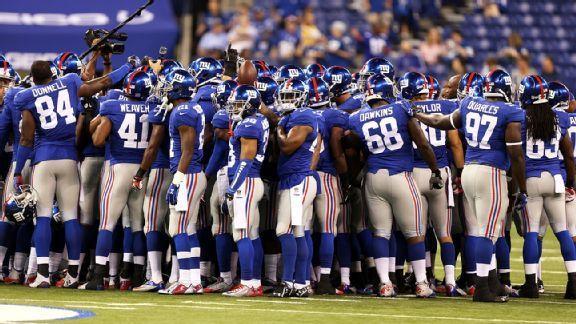 ESPN.com
New York Giants
reporter Dan Graziano makes his game-by-game picks for the 2014 season.
Week 1: at Detroit Lions
The Giants are coming off a mess of a preseason, undermanned and overwhelmed, with the offensive line still a mess and the new offense not clicking at all. No one will pick them to win this game. Except me. Prediction: Win
---
Week 2: Arizona Cardinals
This one's a comedown off the Week 1 surprise, as Arizona's banged-up defense still manages to flummox Eli Manning and collect a few interceptions. It's a bummer of a home opener as reality begins to set in. Prediction: Loss
---
Week 3: Houston Texans
Houston's defense is as liable as Arizona's to make life miserable for Manning and the offensive line. But Houston has bigger questions on offense than even the Giants, and this is a win for the New York defense against Ryan Fitzpatrick. Prediction: Win
---
Week 4: at Washington Redskins
The short week and Washington's stellar crew of offensive weapons prove too much for the Giants to overcome. Will Beatty still sees Brian Orakpo in his nightmares. Prediction: Loss
---
Week 5: Atlanta Falcons
The pattern continues, and the Giants overcome two Osi Umenyiora sacks to outscore the Falcons with a furious Manning comeback in the final minutes. The Giants poke their heads over the .500 mark as they make the turn into the most brutal stretch of their schedule. Prediction: Win
---
Week 6: at Philadelphia Eagles
The Giants don't have Matt Barkley to kick around this time when they visit the City of Brotherly Love. Chip Kelly and the Eagles show them what a truly innovative offense looks like. Prediction: Loss
---
Week 7: at Dallas Cowboys
The season-long debate about what gives when an anemic Giants offense meets a pathetic Cowboys defense tilts in Dallas' favor in the first meeting. Tony Romo & Co. have more than enough weapons to outscore Manning and his bunch, and the Giants hit the bye with a 3-4 record. Prediction: Loss
---
Week 9: Indianapolis Colts
After a long break before the Monday night home game, the Giants get taken apart by Andrew Luck, Hakeem Nicks & Co. at MetLife Stadium for a third straight loss. The offense is starting to run more smoothly, but it still doesn't have enough playmakers to outscore one of the league's better offenses. Prediction: Loss
---
Week 10: at Seattle Seahawks
You're kidding, right? Prediction: Loss
---
Week 11: San Francisco 49ers
The Giants have obviously handled the Niners in recent years and in some high-profile situations. But by this point in the season, San Francisco's defense is back to full strength, and the 49ers can't afford to lose ground to the Seahawks by failing to beat the team Seattle just beat the week before. Prediction: Loss
---
Week 12: Dallas Cowboys
A sixth straight loss is by no means out of the question here, as Romo and his crew still have the potential to outscore anyone in a given week. But from this far out, I'll forecast that something goes wrong for Romo late in this game, and the Giants get a gift. Prediction: Win
---
Week 13: at Jacksonville Jaguars
This is where the schedule starts to soften up, when the Giants start playing teams that insist on not starting their best quarterback. It's unfortunate they're 4-7 at this point and just about out of the playoff hunt, but they will get it going against the bottom-feeders. Prediction: Win
---
Week 14: at Tennessee Titans
I think the Titans are going to be dreadful this year, and by December they won't be very difficult for anyone to beat, even at home. A third straight victory keeps the Giants' hopes alive. Prediction: Win
---
Week 15: Washington Redskins
Have to be honest: The NFC East is so unpredictable that, when doing these predictions, I just decided to give the Giants a 3-3 division record with victories in all three home games and losses in all three road games. It's as fair a way as any to do it, I believe. Prediction: Win
---
Week 16: at St. Louis Rams
After moving back to .500 with four straight wins, the season falls apart at the hands of the St. Louis pass rush. An offensive line that has once again been the Giants' biggest problem all year can't protect Manning in a must-win game. Prediction: Loss
---
Week 17: Philadelphia Eagles
Tom Coughlin's teams can always find a way to play for pride. The Giants' playoff hopes are extinguished, but they still manage to end the season on a high note and with a .500 record. Prediction: Win
---
Predicted Record: 8-8
December, 22, 2013
12/22/13
11:30
PM ET
DETROIT --
Will Hill
had a very interesting weekend, which isn't really surprising, because the
New York Giants
' young safety leads a very interesting life. Too interesting, at times, for his own peace and comfort.
Sunday night, Hill made the play of the game for the Giants, intercepting a
Matthew Stafford
pass and returning it 38 yards for a game-tying touchdown in the fourth quarter. The Giants would go on to win 23-20 in overtime.
According to multiple reports, about 48 hours before that play, Hill was arrested on charges related to child support payments. Hill has four children by three women. The Giants knew of the arrest but decided it was a personal matter that didn't require discipline, so they did not suspend or bench him for Sunday's game.
"We support him in every way we can," Giants coach Tom Coughlin said. "He's trying like heck to meet all of his responsibilities. It is a private matter, and that's something he's taken care of."
It's good that the Giants support their player. He's 23 years old and has a lot going on in his life. He's also a whale of a football player, and the very interesting weekend he just had sums up his status as an important but volatile part of the Giants' future.
Hill gets in trouble off the field. He was suspended while at the University of Florida for getting caught with marijuana. He drew attention for a Twitter feed on which he published repeated references to drug use and prostitution (later claiming he was hacked). Character concerns pushed him all the way out of the 2011 NFL draft, and he went to play in the Arena League before the Giants signed him prior to the 2012 season.
He was suspended four games last year for violating the NFL's drug policy, and he missed the first four games of this season for a second violation.
Again, he is just 23 years old. He almost hasn't had enough time to get into that amount of trouble. Yet he has, and the Giants are well aware that his next drug violation likely gets him suspended for a year. Just as they're aware that his off-field responsibilities to various women and children could distract him. They are aware, and they want to help.
"It means the world to me to have a coach and a staff and a team that's going to back me in any situation," Hill said after Sunday's game.
It helps that he can play. Hill is the best player in the Giants' secondary when he's on the field, and he showed that again Sunday. On the play that tied the game, the Giants were in a Cover 4 defense where Hill had support responsibility for fellow safety
Antrel Rolle
as well as a linebacker and a cornerback. It was third-and-7 from the Lions' 22-yard line, and Stafford fired a pass in the direction of tight end
Joseph Fauria
. The ball was tipped in the air and Hill saw it.
"As soon as that ball was tipped," he said, "all I saw was daylight."
He knew for a fact he'd run it all the way to the end zone, because he possesses the confidence that comes with supreme talent. It's also fair to suspect that the football field is where Hill feels the most in control and at peace, given everything he apparently has to deal with when he's away from it.
[+] Enlarge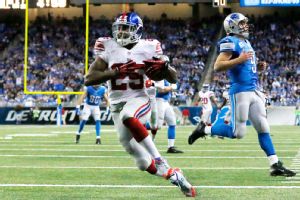 AP Photo/Paul SancyaWill Hill's pick-six was the play of the game.
"It hasn't been a tough weekend for me," he insisted. "It's just about coming out here, focusing on football and helping our team get a win."
Which he did, as much as anyone did. The Giants knew when they signed Hill that he had the kind of talent that could decide games. That talent was worth taking on the baggage, since they believed themselves to be deep at safety and figured they were covered if Hill didn't work out.
Now, though, he has played himself into an extraordinarily valuable position as one of their starting safeties. They face a dilemma with Rolle this offseason, as they likely can't afford to take him back at his $9.25 million cap cost next season and aren't sure he'll accept a pay cut or what it would take to extend him beyond 2014. If they have to part company with Rolle, then with
Stevie Brown
coming off ACL surgery Hill becomes the closest thing they have to a sure thing at safety. And Hill is never going to be a sure thing.
Sunday for the Giants offered a look at some things that could end up mattering in 2014 and beyond.
Jerrel Jernigan
as a more useful weapon at wide receiver than you may have thought.
Prince Amukamara
as the type of cornerback the team trusts to "shadow" the opponent's star receiver. Hill as the kind of safety who can find the ball and make a key play.
The end of this season is about looking ahead for the Giants. When they look ahead with Hill, they see potential for great things along with potential for trouble. Hill had a very interesting weekend, and it's not likely to be the last.
December, 22, 2013
12/22/13
10:15
PM ET
DETROIT --
New York Giants
running back
Andre Brown
left Sunday's
23-20 victory
against the
Detroit Lions
after suffering a concussion in overtime. It was the play on which Brown fumbled away the ball. Brown seemed fine getting dressed and leaving the locker room with his teammates, and shortly thereafter he was on Twitter saying he was all right and going through the occasional corny-joke routine he does on there. ("What does a policeman say to his belly button? You're under a vest!) But obviously, Brown will have to pass the league-mandated concussion protocol before he can be cleared to practice or play in next Sunday's season finale against the Redskins.
If he can't, it's possible that rookie
Michael Cox
would be the only healthy tailback on the Giants' roster.
David Wilson
and
Brandon Jacobs
are on injured reserve, and
Peyton Hillis
missed this game with a concussion. Hard to imagine the Giants going out and signing a running back for the final game of a long-lost season, but it's possible they'd have to. They also have a running back, Kendall Gaskins, on their practice squad.
In other injury news Sunday:
Tight end Adrien Robinson, active for the first time all season, sprained his knee on the opening kickoff and did not return to the game. Can't make this stuff up. Robinson was on crutches after the game and said he'll have an MRI on Monday to determine the severity of the injury. Lost season for him.
David Diehl, who's been starting at right guard since September due to Chris Snee's season-ending injury, was inactive for the game due to a knee injury. Brandon Mosley, who replaced him, broke his hand on the opening drive and did not return to the game. Dallas Reynolds replaced him and earned praise from coach Tom Coughlin for his effort. The Lions' defensive line had a field day against the Giants' banged-up offensive line in the second half, but the line held up well enough in the first half to build a 13-3 lead, which obviously mattered.
Defensive end Justin Tuck had an ice pack on his right knee after the game. He also appeared to injure his neck in the third quarter, but he didn't miss any time as a result of that injury.
December, 22, 2013
12/22/13
7:45
PM ET
DETROIT -- A few thoughts on the
New York Giants
'
23-20 overtime victory
over the
Detroit Lions
on Sunday at Ford Field:

What it means
: Anyone wondering whether the Giants have given up on their season or on their coaches has the answer. The Giants are outmanned and overmatched pretty much every week, and Sunday was no exception. But in spite of having their offense choked off after halftime, they pushed the game into overtime, where
Josh Brown
won it with a 45-yard field goal.
Stoch watch
:
Will Hill
, up. After reportedly being arrested Friday night on charges related to child support, the Giants safety played in and changed Sunday's game. With five minutes left in the fourth quarter, Hill intercepted Lions quarterback
Matthew Stafford
and ran in from 38 yards for a touchdown. The ensuing extra point tied the game. The Giants were doing absolutely nothing on offense in the second half behind a shredded offensive line, and scoring on defense turned out to be their best option.
Tough Tuck:
Defensive end
Justin Tuck
appeared to injure his neck in the third quarter but remained in the game in spite of being in clear discomfort. It's worth pointing out that Tuck, who is free-agent-eligible at the end of the season, wanted to tough it out in a game like this with the Giants already eliminated from postseason contention. It backs up his team-first talk. Tuck's big second half of the season has helped his chances of returning next year.
What's next:
The Giants mercifully close out their season with a 1 p.m. ET home game Sunday against
Kirk Cousins
and the
Washington Redskins
at MetLife Stadium. They beat the Redskins
24-17
in Washington in Week 13.