NFC East:

2013 Week 16 Upon Further Review NFC
December, 23, 2013
12/23/13
8:55
AM ET
A review of four hot issues after the
Washington Redskins
'
24-23 loss
to the
Dallas Cowboys
:
Job security:
Obviously Mike Shanahan's job is the one most discussed and his status obviously would impact that of his coaching staff. It's not uncommon for some coaches to return if a new coach is hired; many are under contract for next season and it can ease any transition. The Redskins have 26 players on their active roster or on injured reserve who were drafted by this regime (plus undrafted free agents such as
Logan Paulsen
and
Nick Williams
, who have only played here). They, too, are playing for their jobs and some are paranoid about their future; they have never been through a coaching change and don't know how it would impact them. The Redskins' roster will undergo major changes regardless of who's coaching next season -- upgrades are needed in many areas. Add to it a regime change, with different schemes and beliefs, and there will be even more. You can't change over everyone, but it does lead to anxious times for everyone, not just the head coach. That's the result of a 24-39 record in four years.
[+] Enlarge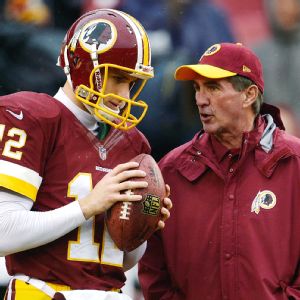 Patrick McDermott/Getty ImagesQuestions remain surrounding the job security of both QB Kirk Cousins and coach Mike Shanahan.
Quarterback watch:
If
Kirk Cousins
had driven the Redskins down the field to win the game, imagine what would have been said in Washington on Monday. He would have been hailed a hero and the talk of his trade value would have escalated. Or, for some, perhaps it would have meant there's more competition at this position than first realized. But that didn't happen; the Redskins gained only 23 yards in the fourth quarter and the offense failed to get a first down on their final series. It's not as if Cousins played poorly, but it is why you need to see players for an extended time before reaching a conclusion. They need to be in all sorts of situations -- under pressure from the rush, facing various schemes. There are things Cousins does well, such as make decisive throws; he does a better job at this point than
Robert Griffin III
of not staring down receivers. But interceptions remain an issue; will that always be the case or will it improve with experience? He needs a chance to grow, just like any young quarterback. I've said this before, but I would not be in a rush to trade him. There could be some team that loves him enough right now to make a strong offer (second round) and it then wouldn't matter what anyone else thinks. It also will depend on if there's a new coach here and what they think of Cousins.
Run game:
Dallas was intent on taking away running back
Alfred Morris
, often aligning in what the Redskins call a Navajo front, with three defensive linemen over the interior of the Redskins' front, with the linebackers focusing on taking away the outside. It messes with the blocking combinations up front, but the Redskins anticipated this look. At times, one of the Cowboys' linemen would shoot in behind the play for penetration, something that has happened quite a bit this year. So Morris had to gut out a 24-carry, 88-yard day. It wasn't pretty, but the Redskins did stick with the run. Morris gained 2 yards or fewer on eight of his first 13 carries and 11 of 24 overall. The execution improved in the third quarter as the Redskins used more power runs with guard
Chris Chester
pulling; Morris ran 10 times for 52 yards in the third quarter. One area Morris must absolutely improve in: catching the ball. He'll never be
Reggie Bush
, but he needs to have consistent hands. It limits the offense at times, and that has to change.
Special teams:
Washington's special teams have been dreadful all season and it likely cost them two wins against Dallas. Yes, in the first game the officials missed at least one call that would have resulted in a turnover in favor of the Redskins. And maybe there were missed calls on the blocks -- good teams still overcome those issues over the long haul, and sometimes even on the plays in question. When you have one guy with a shot at making a tackle, you're setting yourself up for disaster. Too often that's what happens and it's what happened Sunday when, on
Micheal Spurlock
's 62-yard punt return in the first quarter, only
Niles Paul
had a shot at making a tackle. He should have made it and stopped him for maybe 2 yards. Instead, he failed and Spurlock took off. Few care more than Paul, but he absolutely needs to make that play. It led to Dallas' first touchdown; perhaps the Cowboys score on this possession anyway, but it once again left the Redskins in a hole. I've said it before, but these special teams were not put together well from the top on down. And even if coaching is an issue, that's no excuse for not making a tackle when it's in front of you. It leads to this: an NFL-worst 18.46 yards allowed per punt return. They are 10th against kickoffs. The problem is, they cost them games but never did anything to help. The way this group was put together felt too haphazard. Doesn't happen that way. Games are too close in this league to consistently have one of the three phases of the game lose every single week.
December, 23, 2013
12/23/13
8:00
AM ET
DETROIT -- An examination of four hot issues from the
New York Giants
' 23-20
overtime victory
against the
Detroit Lions
:
Amukamara
Prince on Megatron:
The Giants assigned top cornerback
Prince Amukamara
to cover superstar Lions receiver
Calvin Johnson
wherever he lined up Sunday except in the slot. Amukamara said it was the first time he'd had such an assignment (as opposed to "splitting the field" with another cornerback) and that it made him "feel special." Johnson was targeted just four times and had three catches for 43 yards and no touchdowns. He also was dealing with a knee injury that made him a game-time decision to play, per Adam Schefter, and he spent a fair amount of time on the sideline. Amukamara said Johnson didn't seem injured to him when he was on the field -- that he looked "very explosive off the line, but there were series where he had to go out of the game, so I kind of figured he must be injured."
Jernigan shows toughness
: Playing the slot receiver position in place of the injured
Victor Cruz
,
Jerrel Jernigan
had a very Cruz-like stat line -- six catches for 80 yards and his first NFL touchdown. "I see his game elevate and get better year after year after year out there on the practice field," fellow wide receiver
Hakeem Nicks
said of Jernigan. "He's the next guy up with Victor out, and he's obviously up to the task." Jernigan's 15-yard catch on fourth-and-seven in the overtime period kept alive the winning drive and moved the Giants into position for
Josh Brown
's game-winning field goal. Jernigan is taking advantage of a chance to prove himself a useful NFL player.
Protection remains an issue
: Down to third- and fourth-stringers at the guard positions, the Giants struggled mightily to protect quarterback
Eli Manning
from the rushing Detroit defensive line. With some inside handoffs to
Andre Brown
and some rollouts by Manning in the first half, they were able to keep the defense off him enough to build a 13-3 lead. But in the second half, they had no time to do anything on offense, and Manning was sacked in the end zone for a safety that was part of Detroit's 17 straight points. Manning surely will play Sunday and extend his streak to 151 consecutive games, but the Giants will have to work hard to keep Redskins pass-rushers
Brian Orakpo
and
Ryan Kerrigan
from terrorizing him.
The whole story:
The Giants turned the ball over twice. The Lions turned the ball over three times. That makes it the fourth game this season in which the Giants have had a positive turnover differential. They are 4-0 in those games, 1-2 in games in which it's even and 1-7 when they turn the ball over more than their opponent does. That's your Giants season in a nutshell, right there.
December, 23, 2013
12/23/13
8:00
AM ET
PHILADELPHIA -- Taking a look at several issues arising from the
Philadelphia Eagles
' 54-11
blowout victory
over the
Chicago Bears
on Sunday night.
McCoy sets the tone.
When the Eagles played the
Dallas Cowboys
in Philadelphia in October,
Nick Foles
had his worst game of the season, and
LeSean McCoy
ran for just 55 yards on 18 carries in a 17-3 loss.
"I can't even remember that far back," McCoy said after rushing for 133 yards and two touchdowns against the Bears. "I did not play well, so I can't even remember how that game went."
The Eagles and Cowboys meet again Sunday. Winner goes to the playoffs.
"I can tell you that they didn't see the best of the Eagles," McCoy said. "They didn't see the best of Nick Foles, LeSean McCoy -- they didn't see the best of us, but they will this Sunday, so it will be a different story."
McCoy retained his lead in the race for the NFL rushing title. That wouldn't have happened if coach Chip Kelly had decided to hold him out or limit his touches in an effort to avoid injury.
[+] Enlarge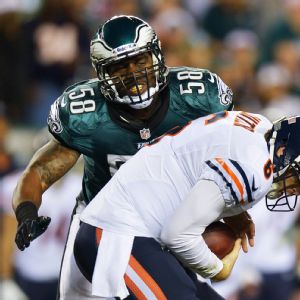 Drew Hallowell/Philadelphia Eagles/Getty ImagesTrent Cole had his first three-sack game in three years against the Bears.
"There are times when you're clinched in and you want to keep your guys healthy," McCoy said. "I understand that. But for the most part ... this is our job. They pay us to come out here and play ball. The fans pay hard-earned money to watch us."
Accurate Foles.
Nick Foles' 84 percent completion rate (21-for-25) was the highest ever for an Eagles quarterback. But that's not even the full story.
Foles' incompletions all came on balls he threw away deliberately. He didn't miss a single pass he intended for a receiver. One of the dumped passes kept the Eagles in position for
Alex Henery
's 49-yard field goal.
"I thought he made really good decisions," Kelly said. "That's one thing that he's been great with is his decision making has been outstanding. He hasn't put the ball in harm's way. He could have taken a sack and gotten us out of field goal range."
Foles said he has "learned the hard way" how and when to throw the ball away. "I have forced balls before. You watch film and understand the game and the strategy. It is not bad to throw the ball away. It actually is really good."
Foles has thrown 25 touchdown passes and just two interceptions this season.
"He was throwing the ball well in that pregame routine that we've been doing every week," tight end
Zach Ertz
said. "He was throwing the ball with a lot of zip, and you kind of knew he was going to be on fire from the get-go."
Cole minding.
Outside linebacker
Trent Cole
's first three-sack game in three years was a testament to the veteran's perseverance in making the transition from defensive end in the Eagles' old 4-3 defense.
"Trent was lights-out tonight," linebacker
DeMeco Ryans
said. "That's what Trent is capable of doing -- taking over games, dominating offensive tackles and getting to the quarterback. It's a tough transition when you ask a guy who has been rushing for 10 years to drop back and cover zones. He's an unselfish player."
Cole, 31, didn't have a single sack through the first half of the season. He has eight in the last seven games.
"Anybody that plays as hard as Trent Cole, you love seeing success," defensive coordinator Bill Davis said. "That man's never seen a down where he hasn't given everything he's had."
Wolff nicked.
Rookie safety
Earl Wolff
returned after missing four games with a knee injury. He left the game after one series.
"He did nick the knee," Davis said.
The plan was for veteran
Patrick Chung
to start and to ease Wolff back into action after the layoff. Chung played the first two series. Wolff came out for the Bears' third possession.
On the first play of the second quarter, a third-and-2,
Jay Cutler
threw for
Brandon Marshall
. Wolff made a nice play, breaking up the pass. But he looked a little shaky going to the sideline and didn't return to the game.
"It's not anything that bad," Davis said. "I just made the decision, 'Unless, I need you, I'm not going to roll you in because you're still fighting that.'"
December, 23, 2013
12/23/13
8:00
AM ET
LANDOVER, Md. -- A review of four hot issues from the
Dallas Cowboys
'
24-23 win
against the
Washington Redskins
.
Up for the challenge:
For the third straight season and fourth time in the past six years, the Cowboys find themselves in a win-and-get-in scenario in Week 17. If they beat the
Philadelphia Eagles
on Sunday, they would win the NFC East and host a playoff game on wild-card weekend. If they lose, they would finish 8-8 for the third year in a row. The only two recent seasons in which they did not face this situation came in 2009, when they had clinched a postseason berth but needed to beat the Eagles to win the division, and in 2010, when they finished 6-10.
Romo
They lost the finale in 2008 (Eagles), 2011 (Giants) and 2012 (Redskins).
"I know in some ways we've gotten hit with the fact of losing the last couple of years in that final game, but I think we're the only team that keeps getting itself in position to win the NFC East every year," quarterback
Tony Romo
said. "That's a credit. That's also a negative in the fact we didn't do it the last couple of years. You just have to keep getting yourself there. When your team is good enough you'll knock down that door."
Back to the run:
After the game, Jason Garrett praised the coaches' ability to stay with the run in the fourth quarter when they were trailing by nine points. He seemed to forget the three-and-out the Cowboys had after Washington took a 20-14 lead.
Dez Bryant
dropped a slant. Romo threw the ball away on second down and then was sacked on third down. The drive totaled 50 seconds. The Redskins answered with a field goal to go up 23-14.
"We were just committed to saying, 'Let's stay after them. Let's continue to try to drive the ball by running it, throwing it,'" Garrett said. "We had to make some big third downs. When you're running the ball on first and second down you get into those third-and-3s and those third-and-4s and I thought our guys did a great job stepping up. Tony made some great throws. Guys made some great conversions and that was really important to sustain those drives. But balance was going to be importance for us throughout this game."
A look back:
The Cowboys' defense has not played a better game than the one it had on Oct. 20 at Lincoln Financial Field against the Eagles. The Cowboys held Philadelphia to three points and allowed only 278 yards.
Nick Foles
threw for only 80 yards and
Matt Barkley
was intercepted three times in the fourth quarter.
LeSean McCoy
was held to 55 yards rushing. So much of the talk leading into that game was how Chip Kelly dominated Monte Kiffin while he was at Oregon and Kiffin was at USC. The Cowboys could get a boost from the returns of
Sean Lee
(neck) and
Morris Claiborne
(hamstring), but even when healthy -- or closer to healthy -- the defense has not played up to par.
No pressure:
Try as they might to spin the good work done by Rod Marinelli's rushers, the Cowboys did not record a sack of Washington quarterback
Kirk Cousins
.
Jeff Heath
forced an early throw on a blitz as he planted Cousins on the ground, but
DeMarcus Ware
,
Jason Hatcher
and
George Selvie
did not do enough to affect the quarterback. That can't be the case Sunday against the Eagles with the way Foles has played. In October the Cowboys sacked Philadelphia's quarterback three times. They have not had a three-sack game since then, and have just nine sacks in their past eight games.