NFC East:

2013 Week 17 BUF at NE
September, 2, 2014
Sep 2
7:59
AM ET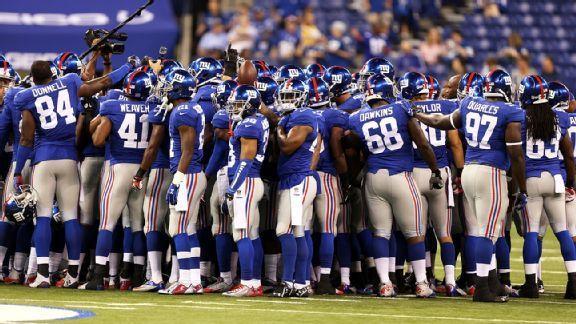 ESPN.com
New York Giants
reporter Dan Graziano makes his game-by-game picks for the 2014 season.
Week 1: at Detroit Lions
The Giants are coming off a mess of a preseason, undermanned and overwhelmed, with the offensive line still a mess and the new offense not clicking at all. No one will pick them to win this game. Except me. Prediction: Win
---
Week 2: Arizona Cardinals
This one's a comedown off the Week 1 surprise, as Arizona's banged-up defense still manages to flummox Eli Manning and collect a few interceptions. It's a bummer of a home opener as reality begins to set in. Prediction: Loss
---
Week 3: Houston Texans
Houston's defense is as liable as Arizona's to make life miserable for Manning and the offensive line. But Houston has bigger questions on offense than even the Giants, and this is a win for the New York defense against Ryan Fitzpatrick. Prediction: Win
---
Week 4: at Washington Redskins
The short week and Washington's stellar crew of offensive weapons prove too much for the Giants to overcome. Will Beatty still sees Brian Orakpo in his nightmares. Prediction: Loss
---
Week 5: Atlanta Falcons
The pattern continues, and the Giants overcome two Osi Umenyiora sacks to outscore the Falcons with a furious Manning comeback in the final minutes. The Giants poke their heads over the .500 mark as they make the turn into the most brutal stretch of their schedule. Prediction: Win
---
Week 6: at Philadelphia Eagles
The Giants don't have Matt Barkley to kick around this time when they visit the City of Brotherly Love. Chip Kelly and the Eagles show them what a truly innovative offense looks like. Prediction: Loss
---
Week 7: at Dallas Cowboys
The season-long debate about what gives when an anemic Giants offense meets a pathetic Cowboys defense tilts in Dallas' favor in the first meeting. Tony Romo & Co. have more than enough weapons to outscore Manning and his bunch, and the Giants hit the bye with a 3-4 record. Prediction: Loss
---
Week 9: Indianapolis Colts
After a long break before the Monday night home game, the Giants get taken apart by Andrew Luck, Hakeem Nicks & Co. at MetLife Stadium for a third straight loss. The offense is starting to run more smoothly, but it still doesn't have enough playmakers to outscore one of the league's better offenses. Prediction: Loss
---
Week 10: at Seattle Seahawks
You're kidding, right? Prediction: Loss
---
Week 11: San Francisco 49ers
The Giants have obviously handled the Niners in recent years and in some high-profile situations. But by this point in the season, San Francisco's defense is back to full strength, and the 49ers can't afford to lose ground to the Seahawks by failing to beat the team Seattle just beat the week before. Prediction: Loss
---
Week 12: Dallas Cowboys
A sixth straight loss is by no means out of the question here, as Romo and his crew still have the potential to outscore anyone in a given week. But from this far out, I'll forecast that something goes wrong for Romo late in this game, and the Giants get a gift. Prediction: Win
---
Week 13: at Jacksonville Jaguars
This is where the schedule starts to soften up, when the Giants start playing teams that insist on not starting their best quarterback. It's unfortunate they're 4-7 at this point and just about out of the playoff hunt, but they will get it going against the bottom-feeders. Prediction: Win
---
Week 14: at Tennessee Titans
I think the Titans are going to be dreadful this year, and by December they won't be very difficult for anyone to beat, even at home. A third straight victory keeps the Giants' hopes alive. Prediction: Win
---
Week 15: Washington Redskins
Have to be honest: The NFC East is so unpredictable that, when doing these predictions, I just decided to give the Giants a 3-3 division record with victories in all three home games and losses in all three road games. It's as fair a way as any to do it, I believe. Prediction: Win
---
Week 16: at St. Louis Rams
After moving back to .500 with four straight wins, the season falls apart at the hands of the St. Louis pass rush. An offensive line that has once again been the Giants' biggest problem all year can't protect Manning in a must-win game. Prediction: Loss
---
Week 17: Philadelphia Eagles
Tom Coughlin's teams can always find a way to play for pride. The Giants' playoff hopes are extinguished, but they still manage to end the season on a high note and with a .500 record. Prediction: Win
---
Predicted Record: 8-8
December, 27, 2013
12/27/13
5:58
PM ET
FOXBOROUGH, Mass. -- Just as the regular season started, it will end with the Patriots taking on the
Buffalo Bills
, their division foes who are aiming to conclude 2013 on a high note.
The first time these two met, the Patriots eked out a 23-21 win on a last-second field goal from kicker
Stephen Gostkowski
.
Running back
Shane Vereen
and wide receiver
Julian Edelman
were stars that day. Vereen surpassed the 100-yard mark on the ground and added seven catches, while Edelman scored both of the team's touchdowns.
As it would turn out, a theme of the Patriots' 2013 season has been close victories and offensive performances catalyzed by Vereen and Edelman.
This time around, the postseason stakes are clear for the Patriots, who can clinch at least a top-two seed in the AFC with a win. In fact, by the time kickoff rolls around, the Patriots could have a top-two seed wrapped up (if both Indianapolis and Cincinnati lose in the 1 p.m. EST time slot), but they aren't going to leave anything to chance and also can earn the top AFC seed if they win and the Broncos lose.
Here's what we'll be watching for in Sunday's significant finale.
1. Protecting Brady.
No hyperbole here: the Bills have been as good as any team in the NFL at generating pressure this season. They lead the league with 56 sacks, but that's not the only evidence of their pass-rushing prowess. Schematically, the Bills are a pressure-oriented group led by coordinator Mike Pettine and have impressive personnel among their edge rushers (
Mario Williams
and
Jerry Hughes
) and interior penetrators (
Kyle Williams
and Marcel Dareus). Beyond that, they generate pressure from all three levels, as rookie cornerback
Nickell Robey
has three sacks over his past two games. If the Patriots are again without left tackle
Nate Solder
(concussion), it'll be a tall order to slow down this group.
[+] Enlarge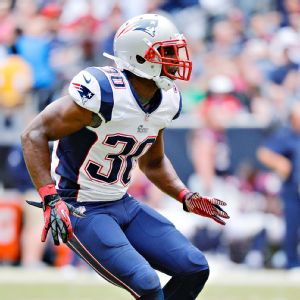 AP Photo/Jim MahoneyWith Devin McCourty doubtful for Sunday, the pressure's on rookie Duron Harmon to fill his shoes.
2. Safety net?
With
Devin McCourty
(concussion) doubtful for Sunday, it'll likely be rookie
Duron Harmon
starting alongside
Steve Gregory
. In speaking with Harmon and head coach Bill Belichick this week, they echoed that within the Patriots' defense, the two safety positions -- free and strong -- are in many ways interchangeable. The strong safety has to be able to handle free safety responsibilities (deep-field coverage) on some plays, and vice versa. Harmon has played both free and strong safety at points this season, as he did during his college career at Rutgers.
3. Running with purpose.
The Patriots set the tempo against the Ravens with their commitment to the ground game early and often last week. The Bills have a disruptive front seven that can be difficult to move around, but will the Patriots try to spin the offensive wheels early by attacking that front seven on the ground? If so,
LeGarrette Blount
and
Stevan Ridley
would be the pair responsible for carrying the heavy ground load once again.

4. Red zone success?
The red zone struggles of the Patriots' offense without
Rob Gronkowski
were well chronicled leading up to Week 16, but they may have climbed over the hump; they finished a perfect 3-for-3 in the red zone on the strength of two Blount touchdown runs and a Brady pass to Shane Vereen for a 4-yard score. The test will be to sustain such success, as touchdowns rather than field goals can dictate the difference in close games, as the Patriots have seen throughout the season.
5. Limit explosive plays from Spiller.
Bill Belichick talked openly about his defense's improvement in the vertical passing game this season compared to last, stressing the importance of limiting plays that can change the course of a game immediately. While the Bills' passing attack has had to endure through various personnel considerations this year, notably the injuries to
EJ Manuel
, the running game poses one of the most explosive threats in the NFL.
C.J. Spiller
has had a quieter year than most forecasted for him, but a Week 13 game against Atlanta that was played in Toronto served as a reminder of just how potent he can be. He ripped off a 77-yard rush and had an 80-yard reception called back because of a holding penalty that was away from the direct action of the play. The Patriots will aim to contain Spiller and the more rugged, powerful
Fred Jackson
this Sunday.